It's Wednesday and that means it's time to breakout the flex fantasy football rankings for Week 10 of the 2019 NFL season. If you're new to the concept of flex rankings, these are simply the combined overall rankings for running back, wide receiver, and tight end for each week during the fantasy football season.
This list is our initial rankings, but it will change a lot throughout the week. If you want all of the latest updates, then be sure to check our staff rankings page.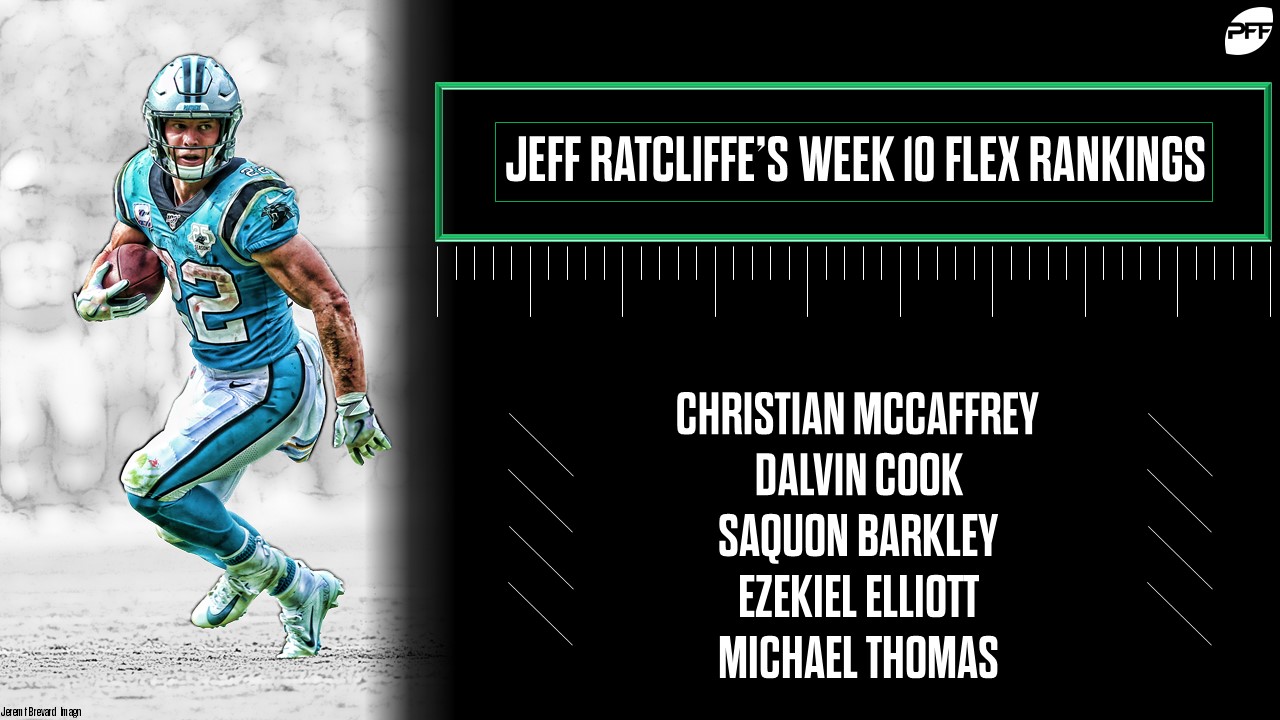 1. Christian McCaffrey, CAR @ GB (RB1) — McCaffrey is on a historic pace for fantasy purposes with the third-most fantasy points over the first eight games of any running back.
2. Dalvin Cook, MIN @ DAL (RB2) — Cook continues to get fed in the run-friendly Vikings offense.
3. Saquon Barkley, NYG @ NYJ (RB3) — Last week wasn't optimal, but Barkley is poised to bounce back in a favorable matchup.
4. Ezekiel Elliott, DAL vs MIN (RB4) — Elliott has hit his stride and looked fantastic against the Giants last week.
5. Michael Thomas, NO vs ATL (WR1) — He's on pace for 146 catches and gets to face the Falcons secondary. 'Nuff said.
6. Alvin Kamara, NO vs ATL (RB5) — The bye week should have done a body good for Kamara. Expect him to return this week.
7. Aaron Jones, GB vs CAR (RB6) — Don't get too bogged down by last week's poor gamescript. Jones still has a high-end RB1 ceiling.
8. Chris Godwin, TB vs ARI (WR2) — Godwin draws a fantastic matchup this week and should get back to elite fantasy territory.
9. Mike Evans, TB vs ARI (WR3) — Despite a potential shadow from Patrick Peterson, Evans is on fire.
10. Nick Chubb, CLE vs BUF (RB7) — Kareem Hunt returns this week, but that doesn't mean you should downgrade Chubb.
11. Marlon Mack, IND vs MIA (RB8) — A favorable matchup and heavy workload mean good things for fantasy purposes.
12. Josh Jacobs, OAK vs LAC (RB9) — Oakland continues to lean heavily on Jacobs, and so should we.
13. Derrick Henry, TEN vs KC (RB10) — It isn't sexy, but Henry enters the week seventh among running backs in fantasy scoring.
14. Julio Jones, ATL @ NO (WR4) — Jones doesn't have the best draw this week, but we can expect a heavy workload with Mohamed Sanu out of the mix.
15. Le'Veon Bell, NYJ vs NYG (RB11) — Sure, last week wasn't great, but Bell still managed to finish as the No. 10 PPR running back.
16. Tyreek Hill, KC @ TEN (WR5) — Patrick Mahomes should be back this week, but it really doesn't matter who throws Hill the ball.
17. Cooper Kupp, LAR @ PIT (WR6) — Kupp is averaging a massive 7.3 catches per game.
18. Amari Cooper, DAL vs MIN (WR7) — The Viking secondary isn't anywhere near as intimidating of a matchup as it once was.
19. Kenny Golladay, DET @ CHI (WR8) — Detroit is firing on all cylinders in the passing game making Golladay a top-10 wide receiver play this week.
20. Tyler Lockett, SEA @ SF (WR9) — He's coming off a massive Week 9 performance, but does have a tough matchup against the 49ers.
21. Mark Ingram, BAL @ CIN (RB12) — This is a fantastic matchup for Ingram, but his lack of volume puts a cap on his upside.
22. Chris Carson, SEA @ SF (RB13) — Carson continues to be fed, but he's just on the outside of RB1 territory in this tough matchup.
23. Melvin Gordon, LAC @ OAK (RB14) — Gordon finally showed some signs of life last week and should be fired up as an RB2 play.
24. Tevin Coleman, SF vs SEA (RB15) — Matt Breida posted the better fantasy numbers last week, but Coleman is still the preferred options because of his role in the red zone.
25. Stefon Diggs, MIN @ DAL (WR10) — With Adam Thielen likely sidelined, Diggs is poised to see a big workload.
26. David Montgomery, CHI vs DET (RB16) — The rookie managed a decent fantasy day in a tough matchup last week.
27. George Kittle, SF vs SEA (TE1) — Tight end is no fun this season, but Kittle is one of the rare players at the position who continues to produce good fantasy numbers.
28. Hunter Henry, LAC @ OAK (TE2) — Henry is starting to heat up and now ranks 10th among tight ends in fantasy scoring despite only playing four games.
29. Davante Adams, GB vs CAR (WR11) — Adams got back on the field last week and saw a healthy 11 targets.
30. Jaylen Samuels, PIT vs LAR (RB17) — James Conner will likely be sidelined again this week, which means another full workload for Samuels in the passing game.
31. Todd Gurley, LAR @ PIT (RB18)
32. Keenan Allen, LAC @ OAK (WR12)
33. Allen Robinson, CHI vs DET (WR13)
34. David Johnson, ARI @ TB (RB19)
35. Devin Singletary, BUF @ CLE (RB20)
36. Devonta Freeman, ATL @ NO (RB21)
37. Austin Ekeler, LAC @ OAK (RB22)
38. Emmanuel Sanders, SF vs SEA (WR14) — Sanders was a monster last week and is trending up into front-end WR2 territory.
39. Marvin Jones, DET @ CHI (WR15)
40. Odell Beckham Jr., CLE vs BUF (WR16)
41. Travis Kelce, KC @ TEN (TE3)
42. JuJu Smith-Schuster, PIT vs LAR (WR17)
43. John Brown, BUF @ CLE (WR18)
44. Darren Waller, OAK vs LAC (TE4)
45. D.J. Moore, CAR @ GB (WR19)
46. Michael Gallup, DAL vs MIN (WR20)
47. Ronald Jones II, TB vs ARI (RB23) — Jones looks to have assumed lead duties in Tampa Bay, but it's still tough to trust him as anything more than a back-end RB2.
48. Austin Hooper, ATL @ NO (TE5)
49. Mike Williams, LAC @ OAK (WR21)
50. Calvin Ridley, ATL @ NO (WR22)
51. Robert Woods, LAR @ PIT (WR23)
52. Christian Kirk, ARI @ TB (WR24)
53. Damien Williams, KC @ TEN (RB24)
54. Mark Andrews, BAL @ CIN (TE6)
55. Zach Pascal, IND vs MIA (WR25)
56. Joe Mixon, CIN vs BAL (RB25) — Ryan Finley under center puts a damper on the fantasy outlook of the entire Cincinnati offense.
57. D.K. Metcalf, SEA @ SF (WR26)
58. Curtis Samuel, CAR @ GB (WR27)
59. Golden Tate, NYG @ NYJ (WR28)
60. Latavius Murray, NO vs ATL (RB26)
61. Tyrell Williams, OAK vs LAC (WR29)
62. DeVante Parker, MIA @ IND (WR30)
63. Evan Engram, NYG @ NYJ (TE7)
64. Jamaal Williams, GB vs CAR (RB27)
65. Marquise Brown, BAL @ CIN (WR31)
66. Jarvis Landry, CLE vs BUF (WR32)
67. Jamison Crowder, NYJ vs NYG (WR33)
68. Matt Breida, SF vs SEA (RB28)
69. Kenyan Drake, ARI @ TB (RB29) — The Arizona backfield remains very fluid, but Drake is looking like more of a flex option with the possibility that David Johnson returns this week.
70. A.J. Green, CIN vs BAL (WR34)
71. Robby Anderson, NYJ vs NYG (WR35)
72. Sammy Watkins, KC @ TEN (WR36)
73. Tyler Boyd, CIN vs BAL (WR37)
74. Ty Johnson, DET @ CHI (RB30)
75. Larry Fitzgerald, ARI @ TB (WR38)
76. Greg Olsen, CAR @ GB (TE8)
77. Kalen Ballage, MIA @ IND (RB31) — Ballage is now the lead back in Miami, but his lackluster play makes him a flex option at best.
78. LeSean McCoy, KC @ TEN (RB32)
79. A.J. Brown, TEN vs KC (WR39)
80. Corey Davis, TEN vs KC (WR40)
81. Sterling Shepard, NYG @ NYJ (WR41)
82. Gerald Everett, LAR @ PIT (TE9)
83. Eric Ebron, IND vs MIA (TE10)
84. Diontae Johnson, PIT vs LAR (WR42)
85. Danny Amendola, DET @ CHI (WR43)
86. Tarik Cohen, CHI vs DET (RB33)
87. Trey Edmunds, PIT vs LAR (RB34) — Edmunds surprisingly led the Steelers on the ground last week, but he still takes a back seat to Jaylen Samuels for fantasy purposes.
88. Cole Beasley, BUF @ CLE (WR44)
89. Frank Gore, BUF @ CLE (RB35)
90. Chester Rogers, IND vs MIA (WR45)
91. Jack Doyle, IND vs MIA (TE11)
92. Ted Ginn, NO vs ATL (WR46)
93. Hunter Renfrow, OAK vs LAC (WR47)
94. Deebo Samuel, SF vs SEA (WR48)
95. T.J. Hockenson, DET @ CHI (TE12)
96. Mike Gesicki, MIA @ IND (TE13)
97. Adam Humphries, TEN vs KC (WR49)
98. J.D. McKissic, DET @ CHI (RB36)
99. Kareem Hunt, CLE vs BUF (RB37) — Hunt is worth a roster spot, but it's pretty risky to start him this week.
100. Demaryius Thomas, NYJ vs NYG (WR50)
101. Darius Slayton, NYG @ NYJ (WR51)
102. Vance McDonald, PIT vs LAR (TE14)
103. Jared Cook, NO vs ATL (TE15)
104. Taylor Gabriel, CHI vs DET (WR52)
105. Olabisi Johnson, MIN @ DAL (WR53)
106. Allen Hurns, MIA @ IND (WR54)
107. Allen Lazard, GB vs CAR (WR55)
108. Kyle Rudolph, MIN @ DAL (TE16)
109. Marquez Valdes-Scantling, GB vs CAR (WR56)
110. Jason Witten, DAL vs MIN (TE17)
111. Jakeem Grant, MIA @ IND (WR57)
112. James Washington, PIT vs LAR (WR58)
113. O.J. Howard, TB vs ARI (TE18)
114. Josh Reynolds, LAR @ PIT (WR59) — With Brandin Cooks in the concussion protocol, Reynolds will get plenty of reps for the Rams.
115. Darrell Henderson, LAR @ PIT (RB38)
116. Jimmy Graham, GB vs CAR (TE19)
117. Alexander Mattison, MIN @ DAL (RB39)
118. Nyheim Hines, IND vs MIA (RB40)
119. Josh Gordon, SEA @ SF (WR60) — Gordon could play this week, but he's far too risky to start.
120. Russell Gage, ATL @ NO (WR61)
121. Jonnu Smith, TEN vs KC (TE20)
122. Randall Cobb, DAL vs MIN (WR62)
123. Albert Wilson, MIA @ IND (WR63)
124. Jacob Hollister, SEA @ SF (TE21)
125. Gus Edwards, BAL @ CIN (RB41)
126. Anthony Miller, CHI vs DET (WR64)
127. Peyton Barber, TB vs ARI (RB42)
128. Auden Tate, CIN vs BAL (WR65)
129. Zay Jones, OAK vs LAC (WR66)
130. Dion Lewis, TEN vs KC (RB43)
131. Willie Snead, BAL @ CIN (WR67)
132. Demarcus Robinson, KC @ TEN (WR68)
133. Giovani Bernard, CIN vs BAL (RB44)
134. Irv Smith Jr., MIN @ DAL (TE22)
135. Josh Hill, NO vs ATL (TE23)
136. Dare Ogunbowale, TB vs ARI (RB45)
137. Nick Boyle, BAL @ CIN (TE24)
138. KeeSean Johnson, ARI @ TB (WR69)
139. Rashaad Penny, SEA @ SF (RB46)
140. Geronimo Allison, GB vs CAR (WR70)
141. Trey Burton, CHI vs DET (TE25)
142. Antonio Callaway, CLE vs BUF (WR71)
143. DeAndre Washington, OAK vs LAC (RB47)
144. Ito Smith, ATL @ NO (RB48)
145. Dante Pettis, SF vs SEA (WR72)
146. Dawson Knox, BUF @ CLE (TE26)
147. Jalen Richard, OAK vs LAC (RB49)
148. Laquon Treadwell, MIN @ DAL (WR73)
149. Mecole Hardman, KC @ TEN (WR74)
150. Ricky Seals-Jones, CLE vs BUF (TE27)