There will always be disconnects between the fantasy world and "real" football value, some for understandable reasons, others not. A low-volume, field-stretching receiver will have more worth on NFL draft boards than fantasy leagues, whose drafters are concerned with individual stats rather than affecting a defense.
Even understanding those logical differences, there are often other, less-easily explained disagreements in valuation between the fantasy and draft communities that can tell us where a player is overvalued or undervalued by either party.
View PFF's 2021 NFL Draft position rankings:
QB | RB | WR | TE | T | iOL | DI | EDGE | LB | CB | S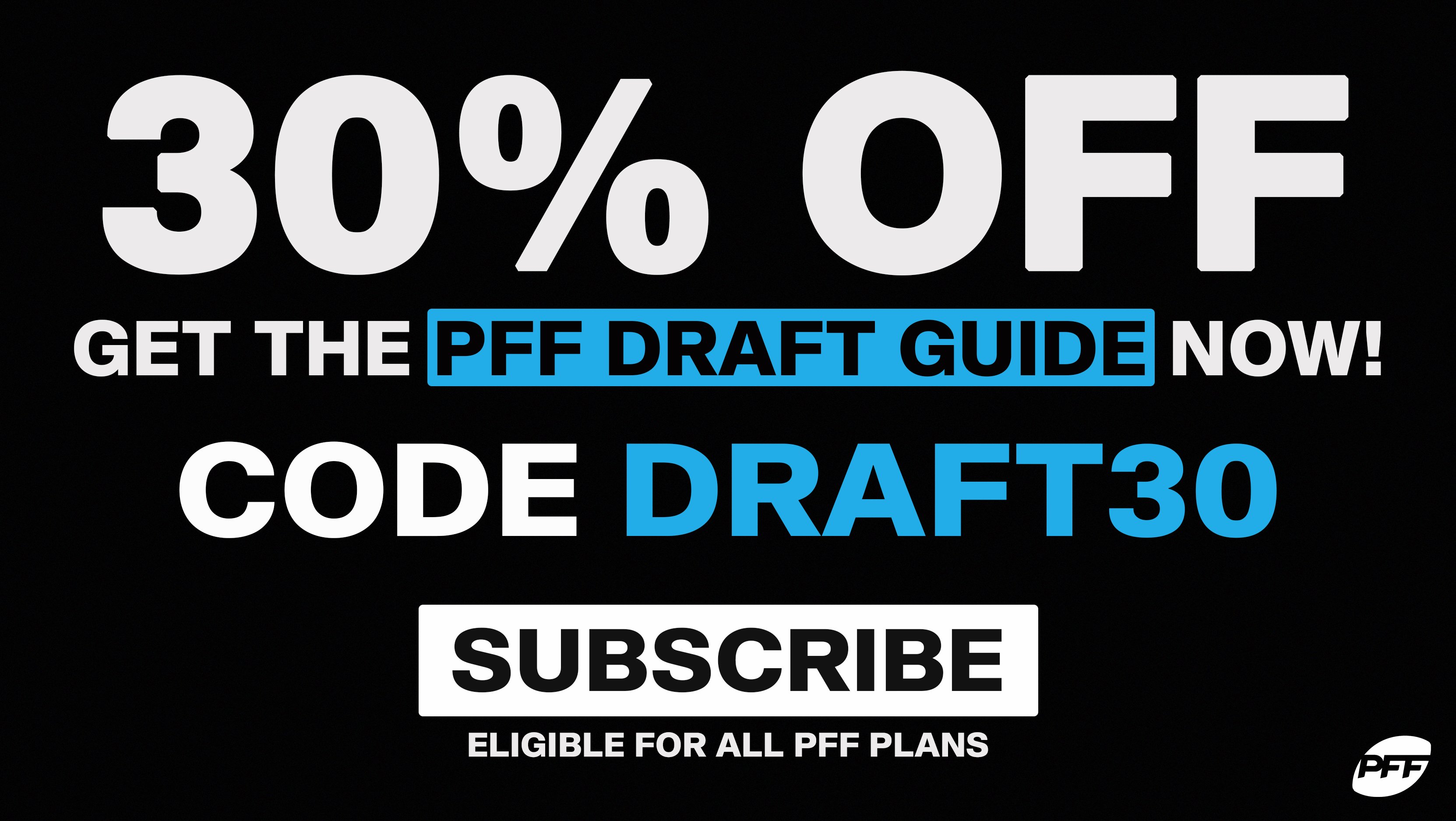 The relationship between fantasy ADP and actual draft position is fairly strong and linear, and in this article I'll walk through seven years of fantasy football historical data and build a valuation curve between the two.
We can see when fantasy drafters have been too low on a player who went earlier in the NFL draft and vice versa. Each can probably learn from the other, with NFL teams having more data and knowledge of prospects and fantasy football leagues providing the wisdom of crowds combining thousands of individual opinions into one valuation.
HISTORICAL WIDE RECEIVER CURVE
In the plot below, I charted the actual NFL draft position against fantasy ADP in the month following the NFL draft. I highlighted names of some productive rookies who helped win fantasy leagues for those who drafted them, along with others with large deviations in value from the trend line.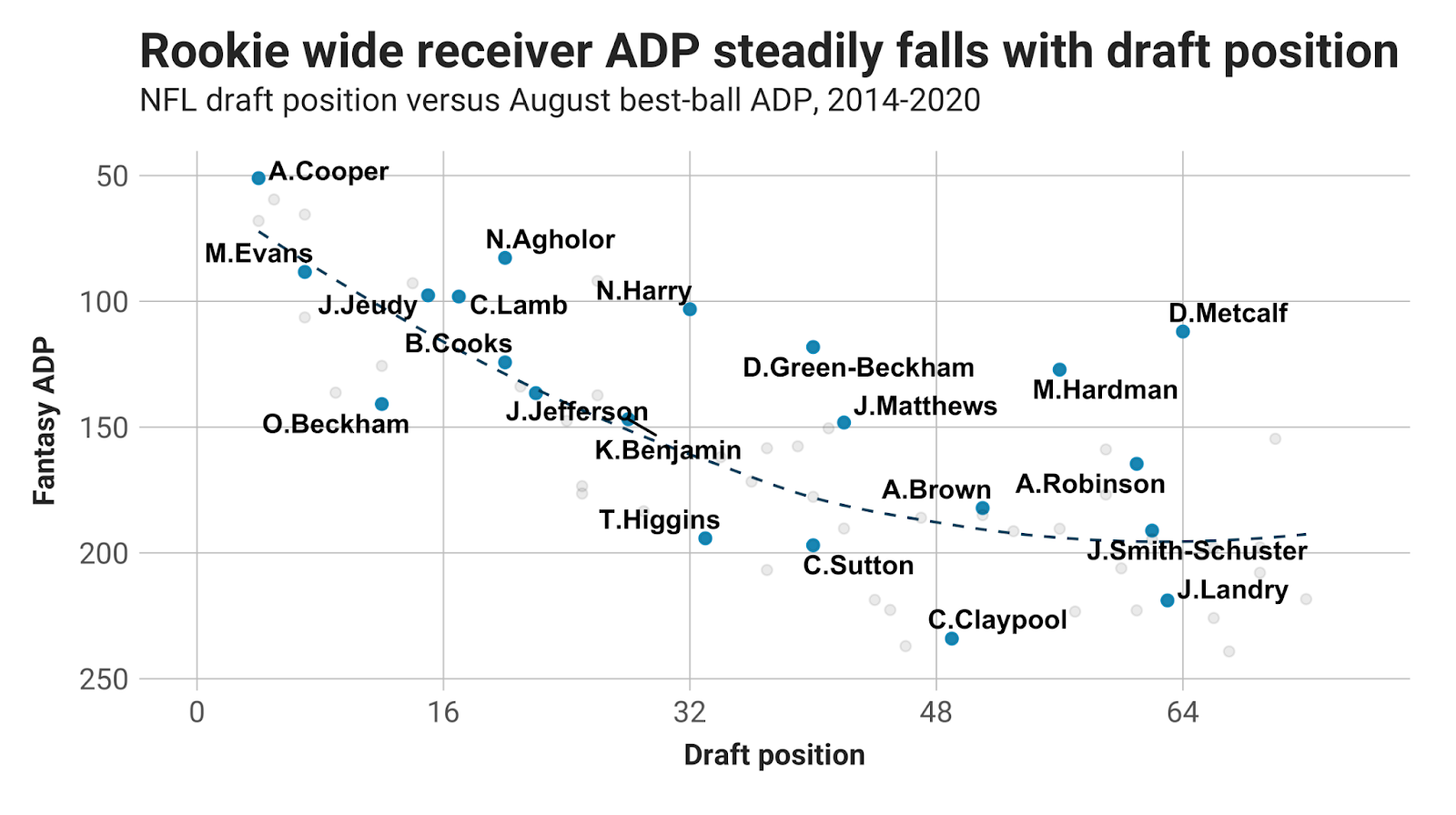 No fantasy rookie has gone higher than Amari Cooper in recent fantasy drafts, a logical outcome as the No. 4 overall pick in 2015 on the heels of highly productive 2014 rookie outputs. Among picks who were undervalued versus ADP but taken in the top half of the first round, Odell Beckham stands out as one of the most impactful rookie fantasy players ever. Other undervalued players who went later in the NFL draft, like Jarvis Landry, JuJu Smith-Schuster and Clay Claypool, were highly successful as rookies.
The players who fantasy drafters expected the most from in comparison to draft position were mostly hit or miss in actual production. Cooper, Mike Evans and Kelvin Benjamin were WR1s on their respective teams, while others like Nelson Agholor, N'Keal Harry and Mecole Hardman struggled with ineffective play.
Justin Jefferson had one of the best rookie seasons ever in 2020, and he was fairly valued during the month following that year's draft.
THE 2021 WIDE RECEIVERS
For the 2021 class, I'm using expected draft positions from GrindingTheMocks, which uses publicly available mock draft data in a regression to determine when players are likely to be picked. The fantasy ADPs are taken from best ball leagues over the last two weeks.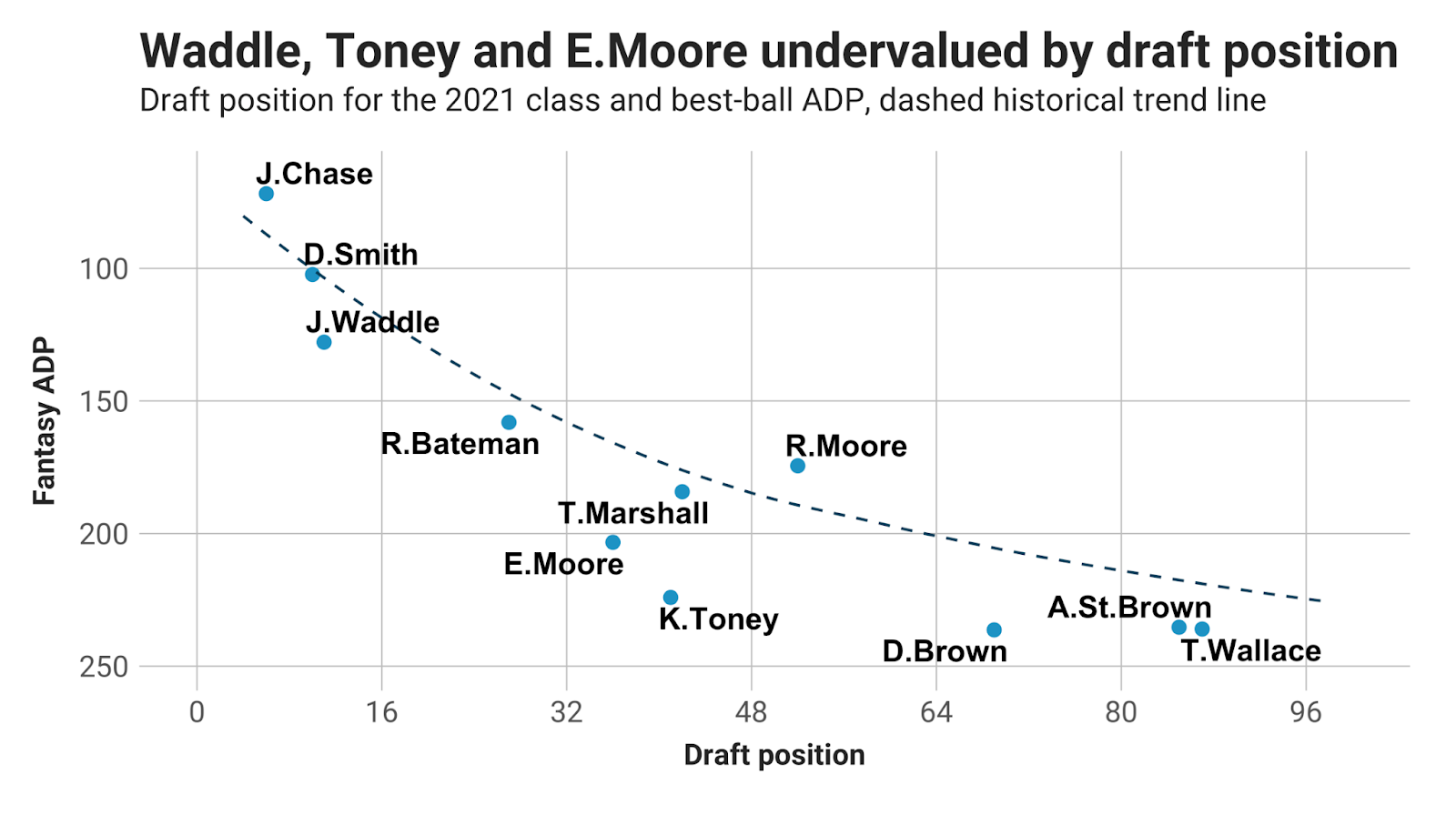 Most of the 2021 class looks undervalued in fantasy leagues versus expected draft position. Jaylen Waddle isn't far off from the trend line for ADP, but there's some chance he goes much earlier than expected and rises proportionately.
Kadarius Toney and Elijah Moore are expected to be drafted in the top of the second round, but their fantasy ADPs resemble third-round rookies from prior drafts. My wide receiver prospect model shows that the skepticism is warranted on Toney. But Moore doesn't have any red flags, and he could surprise in PPR leagues if he steps into a highly valuable slot role.
Rondale Moore is one of the few overvalued rookies. It's possible that fantasy drafters are still expecting him to be a late first-round pick, while he's fallen solidly into the middle of the second round in recent mock drafts.
Dyami Brown is largely ignored in early offseason best ball drafts, but his stock has massively risen over the past several months and he could end up going in the middle of the second round. If his landing spot is viewed favorably, Brown's ADP will immediately jump multiple rounds in fantasy drafts.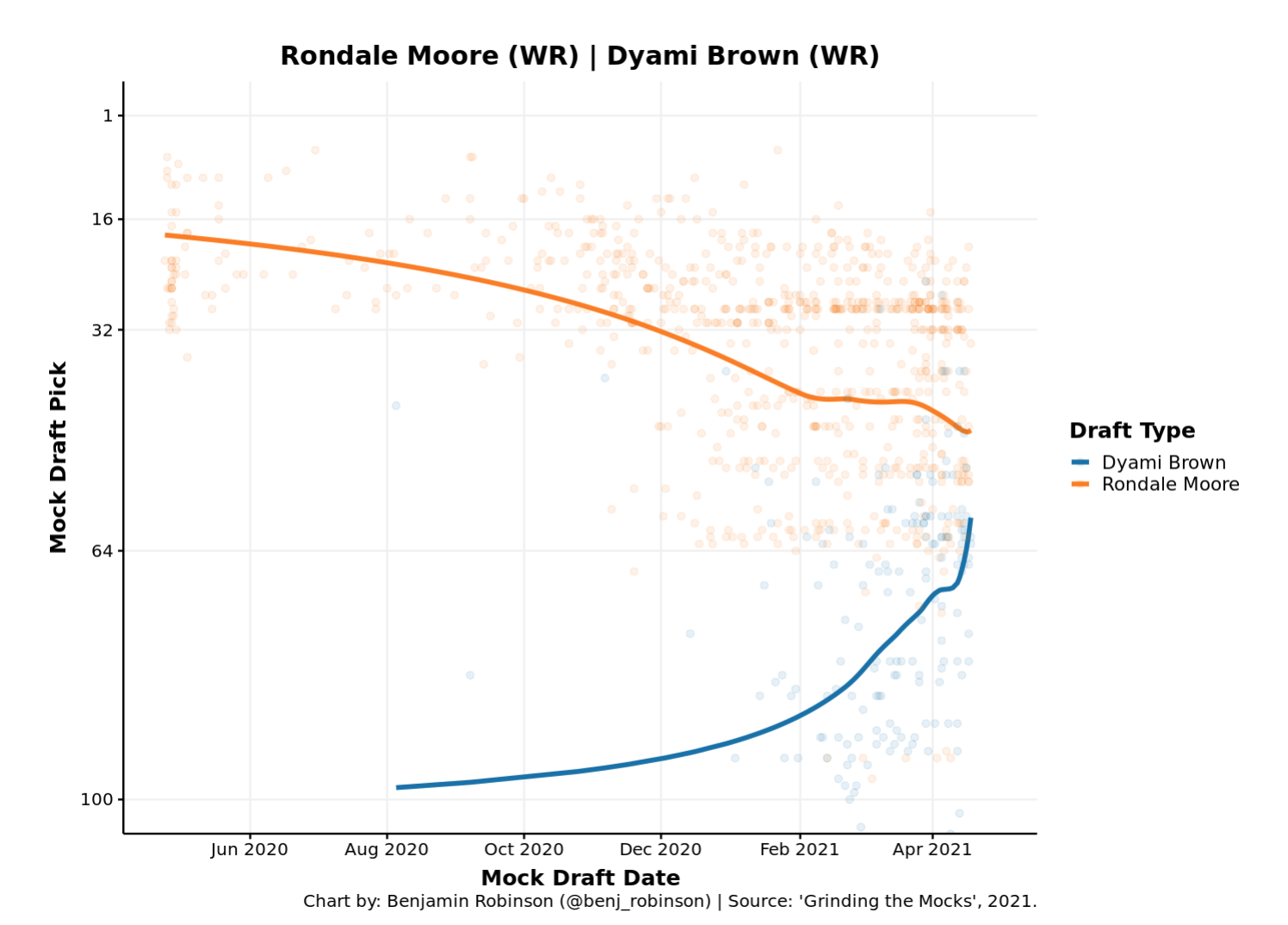 ---
More of PFF's 2021 NFL Draft tools here: 
2021 NFL Draft Big Board | 2021 NFL Draft Guide | 2021 NFL Draft Stats Export | NFL Mock Drafts | NFL Mock Draft Simulator