Estimated reading time: 5 minutes
---
Once the fantasy football season is over, die-hard fantasy players spend a reasonable amount of time without much to do. For those fantasy managers looking to improve their game, one of the best early offseason activities is to evaluate this past season's performances in order to get a better understanding of which players performed well, let us down and are primed for either regression or a leap forward in the season ahead.
This model will look at every IDP at each position, starting with the defensive backs, to compare each player's production to the average production of their peers. The model takes into account where each player lined up, what kind of defense they played in, what offensive situation they faced, their role on each individual play, and how many snaps they played to determine a better idea of the expected totals they either met, exceeded or underdelivered on in 2022.
---

---
Safety
Over-performers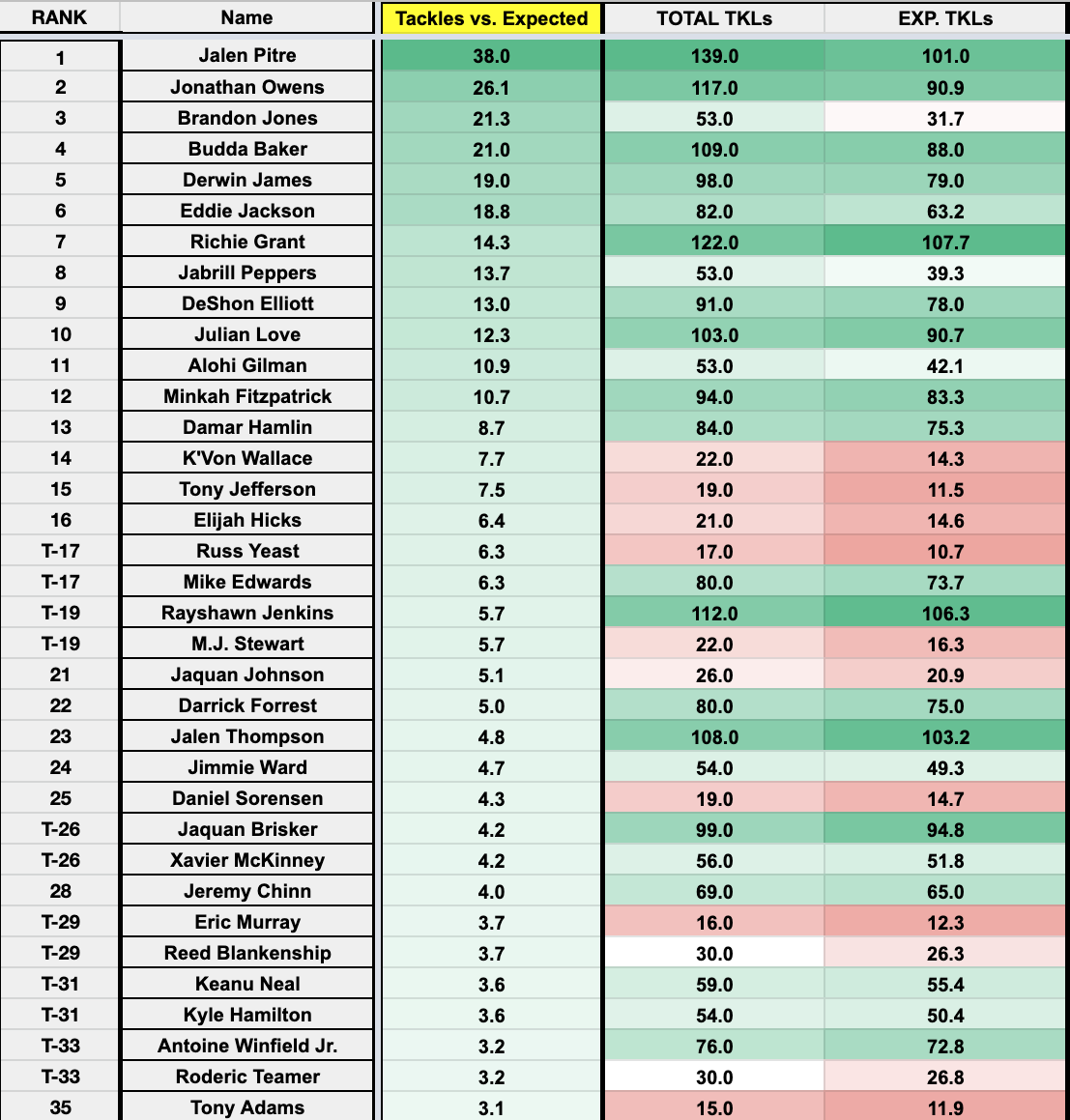 The clear standouts among the safeties are both Houston Texans starters, as Jalen Pitre (first) and Jonathan Owens (second) lead the entire position in tackles versus expected. Both players spent time lining up in the box this season but they delivered most over expectation when lining up deep. Typically the least efficient alignment for safety tackling, both Pitre and Owens made over 90% of their expected tackle total from that alignment, which should point to at least some regression in 2023. Minkah Fitzpatrick (12) is a prime example, as he finished with 24.2 tackles over expected in 2021 (second) and saw that number cut down to less than half due to his usage not changing much from last season to this season.
Fitzpatrick, along with Derwin James and Brandon Jones, were the three repeat performers inside the top 12 from last year's list.
Along with Pitre, several other rookie safeties outperformed their expected production in Year 1, including Jaquan Brisker and Kyle Hamilton, providing hope for dynasty managers that they continue to do so going forward as they fulfill their rookie draft stock.
Making tackles as expected