This is our bi-weekly check in on the value changes in dynasty fantasy football leagues. We're heading into Week 11, and the real trade deadline has passed, but fantasy deadlines are still to come.
Most leagues have only one or two more weeks to make trades meaning this will be the last edition of the Dynasty Stock Watch before rosters are frozen in the majority of leagues. We're also just weeks away from the fantasy playoffs, which means this week is huge when it comes to what you do with your roster. Below are the players we're taking the temperature on, dynasty-wise. But first: A recap of last edition's recommendations.
Russell Wilson has thrown five touchdowns since we recommended selling him. If anything, this has just made him more valuable and I would still sell. Dalvin Cook returned from injury with a cool 100-yard game. Ty Montgomery is still being worked into the Ravens offense, so we can't evaluate that one. Golden Tate was held to just two catches in his Eagles debut so hopefully you took our advice and sold. Meanwhile, his replacement in Detroit, Kenny Golladay, has nine catches for 120-plus yards since we recommended buying low. And finally, tight end Jordan Reed continues to be a hold, averaging four catches for 44 yards in his last two.
(PFF dynasty rank: 10)
If you look at strictly fantasy point rankings, Stafford's in the middle of a down year. He currently ranks just 18th in total fantasy points and is even worse if you look at per-game fantasy points. By comparison, he's finished as a QB1 in every season since 2011 except one. And even the one season he finished outside the top-10 he was 15th.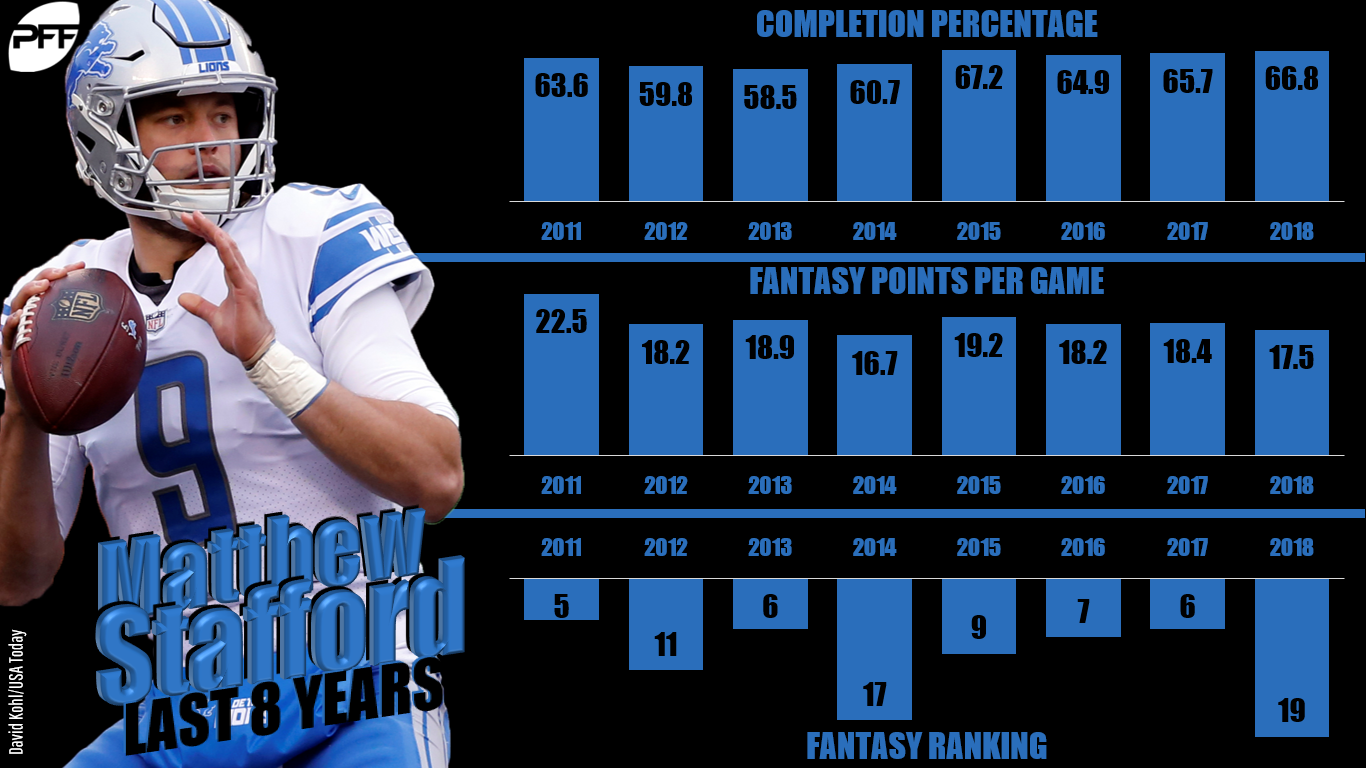 But rankings are only used when comparing to other players and is not necessarily indicative of how Stafford's done. Yes, he is on pace to finish with his lowest passing yardage total since 2010, yet he's still on pace for 28 touchdowns compared to the 29 he threw last year. And if you look at other numbers for Stafford, he's still on par or doing better in some areas. His current 66.8% completion percentage would be the second-best of his career and well above his 62.3% career percentage. His 4.8% touchdown percentage is also slightly higher than his 4.5% career percentage.
Verdict: Hold. Stafford and the Lions are due to transition in the offseason with Golden Tate gone and Jim Bob Cooter leading an offense down to ranking just 20th in points. But Stafford himself is doing what he's always done and can't help other quarterbacks — Patrick Mahomes, Jared Goff — passing him by in fantasy rankings. Stafford is still a solid quarterback for your dynasty team.
(PFF dynasty rank: 22)
Despite currently ranking as a RB2 in PPR leagues, Lewis hasn't looked it. Sure, he leads the Titans with 112 carries but his 3.5 yards-per-carry average (lowest in his career by a yard) has meant only 396 rushing yards. Now, his 35 receptions are just one shy of his career-high but it still ranks only 15th among running backs. On the season, Lewis has scored just twice.
The secret to Lewis' (fantasy) success has been volume. He's averaging about 12 carries per game, or about the same as last year. And despite a Titans offensive line that PFF currently ranks ninth in run blocking, Lewis himself hasn't used that to his advantage, dropping to 18th in PFF's elusive rating after finishing fourth last year, which has contributed to his lower YPC. As for the receiving game, his 39 targets are second on the team (and 18th among running backs) but his yards per oute run is just 22nd among all players at the position.
Verdict: Sell. Despite missing half of nearly three seasons, and seemingly having tread left on the tires, Lewis is still 28. Tennessee will also, presumably, be adding playmakers to the offense next year so it's hard to see Lewis doing any better than this season and I would look to get some value out of him before it's too late.
(PFF dynasty rank: 35)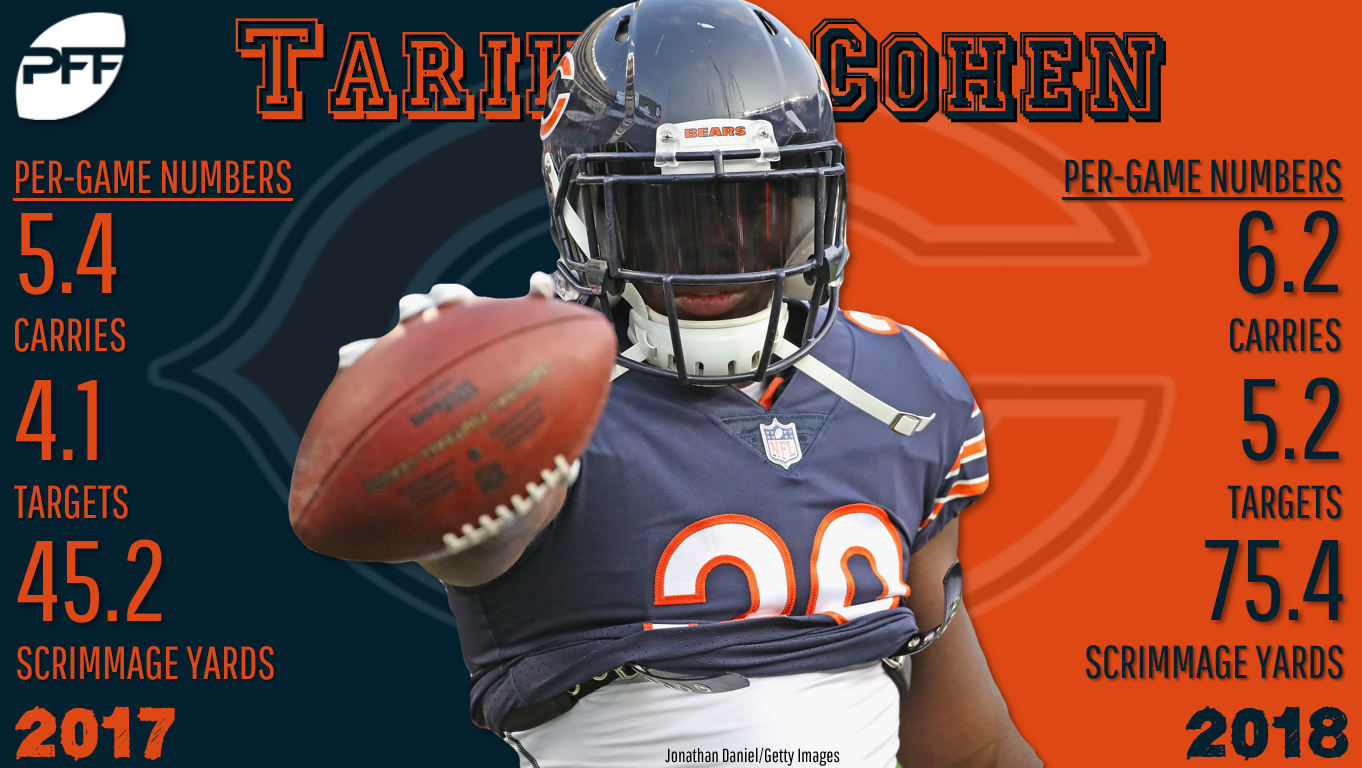 A lot of players on the Bears offense have benefited from new head coach Matt Nagy, Cohen included. He's averaging 6.2 carries and 5.2 targets a game this year after averaging 5.4 and 4.1, respectively, a year ago. The better news is his yards per carry hasn't suffered with the increased workload, averaging 4.3 last year and 4.4 this year. The receiving game is where Cohen is really shining, currently ranking second in yards per route run at 2.49. It's a good thing too as the Bears rank only 23rd in pass attempts per game.
Verdict: Buy. Cohen will be only 25 next season, while Nagy's Bears offense will have a year of experience under its belt. Cohen will never be a workhorse due to his size (despite Jordan Howard's decline), but will still be a big part of the offense. Think what Chris Thompson would be to Washington if he could stay healthy. I'd be buying Cohen in PPR leagues as he's currently proving you can be a RB1 being, primarily, a pass-catching back.
(PFF dynasty rank: 16)
After Hilton's first sub-1,000-yard season in five years, many people wrote it off as a function of not having Andrew Luck to throw him passes. After all, Hilton had either recorded 1,100 receiving yards or 82 receptions in each of the prior four seasons while scoring at least five times. Needless to say, neither of those things happened last year.
So there was optimism that Luck's return would boost Hilton's fantasy value yet, Hilton is averaging only 61 yards per game, virtually the same as last year's 60. He's also averaging just over four receptions per game and hasn't had more than four in any game this season since Week 3. This despite the Colts currently ranking third in pass attempts and 12th in passing yards. Of course, it doesn't help that Hilton currently ranks 31st in yards per route run. which is very close to his 27th ranking last season.
Verdict: Sell. Hilton is still the top target in a good offense but his decline in efficiency and the fact that he'll be 29 this week won't help. I'd sell at his current price and get a package of younger talent.
(PFF dynasty rank: N/A)
There are few players who have seen their fantasy stock rise as much as Boyd this season. After being written off thanks to missing time due to injury last year, plus the fact that Cincinnati spent the 10th overall pick on another receiver in 2017, not many people kept Boyd around. But staying healthy and progressing in Year 3 (yet he's only 24 this week) has led Boyd to be a top-15 fantasy receiver and a much brighter future.
Looking back, it's curious Boyd was written off in the first place. He was still a second-round pick in 2016 and had a decent rookie season, catching 54 balls for 603 yards. Despite that promising start, the Bengals still drafted John Ross in the first round, seemingly pushing Boyd down the depth chart. But Boyd stuck with it and already has 52 receptions for 685 yards and five touchdowns — all totals that have blown past his career-highs or soon will.
Verdict: Buy. Boyd is a buy whether you're in win-now or rebuild mode. A.J. Green will be out until December with an injury, making Boyd the de facto top option. Beyond this year, it's possible the Bengals go full rebuild but Boyd's youth (and cheap contract) mean he'll be part of it.
(PFF dynasty rank: 21)
Whether it's lack of competition among fantasy tight ends or not, Hooper has had a quasi-breakout season. After totaling just 49 receptions for 526 yards and three scores last year — finishing as barely a top-20 fantasy tight end — Hooper's almost matched that this year. Through just nine games, Hooper's caught 46 balls for 418 yards and three scores and is currently fantasy's No. 7 PPR tight end.
The cause of Hooper's ascension can be traced directly back to the offense he's a part of. For example, Hooper saw 12.6% of Atlanta's targets last year which has only slightly increased to 15.7% this year. The personnel is also fairly similar. Tevin Coleman has stepped in for Devonta Freeman while rookie receiver Calvin Ridley has replaced last year's third receiver Taylor Gabriel when it comes to snaps. No, the real difference is in the Falcons offense, which is averaging six more pass attempts this season, from 33.1 per game last year, and a season total of 529, to an average of 39.2 this season and a pace for 627. Julio Jones is still a target hog and both Ridley and Mohamed Sanu have 40-plus targets so far. Yet Hooper is still fantasy relevant.
Verdict: Buy. Hooper is performing at a low-end TE1 level yet shouldn't cost that much, especially if you're making a playoff run. Next year and beyond, there's a good chance Sanu gets cut, which could enlarge Hooper's role in the offense even more. Either way, as long as Falcons offensive coordinator Steve Sarkisian keeps producing top-10 scoring offenses, Hooper will have a place.