The draft is less than a week away. As you prepare for your 2018 fantasy football seasons, best ball leagues, DFS, and dynasty season, it's important to get ahead of the changes in value that the draft should bring for a wide variety of players.
Today, we're breaking down the players who could very likely see the biggest swings in value after this year's draft. The goal is to help you get out ahead of the game in dynasty leagues while also giving you players to put on your target and do-not-draft lists for all other formats.
(All ADP data comes from Fantasy Football Calculator; prospect visit data comes from Walter Football)
Players who could lose value
Brown's dynasty stock has been up and down since he entered the NFL in 2014 due to injuries and inconsistency. When healthy, he is one of the most electric wide receivers in the deep passing game and after the catch. This is what the Bills expect from him after signing him to a $27 million contract in free agency. His offseason dynasty price has since risen after watching UDFA Robert Foster find fantasy relevance as a deep threat with rookie quarterback Josh Allen in the final stretch run of 2018. However, the Bills have shown extensive interest in three of the top wide receivers in the 2019 class, including Marquise Brown, A.J. Brown, Deebo Samuel, N'Keal Harry, and D.K. Metcalf — all but one player from that list received a private visit (the NFL allows for 30 total at all positions). The Bills have met with more wide receivers than any position. We would be very wary of the dynasty value of any receiver on the Bills roster.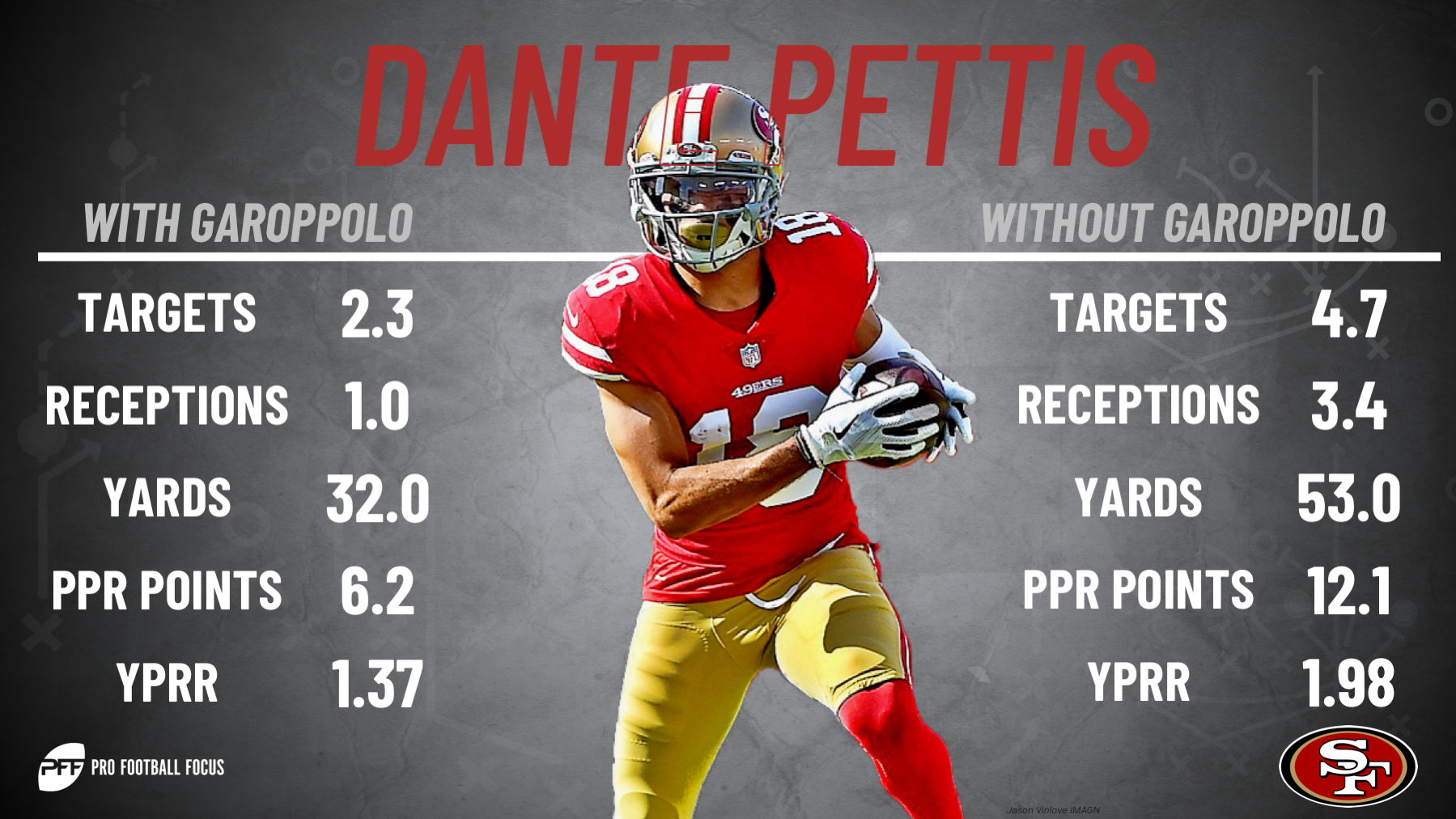 Pettis has been a favorite value pick in the fantasy football community this offseason as a 2018 rookie who showed WR1 upside after the bye week and enjoyed heavy praise from general manager John Lynch after the season. However, Pettis did his damage with Nick Mullens, and Jimmy Garoppolo will return in 2019. The 49ers have also openly admitted to being in on the bidding for wide receiver Odell Beckham Jr. before he was dealt to Cleveland. The 49ers have the No. 36 overall pick and have already hosted Samuel, Harry, and A.J. Brown for private visits (they also met with Brown at the combine). If the 49ers land any of the three talented wide receivers, Pettis' value will take a hit.
Adams has had some buzz as a value pick after an intriguing debut as a rookie with the Eagles once Jay Ajayi went down with an injury. Even with Jordan Howard now in the fold, Adams has sleeper appeal. Meanwhile, the Eagles have done their due diligence and then some on the 2019 running back class. Draft prospect Miles Sanders appears to be high on their draft board and they've had multiple private meetings with the projected top running back prospect Josh Jacobs. Adams does not have the three-down profile and could soon fall further behind in the running back rotation than is currently being anticipated.
Snead has the look of a de facto No. 1 wide receiver with a young quarterback, and young quarterbacks tend to lean on one target. Snead even has some limited rapport with Lamar Jackson from 2018. However, don't be fooled — Snead will be a complementary piece again and he might be further down the target pecking order than it appears now with multiple Ravens high-drafted tight ends who could take a leap forward in year two. The Ravens have been all over the top of the wide receiver market from a pre-draft visit standpoint, with private visits for Metcalf and Hakeem Bulter, among others. They didn't release Michael Crabtree without a plan.
When the Patriots took a flier on Seferian-Jenkins during the third wave of free agency, he was immediately moved up every dynasty tight end rankings group. Before we get too excited about his potential impact, though, it's important to note the team's previous failed attempt to unlock Dwayne Allen's full potential. It's also important to consider Seferian-Jenkins' long history of injuries mixed in with an off-field issue or two. The Patriots have shown serious pre-draft interest in tight end Noah Fant, and if tight end prospect T.J. Hockenson falls to them, they might not pass. They have also met with top tight end prospects Irv Smith and Jace Sternberger.
Players who could gain value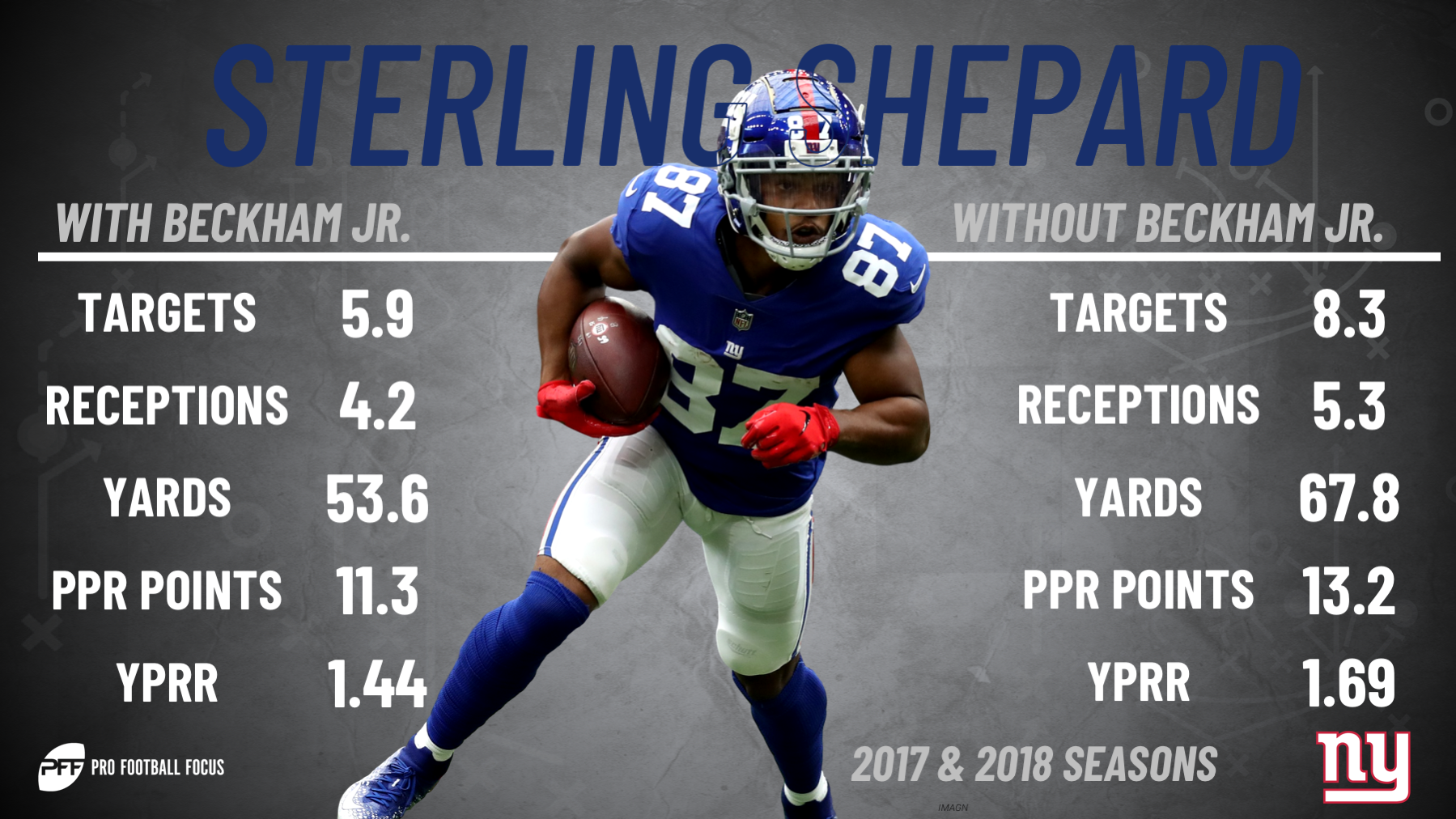 When the Giants signed Shepard to a four-year extension earlier this month it was a sign that drafted players from the Jerry Reese era can get a second contract. It was also a sign the Giants liked what they saw from Shepard during Odell Beckham Jr.'s injury absence in 2018. Shepard was used on the boundary more in 2018 with Beckham out and he had his best game with Beckham sidelined in 2018. With the exception of A.J. Brown, the Giants haven't used a single private visit on a wide receiver prospect. General manager Dave Gettleman plans to replace Beckham's production by building a stronger offensive line.
The C.J. Anderson signing sent a scare and shock to Johnson dynasty owners, but don't be too concerned. The Lions likely signed Anderson for a specific role and by adding that role via free agency they can pass on it in the draft. Until this point, the Lions have not been publicly reported to have met with a single running back prospect at the combine or during private visits other than a local workout for Michigan running back Karan Higdon. Johnson remains a safe bet to improve on his value with the Lions likely to pass at running back.
The Panthers have finally started to show signs of understanding the importance of building an offensive line in front of Newton. After allowing their best offensive lineman from 2017 to walk in free agency last year, they re-signed their second-best 2017 offensive lineman this year when they came to terms with right tackle Daryl Williams. During the pre-draft process, the Panthers have shown extensive interest with multiple private meetings and workouts with several top offensive tackle prospects, such as Cody Ford, Andre Dillard, Greg Little, and Jawaan Taylor, among others. The Panthers are committed to improving the line, and with further development from D.J. Moore and Curtis Samuel, Newton is a clear-cut bounceback candidate.
We've seen speculation the Falcons will look to upgrade their skill positions this draft, but their pre-draft positional interest tells a different story. The Falcons have used just one private visit on a wide receiver, and he's expected to be a Day 3 draft pick. Instead, the Falcons have focused pre-draft private visits on players who can help Matt Ryan in pass protection. This is great news for Ridley who could break out as a borderline WR1/2 after making a year two leap forward.
D.J. Moore, WR, Carolina Panthers
Like Newton, Moore will also benefit from the way the Panthers roster is currently constructed and how they plan to move forward. We expect the Panthers to upgrade the offensive line while viewing their skill positions as set. The goal in buying now on Moore is not only hoping he takes a year two jump but also that offensive coordinator Norv Turner will shift some of the volume from Christian McCaffrey to Moore.