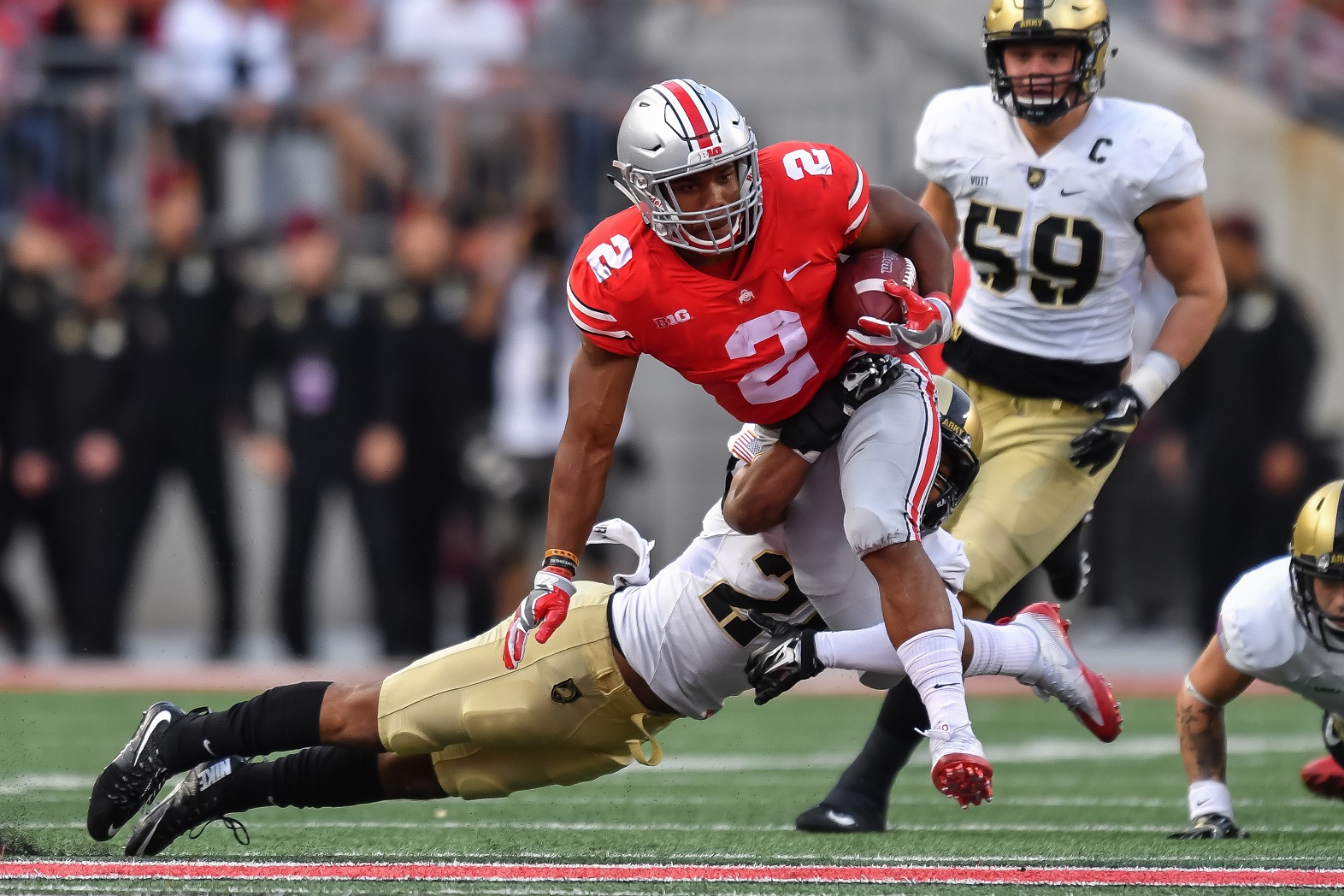 COLUMBUS, OH - SEPTEMBER 16: J.K. Dobbins #2 of the Ohio State Buckeyes runs with the ball against the Army Golden Knights at Ohio Stadium on September 16, 2017 in Columbus, Ohio. (Photo by Jamie Sabau/Getty Images)
Similar to redraft leagues, dynasty and devy fantasy football leagues see stock fluctuations throughout the season. However, they are not always as obvious since these fantasy owners are playing both a short and long-term game. This series will examine some dynasty and devy options who are emerging or fading as a result of injury, performance, or opportunity.
Dynasty stock up
Derrick Henry, RB, Tennessee Titans
This is an easy one. Henry has seen an increase in snap share, going from 27 percent up to 38 thus far in 2017. He also has had more touches (28) than DeMarco Murray (25) over the last two weeks. Add in the fact that Henry is averaging almost 1.5 yards more after contact per attempt (3.15 vs 1.77) and suddenly we are looking at less of a timeshare and more of a takeover.
Sterling Shepard, WR, New York Giants
Shepard was left for dead before the season. Through three weeks, only Davante Adams has run more total routes and Shepard leads the NFL in routes from the slot. In fact, he has been on the field for all but one offensive snap this season. Shepard is useful in PPR assuming this level of volume and is on pace to exceed 80 receptions and 1000 yards if this continues.
Evan Engram, TE, New York Giants
The concern with Engram was not his receiving, but his ability as a blocker. That hasn't changed, as he's currently rated 40th at the position (out of 63) for his run-blocking by PFF. Even still, Engram is one of three players with 100-plus routes run and could become the third rookie to exceed 60 receptions and 800 yards receiving. He may not have many big weeks this year given the weapons on the team, but Engram is a skilled receiver who should have a safe floor with potential to be an elite tight end in time.
Jared Goff, QB, Los Angeles Rams
There are only five quarterbacks who are completing more than 70 percent of their passes, with Goff being one of them. He is also third in passer rating, just ahead of Drew Brees. New additions to the receiving group have helped him immensely, as Goff has the highest completion rate (69 percent) on deep passes, with six of the nine going to players who joined the Rams this offseason. Goff is being pressured too much for my liking (38 percent of snaps, fifth-most) but if that improves, he could become a top-12 passer and cornerstone for a dynasty team.
Devy stock up
J.K. Dobbins, RB, Ohio State
Just a true freshman, Dobbins has shown the look of the next franchise NFL running back. He ranks sixth in rushing yards and seventh in elusive rating among running backs. Dobbins is a big-play threat as well, totaling nine runs of 15-plus yards and a 48.8 breakaway percentage that is ranked 11th. As the team heads into Big 10 play, Dobbins will show he belongs in the top-five devy running back conversation.
N'Keal Harry, WR, Arizona State
Most devy players had Harry as a top-25 overall devy option. He has certainly played the part, especially over the last two weeks with 20 receptions and 318 yards. Overall, he ranks 10th in wide receiver rating and is seventh among receivers with 169 routes run. The big bodied (6-foot-4, 216 pounds) option isn't eligible until 2019 but he should remain a coveted asset who could develop into a franchise NFL receiver.
Dynasty stock down
Samaje Perine, RB, Washington Redskins
The presumed lead back for 2017, rookie Perine has shown nothing to reward dynasty owners' faith. He has only broken one tackle on 40 rushes and has a long run of just 12 yards. Perine is actually graded last in terms of his running via PFF but was given the start in Week 3 with Rob Kelley out. He has talent and could turn things around, but with the low NFL draft capital invested, the team could look to other options after the season and sink any remaining value.
Breshad Perriman, WR, Baltimore Ravens
It may be time to move on here. Perriman had struggled with injuries but is healthy now, evident by his 62 percent offensive snap share. Still, he is 144th in yards per route run, only managing one reception on seven targets despite running two more routes than Jeremy Maclin. This is an inefficient player whose future is looking more like Justin Hunter than the Josh Gordon comparisons from draft weekend.
DeShone Kizer, QB, Cleveland Browns
One of the larger concerns coming out of college was Kizer's struggles with accuracy. It has shown on the field as he has only completed 50 percent of his passes in one of three games. One area of college success, play action plays, has not translated early on in the NFL. He completed 76 percent of passes on those plays in college versus just 56 percent through the first three weeks. If the Browns can get the run game going, it will help Kizer sell those play action situations and improve his completion rate.
Zay Jones, WR, Buffalo Bills
Jones has been given opportunity, ranking 33rd in routes run, but only has nine targets and three catches. Meanwhile, Jordan Matthews is averaging 1.65 yards per route run compared to just 0.41 for Jones. This could just be a slow start with Jones struggling to adjust to the NFL, but if it continues, those opportunities could start to disappear.
Devy stock down
Josh Allen, QB, Wyoming
Seen by many coming into the season as a possibility of being the first overall pick, Allen has not lived up to the promise. The deep passes in particular are an area of regression, with Allen completing just 33 percent of those attempts after hitting on 48 percent in 2016. He's also throwing them less often as they only make up 15 percent of his total attempts (down from 25 percent last year). With Allen's rifle arm being a major selling point for NFL teams, a decrease in accuracy on deep balls will hurt his stock.
Kalen Ballage, RB, Arizona State
The versatile runner is seen as a future PPR stud for an NFL team. However, he has stumbled both as a runner and a receiver early in the season. He is currently ranked 150th in elusive rating among qualified running backs and has just two runs of 15-plus yards. Add in the fact that his yards per route run has dropped from 2.34 in 2016 to 0.60 this year and Ballage hasn't been able to create big plays. A natural athlete with soft hands, Ballage will need to refine his technique to succeed at the next level.