(PFF Fantasy is reacting to all the offseason moves from a fantasy football perspective. Follow along here.)
That sound you just head was James Washington's fantasy stock plummeting. Washington's time as a potential breakout fantasy option was nearly as short as Antonio Brown's time as a Buffalo Bill, but it's over now that the Pittsburgh Steelers have signed Donte Moncrief to a two-year deal. To be fair, Moncrief doesn't step into the building as the clear-cut No. 2 option, but he does figure to have a leg up on Washington for No. 2 duties.
Following an injury-plagued four seasons in Indy, Moncrief spent last year in the wide receiver fantasy purgatory know as Jacksonville. But despite having to play a good chunk of the season with Blake Bortles, he managed to post 48 catches for 688 yards and three scores. No, those numbers don't jump off the page. But Moncrief did display upside at times — especially in Week 4 when he notched 109 yards and a score on five catches — and, perhaps more importantly, made it through a full season for the first time since 2015.
[using promo code BESTBALL grants you 25% off any PFF subscription, join now]
Pittsburgh had a Grand Canyon-sized hole to fill with Brown now in Oakland. And no, Moncrief doesn't even come close to filling that gap. But he showed last season that he can be a capable three-down wide receiver. Moncrief served in that role in 11 of the Jaguars' 16 games last season.
There's no denying the fact that JuJu Smith-Schuster is now the Steelers' top target. He commanded a nearly 25% target share last season with Brown hovering just under 27%. In 2019, we anticipate a jump in Smith-Schuster's target share to just over where Brown was last year. But with a 4-5% increase, we still have over 20% of Browns' targets to distribute.
Assuming most, if not all, of these targets remain with the wide receivers, we're likely to see a majority of these targets divvied up between Washington and Moncrief. Last season, the No. 3 wideout typically saw around an 11% share. But, of course, that was with Brown on the roster. So we will likely see a slightly higher number this year for Washington. Bumping Washington up to 13% is well within the range of possibility. That's a 7% boost from last year.
Giving these increases to Smith-Schuster and Washington essentially leaves about 16% of Brown's targets of the table, which is more than reasonable expectation for Moncrief if he in fact earns the No. 2 job.
On most teams, a 16% share doesn't sound that appealing, but remember that we're talking about the extremely pass-heavy Steelers. Last year, Steelers receivers saw 653 targets in the regular season. That was a big jump from the 561 targets from the year before, but even splitting the difference gives us a healthy 607 targets. That translates to just under 100 targets for Moncrief at a 16% share. Given his historic production tendencies, here's a reasonable projection:
97 targets, 57 catches, 798 yards, 6.5 TDs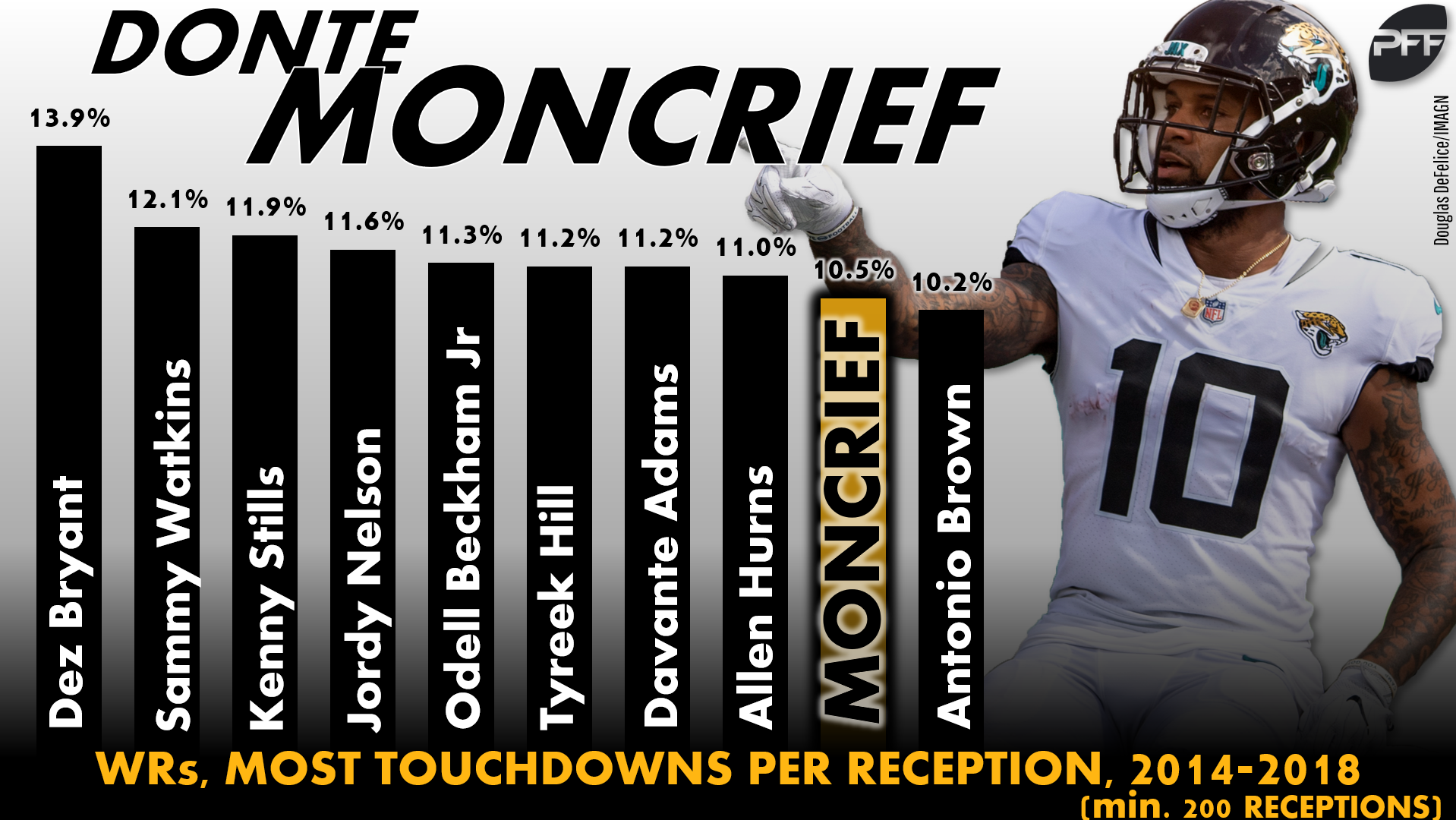 While that touchdown number may seem a bit high, keep in mind that over 10% of Moncrief's career catches have gone for scores. Not to mention the fact that Antonio Brown scored a massive 15 times last season for the Steelers. Regardless, when you add up that projection, you get 175.8 PPR points. That production would place him squarely in the top 36 fantasy wide receivers as a back-end WR3 option.
Though we lack clarity on the Steelers intentions for Moncrief, his opportunity and fantasy upside are very intriguing. If Moncrief does earn the No. 2 gig, Washington would slide in as more of a WR4. But there's still plenty of appeal to taking a flier on him as well.