Kyler Murray is one of the more polarizing prospects in dynasty fantasy football rankings. Our rankings at PFF range from Murray as a late-first-round pick to a mid-second-round pick. It's rare for a quarterback to warrant first-round rookie draft consideration, but can a case be made for Murray?
To settle this debate, our Jeff Ratcliffe and Daniel Kelley break down their respective rankings for Murray. Ratcliffe is currently our highest ranker with Murray at No. 9 in his dynasty fantasy football rankings. Kelley slots him in seven spots back at 16.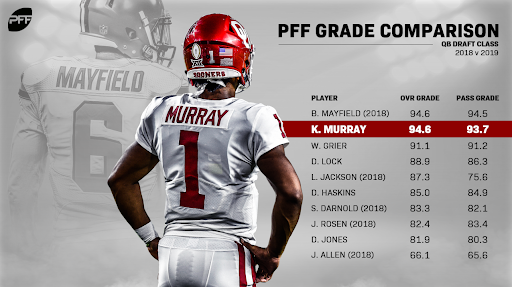 Kelley: Let's start with this: I'm not concerned about Murray's talent. Our analysts had him as the No. 1 overall player on the 2019 NFL Draft Big Board, behind only Baker Mayfield across recent classes, and called him the most dangerous mix of both arms and legs since Russell Wilson. He's definitely elite.
[Editor's Note: All of Pro Football Focus' EDGE & ELITE subscribers have access to our DraftMaster tool, which allows subscribers to run mock drafts and practice roster building BEFORE their season-long and Best Ball drafts. New subscribers can subscribe to EDGE for as low as $9.99 today!]
My problems are twofold: First, he's playing the most crowded position out there. Seventeen different quarterbacks put up at least 250 fantasy points last year, from Patrick Mahomes down to Eli Manning. A 75th-percentile production out of Murray as a rookie puts him at, what, QB12? Multiple years of that are great. But the difference between a top-flight quarterback and a potential upper-echelon player at a flex position is massive. The chances of me having an established quarterback in my dynasty league, and having him in place for multiple years, are good. The chances of me having my No. 1/2 running back or wide receiver are less.
Second, we literally just saw how badly things can go for a high-drafted Arizona quarterback without a strong roster around him. And for all the receivers the Cardinals brought in in the draft, the team didn't devote that many offseason resources to the offensive line that ended 2018 as PFF's last-ranked offensive line in the game. They signed J.R. Sweezy, 30 years old and coming off a 45.7 overall PFF grade, and traded for Marcus Gilbert, who is 31 and has been very good, but has been on the field for only 760 offensive snaps the last two years combined. Murray can run like the wind. He'll probably have to.
Ratcliffe: There's no disagreement that there's a logjam at quarterback in the modern era of fantasy football. In fact, that's why I had Murray outside the top 12 in my pre-draft rankings. My thought process was simple: you don't draft quarterbacks in the first round of rookie drafts. That's the way it's been for years. We have to go all the way back to Andrew Luck to find a signal-caller worthy of first-round rookie consideration.
However, a closer look at things has caused me to shift my perspective. Of the 17 quarterbacks who topped 250 fantasy points last year, six of them were over 35 years old and nine were at least 30 years old. While we're certainly seeing quarterbacks extend their shelf life in today's NFL, eventually there's an expiration date for all players. That's a fact you have to be keenly aware of in dynasty leagues.
So in a vacuum would I prefer Aaron Rodgers over Kyler Murray? Yes, absolutely. Rodgers is 14 years older than Murray. In a perfect world, a Rodgers dynasty owner can expect upward of five more years of high-end fantasy production. While Murray may not be elite from the gate, his long-term ceiling is extremely high, and a fantasy owner can expect to own him for 15 years or longer. When it comes to the long-term, Murray offers the sort of fantasy shelf-life that would make a survivalist giddy. And it's that potential for longevity that slides him up into the tail end of the first round in my rookie rankings.