Each week this season, we're going to start our DFS analysis early by looking at players whose salaries increased or decreased the most across DraftKings and FanDuel.
Price changes happen for a variety of reasons: Matchups, injuries, performance, or some combination of all three. We'll run through some of the players who have seen significant salary changes this week and offer some early thoughts as to why that might be the case and what it means for their Week 3 outlook.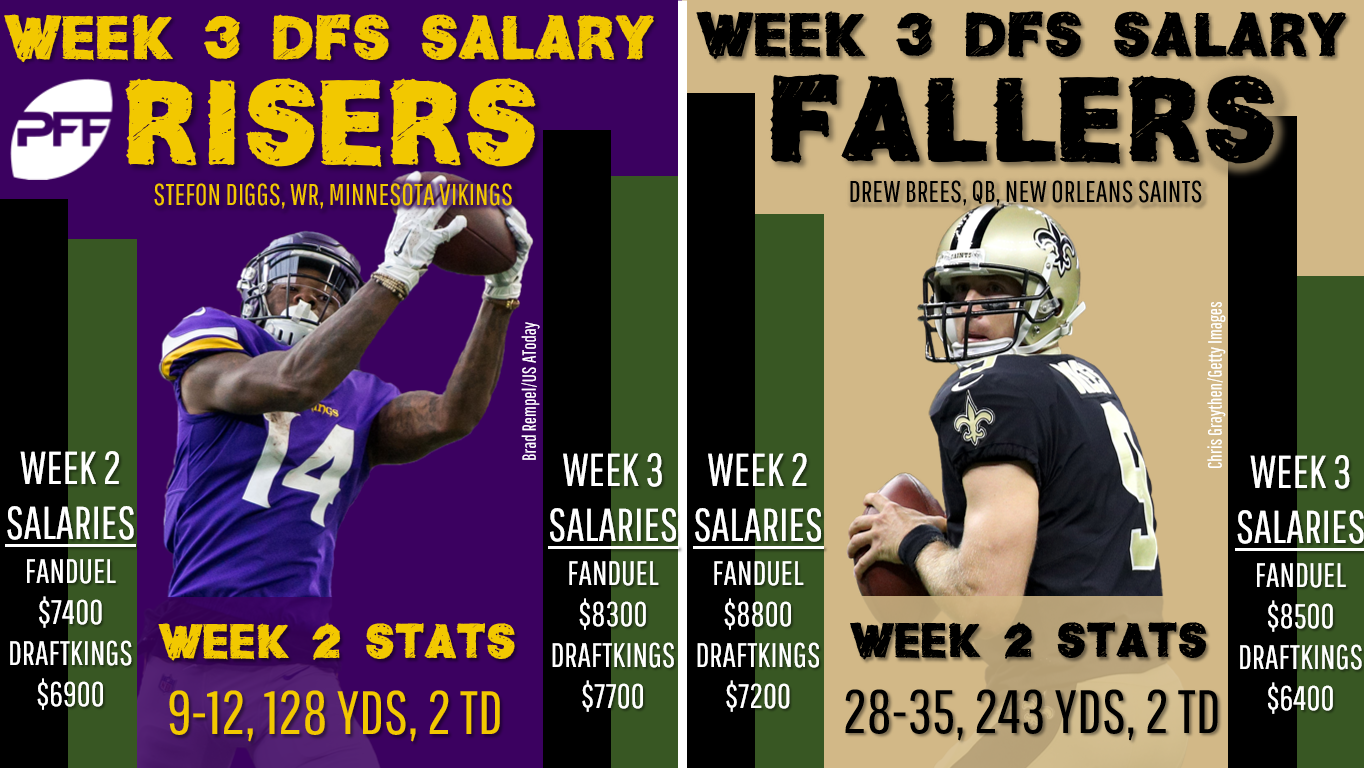 Price up
+$2,100 on DraftKings; +$1,200 on FanDuel
Bernard saw the biggest salary jump from Weeks 2 to 3. With Joe Mixon sidelined for a few weeks, Bernard is in for an increased workload. Last season, from Weeks 13 to 16, while serving as Cincinnati's main back, Bernard was a top-10 fantasy running back. He averaged 20 touches and 109 total yards per game in that span. He still looks like an early-week value despite the price increase.
+800 on DraftKings; +$900 on FanDuel
Diggs sees a massive price jump after posting a 13-9-128-2 game in Week 2. His increased price is partially because of his huge performance (in a game in which he was slightly underpriced), but it's also due to the fact the Vikings are playing the Bills in Week 3, who have given up 39 points per game so far this year.
+$1,100 on DraftKings; +$1,400 on FanDuel
Coleman emerged as the premier value running back in Week 2 because of Devonta Freeman's injury, but both DraftKings and FanDuel remedied his price tag in Week 3. Freeman's return timeline is still up in the air, so the sites were definitely right in boosting Coleman's price this week. The matchup against the Saints isn't the best, but Coleman is still cheap for a guy who should push for 20 touches.
+$900 on DraftKings; +$1,400 on FanDuel
If 2017 was the year of Deshaun Watson, then 2018 is the year of Mahomes (so far). With 10 touchdown passes in two games, Mahomes is scoring fantasy points at a completely unsustainable rate. But the DFS sites have no choice but to boost his price, especially in a game against the 49ers which could turn into a shootout. Mahomes is the most expensive quarterback on FanDuel and the second-most expensive quarterback on DraftKings, which should take him out of cash lineup consideration.
+$900 on DraftKings; +$800 on FanDuel
Cooks is fitting in just fine with his new team. Through two games, Cooks is tied for the team lead in targets (16) and is first with 12 receptions. Cooks' 246 receiving yards are more than Robert Woods and Cooper Kupp have combined (233). His 3.67 yards per route run ranks third among all wideouts who have at least 10 targets so far this season. Cooks needed a price increase because he's performing at an elite level, but he's still just outside the other elite option in terms of salary.
Price down
-$1,000 on DraftKings; -$200 on FanDuel
Here's a great nugget from our own Scott Barrett: In 2016, Johnson was PFF's highest-graded receiver (including WRs and TEs). In 2018 — for some reason — Johnson has just 10 targets through two games while teammate Chase Edmonds has nine. Head coach Steve Wilks this week promised to use Johnson more creatively, and hopefully, that just isn't coachspeak. Johnson's usage makes him difficult to trust in cash games, but he's going to be a worthwhile tournament flier the lower his price gets; a massive game can't be too far away.
-$500 on DraftKings; -$800 on FanDuel
Earlier last week, I actually really liked Lewis in Week 2. But Marcus Mariota's injury coupled with injuries to key offensive lineman made Lewis a bad play. His price took a hit as a result — and because his matchup against the Jaguars in Week 3 is not ideal. Lewis is cheap enough to pay attention to despite the matchup this week, but it all depends on the health of those around him.
-$500 on DraftKings; -$400 on FanDuel
Doyle seemingly has two things working against him in Week 3: The matchup (against the Eagles) and his teammate (Eric Ebron). The Eagles are a tough matchup — although O.J. Howard did post a line of 3-96-1 against them last week, aided by a 75-yard catch-and-run. Ebron's presence is the bigger concern, as Ebron caught a touchdown for the second week in a row while Doyle remains scoreless through two games. Doyle, however, has run a pass route on 85 of a possible 94 routes (90 percent), while Ebron has run 37 (39 percent).
-$600 on DraftKings; -$500 on FanDuel
Nelson has seen four targets in each of his first two games with just 53 yards on the season. With Jared Cook going off in Week 1 (12-9-180-0) and Amari Cooper going off in Week 2 (10-10-116-0), it's fair to wonder if Nelson's slow start is partially due to the fact that his teammates have simply been running hot. However, that's also part of the problem for Nelson: Oakland does have a handful of viable weapons — and even more now with the re-signing of Martavis Bryant — which will likely prevent him from seeing the volume needed to be a regular contributor. Nelson is probably still priced too high.
-$800 on DraftKings; -$300 on FanDuel
Brees' price is coming down despite the fact early Week 3 lines have the Saints/Falcons game projected to be the third-highest-scoring affair of the weekend. Brees remains among the five most expensive options at the position, but in 25 career games against the Falcons, Brees has averaged over 300 passing yards and nearly 2 TDs per contest. Through two weeks this year, Brees ranks third in yards (682) while completing 83.3 percent of his passes.