Recently, on the football side of the operation, Steve Palazzolo assessed the needs of all 32 NFL teams and put together a mock draft of the first round based on a combination of what he sees as team needs and his player grades for draft-eligible players. I decided to analyze what this mock draft would mean for a few of the players selected (and the team/roster halo effect) from a dynasty fantasy football perspective.
This is an important exercise and it's one I like to go through several times as the draft evaluation period approaches each season. You may be familiar with Newton's Third Law, which states that for every action, there is an equal and opposite reaction. In dynasty, this means that if you decide a certain rookie is an attractive buy in the first round, you shouldn't be oblivious of what his presence on a new team will mean for the players already on-hand. For example, you may have liked D.J. Moore as a 2018 prospect. Investing a draft pick in Moore based on your assessment of how he might ascend in the Panthers offense was not only a bet on Moore, it was a bet against Devin Funchess and Curtis Samuel.
Will the players in Steve's most recent Mock Draft all land in these spots? No — but the primary takeaway from this piece is the teaching concept I shared above and being transparent with how I'll begin my rookie class ranking process for 2019.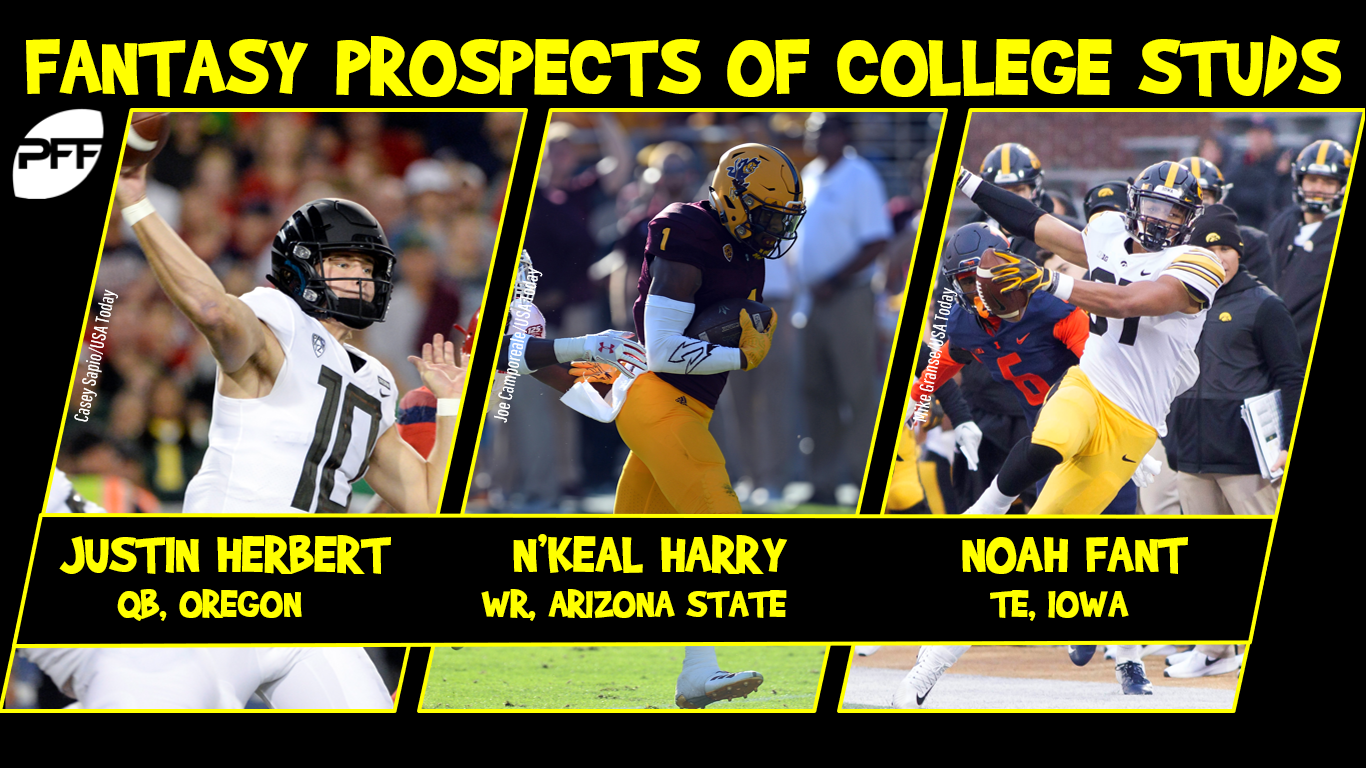 Steve Palazzolo's 2019 NFL mock draft 2 (skill players only):
1.02 New York Giants — QB Justin Herbert, Oregon
Of the realistic landing spots, landing in New York would be a dream fantasy scenario for Herbert. With a pair of elite playmakers in Odell Beckham Jr. and Saquon Barkley, and talented depth players like Sterling Shepard and Evan Engram, Herbert could find his way to very early meaningful fantasy production. Being drafted this high (and to a team with this cast) would cement Herbert as a top-three pick in dynasty rookie superflex drafts and a likely mid- to late-second-round selection in traditional 1QB leagues.
The directly affected player would be Eli Manning, who would essentially become a lame duck — it would likely play out very similarly to the Tyrod Taylor and Sam Bradford scenarios of early 2018, where each player's dynasty value completely tanked in advance of the inevitable benching.
1.10 Jacksonville Jaguars — WR J.J. Arcega-Whiteside, Stanford
1.13 Tennessee Titans — WR N'Keal Harry, Arizona State
Landing in Tennessee would be a poor scenario for Harry's early career fantasy prospects. Through Week 11, the Titans rank 31st in the NFL in passing attempts, 30th in passing yards, and 31st in passing touchdowns. The purpose of drafting Harry would be to improve on those numbers, however we've seen this level of putrid performance from the Titans passing offense for the better part of two seasons now. I would argue that the presence of another early-career first-round wide receiver, Corey Davis, could also be a barrier to Harry having an immediate fantasy impact, but it's not even that simple. Despite pacing for 128 targets this season, Davis won't crack the 1,000-yard mark and is a longshot to finish with more than 4-5 touchdowns based on his usage. Davis is 16th in the NFL in targets but ranks as PPR WR29 to date. The bottom line is this offense hasn't yet figured out how to be prolific in the passing game with Marcus Mariota at the helm.
If Harry were to be selected by the Titans, I'd project him as a mid-first-round dynasty rookie pick rather than a top-three asset based on the situational factors above. My strategy with the player would be to ignore him in rookie drafts and trade for him at a discount after his value drops due to what I foresee as an inevitably disappointing first season.
Davis' dynasty value would take a hit, as owners would certainly become anxious about his long-term outlook. Currently a late fourth-round selection in dynasty mock startup drafts, I'd expect him to fall into the fifth or sixth round, but no further. Jonnu Smith would likely get crushed here, as his primary path to relevance in such a low-volume offense is end-zone usage — an area where he'd get direct competition from Harry. Mariota would likely see a small increase in value, driven by his truthers who might opt to believe that adding another early-round talent would make his supporting cast so strong that he couldn't possibly continue to be a fantasy failure.
1.15 Detroit Lions — WR A.J. Brown, Ole Miss
1.16 Miami Dolphins — QB Dwayne Haskins, Ohio State
1.22 Seattle Seahawks — WR Marquise Brown, Oklahoma
1.25 Buffalo Bills — WR Anthony Johnson, Buffalo
1.26 Pittsburgh Steelers — TE Noah Fant, Iowa
If Fant were to be selected by the Steelers in the first round, he'd be a lock first-round dynasty rookie selection as well. Though Vance McDonald has his strengths, Fant is one of the more physically impressive and productive tight end prospects of the past few seasons. At 6-5 and 243 pounds, Fant posted a vertical jump of 42.1 inches in offseason training, which would be the highest mark by a tight end at the NFL combine in seven years. He also holds Hawkeye program tight end records for pro-agility and 10-yard dash. The athleticism has translated to the field, as he's scored 18 touchdowns in his past 23 games.
Fant landing with the Steelers would bring McDonald's mid-career breakout to a screeching halt. Though he's signed through 2021 and is currently PPR TE10, the community would quickly sour on his outlook. If this happens, from a dynasty value standpoint it will play out almost exactly like the O.J. Howard and Cameron Brate saga in Tampa Bay in 2017, when the Bucs drafted an elite tight end despite a solid and productive campaign by their incumbent veteran the year prior.
After McDonald, the biggest dynasty hit in the Steelers offense would be to 2018 rookie James Washington. He's been unable to earn target share this season due to the quality at wide receiver in front of him and James Conner's (perhaps unforeseen) prowess as a pass catcher. Fant would only complicate things further, not to mention that McDonald would also still be around and likely encourage the team to use more 12 personnel formations.
1.30 New England Patriots — TE Jace Sternberger, Texas A&M