(Playing AAF DFS this week? Win a one-year subscription to PFF Elite by playing this DFS contest on Fanball!)
Are you an absolute fantasy football fanatic, a DFS junkie, or just someone intrigued by the new Alliance of American Football League? Well, if so, I've got good news for you. FanBall has a DFS platform for the AAF and we've got content for it.
See below for how I'll be attacking the Week 6 AAF slate over on FanBall.
Make sure you're also checking out our rankings and projections and Jeff Ratcliffe's WR/CB matchup chart for Week 6 of the AAF inaugural season.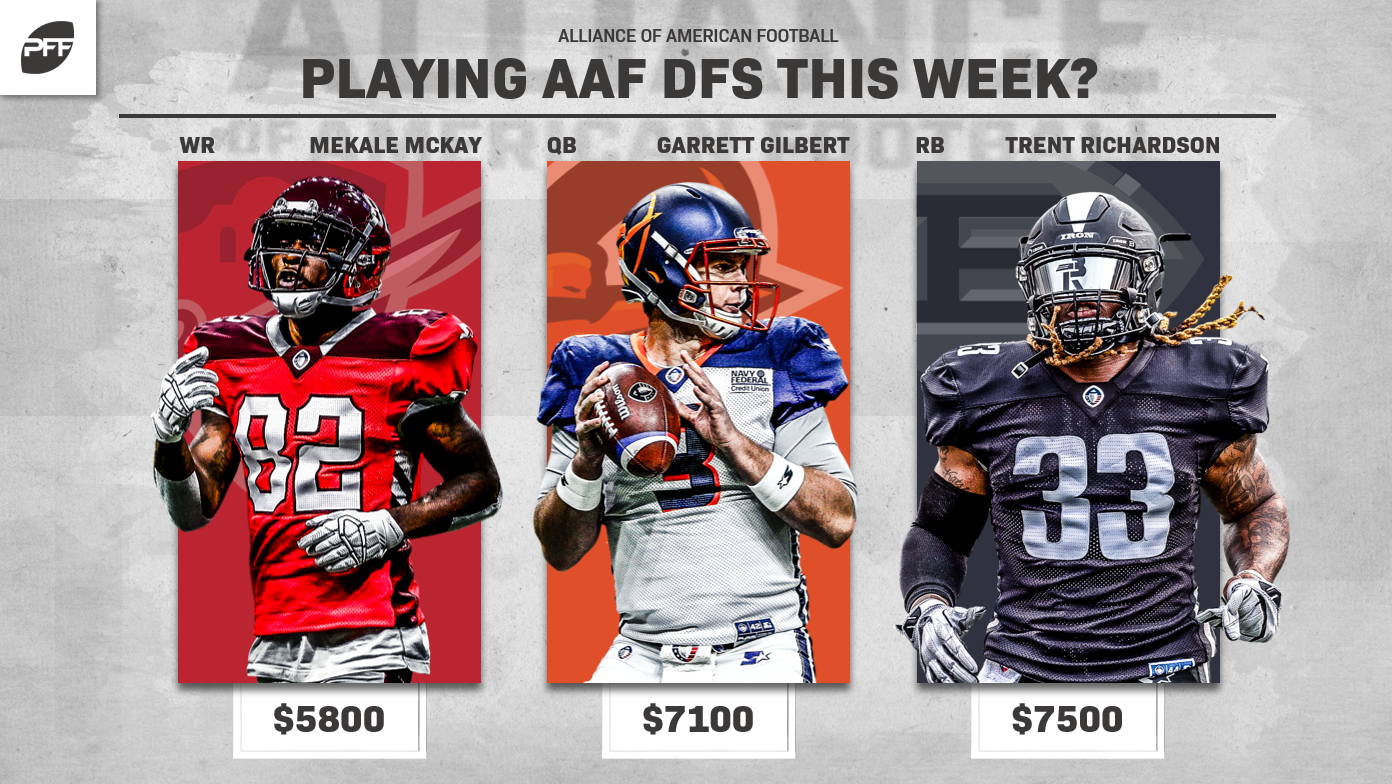 Quarterbacks
Garrett Gilbert, QB, Orlando (vs. Arizona) ($7,100)
Gilbert is expensive but still clearly remains the most productive, efficient, and consistent of the AAF quarterbacks. By a wide margin, he leads the position in passer rating (110.7), PFF grade (86.9), and fantasy points per game (23.6). He also has a much better matchup this week, at home against Arizona (16.9 fantasy points per game allowed). Despite the lofty salary, he's probably worth paying up for.
Other: If you need the salary space, you can turn to any of Aaron Murray, John Wolford, Zach Mettenberger, or Keith Price. Wolford, Mettenberger, and Murray are all priced within $700 of each other. Over the past two weeks, or since being anointed the starter, Murray ranks first in passing yards (562) and second in PFF grade (70.6). Murray is at home against San Antonio, who ranks second-worst in fantasy points per game allowed to opposing quarterbacks (18.9). Wolford still ranks second in fantasy points per game, though has a difficult matchup this week (against Orlando). Mettenberger still ranks second in passer rating (105.1) and PFF grade (75.3) and has an above-average matchup, though on the road. However, of this list, Price is likely to draw the highest ownership due to, well, price. Price, in place of Luis Perez, totaled 304 yards, one touchdown, and one interception last week. He'll be starting in Week 6, and is cheap, but was also our single-worst-graded quarterback in Week 5.
Running backs
Trent Richardson, RB, Birmingham (@ San Diego) ($7,500)
Richardson is still the most valuable fantasy running back in the AAF, but it's getting harder to call him a must-play. He's expensive and has seen his touch count fall from 23.0 per game (Weeks 1-3) to just 12.5 over the last two weeks. On top of that, he's averaging just 2.4 yards per carry and is wholly touchdown-reliant. Still, his market share of volume is just as good as ever, he's scored at least 15.0 fantasy points in every game thus far, and is still pacing the league in touchdowns and volume. He's on the road against San Diego this week (second-fewest fantasy points per game allowed), and, for the first time this season, is not necessarily a must-play.
Zac Stacy, RB, Memphis (@ Salt Lake) ($6,500)
Stacy took advantage of an ideal matchup last week and now feels like points-chasing but is still one of our better options this week. He's one of only two running backs to post a double-digit weighted opportunity scores in each of the past four weeks. Over this span he ranks third-best in weighted opportunity market share, and averages 14.0 fantasy points per game (fourth-most). Still, this week, he has a worst-possible matchup, on the road against Salt Lake (fewest fantasy points per game allowed).
Taren Folston, RB, Atlanta (vs. San Antonio) ($5,800)
Brandon Radcliff, RB, Atlanta (vs. San Antonio) ($4,500)
Over the past two weeks, Radcliff ranks fifth at the position in touches (27) with just one fewer than Folston. He's a strong value in his own right, as just the 11th-most-expensive running back this week, but still well behind Folston in our projections. Over the past two weeks Folston has seen 16 carries and 13 targets, totaling 196 yards and two scores. He's a clear top option this week, and especially as underdogs in what should be a pass-heavy affair.
D'Ernest Johnson, RB, Orlando (vs. Arizona) ($5,700)
De'Veon Smith, RB, Orlando (vs. Arizona) ($5,500)
Over the past two weeks of the season, Smith ranks third in carries (26) and second in rushing yards (170). He was held without a catch but did draw three targets over this stretch. Over that same span, Johnson turned 20 carries into 85 yards on the ground and, through the air, turned eight catches into seven receptions for 77 yards. (Neither recorded a touchdown.) Though projected gamescript (massively positive) might suit Smith slightly better, Johnson is still the superior option at price. Johnson ranked second-best at the position in weighted opportunity last week and ranks third in fantasy points per game (13.6) over the past three weeks.
Other: Jhurell Pressley ($5,300) is still in play, ranking second-best in weighted opportunity score over the past three weeks, but Tim Cook's ($3,400) recent reemergence (15 opportunities to Pressley's 13 last week) leaves me less than excited. Though, in his own rights, Cook is a strong salary-saver. Trey Williams ($4,000) becomes a top play this week if Kenneth Farrow is out or severely limited. If not, I won't be touching him. The same goes for Joel Bouagnon ($6,400) (a weekly touchdown-or-bust option) if Terrell Newby is out.
Wide receivers
Charles Johnson, WR, Orlando (vs. Arizona) ($8,000)
Rashad Ross, WR, Arizona (@ Orlando) ($7,600)
If you're looking to pay up at the wide receiver position, you really only have two options: Ross and Johnson. Ross is the more dependable one, reaching at least 16.5 fantasy points in every game this year, while Johnson might have a little bit more week-to-week upside. Ross is averaging 21.2 fantasy points per game to Johnson's 19.3, while the next-closest wide receiver (Mekale McKay) is 6.2 fantasy points per game behind. They play each other this week, and both matchups are similarly neutral, but I'll give the slight edge to Ross who is cheaper and totals 85 more air yards than Johnson over the past two weeks.
Mekale McKay, WR, San Antonio (@ Atlanta) ($5,800)
McKay ranks third in yards (331) and fantasy points (64.1), as well as fourth in targets (38), air yards (583), and fantasy points over the last three weeks (43.1). Somehow, he's just the fifth-highest-priced wide receiver of the week, and only $600 more than the ninth-highest-priced wide receiver — another strong value, Quinton Patton.
Quinton Patton, WR, Birmingham (@ San Diego) ($5,300)
Patton ranks second in targets this season (41) and second in targets over the last two weeks (20). He also ranks third in air yards this season (611) and third in air yards over the last two weeks (226). Of course, his efficiency has been embarrassingly bad since Week 1, but perhaps a more competent starting QB in Keith Price can help turn things around.
Freddie Martino, WR, Arizona (@ Orlando) ($3,900)
With Josh Huff on IR and Richard Mullaney likely still out, keep an eye on Martino, who ascended to WR2 status in snaps (behind Rashad Ross) last week. Martino saw seven targets last week (seventh-most at the position). He's probably the top value at the position this week, ranking just 23rd in salary. Remember, Huff ranked first in the AAF in targets (17) and air yards (228) over the prior two weeks, while serving as Arizona's WR2.
L'Damian Washington, WR, Birmingham (@ San Diego) ($4,000)
Brian Tyms, WR, Salt Lake (vs. Memphis) ($4,100)
Washington has seen six, seven, and six targets over the last three weeks, ranking fifth-most over that span. He also ranks tied with Tyms for the fifth-most targets per game over the last two weeks (6.5). Washington also ranks fourth-best in air yards per game over the past two weeks (112), while Tyms ranks 10th (68). Neither has been especially productive, but their volume is good enough, and their salaries are low enough to justify themselves as top Week 6 values.