Week 5 shepherded the return of the tight end security blanket to the fantasy football landscape, but it was not just the usual suspects. Sure, Zach Ertz saw six targets and caught a touchdown against blitzes, but so too did Austin Seferian-Jenkins, and George Kittle saw five and scored. Zach Miller had three targets and a touchdown against blitzes and has the potential to become a real blitz asset for rookie Mitch Trubisky. Meanwhile, tight end-at-heart Cole Beasley set the pace with two touchdowns on his three blitz targets. The research I did over the offseason shows that some players provide security blankets for their quarterbacks against blitz-heavy teams while other players see fewer targets. None of those tight ends has an extreme blitz matchup in Week 6, but there are several important players who do.
(It's PFF Fantasy's Free Content Week. Keep up with all the offerings here.)
Players to target
Marqise Lee, WR, Jacksonville Jaguars
Lee has yet to capitalize on the fantasy potential many identified after his 12-target Week 2 performance, the Jaguars' first game without No. 1 receiver Allen Robinson. But much of that has been because of game script. For example, after the Jaguars built a big lead on a pair of defensive touchdowns against the Steelers last week, they simply stopped throwing the ball. Looking only at the total, Lee's 49 yards underwhelms, but by rate, he owned more than 50 percent of the team's receiving yards. Meanwhile, all of those yards and all four of his targets came against blitzes. Lee now has 20 blitz targets for the season against just nine non-blitz targets. Among players with at least 20 total targets, he is the only one with a blitz target rate over 50 percent, and he's at a remarkable 69 percent. This week, Lee plays the Rams, who have the fourth-highest blitz rate in 2017 at 39.3 percent. Expect a more competitive game that forces the Jaguars to throw, and expect a lot of those throws to find Lee.
Golden Tate, WR, Detroit Lions
Tate's 39.5 percent blitz target rate is nowhere near that of Lee, but it's still good enough to put him in the top-20 among the 108 players with at least 20 total targets this season. Meanwhile, that represents an offensive sea change for the Lions. Last year, Eric Ebron and Theo Riddick were both north of a 25 percent blitz target rate. They were also both ahead of the team's top two wide receivers, Tate and Marvin Jones, who saw 25.2 and 25.7 percent of their targets come on blitzes, respectively. This year, those roles have flip-flopped.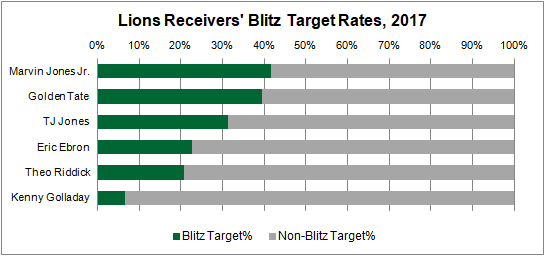 Well, Ebron hasn't changed roles exactly. He has yet to take a snap as a pass-blocker this season (whereas Darren Fells leads the league with 32 pass-block snaps). I think Matthew Stafford has simply lost confidence in him, no doubt due to his 10.6 percent drop rate, the highest among players with 100 or more targets since the start of 2016. But Riddick has changed roles. He has 24 pass-block snaps this season, tied for 12th-most in the league. He had just eight pass-block snaps through the first five weeks last season. The Lions face the blitz-heavy Saints this week (35.9 percent blitz rate), and with neither Ebron nor Riddick seeing the same target share against blitzes, that should leave more work for Tate in an already-attractive matchup.
Andre Ellington, RB, Arizona Cardinals
It wasn't clear at first how the Cardinals would redistribute the work that would have gone to their injured star running back, David Johnson, but it turns out they've split it pretty much in half. Chris Johnson has gotten the lion's share of the team's carries — and newly acquired Adrian Peterson should get that now — and Ellington has gotten the bulk of their targets. But Ellington hasn't perfectly mirrored D.J.'s receiving. Carson Palmer relied on D.J. as a security blanket, which pushed him up among the running back leaders with a 24.3 percent blitz target rate.
So far this season, Ellington's blitz target rate has been a more modest 18.4 percent, and he's produced just 30 of his 257 receiving yards against blitzes. Fortunately for Ellington owners, that trend should lead to good things this week against the Buccaneers and their 20.7 percent blitz rate, third-lowest in football. It is also serves as a reminder of how versatile D.J. is when he's healthy.
Players to avoid
Duke Johnson, RB, Cleveland Browns
Over the last three weeks, Johnson has amassed 18 catches and 3 touchdowns, which has catapulted him to seventh among running backs in PPR fantasy scoring for the season. Johnson has at least 10 pounds on Chris Thompson, who is one PPR point behind Johnson and is also likely the most similar back to him in the top-20. He also plays for a team more likely to trail in games, providing frequent favorable game scripts for running back targets. That may be enough to keep Johnson comfortably in the top 20 all season, but this is not the week to count on it. The Browns (43.9 percent) are the only team that has blitzed more than their Week 6 opponent, the Texans (42.2 percent), and Johnson has caught only two of his 28 targets this season against a blitz.
Kelvin Benjamin, WR, Carolina Panthers
Behind the 175-yard Ed Dickson-shaped red herring, I think I finally saw what the Panthers passing game is going to become against the Lions on Sunday. And that does not feature Benjamin as their No. 1 receiver. Instead, it was Devin Funchess who was consistently able to create separation, an ability that Benjamin has never shown. Funchess now has seven catches in back-to-back games and appears on the cusp of a breakout season. Cam Newton still turns to the bigger Benjamin in pressured situations, like the game-sealing first-down reception. For the season, Benjamin's 40.0 percent blitz target rate is about 10 percent higher than the rates of both Funchess and Christian McCaffrey. That means you should leave Benjamin on your bench this Thursday when the Panthers take on the conservative Eagles and their 23.4 percent blitz rate.