(PFF Fantasy is reacting to all the offseason moves from a fantasy football perspective. Follow along here.)
The Buffalo Bills have added to one of the league's weakest receiving corps, reportedly coming to terms with ex-Ravens and Cardinals WR John Brown on a three-year deal, and ex-Cowboys WR Cole Beasley on a four-year deal as well. Brown joins Buffalo after a one-year stint in Baltimore; Beasley spent the first seven years of his career with the Cowboys.
Brown's career started promisingly enough, with a decent rookie season followed by a breakout second year in 2015 that featured 1,003 yards, 7 touchdowns, and 209.5 PPR points that was enough to finish the year as WR25. He also put up a more-than-solid 2.00 YPRR that year and looked to be, along with Larry Fitzgerald and Michael Floyd, a key part of the next great receiving corps.
[using promo code BESTBALL grants you 25% off any PFF subscription, join now]
Things mostly fell apart for Brown and the non-Fitzgerald Cardinals after that, as a battle with sickle-cell trait and other issues held Brown to under 7.0 fantasy points per game in the next two years. He bounced back a little with the Ravens in 2018, with 143.9 PPR points and a WR45 finish that were his best since that breakout year. It's even easier to divide his year by quarterback, as he was WR25 with more than 13.0 PPG with Joe Flacco starting, but WR95 at under 4.0 PPG once Lamar Jackson took over.
Beasley, meanwhile, peaked in 2016, with 833 yards, 5 TDs, and 189.0 PPR points that had him as the WR32 that year. He's struggled to replicate those numbers since, with 986 yards and 7 touchdowns in the last two seasons combined and some open complaints about the Cowboys' play-calling this offseason.
Beasley has been a strong slot weapon over his career, rankings eighth among receivers in slot yardage since the start of his career with 2,750. He had 613 slot yards in 2018, almost double the top slot performance in Buffalo (Zay Jones had 316). In fact, Beasley has had more yards out of the slot than the top Buffalo receiver every year since Stevie Johnson bested him in 2013.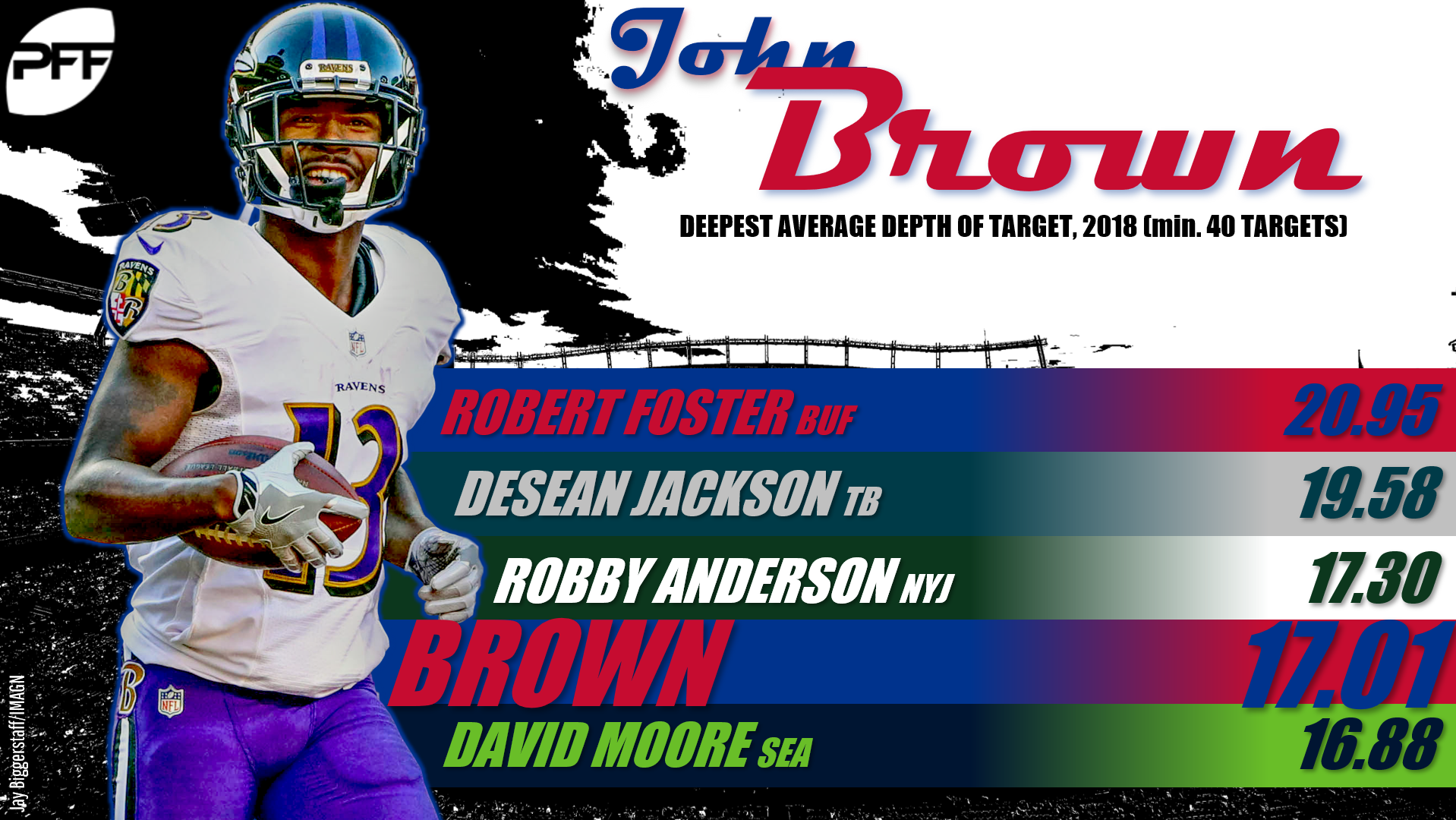 In Buffalo, Brown's specialty — the deep ball — should serve him well, paired with QB Josh Allen, who led the league in average depth of target in 2018. Robert Foster had some big games down the stretch, with four games over 90 yards (three over 100) in a five-game stretch Weeks 10-15. In that span he was 18th among receivers in PPR points per game and led all qualified receivers with a massive 4.3 PPR points per touch. Foster led the league in aDOT last year, with Brown ranking fourth, and Brown is the more efficient of the two receivers, so he's likely to absorb much of Foster's work. Allen is an inconsistent passer, so it will likely lead to inconsistent production for Brown, but as a best ball option, he's likely to have a handful of big games as long as he stays above Foster on the depth chart.
Beasley, meanwhile, will be the slot weapon the Bills have lacked, even moreso since the release of TE Charles Clay. Allen's passing issues could be the problem here, though. He had 14.4% of his passes graded off-target in 2018, fourth-most in the league, and had the No. 33 PFF passing grade out of 39 qualifiers. Beasley had the 11th-lowest aDOT (7.53 yards) among qualified receivers in 2018 and has ranked among the lowest in the league his whole career.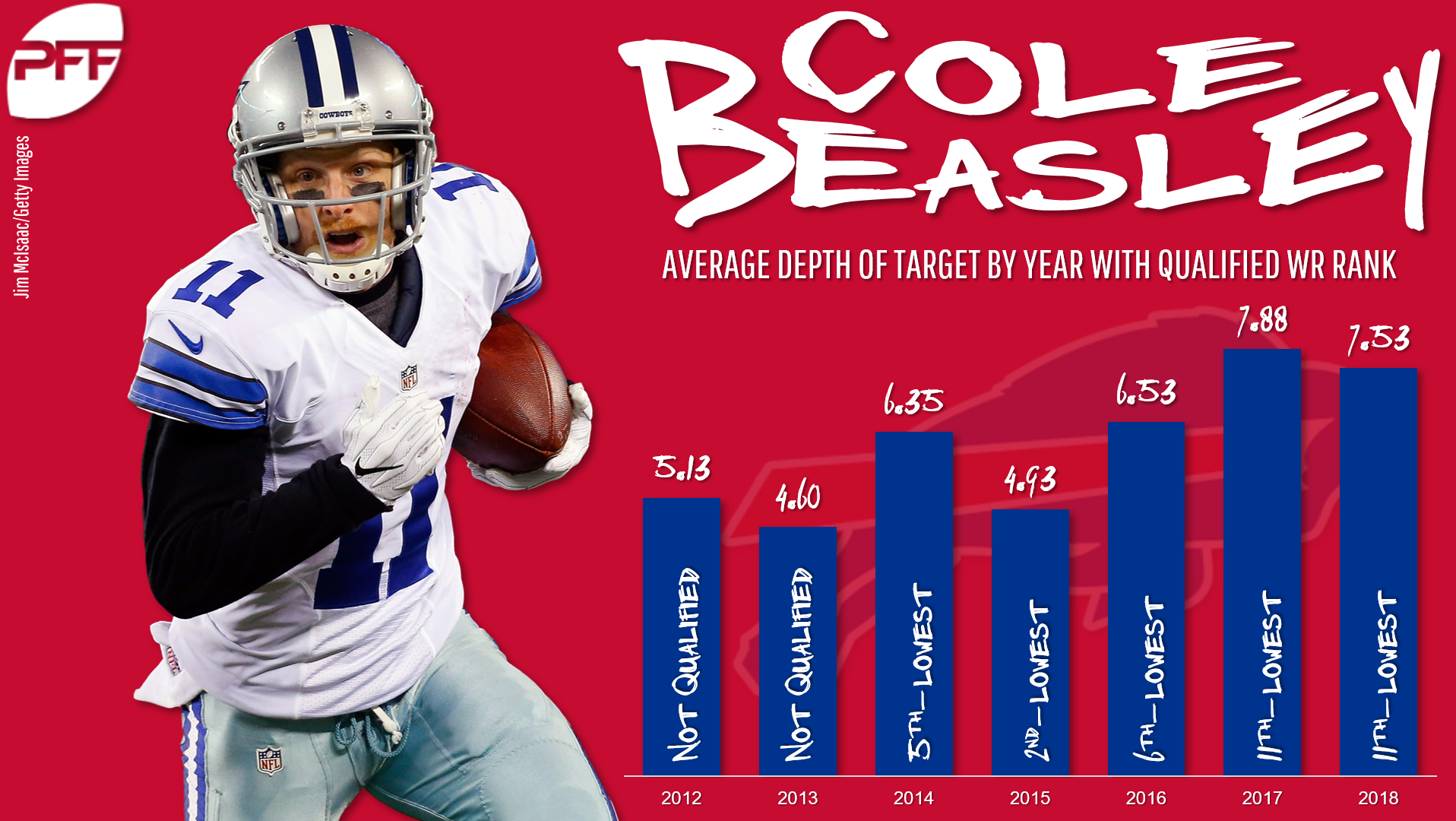 Neither Beasley nor Brown (nor holdovers Jones or Foster) is a WR1, but there weren't many of those available on the market, so the mishmash of No. 2/No. 3 options might be the best the team could have been expected to do, at least until draft time. It makes for a more promising offense than the Bills have had in recent years, but for fantasy, it's more frustrating. If the Bills go into the season with all four receivers and no other notable names at receiver or tight end, Brown is probably the most appealing name here, but even at that he's more of a best ball option than in redraft. Beasley has upside, particularly in PPR, if Allen can get his kinks worked out to an extent, while Jones and Foster drop to waiver fodder.
Meanwhile, their old teams shouldn't see their prognoses change much. Beasley had already been largely phased out in Dallas in favor of Amari Cooper and Michael Gallup, and the Ravens' increasing reliance on the run and tight ends means their paper-thing receiving corps headlined by Willie Snead wouldn't have a lot to offer for fantasy no matter who is around.