Hello, and welcome to the second week of the Actual Opportunity Report. If you're unfamiliar with Actual Opportunity, you can read the in-depth explanation of the exciting new statistic here.
Essentially, we're using a 10-season sample of play-by-play data to calculate expected fantasy points from a player's seasonal or weekly usage. We look at each target (by distance from the end zone and depth of target) and each carry (by distance from the end zone and down and distance) and add this up to determine how valuable a player's role was for fantasy purposes. We can contrast this with fantasy production to measure efficiency.
In layman's terms, Actual Opportunity is "how many points a player should have scored" given his workload, based on what the average player would have scored. "Expected fantasy points" will be used interchangeably with "Actual Opportunity" throughout this article.
Through two weeks, here are top-30 players in expected fantasy points per game: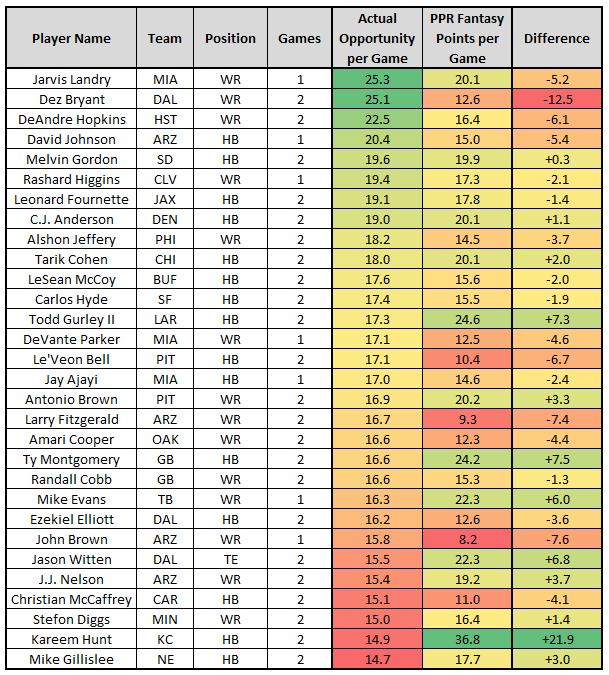 Here are some standouts:
(AO/Gm: 16.6, PPR/Gm: 12.3)
After seeing 12 targets and leading all players in expected fantasy points in Week 1 with 26.0, Cooper just saw just five targets (worth 7.3 expected fantasy points) in Week 2. Perhaps the decline in volume in Week 2 was due to his woeful Week 1 efficiency numbers, scoring 8.8 fantasy points below his expectation and dropping four passes. Through two weeks, Cooper has dropped 12.3 expected fantasy points worth of targets, which would be the difference between him ranking fourth among wide receivers in fantasy points and his current actual ranking of 22nd. Over the past three seasons, fellow Oakland wide receiver Michael Crabtree has seen 26 targets inside the 15-yard line, catching 10 for touchdowns. Cooper, meanwhile, has seen 16, while catching only one for a touchdown. After Crabtree's three-touchdown game in Week 2, and Cooper dropping two (and converting none) of his three targets inside the 5-yard line in Week 1, I'm feeling confident Crabtree outscores Cooper for the third consecutive season this year. Cooper is likely the more explosive athlete, but given his shaky hands and lack of consistency near the end zone, Crabtree is likely again to dominate red zone opportunities, while Cooper is forced to continue to rely on hyper-efficiency for scoring opportunities.
Subscribe to PFF Edge to continue reading
Already have a subscription? Sign In