Every fantasy football season brings forth surprise performances from players — both in good and bad circumstances. The reasons players excel or disappoint can be attributed to a multitude of factors, including workloads, usage rates, health and even team success. With regression striking on a yearly basis, it becomes difficult for a player to repeatedly produce at a high level on a year-over-year basis.
Listed below are eight players who are bound to see regression in their fantasy point totals entering the 2020 season.
Subscribe to
Jones' 2019 season was downright dominant. He totaled 319.8 fantasy points (second), ranked fourth in points per snap (0.48) and placed 12th in points per touch (1.12) among all running backs. Much of Jones' personal success could be attributed to the Packers' success, as he was routinely placed in high-scoring and favorable situations.
Jones ranked 15th in red-zone carries (34) among all running backs and scored on 14 of those attempts, which led the league at his position. In addition to a fair number of red-zone attempts, Jones ranked sixth in rushing attempts inside the 5-yard line (17), once again leading the league in touchdowns (10) from the same sample.
In the pass game, Jones ranked 10th in targets (67), fifth in red-zone targets (14) and fourth in end-zone targets (two) among all running backs. Not only did Jones have tremendous volume last season, but he was routinely afforded opportunities in the most important areas for running backs as it pertains to fantasy football: the red/end zone and targets as a receiver.
While Jones has proven to be a fantastic player, the Packers are not likely to recreate the same success they experienced last season when rushing the football. The addition of running back A.J. Dillon may also muddy the waters to a certain degree, as the rookie possesses a large frame (6-foot, 247 pounds) that could be utilized in short-yardage and goal-line situations more frequently than Jones' previous backfield mates.
PFF's fantasy projections do expect a slight step backward for Jones, ranking him as the RB11 in full-point PPR formats. In addition to a lighter workload, Jones and the other Packers running backs will need to overcome a relatively tough position schedule that ranks as the 23rd-easiest, according to PFF's strength of schedule (SoS) metric.
Chubb, like Jones, is tough to place here. He has immense talent and incredible running ability, but the presence of Kareem Hunt is sure to dampen his workload to some degree — as proven by his usage rate with and without Hunt in 2019.
Nick Chubb Per-Game Splits With and Without Kareem Hunt | 2019
| | | |
| --- | --- | --- |
| Category | Without Hunt (Weeks 1-9) | With Hunt (Weeks 10-17) |
| Targets | 30 | 15 |
| Receptions | 25 | 11 |
| Rushing attempts | 154 | 144 |
| Red-zone carries | 25 | 26 |
| Inside the 5-yard line carries | 5 | 11 |
| Fantasy points | 157.4 | 103.8 |
This chart below displays their weekly output during Weeks 10-17.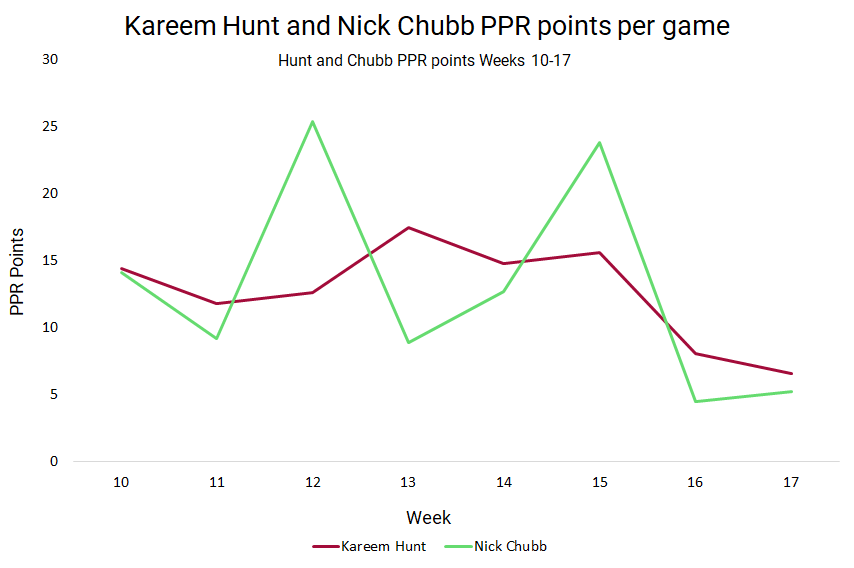 While Chubb's rushing workload didn't waver much, his pass-game usage rate took a steep nosedive, with his targets dropping by 50% and his receptions dropping by more than 50%. Chubb made up for the loss of receiving work by dominating his opponents on the ground and, in particular, with his increased usage in the money areas (carries in the red zone and inside the 5-yard line). Ironically enough, Chubb was nearly outscored by Hunt when both players were active and playing (103.8 points versus 100.6).
The two combine to form arguably the best running back tandem in football, but unfortunately, it does dampen both players' ceilings. Both players are still worthy of their draft selections, though it is fair to expect their ceilings to be slightly lowered due to the simple fact that they'll share time and opportunities in the same backfield.
PFF's fantasy projections anticipate another strong season from Chubb, ranking him as the RB10. In addition, PFF's SoS metric ranks their running back schedule as the 20th-easiest in 2020. That schedule won't simplify the path for either player.
The 2019 season appeared to be a revelation of a campaign for Brown, as he enjoyed a career rebound. He ranked 22nd among receivers in scoring (214.7) while establishing himself as the Bills' No. 1 wide receiver and Josh Allen's most dangerous pass-game weapon. Unfortunately for Brown, the Bills dampened his outlook when they completed a blockbuster trade this offseason to acquire Stefon Diggs from the Minnesota Vikings.
Typically, a trade of this caliber wouldn't spell the end for a player, but Brown and Diggs are similar in their usage and both are now likely to overlap in their usage and target shares. This chart displays the comparison between the two receivers on 20-plus yard pass attempts.
John Brown's and Stefon Diggs' Production on 20-plus Yard Passes (min. 20 targets) | 2019
| | | |
| --- | --- | --- |
| Category | John Brown (Rank) | Stefon Diggs (Rank) |
| Targets | 27 (10th) | 29 (3rd) |
| Receptions | 10 (14th) | 16 (1st) |
| Yards | 332 (19th) | 635 (1st) |
| Touchdowns | 4 (5th) | 6 (1st) |
| YAC per reception | 6.0 (13th) | 6.9 (8th) |
| Yards per route run | 4.96 (18th) | 11.14 (1st) |
Unfortunately for Brown, the Bills didn't appear to be an offense capable of providing enough opportunities for two receivers to rank highly among their counterparts in scoring, though Cole Beasley did register 99 targets in 2019 as the second option in their pass game. Brown is likely to see a severely diminished role with the addition of Diggs, simply because of Diggs' superior talent and ability — especially when tracking the ball deep. Another issue that stems from Diggs' addition is that Beasley and Brown were on par in terms of their third-down production in 2019, making it unclear which receiver will grab the second role in crucial-catch situations.
PFF's fantasy projections expect a significant amount of regression for Brown, ranking him as the current WR41. In addition to a lesser workload, Brown will need to overcome a brutal 31st-ranked schedule, according to PFF's SoS metric.
Looking at only the weeks in which he played (Weeks 1 and 6-17), Tannehill ranked sixth in quarterback scoring (234.2) and second in points per dropback (0.70) among all quarterbacks. Not only did he rank well in raw numbers, but Tannehill was extremely efficient, too — he ranked first in yards per attempt (9.6), first in passer rating (117.5) and third in average depth of target (10.1).
While the majority of the Titans' offense returns, it's fair to expect a drop-off in its production entering the 2020 season. The team ranked 30th in red-zone plays and goal-line plays in 2019 yet ranked third in offensive touchdowns scored (50). The offense was truly a mystery, as it also ranked third in average yards per play (6.1).
Tennessee's rushing attack kept the offense on schedule, ranking third in explosive rushing plays and explosive run percentage. The loss of right tackle Jack Conklin may hinder the team's ability to remain as effective in the run game. Plus, defenses will likely focus on limiting the Titans' rushing attack, regardless. Both of these factors could ultimately set the offense back to some degree.
Tannehill proved to be a revelation in 2019, but he is unlikely to duplicate his insane efficiency moving forward. PFF's fantasy projections do expect a slight hint of regression, ranking Tannehill as the QB11. The schedule is another hurdle for Tannehill to overcome — the Titans' quarterback schedule ranks as the 24th-easiest in 2020, according to PFF's SoS metric.
If we exclude the Week 8 contest that Ryan missed, he ranked seventh among quarterbacks in scoring, with his 289.3 total points, in addition to his 23rd-ranked points per dropback figure (0.42). Ryan has been a productive player both on the field and in fantasy football throughout most of his career, particularly due to his volume. He ranked first in the NFL in passing attempts (616) last season over the 15 games he appeared in.
Arguably, the biggest issue for Ryan — and his pass-game comrades — is the amount of time they spent trailing in 2019. That, obviously, had a major effect on the number of times the Falcons lined up to pass. The team ranked fifth in run and pass plays (634) while trailing. It's fair to expect that number to drop in 2020, as the Falcons are one of the most likely candidates to see positive regression this season — mostly due to the abundance of injury woes they suffered through in 2019.
PFF's fantasy projections expect Ryan to take the slightest step back(when comparing him to the 15 games he played in 2019), ranking him eighth among quarterbacks in scoring. Another one of the major reasons why Ryan may suffer see slight regression is his incredibly tough schedule. PFF's SoS metric has pegged Ryan with a 32nd-ranked schedule.
In somewhat random fashion, Gallup exploded onto the scene in 2019. He ranked 23rd among receivers in total scoring (212.7) but slotted in at 18th in points per game (15.2) due to missing two contests. Gallup hardly trailed teammate Amari Cooper, as the two were comparable (246.5 points for Cooper) in the weeks both players took the field.
Listing Gallup here is tough, as I expect the Cowboys to improve their passing offense, but the addition of first-round draft pick CeeDee Lamb is sure to hurt Gallup's production — and potentially that of Cooper. Both Gallup (112) and Cooper (116) ranked relatively high in terms of their target share, with the latter coming in at 16th in targets and former slotting in at 17th if you exclude the Week 8 contest he missed.
Lamb is sure to immediately factor into the Cowboys' offense and could potentially overtake Gallup as the No. 2 option at some point during his rookie campaign. Lamb — an incredibly explosive and dangerous after-the-catch threat — ranked sixth in yards per route run (3.81) among all college football receivers in 2019 with 50-plus targets.
PFF's fantasy projections also anticipate some form of regression to strike Gallup, evidenced by his current WR35 ranking. PFF's SoS metric ranks the Cowboys receivers' schedule as the 15th-easiest in 2020, which is a positive for each of the three aforementioned wideouts.
Hooper benefited greatly from the Falcons' tendency to fall behind in games last season — his 93 targets and 18 red-zone targets both ranked sixth, and his nine end-zone targets ranked fourth among all tight ends. In addition to those numbers, Hooper ranked second in targets and yards and first in receptions and touchdowns while trailing in 2019. While that isn't much of a surprise, considering the Falcons trailed often, some of the production does need to be chalked up to positive game scripts and garbage-time statistics. These numbers don't even factor in the three games Hooper missed due to injury.
Now, moving to his new team, Hooper will need to compete for targets — and opportunities in general — with a bevy of talented players, ranging from two elite running backs in Nick Chubb and Kareem Hunt to two fantastic and established receivers in Odell Beckham Jr. and Jarvis Landry to a fellow tight end in David Njoku.
PFF's fantasy projections also expect a relatively significant regression for Hooper, as his current TE16 ranking falls far below his TE6 finish from last season. Hooper and his teammates will face the 14th-ranked tight end schedule in 2020, according to PFF's SoS metric.
Like some of the aforementioned players on this list, Goedert took a major step forward in his development in only his second NFL season. The opportunities for Goedert were fruitful, as he ranked 11th in targets (78) and 15th in red-zone targets (15) and end-zone targets (6). Whether the Eagles elect to deploy the same type of usage for Goedert remains to be seen, but some of his production and opportunity must be attributed to the lack of healthy receiver options the Eagles had in 2019.
The team led the league by a massive margin in 12 personnel percentage (50.0%), and quarterback Carson Wentz attempted the most passes to tight ends (214). In addition, Wentz targeted wide receivers only 244 times — that ranked 20th among all quarterbacks.
This chart below displays Goedert's production throughout the 2019 season. It becomes clear that Goedert really began to produce at a greater clip from Week 6 onward — which directly coincides with the injuries suffered by Eagles receivers.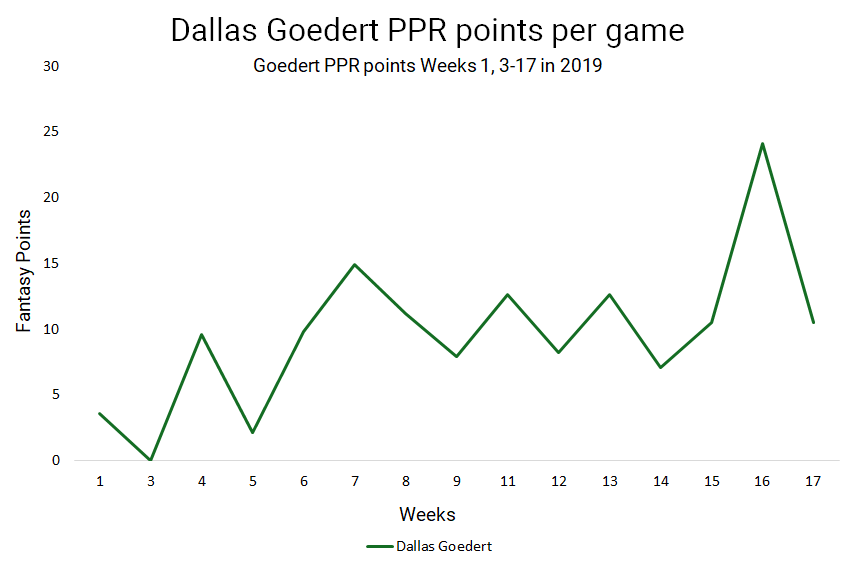 The additions of players such as Jalen Reagor, John Hightower and Quez Watkins, in addition to players such as DeSean Jackson getting healthy, is sure to change the way the Eagles operate offensively. While Goedert will continue to be a factor, it's tough to see his target share remaining as high as it was last season, mostly due to the additions at the receiver position.
PFF's fantasy projections expect a significant step back for Goedert, as his current TE26 ranking is far lower than his TE10 finish from 2019. The Eagles' tight end schedule is ranked 17th-easiest in 2020, according to PFF's SoS metric.