The 2018 NFL season is officially over and it's never too early to begin looking ahead to the 2019 campaign. With the combine, NFL draft and free agency yet to unfold this is the time of year I like to daydream a bit for fantasy football.
This piece is a look at ideal or dream scenarios from an IDP standpoint to put players in the best situation for premium fantasy production. Since it's a dream scenario, I have not taken salary cap room into consideration as there will be plenty of time for that as the offseason plays out.
Here are a few of my favorite dream scenarios heading into the 2019 season from an IDP standpoint.
(It's fantasy wish list time! Check out our regular fantasy wish list for the 2019 offseason here. We're also putting out our top three wishes for each roster over the next two and a half weeks.)
The 2018 season was another injury-plagued campaign for Ansah as a shoulder issue limited him to just seven games and 146 snaps. While Ansah did manage to post four sacks, he seemed a bit miscast in new head coach Matt Patricia's hybrid 3-4 scheme. A change in scenery and a return to a familiar 4-3 scheme would immediately bolster Ansah's fantasy value.
The Eagles are likely to allow Brandon Graham to leave via free agency and Ansah would be a solid addition to their defensive line rotation playing alongside Derek Barnett, Michael Bennett, and Fletcher Cox.
The wide-9 scheme that defensive coordinator Jim Schwartz employs would allow Ansah to do what he does best and that is to get after the quarterback. There would be little adjustment time for Ansah as he played for Schwartz in his rookie season back in 2013. Despite missing two games due to injury, Ansah managed to put up eight sacks along with two forced fumbles in his rookie season. Lining up in a familiar scheme and having quality edge rushers as bookends would have Ansah in line for a bounceback fantasy season in 2019.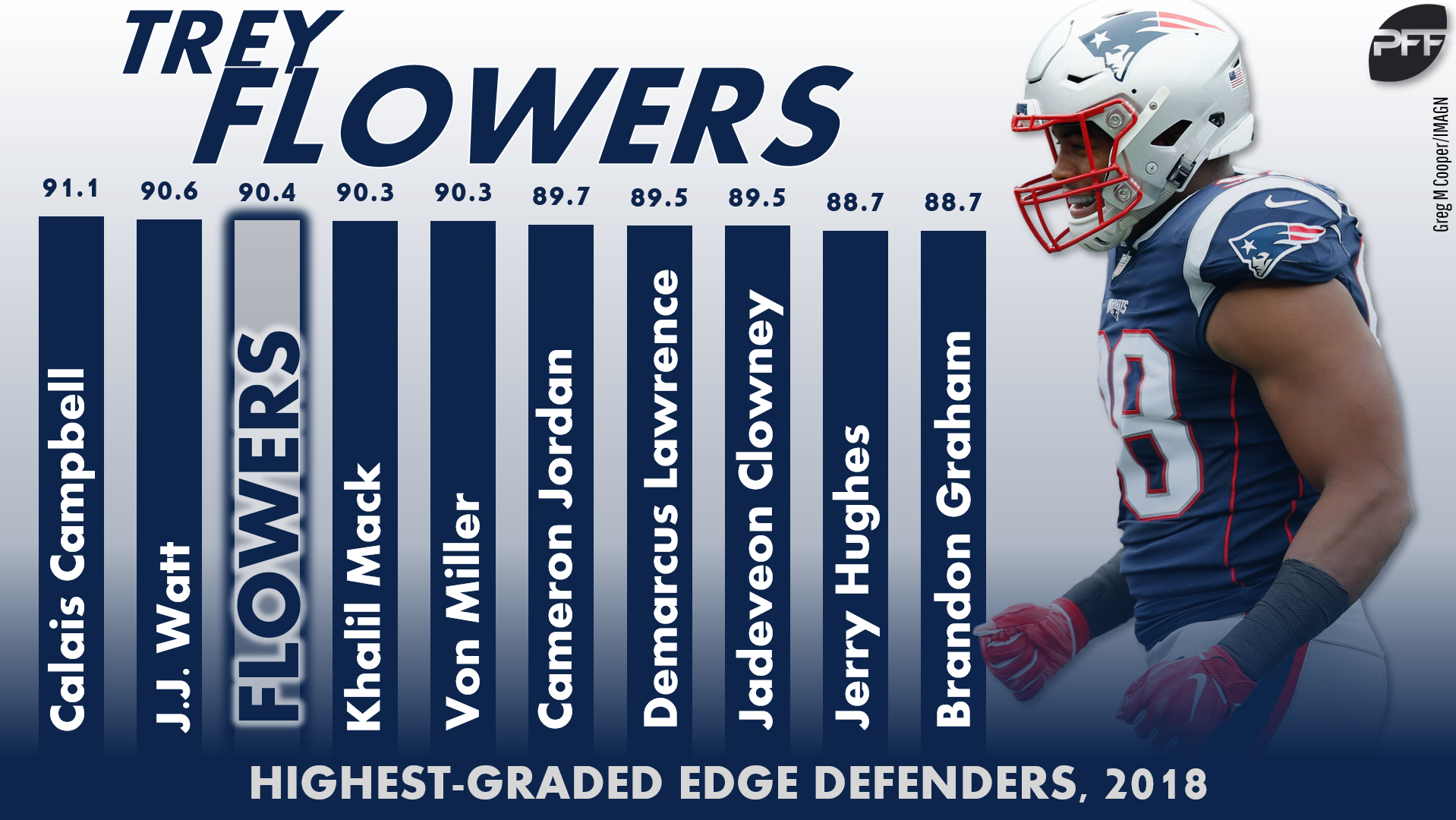 This move would not only benefit Flowers from a fantasy perspective but would fill a position of need for the Lions if they allow the aforementioned Ansah to walk away. Flowers is an ascending IDP defensive lineman and is coming off a solid DL2 performance last season. While he has yet to reach double-digit sacks in a season, Flowers has been a solid tackle producer and does bring an edge presence. Over the last two seasons, Flowers has averaged 59.5 total tackles and has 14 sacks in total. In that time, Flowers has been credited with 124 total regular-season quarterback pressures.
Signing with the Lions would reunite Flowers with his former defensive coordinator in Patricia and a defensive scheme he is comfortable playing in. The Lions had 43 sacks last season mainly utilizing blitzes and stunts while struggling to create consistent pressure off the edge. Their top sack producer was outside linebacker Romeo Okwara who finished with 7.5, which is the same number Flowers had in 2018. A closer look shows the lack of edge pressure, as Okwara led the Detroit with 39 total quarterback pressures while Flowers had 64 for New England.
A late-season calf injury caused Hicks to miss four games, yet he still managed to post career highs in both total tackles (91) and sacks (3). In fact, Hicks was putting up top-10 fantasy numbers in Weeks 1-11 before suffering the injury with 85 tackles, three sacks, and a recovered fumble. The Bengals linebacker corps is in rough shape and was riddled with injuries last season. There is the chance Vontaze Burfict may be unable to continue his career due to concussion issues, and Hicks would be an excellent replacement from an NFL as well as fantasy perspective.
Hicks would step right in as a three-down linebacker and face little competition for tackles aside from veteran Preston Brown, who also struggled with injuries in 2018. The Bengals linebackers also struggled to create splash plays last season and Hicks would bolster that aspect of their defense. Over the 43 regular-season games he's played, Hicks has 19 splash plays and a touchdown. This is a match made in fantasy heaven, as Hicks could easily post high-end LB1 totals lining up in Cincinnati.
Chiefs retain Dee Ford, employ a 4-3 scheme
The big fantasy angle here is the 4-3 defensive scheme aspect of this ideal fantasy IDP scenario. Kansas City has hired Steve Spagnuolo to replace Bob Sutton as defensive coordinator and he's mainly run a 4-3 scheme in his previous coordinator stops. There are reports that the Chiefs are considering using the franchise tag on Ford if they cannot reach a long-term deal, and Ford has stated he is open to being tagged. That would likely lead to a change in Ford's designation from an outside linebacker to defensive end.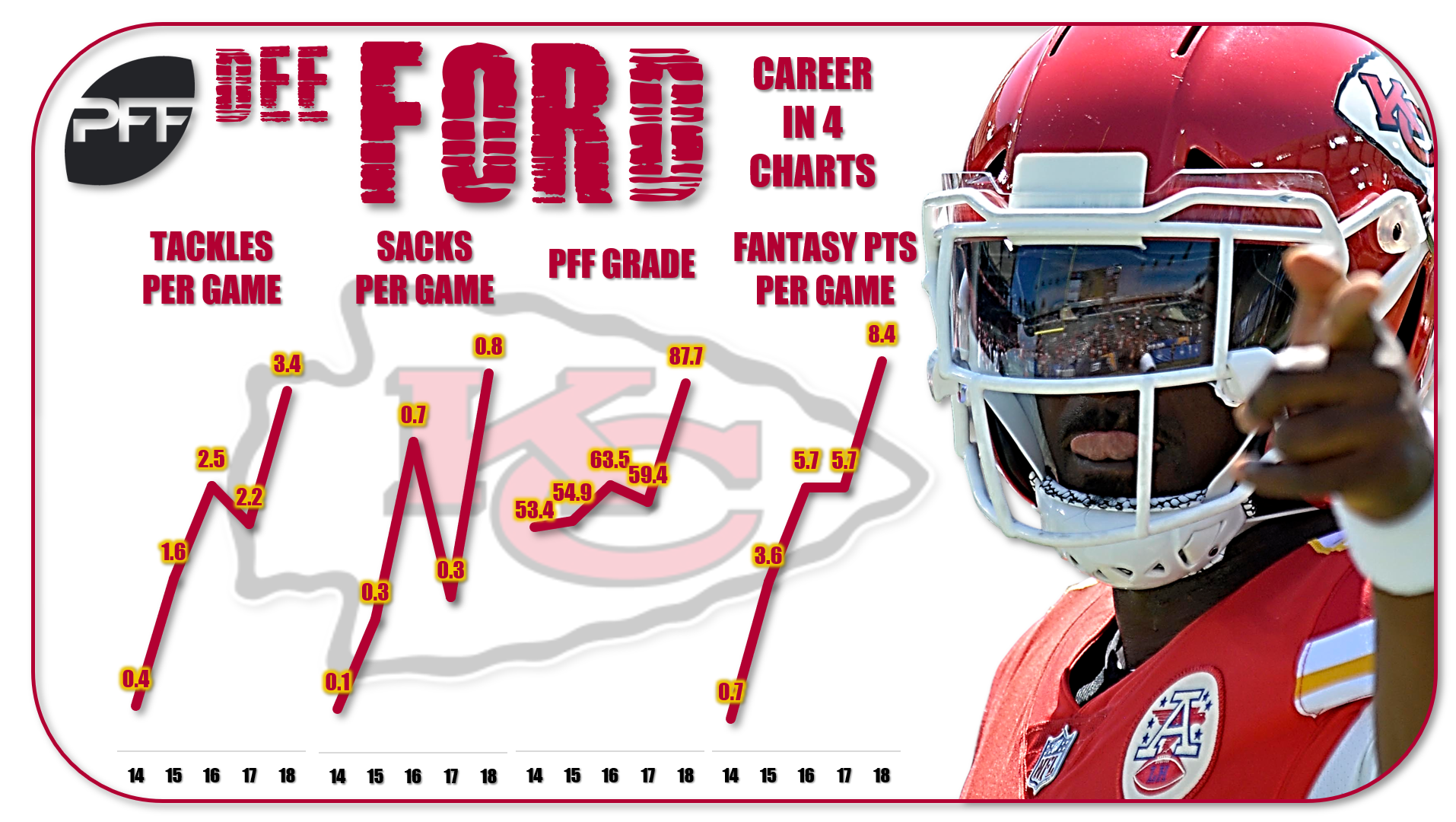 A change in designation would immediately vault Ford to a top 10-defensive lineman ranking as he is coming off a breakout season. In 2018, Ford set career highs in total tackles (53), sacks (13.5), and forced fumbles (7). In balanced scoring, those numbers would have seen Ford finish as a top-five defensive lineman for fantasy purposes. Ford led the Chiefs in total quarterback pressures during the regular season with 78 and benefits from the interior pressure that Chris Jones brings. Ford with a defensive line designation brings high-end DL1 value into the 2019 season.
Raiders draft Alabama LB Mack Wilson in the first round
The Raiders are likely to address the defensive side of the ball early in the draft and have three first-round selections to work with. Oakland could look to bolster the defensive line early and then select Wilson later in the first round to solidify the linebacker position. Veteran Derrick Johnson started Week 1 at middle linebacker for the Raiders and was not the answer, as he was released in October. Tahir Whitehead played over 1,000 snaps in the middle of the defense and put up 126 total tackles but led the team in missed tackles with 12.
The rookie class of 2018 linebackers mainly lived up to their billing as Darius Leonard, Roquan Smith, Leighton Vander Esch, and Tremaine Edmunds finished in the top-12 in balanced-scoring formats. Should Wilson end up in Oakland, there is the likelihood he can post top-10 fantasy numbers as a three-down linebacker in the middle. Wilson is solid against the run and more importantly brings splash-play potential having posted six interceptions in his last two seasons at Alabama.
Jets draft Kentucky DE Josh Allen in the first round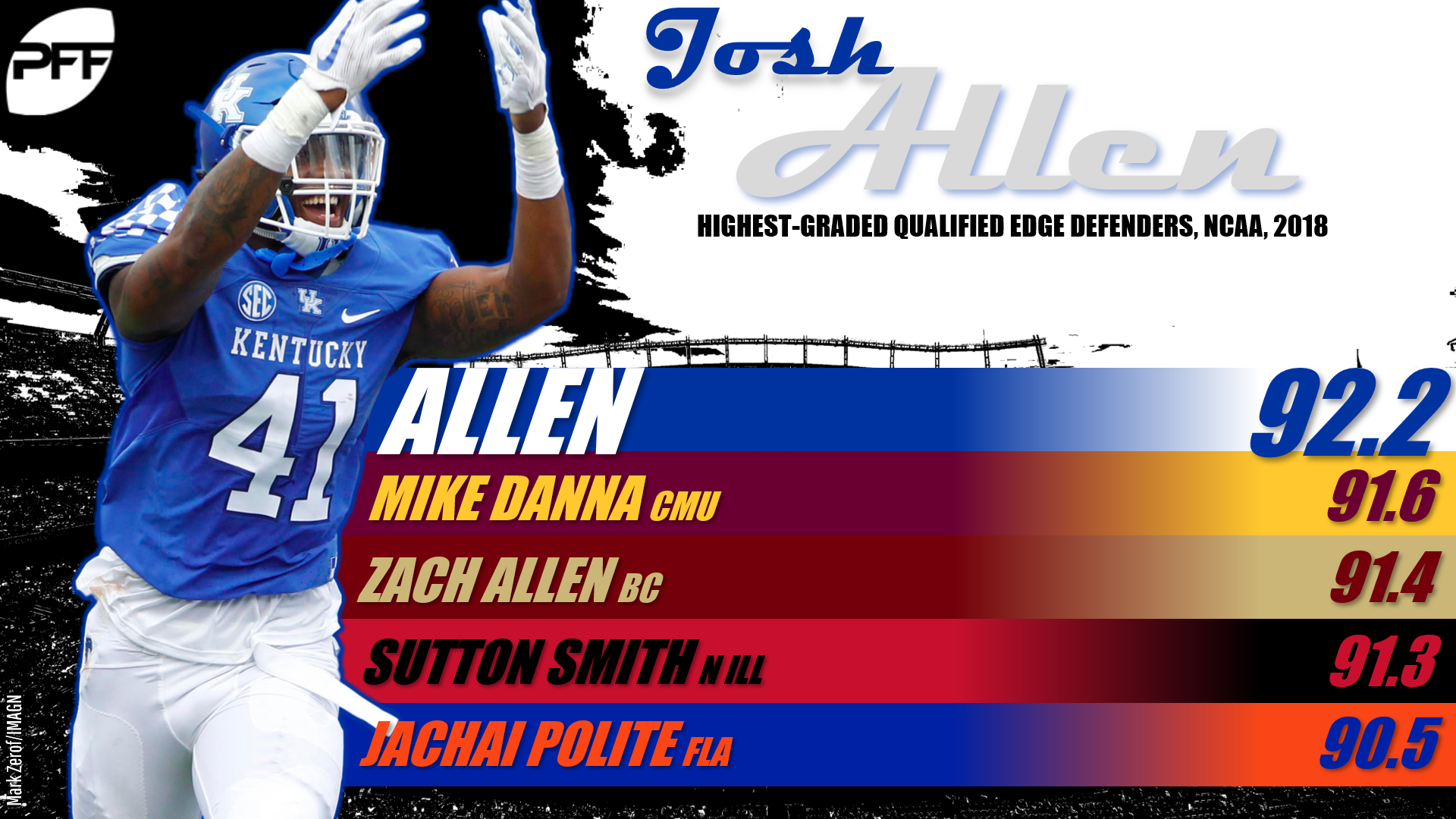 If Allen is still on the board when the Jets draft third overall, they should sprint to turn in their selection smiling like the cat with the canary. Rookie defensive ends generally struggle to make an immediate fantasy impact, but Allen would have the potential to do so filling as position of need for the Jets. New head coach Adam Gase has named Gregg Williams defensive coordinator and that likely means a switch to a 4-3 defensive scheme. Williams loves an aggressive style of defense and Allen would have a big role on a defense lacking edge rushers.
Last season playing under Williams, the Browns' Myles Garrett finished with DL1 numbers in his second season with 44 total tackles, 13.5 sacks, and three forced fumbles. Allen is roughly the same size as Garrett at 6-5, 260 pounds (Garrett is 6-4, 272). In his final season at Kentucky, Allen put up monster numbers, finishing with over 80 total tackles along with seven sacks and five forced fumbles. There is a strong chance Allen could flourish in his rookie season as a member of the Jets playing under Williams.
This is the short-and-sweet special. The Tampa Bay secondary could use a jack of all trades like Jackson, who is coming off a great 2018 fantasy campaign. The Texans used Jackson in his ninth season at multiple positions including safety and slot corner. Jackson also played both right and left cornerback positions at times and finished with a career-high 87 total tackles along with six splash plays. The Buccaneers need help at both cornerback and safety and Jackson could have another DB1 season as a member of their secondary.