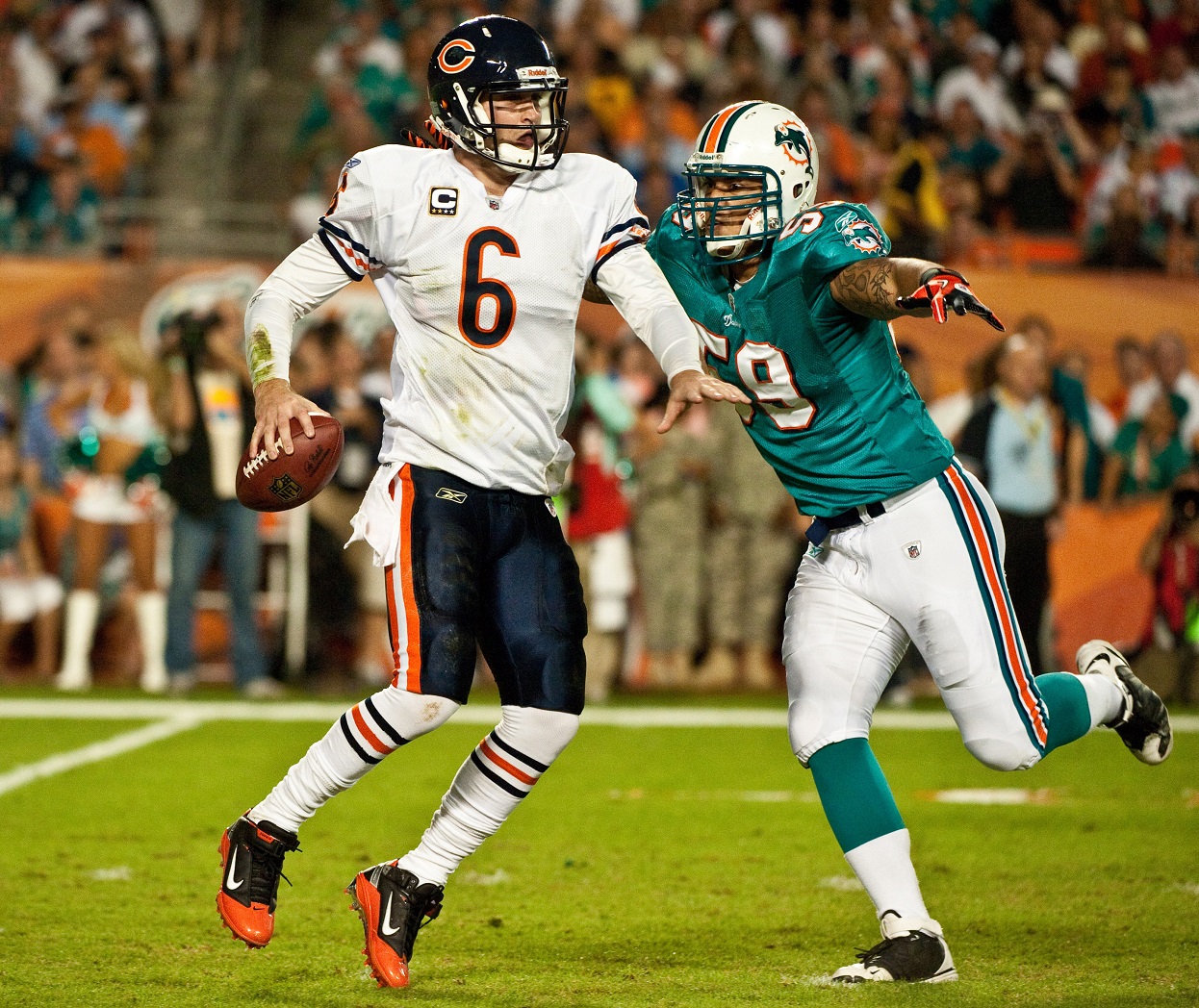 MIAMI, FL - NOVEMBER 18: Quarterback Jay Cutler #6 of the Chicago Bears is sacked by Karlos Dansby #58 of the Miami Dolphins during an NFL game against the at Sun Life Stadium on November 18, 2010 in Miami, Florida. (Photo by Ronald C. Modra/Sports Imagery/Getty Images)
(The Fantasy 5 is a quick-hit wrap-up of some of the biggest news topics of the day for fantasy football players, giving you advice you need to improve your team.)
We're about two weeks away from fantasy football drafts. And like the Dolphins showed us over the last few days, a lot can happen over that span of time. Let's kick things off in today's Fantasy 5 with a look at the fallout of Ryan Tannehill's injury.
1. He's back
Jay Cutler's retirement from the NFL was short-lived, as the former Bears signal-caller agreed to terms on a one-year, $10 million contract with the Dolphins on Sunday. Cutler takes the reins with Ryan Tannehill potentially heading to season-ending surgery for his left ACL, which has been reported to be partially torn.
For fantasy purposes, this really doesn't move the needle much. The Dolphins were one of the most run-heavy offenses in the league last year, running the ball on 43.6 percent of their offensive snaps. Those play-calling tendencies are likely to continue in Adam Gase's second season at head coach. Jay Ajayi remains an RB1 with significant upside.
Many will point to Cutler's previous stint under Gase as reason for optimism. While there's certainly an argument to be made here, there isn't any reason to value Cutler any high than we did Tannehill. That means a back-end QB2 at best. If anything, this signing does help maintain hope for a DeVante Parker breakout. Cutler possesses a big arm, and showed in the past that he has an affinity for big-bodied receivers. Parker remains a strong upside pick in the middle rounds. Fantasy drafters should also keep Jarvis Landry and Julius Thomas where they were on draft boards before Tannehill's injury.

The fantasy drafting public remains somewhat bullish on Ware, endorsing him as the 18th running back off the board with an ADP in early fourth round. While Ware remains in the lead for starting duties in the Chiefs backfield, reports out of Kansas City suggest rookie Kareem Hunt is going to give him a run for his money. Chiefs' head coach Andy Reid recently called Hunt "a smart kid" and noted that he's picking things up very quickly.
Hunt was a Day 2 pick in April's draft and graded out as our No. 1 running back in the FBS last year. He's currently being drafted four rounds after Ware. From a value standpoint, Hunt offers more bang for your buck, and that's even if he doesn't open the season as the starter. This very well could be a situation where we don't see a lot of Hunt until the middle of the season, but it's very likely we do see him at some point. His combined ability as a runner and a receiver bodes well for fantasy success, especially in Andy Reid's running back friendly offense.
3. QB battle updates
We're getting closer to finding out who will be under center in Houston and Denver in Week 1. Trevor Siemian appears to have put some distance between himself and Paxton Lynch for the Broncos starting job. In Houston, Tom Savage has reportedly been terrific and is "clearly the No. 1." A lot can change between now and the start of the season, but neither Siemian nor Savage would be on the fantasy radar in 1QB leagues.
Things are still a bit jumbled in Cleveland. Brock Osweiler was named the starter for the Browns' first preseason game, but Hue Jackson said this was a way to get him first-team reps. Osweiler hasn't been in the mix for the starting job. DeShone Kizer looked to be off and running in camp, but he reportedly struggled in Friday's scrimmage. The job is still expected to come down to Kizer and Cody Kessler.
4. Kansas City beat predicting 75-plus reception for Tyreek Hill
This projection comes from Kansas City Star reporter Terez Paylor, who said Hill "is on the cusp of a huge, huge year barring injury." While the reports are certainly encouraging regarding Hill, this is another opportunity to warn you against talking beat writer projections at face value. While the beat reports know their teams extremely well, they are not experts in projecting stats. At the same time, this is a fairly reasonable over/under line given the volume we expect Hill to see this season.
Only 22 wide receivers topped 75 catches last season and only one did so on fewer than 100 targets – Cole Beasley had 75 catches on 92 targets. Our projections currently have Hill seeing 105 targets and going just over the 75-catch mark. While he isn't likely to be targeted heavily down field in the Chiefs' conservative offense, Hill still screams upside as a WR2 option in a good position to produce.
5. Injury roundup