(With training camps starting soon around the league, we're looking ahead at the 2019 fantasy football season and attempting to answer the burning questions around the league. For each team, we'll ask, and hopefully answer, 3-4 questions about their season to come in fantasy. This is 100 Questions.)
You could be forgiven for forgetting that the Tennessee Titans were the very last game of the regular season away from a playoff berth in 2018. They finished the year only 27th in points scored, barely had a positive point differential, ran Blaine Gabbert out there in a win-or-go-home Week 17, and, other than a short spurt from Derrick Henry at the end of the year, really had nothing to offer fantasy owners.
But it is nonetheless true that the Titans were contenders in 2018 and could still be in 2019. And while the team isn't likely to put up vintage Saints offensive numbers, there is enough firepower in Tennessee in 2019 that the team could prove to offer more for fantasy than it has in a while.
#23: Is Derrick Henry a fantasy starter?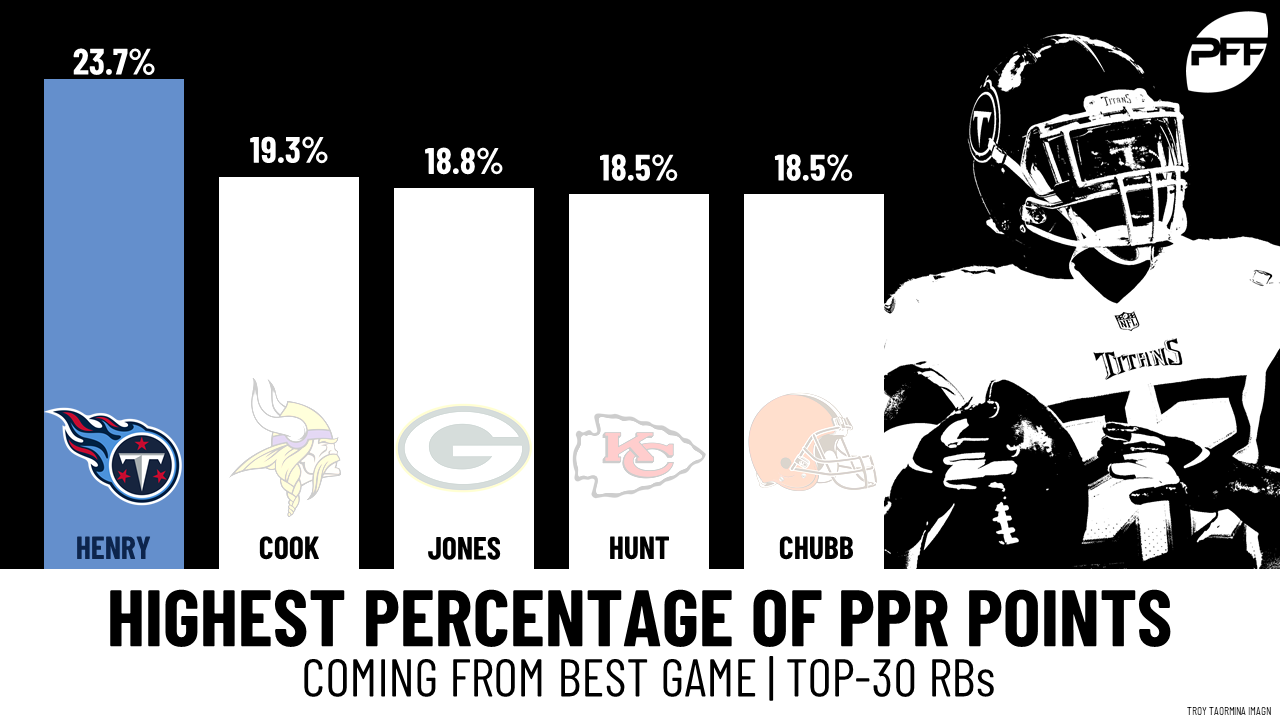 The Henry of the season's final month is not only a fantasy starter, he's a first-rounder. The Henry up until that point was barely rosterable (go back and check the tweets during his monster game against Jacksonville to read about some very bitter fantasy managers who were watching those points accumulate on their playoff benches). Head coach Mike Vrabel and offensive coordinator Arthur Smith have said all the right things this offseason for Henry's fantasy stock, that they want to build the offense around him and such, but the question remains whether his monster performance down the stretch can continue.
Best guess: He's a fantasy starter, but barely. Henry's simple lack of receiving is always going to keep him in check (he has 46 targets in three seasons combined), especially with Dion Lewis on the team. And the team has enough other weapons now (keep reading) that the Titans won't have to lean so heavily on the running backs in 2019. Henry is the No. 19 running back in our PFF Fantasy staff rankings, but he's my No. 22.
#24: Does Marcus Mariota have any fantasy value at this point in his career?
The next time Mariota plays all 16 games in a season will be the first time. He has a combined 24 touchdown passes against 23 interceptions the last two years and passed for barely 180 yards a game last year. He put up barely 13 fantasy points a game last year. The fantasy drafting community has reacted accordingly; he doesn't even have a draftable ADP on Fantasy Football Calculator so far this offseason.
Best guess: Well … maybe the hate has gone too far? He's missed at least one game every season, but only eight total games in four years. He has 24 touchdown passes the last two years, but he had 26 in 2016. He was a top-10 fantasy QB that year. He's got rushing ability that most quarterbacks don't have. And he has more weapons now than he's ever had. You obviously aren't drafting Mariota as your fantasy starter even in deep leagues, but in those deep leagues, in two-QB leagues, taking a lottery flyer on Mariota at the end of the draft could certainly pay dividends.
#25: Suddenly there are a lot of receivers in Tennessee. Who do we want?
Third-year third-rounder Taywan Taylor remains in Tennessee, but he's been joined by free agent signee Adam Humphries and 2019 second-rounder A.J. Brown as candidates to be the second fiddle to Corey Davis (and just for the record, Davis is being criminally underdrafted so far). After Mariota hasn't had a second-best wide receiver top 116.3 PPR points in a season in his career (in his rookie 2015, he didn't even have his best receiver reach that number), but there's at least a shot for it now.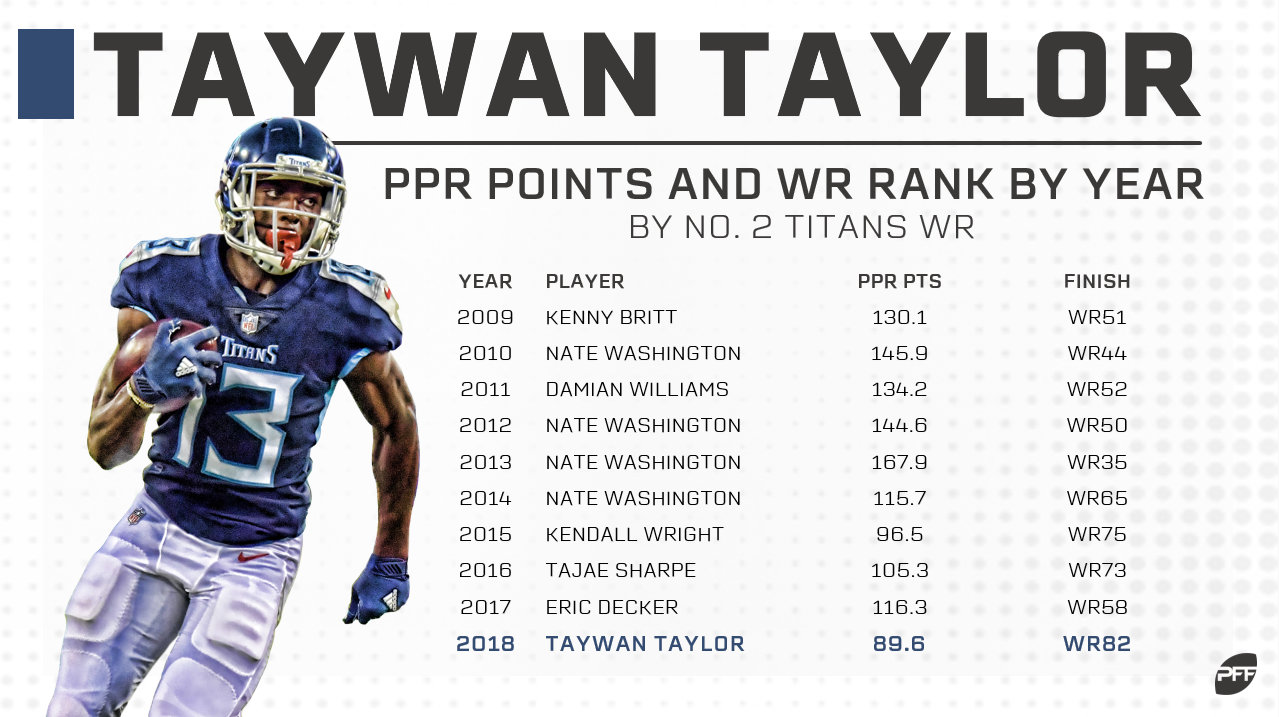 Best guess: If you're drafting one of those three, it's probably Brown. But it's hard to count on much there. We can be reasonably certain Davis will get his, and Lewis and returning tight end Delanie Walker should get their shares as well. That leaves the other pass-catchers to get the targets after that, and the Titans have been among the least pass-happy offenses in the league in recent years; since Mariota entered the league, the Titans have 1,988 pass attempts, one of only two teams below 2,000 (the Bills are at 1,914). Brown has loads of potential, Taylor is entering a crucial third year, and Humphries has been a strong slot weapon, but if there's no quantity, it's going to be hard to get that much quality.