(With training camps starting soon around the league, we're looking ahead at the 2019 fantasy football season and attempting to answer the burning questions around the league. For each team, we'll ask, and hopefully answer, 3-4 questions about their season to come in fantasy. This is 100 Questions.)
Do you remember? Do you remember when the Tampa Bay Buccaneers were 2-0 (with wins over the Saints and Eagles, no less), having scored 75 points, producing the No. 1 fantasy quarterback and two of the top four fantasy receivers, and generating real buzz. It was actually kind of exciting.
What you probably remember better is what happened the rest of the way. The Buccaneers went 3-11 the rest of the season, with the wins coming only over the Browns, 49ers, and Panthers. They had to switch starting quarterbacks three times and only had one of the top-40 flex options. All told, the Buccaneers still had a formidable fantasy offense in 2018, with the most teamwide PPR points for wide receivers and combined for the second-most fantasy points from quarterbacks. In other words … the Buccaneers probably aren't good, but the fantasy potential is enormous.
#73: What will the Bruce Arians influence mean for Jameis Winston?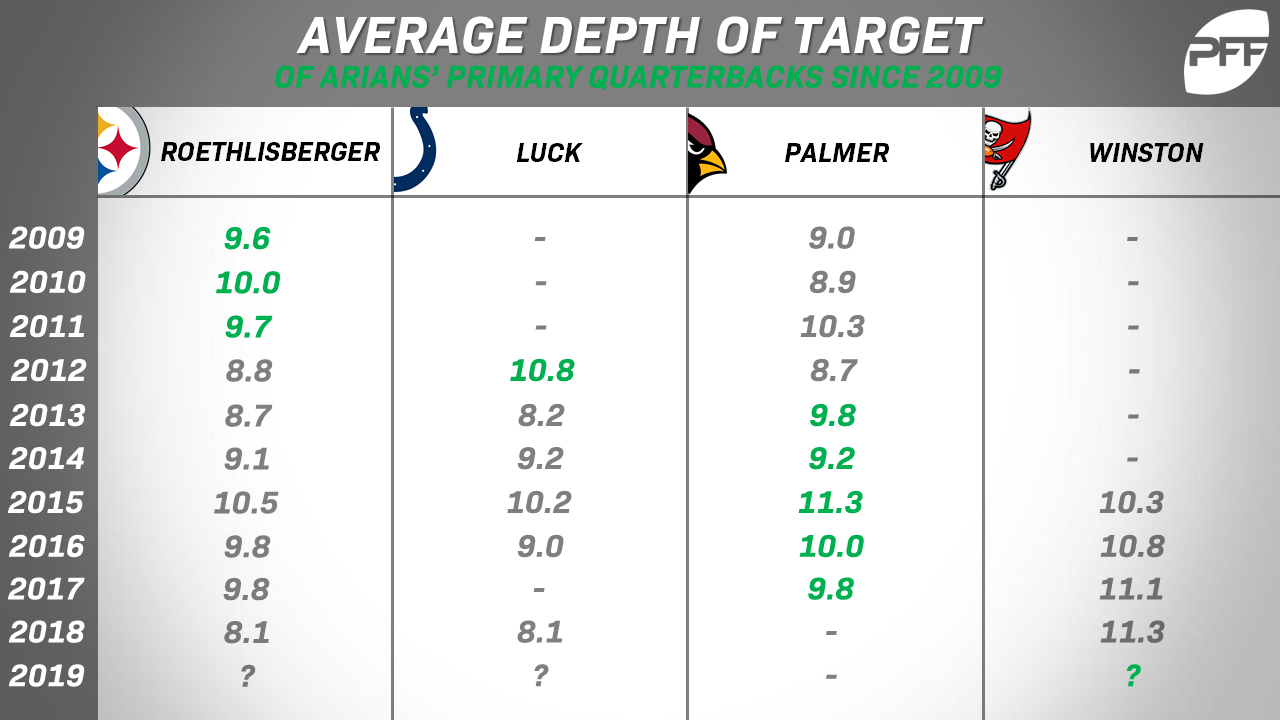 The quarterbacks who have been under Arians' tutelage in his offensive coordinator/head coaching career haven't all had their best seasons with him, but they have largely had their deepest-passing seasons. For the last 10 years, Arians has coached Ben Roethlisberger, Andrew Luck, and Carson Palmer (primarily, there are some Drew Stanton, etc., appearances in there as well). Luck set his career-high in average depth of target in 2012 under Arians (10.8 yards; next-deepest number is 10.2). Palmer set his career-high in 2015 (11.3, 10.3 was his next-highest). Roethlisberger's career-deepest aDOT was 10.5 yards in 2015, but he had his second-highest (10.0 yards) in 2010 under Arians as well. In other words, we don't know Winston will be throwing the ball deeper than ever in 2019 with Arians as his head coach, but it seems like that way. And that's notable, because Winston … just averaged targets 11.3 yards downfield in 2018, second-deepest in the league.
Best guess: Winston has led the league in percentage of passing yards in the air each of the last two years. O.J. Howard had the second-deepest aDOT among tight ends; DeSean Jackson had the third-deepest among wide receivers; Mike Evans had the 10th. If Winston starts throwing the ball even further downfield, that works for Evans and Howard and slightly (but only slightly) against Chris Godwin's upside, as his aDOT of 12.8 yards was far shorter than that of his teammates (more on him below). Now, there is a perfectly reasonable argument that Winston is already flirting with the deepest realistic aDOT (only three full-time starters have had deeper aDOTs in the last decade), but still, if there's any room for growth, this offense could be even more electric, even with Jackson now in Philadelphia. Winston is currently the No. 13 quarterback going in drafts (per Fantasy Football Calculator ADP) and is No. 12 in our PFF Fantasy staff rankings … but in my rankings, he's sixth. All in.
#74: Do we care at all about the backfield?
Seventeen running backs had at least 220 touches in 2018. Sixteen of them averaged 269.3 PPR points, with Lamar Miller's 174.6 the lowest of that group. The 17th was Peyton Barber, who managed only 152.3 points on his 254 carries. In other words, he had the 12th-most touches in the league but only the 31st-most PPT points. The Buccaneers surely didn't want Barber to have that sort of workload, except the back they drafted in the second round, Ronald Jones, was even worse — 77 total scrimmage yards, one touchdown, and a 48.8 overall PFF grade that ranked 95 out of 96 running backs with at least 20 carries. Barber wasn't good, but he was the best they had. But still, Jones has that second-round pedigree and was the top-graded running back in college in 2017.
Best guess: Drafting Barber feels like an exercise in futility. Even if Jones is terrible again and Barber has to be the load-carrier, when are you ever going to be excited about starting him? There's just no upside. Jones? Maybe his upside is low, but if he can even resemble the back the Bucs thought they were getting, he can at least be a lottery ticket. That explains why Jones is going ahead of Barber in drafts (RB38 compared to RB50) and is ranked ahead of him in our rankings (RB35 to RB41). So no, we probably don't care, but to the extent that we do, it's because Jones is at least marginally interesting.
#75: Can Chris Godwin fulfill his breakout potential?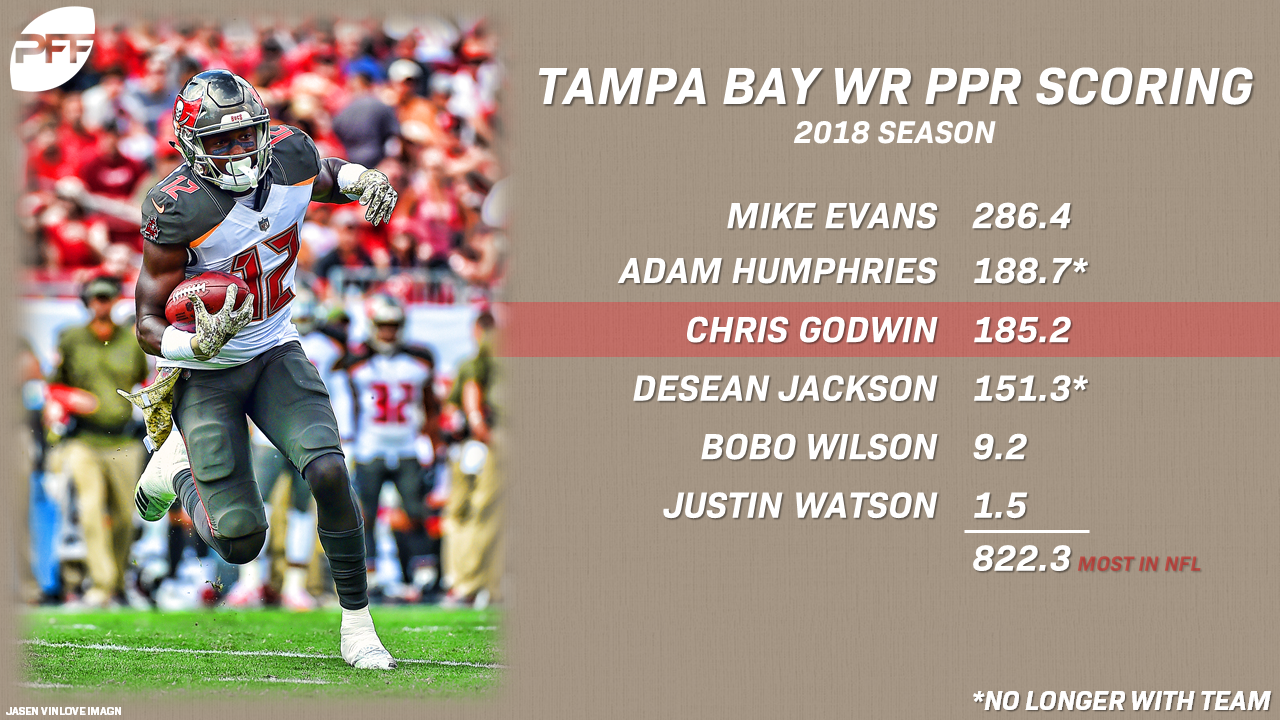 As mentioned earlier, the Buccaneers had the most combined PPR points out receivers in the league in 2018, totaling 822.3 — the most since the 2013 Broncos. Well, 340.0 (41.3%) of those points are now elsewhere, with DeSean Jackson getting traded to the Eagles and Adam Humphries signing with the Titans in free agency. That leaves a lot of points available to Godwin and teammates, and that's in addition to the 185.2 points (WR26) Godwin put up in his own right. Even if he doesn't see the boost from Arians' aDOT-mad offense that Evans and Howard might see, a rising tide lifts all boats. In other words, there is a sky-high ceiling for Godwin in 2019.
Best guess: Talks of a 100-catch season for Godwin were probably overstated; that's just too hard to do for a team's No. 1 receiver, let alone its No. 2. Evans is going to be the team's top offensive weapon, and Howard and Godwin are likely to contend for the No. 2 job. He's going 21st among receivers in drafts and is ranked 23rd by our staff; that's a perfectly fair ranking, but if you draft him, keep in mind that his ceiling might not be as high as others in his range, owing to the Evans/Howard presence. But assuming health, Godwin's floor should be immense.