(With training camps starting soon around the league, we're looking ahead at the 2019 fantasy football season and attempting to answer the burning questions around the league. For each team, we'll ask, and hopefully answer, 3-4 questions about their season to come in fantasy. This is 100 Questions.)
The Carolina Panthers started the 2018 season 6-2 and were seen as one of the playoff locks. Stories were written about them. Things were good. And then the team lost its next seven games in a row, only winning in Week 17 against a disinterested Saints team to salvage a 7-9 record that still had to be hugely disappointing.
Still, the team had several bright spots for fantasy. Christian McCaffrey went from marginal disappointment (if you're being picky) as a 2017 rookie to contender for first overall fantasy pick, two receivers developed into legitimate producers, and even Cam Newton improved his points-per-game average from 2017 slightly, though his end-of-season injury disguises that. Still, just as a fantasy team, the Panthers' 2018 wasn't that bad.
#66: Should we worry about Christian McCaffrey's workload?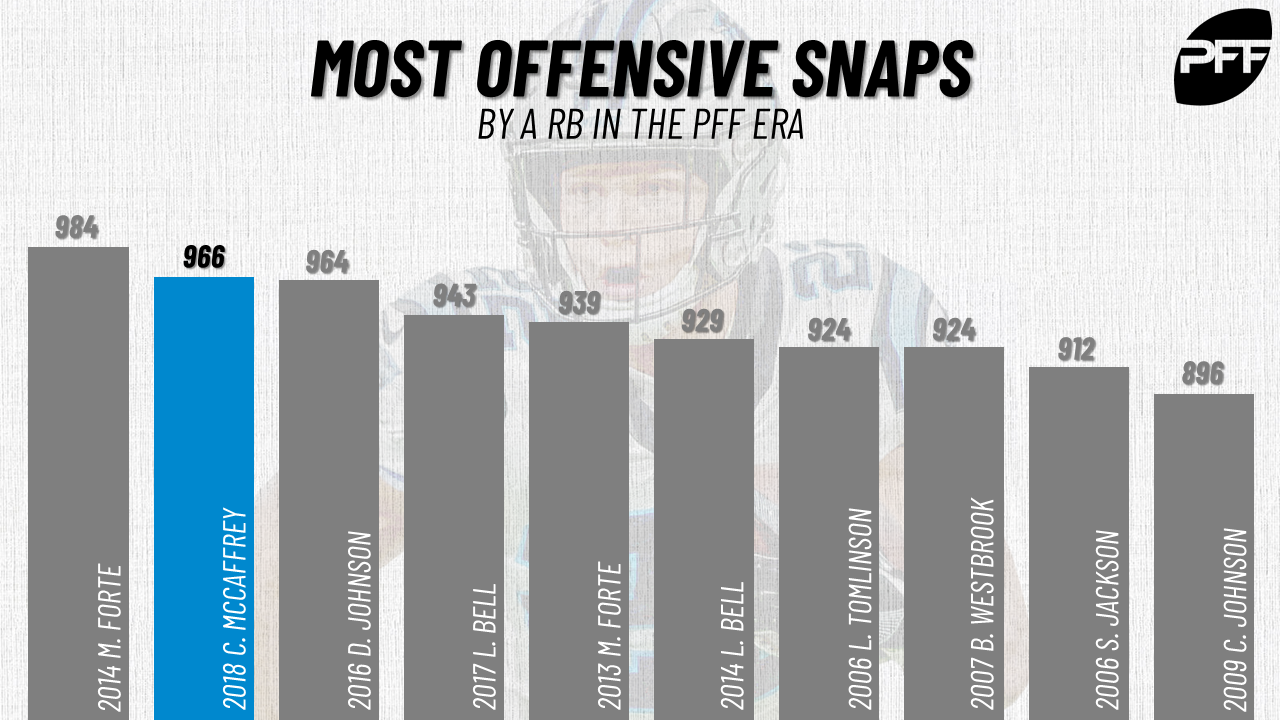 McCaffrey played 805 offensive snaps as a rookie in 2017. That's a lot, but not especially noteworthy. In 2018? He played a massive 966 snaps, including 100% of the Panthers' snaps in eight different games. It was the most in the league among running backs, and the second-most in the PFF era, 18 behind Matt Forte in 2014 — if McCaffrey hadn't been held to only 10 snaps in a didn't-even-matter Week 17, he would have passed Forte with ease. It didn't appear to matter much on McCaffrey's legs a year ago, as he had 20-plus PPR points in each of his last five games before that Week 17 game, averaging a massive 31.5 over that time.
Best guess: Among the other nine backs in the top-10 in snaps in the PFF era (since 2006), Le'Veon Bell didn't play at all in 2018 (for non-football reasons), while David Johnson only played 46 in 2017 (for very-football reasons). Of the other seven, six played at least 500 snaps the next year, four played at least 700, and Matt Forte actually topped 900 in both 2013 and 2014. So yes, there are concerns over McCaffrey being able to shoulder that kind of workload in consecutive years. On the other hand, the Panthers haven't done much of anything to indicate they'll take it easy on McCaffrey in 2019, not bringing in any real threats to his workload this offseason. He's the No. 2 back in current ADP (per Fantasy Football Calculator) and No. 3 in our PFF Fantasy staff rankings. The only real worry is that drafting McCaffrey leaves you without an obvious pick to handcuff, and if that's your biggest worry, you're doing all right.
D.J. Moore averaged 4.8 targets and 59.6 scrimmage yards per game as a rookie, scoring two total touchdowns. He had three PPR weekly finishes as a WR2 or better out of 16 weeks. Samuel averaged 4.8 targets and 44.5 scrimmage yards per game as a de facto rookie after being injured most of his rookie year, scoring seven total touchdowns. He had three PPR weekly finishes as a WR2 or better out of 13 weeks. Obviously, those numbers are cherry-picked to an extent, but the point is there. Currently, Moore is going off the board as the No. 26 receiver in ADP, while Samuel is No. 47. Does that difference make sense?
Best guess: To me? No, the difference does not make sense. If you want to argue Moore is the No. 1 and Samuel is the No. 2, I won't fight hard (even if I'd suggest 1/1A), but to have Moore going off the board as a borderline WR2 with Samuel outside of flex territory implies a clear difference in value that I don't believe exists. Because Samuel was hurt most of his rookie year we might be forgetting his pedigree, as a 2017 second-rounder who is only eight months older than Moore. Moore is the No. 24 receiver in our staff rankings, fairly close to where he's going in ADP, but Samuel is up to 39 … and in my personal ranks, he's 31st. There's value there.
#68: Can we expect a Greg Olsen rebound?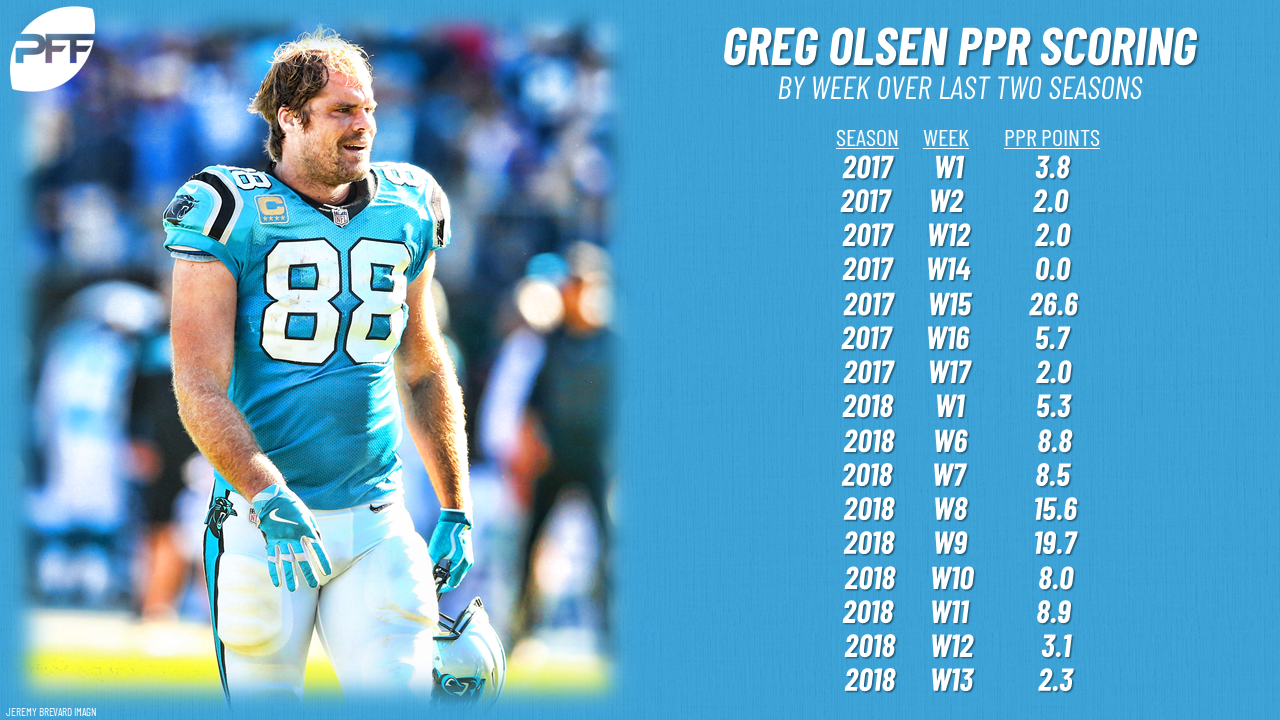 Olsen was a fantasy powerhouse in 2016, finishing as a top-10 tight end every week before the Panthers' Week 7 bye and ending the season as the No. 3 scorer. Since then, things have been much worse, due in large part to injury — Olsen missed the first two games of his career, then played the next 160 consecutively through Week 2 of 2017. Since then, he's played in only 14 of a possible 30 games, missing nine games in 2017 and seven in 2018. His performance has gone down as well, dropping from PFF grades of 80-plus in four out of five years 2012-2016 to 65.5 and 66.5, respectively, the last two years. Still, he's reportedly healthy now, and even at age 34, a healthy Olsen should be the team's No. 1 tight end.
Best guess: The above numbers paint a brighter picture of Olsen's 2016 than I think it actually was. He was without question dominant before the team's bye, but after it (over the season's final 10 weeks), he was pretty pedestrian. His PPR points per game cut in half (18.7 to 9.3), his average yardage fell by even more (101.7 to 46.3). His yards per route run fell from 2.74 to 1.59. His best weekly finish was as the No. 7 tight end — nothing wrong with that, but at a very middling position, you want more upside. If you trace his struggles back two and a half years, before injury, his profile looks more like an aging option than a guy hindered by fluke injuries. And that's what I think he is. Olsen is the No. 14 tight end in current ADP, and he's 15th in our rankings, owing to the awful state of the position, but I know I wouldn't be excited about drafting him.