• Ty Johnson goes from no snaps to starter: Johnson didn't play a single snap on offense in Week 14 or 15 but moved to the top of the New York Jets depth chart for Week 17.
• Darren Waller's snaps remain limited: Waller is three weeks removed from being activated off injured reserve but is still only playing a part-time role.
• Rookie tight ends on the rise: There is more reason for optimism for Trey McBride and Cade Otton going forward. 
Estimated Reading Time: 7 mins
---
PFF's fantasy football recap focuses on player usage and stats, breaking down all the vital information you need to achieve fantasy success in 2022. Here, we touch on players who are only relevant in fantasy football leagues.
These are my 10 biggest reactions to the games from the Sunday slate. To get a more in-depth breakdown, check out my full Sunday recap.

The New York Jets are back to a three-man committee
Ty Johnson was recently phased out of the Jets backfield but strongly rebounded this week.
Johnson was the Jets' third down-back from Week 7 to Week 13, but then New York turned to

Zonovan Knight

on early downs and

Michael Carter

on third downs for Weeks 14-15. Johnson didn't play a snap on offense those two weeks.

The Jets tried to run a few plays with

Chris Streveler

at quarterback last week, and Johnson was the running back in those packages. New York kept Streveler in for the fourth quarter last week, which meant significant time for Johnson.

It didn't seem like Johnson was primed for any role in the offense with the team moving back to

Mike White

, but Johnson surprisingly started the game. He led the team in early-down snaps while also taking most of the passing-down work.

He was the most effective rusher on the team, making it likely Johnson sees significant playing time next week.

Ideally,

Breece Hall

is healthy by next season and playing the vast majority of snaps.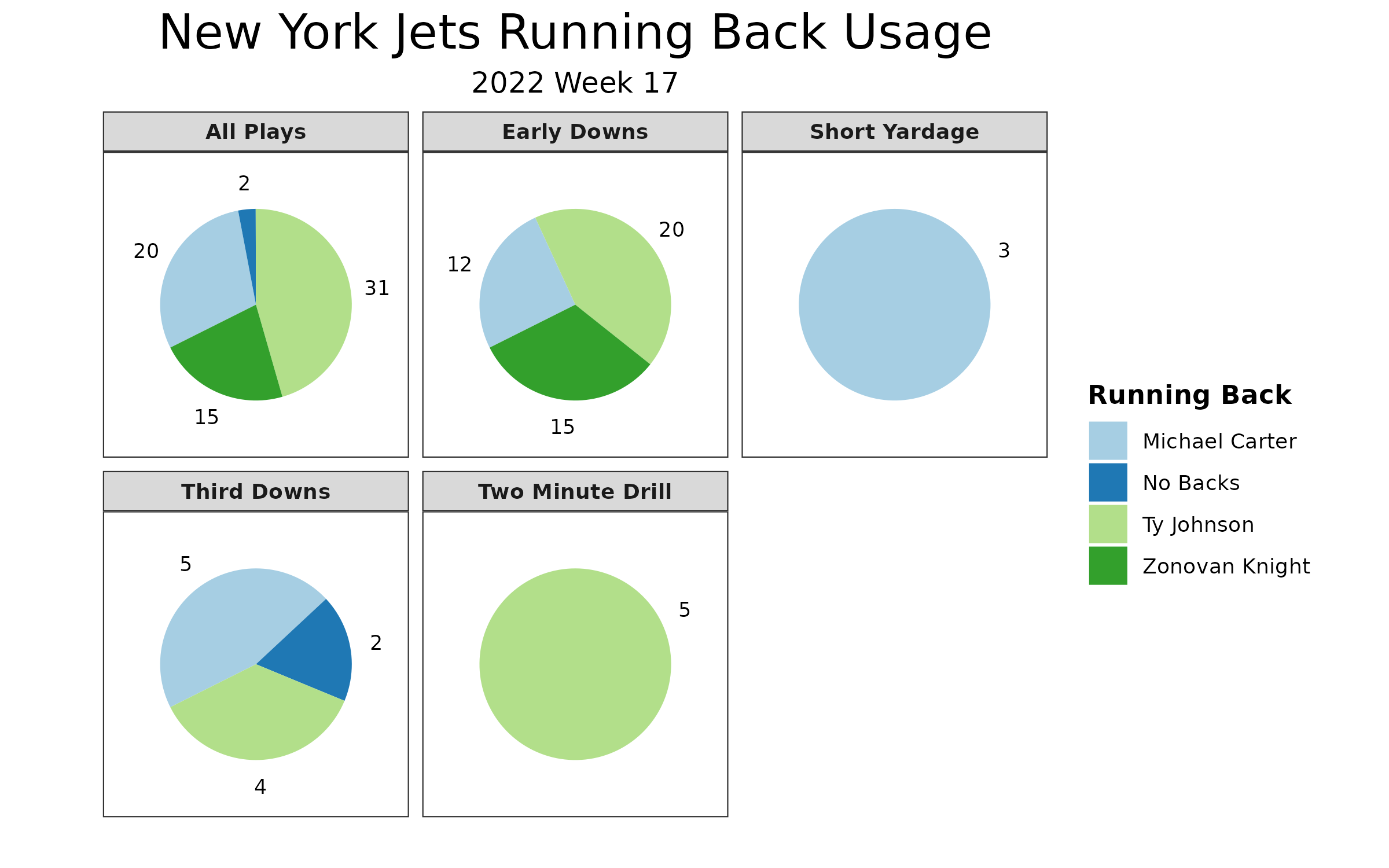 ---
Conner suffered a shin injury late in the third quarter and didn't return.
Conner took the clear majority of snaps over the first three quarters, consistent with his workload in recent months. He ran the ball 16 times for 79 yards and gained another 31 yards on three catches.

Keaontay Ingram

had been serving as the

Arizona Cardinals

' primary backup running back since Week 10. He played 53 offensive snaps from Week 10 to Week 16, while all other backups combined for five snaps in that time.

Corey Clement

surpassed Ingram on the depth chart before the game. He took 17 snaps over the first three quarters and 15 snaps in the fourth quarter after Conner's injury.

Ingram's only offensive snap was in the middle of the fourth quarter.

If Conner misses next week, we can expect Clement to be the lead rusher.

Conner is under contract for one more season, but Arizona will likely invest at running back this offseason. They should aim to acquire a better backup as well as a player for the future.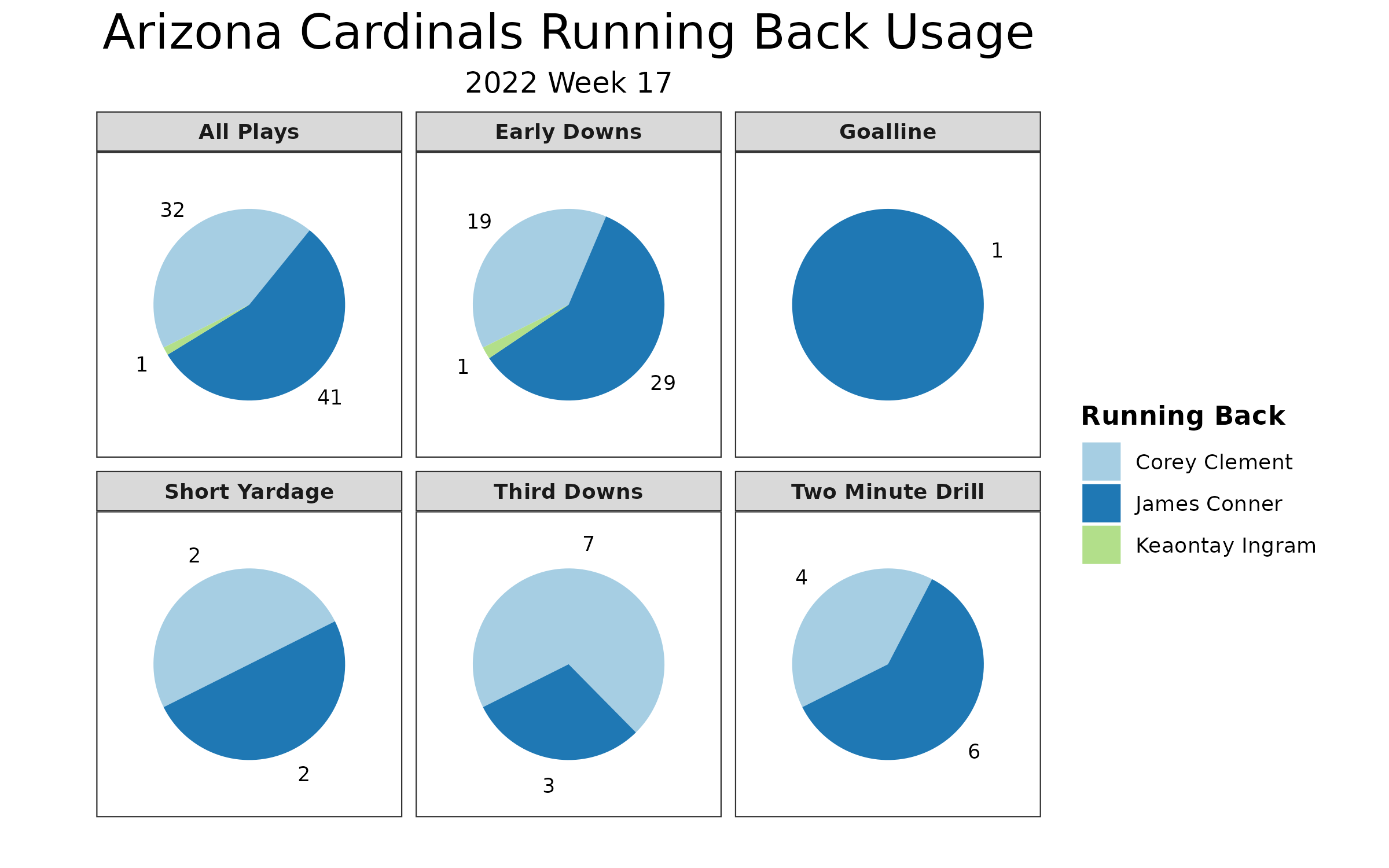 ---
Wilson led the backfield in offensive snaps and touches this week.
Miami has gone back and forth between Wilson and

Raheem Mostert

as their top running back since trading for Wilson.

The two seemed close to 50-50 last week.

Wilson took a clear majority of snaps both on early downs and third downs.

Mostert had the better fantasy performance, as he was the one to score a touchdown.

Both players are hitting unrestricted free agency this offseason. Miami could be a prime contender to upgrade at running back either in the draft or free agency.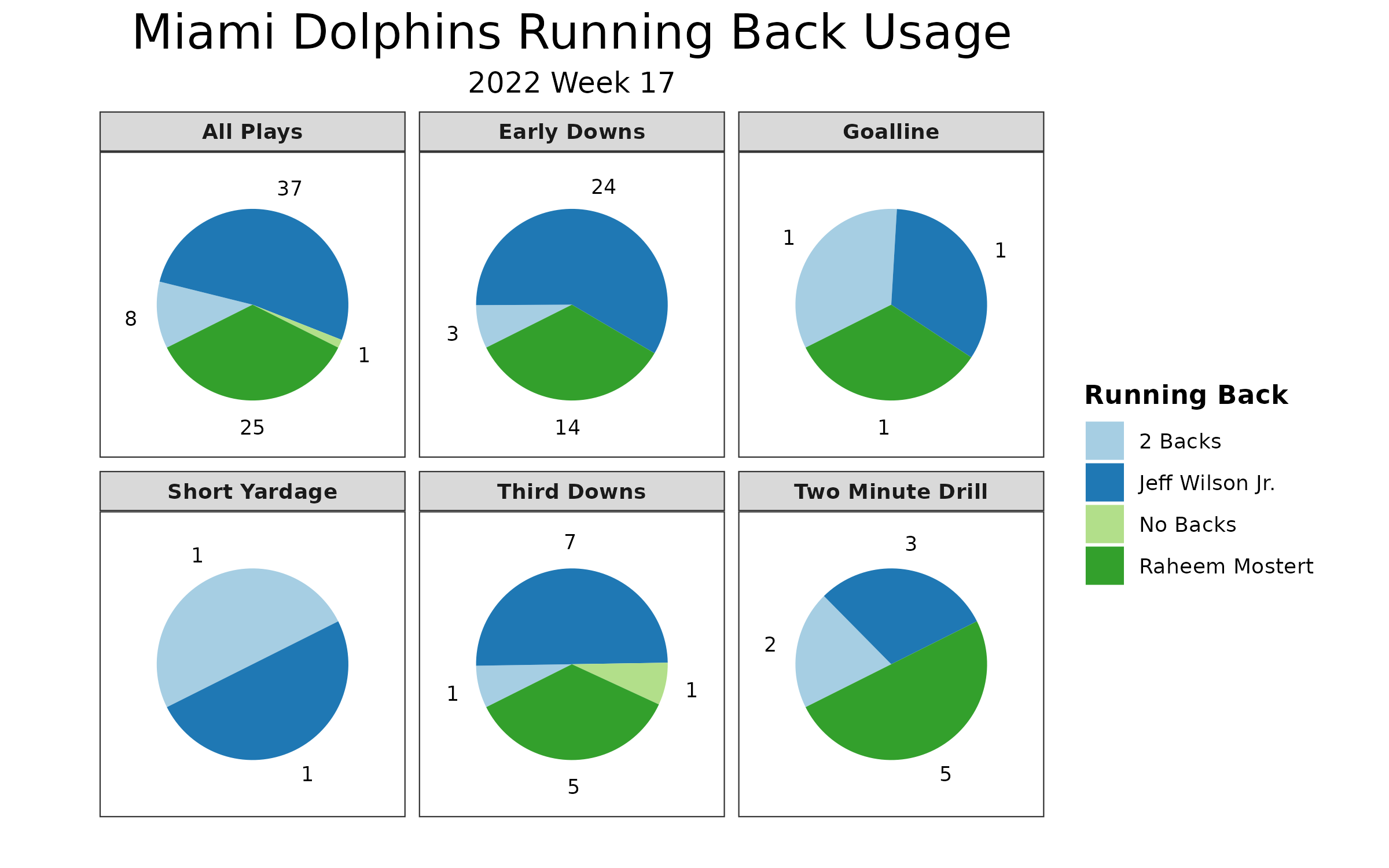 ---
Boston Scott received significant playing time, primarily in the fourth quarter, making this a three-man committee at least for one game.
Kenneth Gainwell

continued to play in clear passing situations as usual but barely received any snaps on early downs.

Miles Sanders

was the primary early-down back in the first half, but the Eagles played only eight snaps on first and second downs outside of the two-minute drill in that half.

Scott started mixing in more in the second half as the Eagles attempted to pass to catch up.

This probably would be the Eagles' normal running back rotation when playing from behind, but we just haven't experienced that situation much this season.

The backfield should return to normal when Philadelphia is close in a game or winning.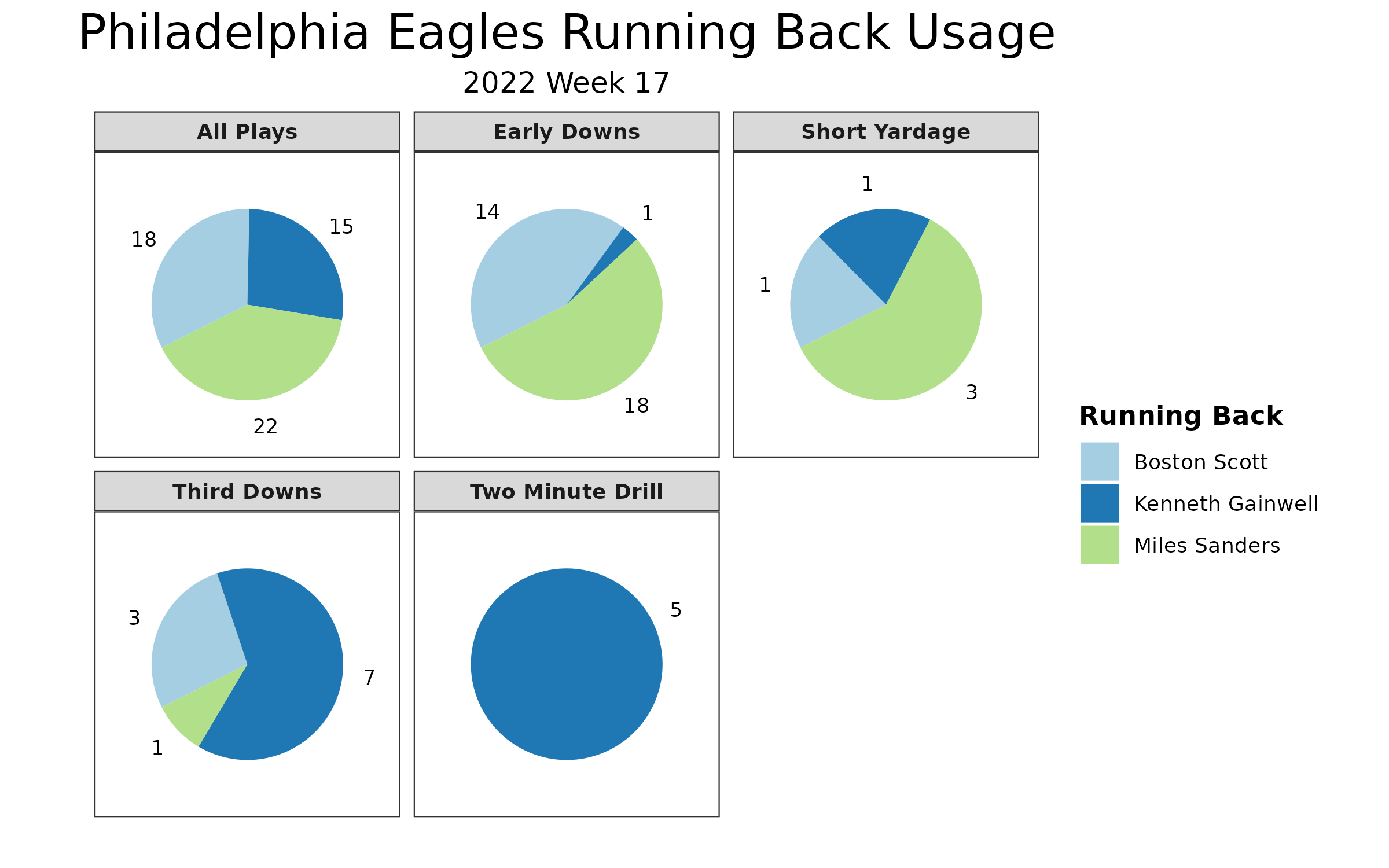 ---
Moore suffered a hand injury late in the third quarter and didn't return.
The second-round rookie played the third-most offensive snaps among the

Kansas City Chiefs

' wide receivers in the first half. This was a step in the right direction for him, as he had been finishing fourth or fifth.

Justin Watson

had become the second player on the depth chart over

Marquez Valdes-Scantling

in recent weeks, but that trend sharply reversed for this game.

This put Watson and Moore in a three-man rotation with

Kadarius Toney

for third on the depth chart.

Toney played well on his limited snaps, posting four catches for a team-leading 71 yards.

Moore's injury just left more playing time for Watson and Toney.

Mecole Hardman

returned to practice recently but suffered a setback and wasn't ready for this game. There is a chance Hardman could return next week to further complicate the receiving room, or he might not return at all this season.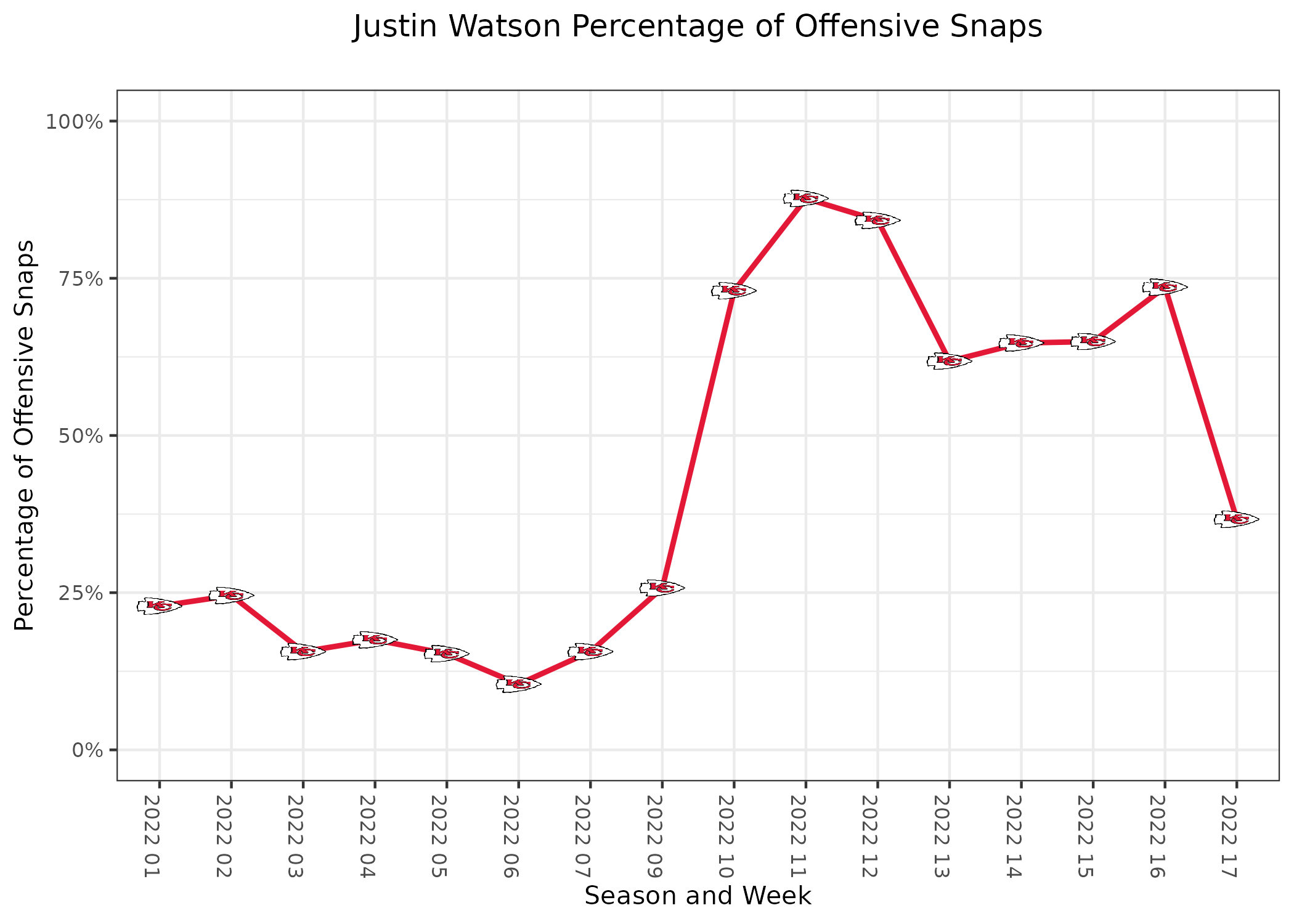 ---
Anderson suffered a back injury early in the second quarter and didn't return.
Anderson started the game, taking on

DeAndre Hopkins

' role. Hopkins showed up on the injury report Friday with a knee ailment and was ultimately inactive.

The

Arizona Cardinals

continued to use

Marquise Brown

on the outside and

Greg Dortch

in the slot, as they did last week.

Dortch started seeing more playing time in two-receiver sets after Anderson's injury.

Andre Baccellia

took over Anderson's spot in three-receiver sets. These injuries didn't impact

A.J. Green

's playing time.

Arizona may need to dig deep down the depth chart again next week with nothing to play for.

They will ideally have a healthier wide receiver room next season with Hopkins, Brown and

Rondale Moore

all under contract, and Dortch is an exclusive rights free agent.

Anderson is very likely to be released later in the offseason based on his contract, while Green is a free agent.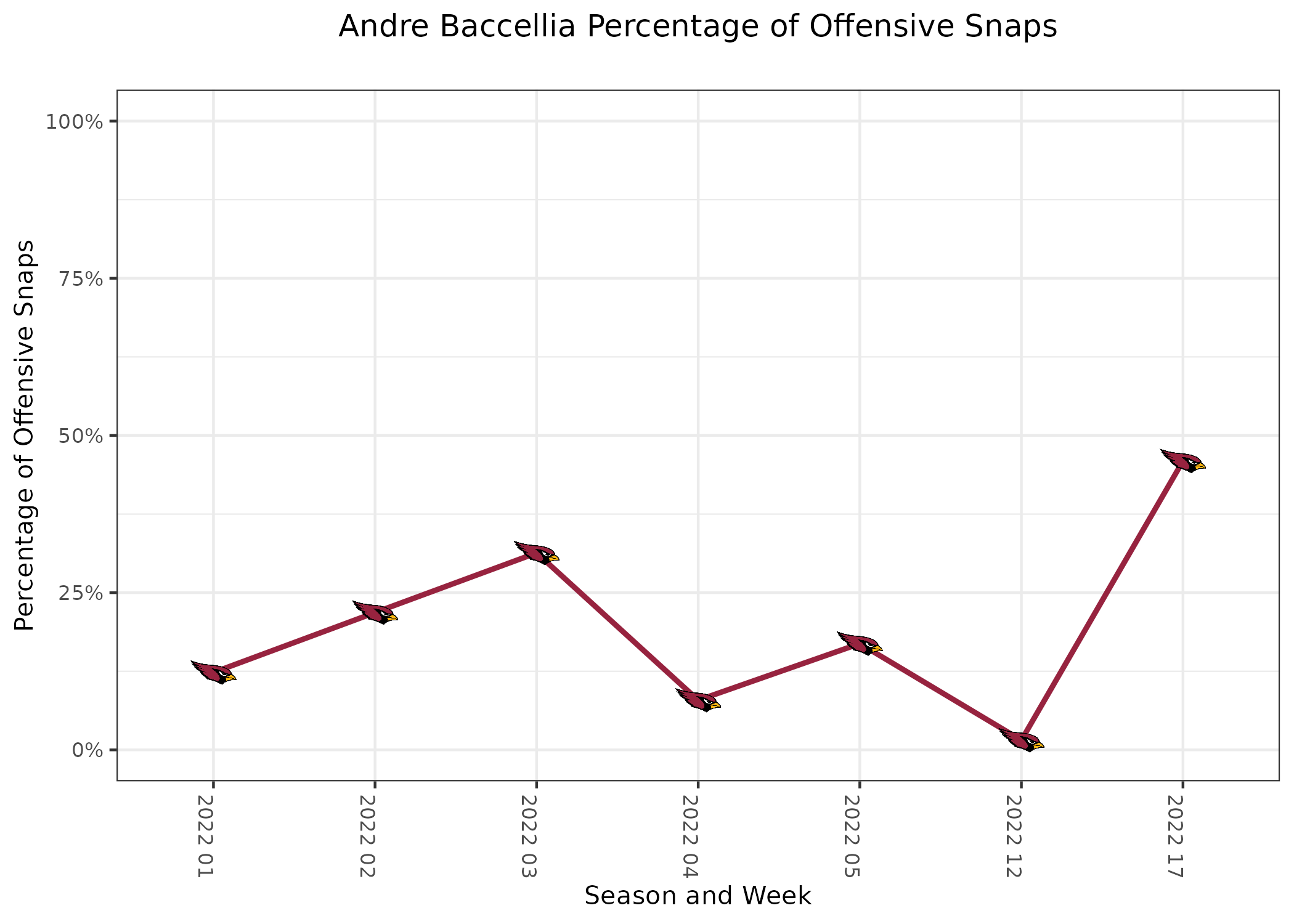 ---
Darren Waller still hasn't regained his full-time role
Waller has played three games since returning from injured reserve but has only seen slight gains in his playing time.
Waller started the season playing 88% of snaps on third downs in 11 personnel. That has fallen to 65% over the last three weeks.

His biggest decline in snaps has come from 11 personnel on early downs. He was playing 78% of those snaps in Weeks 1-4, and that's been at 38% over the last three weeks.

His percentage of snaps in different personnel groupings hasn't changed much over the three weeks. 

The biggest reason he surpassed 50% of offensive snaps this week is the

Las Vegas Raiders

ran more plays in two-tight end sets than usual.

Fantasy managers were still happy after he caught three passes for 72 yards and a touchdown. It could have been more, too, as fellow TE

Foster Moreau

gained 55 yards on three catches.

Waller was a source of trade discussions earlier in the season. There is a chance the Raiders might be fine trading him if they keep using Moreau this much.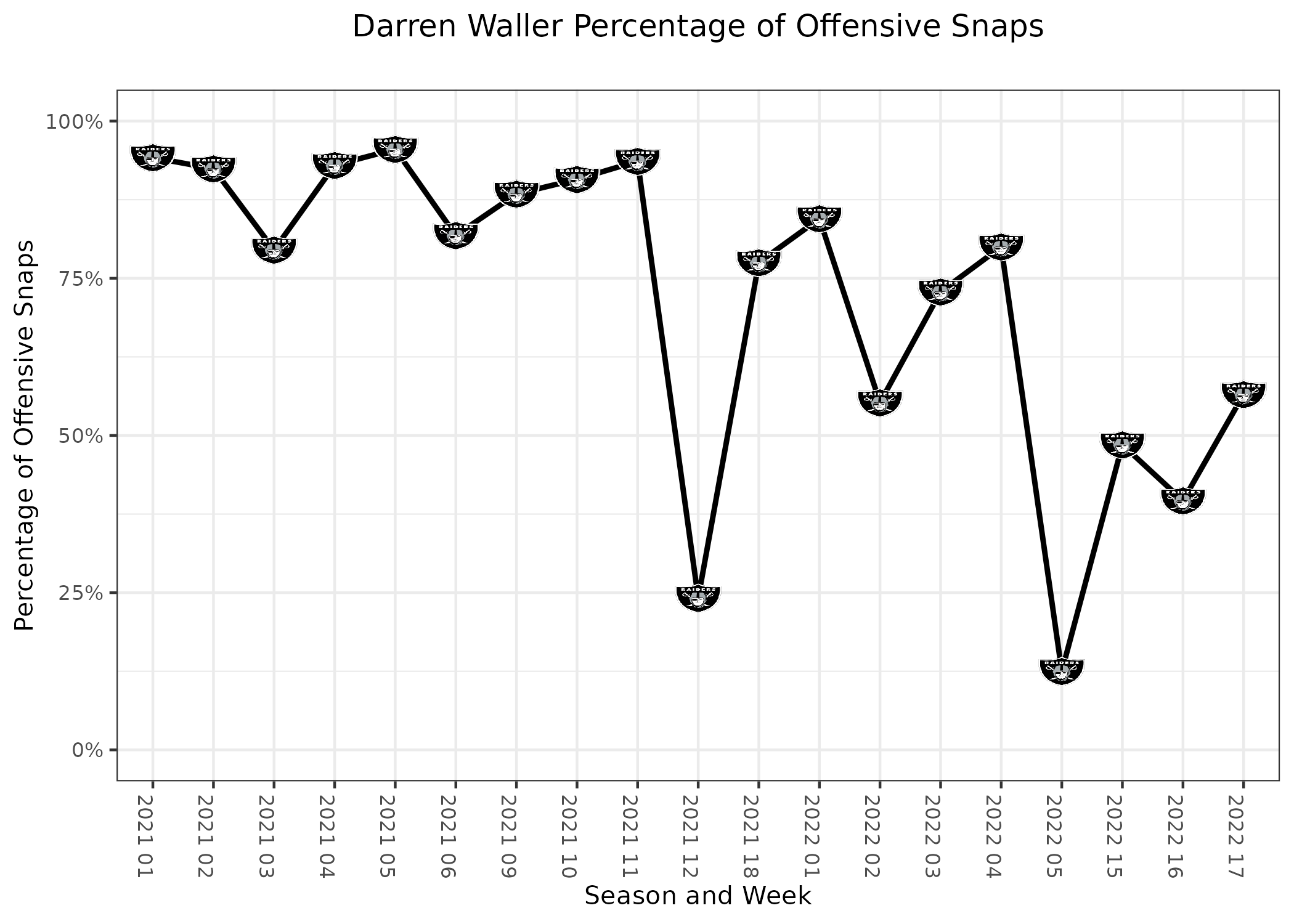 ---
McBride put up his best game of the season, leading the team in receiving yards and scoring his first career touchdown.
McBride was the 55th overall pick in the 2022 NFL Draft but had largely been a disappointment for fantasy managers to this point.

He caught only three passes for 24 yards over the first nine weeks of the season as a backup tight end while still seeing significant playing time.

He took over as the starter in Week 10 due to

Zach Ertz

's season-ending injury. He was held to 22 yards over his first three starts.

He began seeing more targets in mid-December, leading to an improved 10 catches for 100 yards over the previous three weeks.

His arrow continued to trend upward today.

Ertz is still under contract for another two seasons, so it might be another year or two before McBride is a fantasy starter. He might be playing well enough recently to make this more of a two-man committee next season.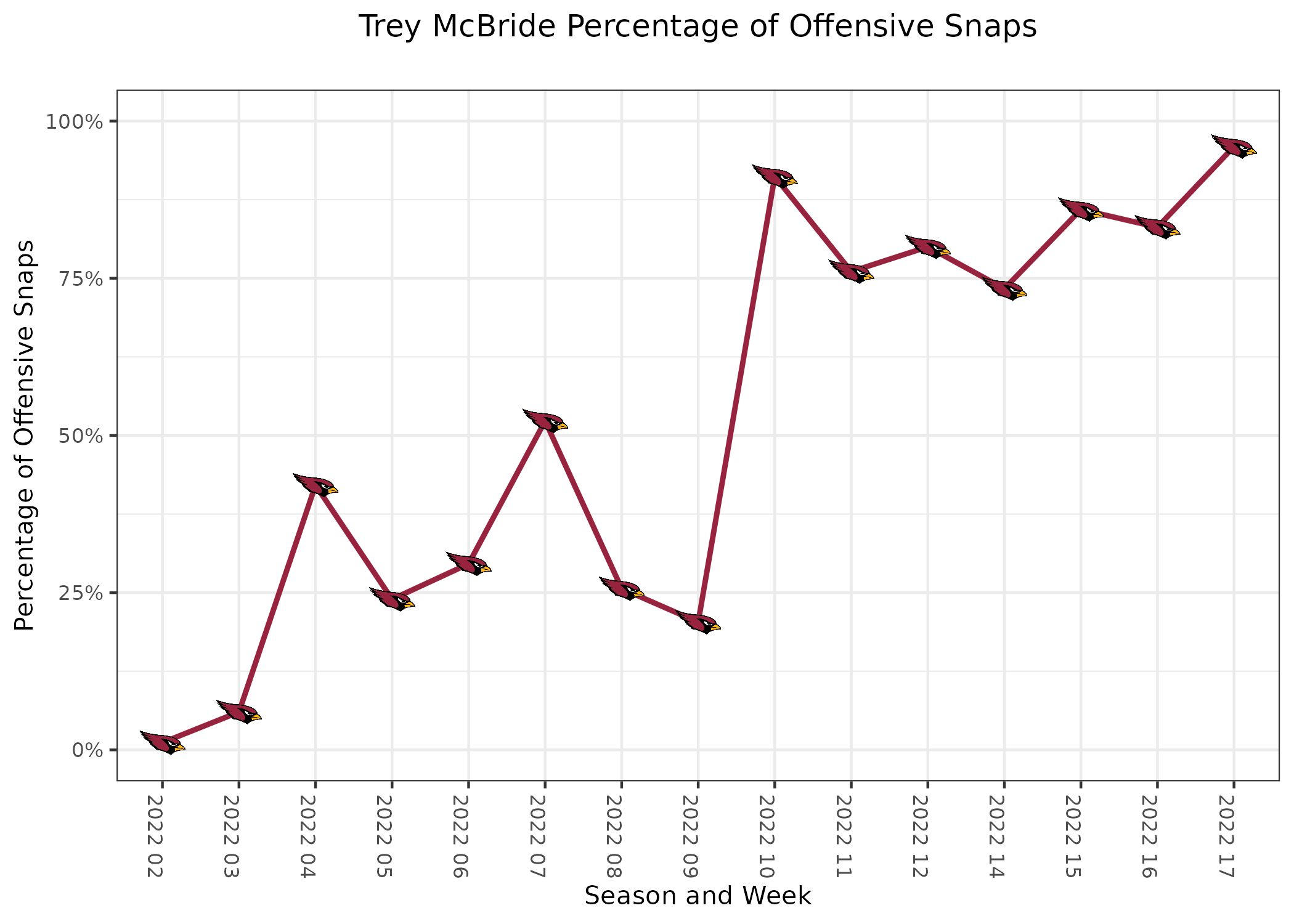 ---
Cade Otton secures the top tight end role
Cameron Brate was a healthy inactive for the Tampa Bay Buccaneers after starting the season as the Buccaneers' lead tight end.
Brate started the season as the lead tight end, but a concussion followed by a neck injury kept him out for most of October and the start of November. This gave Otton a chance to earn the top role.

Brate returned in Week 10 but didn't regain a clear hold on the starting role. The two players split time in passing situations through November and the start of December.

Otton gained control of the job last week, playing a clear majority of snaps. Brate played only eight snaps and was held without a target.

Brate being inactive only made it more clear that Otton is the leader in the clubhouse.

He didn't have a great game, with two catches for 17 yards and a drop, but he was still a frequent target.

Brate is still under contract for next season but will likely be released to clear salary cap space. Otton should remain the starter next season.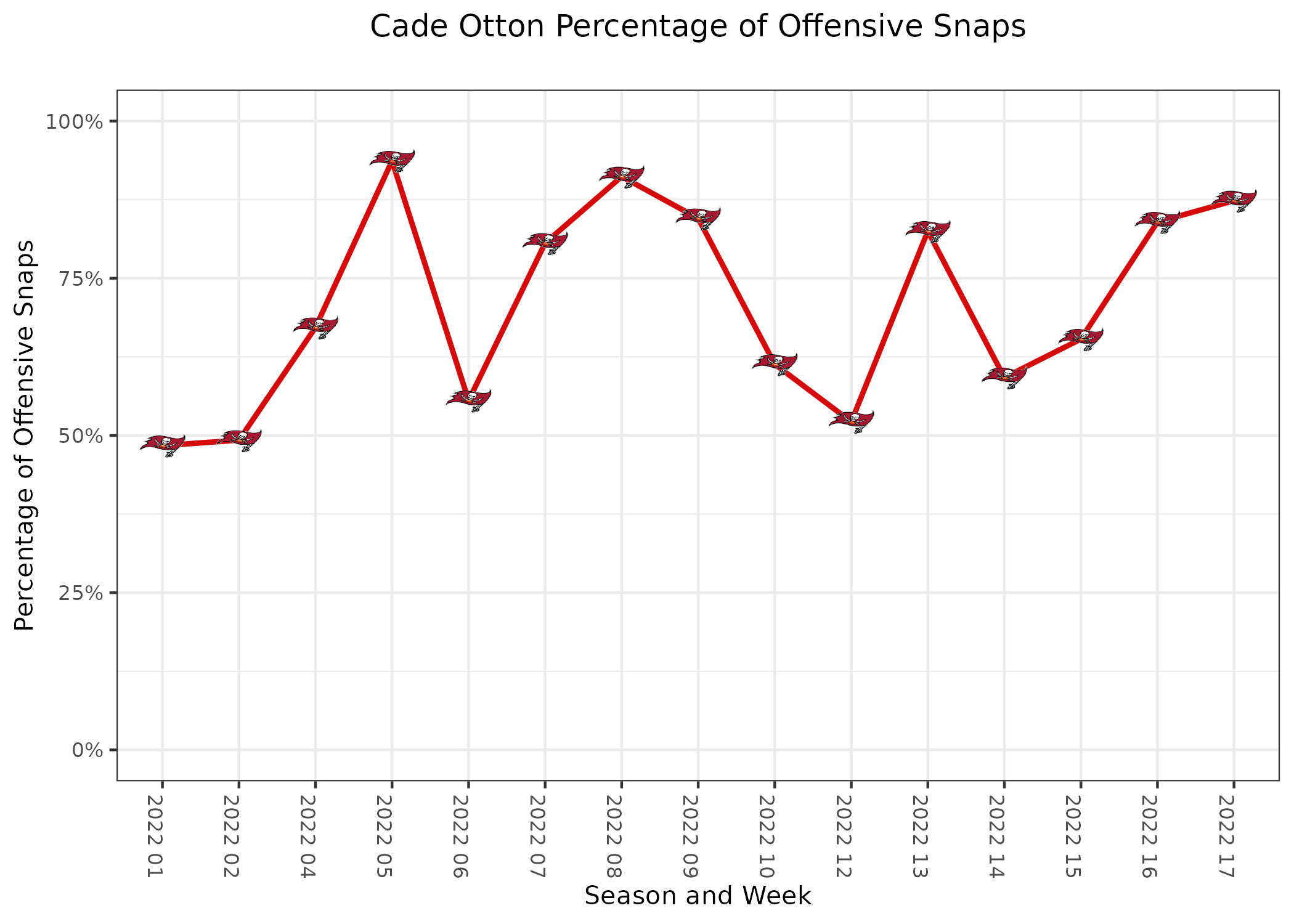 ---
Dissly landed on injured reserve with a knee injury this past week, reducing the Seahawks' three-tight end committee by one.
Dissly's snaps went to second-year tight end

Colby Parkinson

, who took 100% of snaps in 12, 13 and 21 personnel.

He also led the team in snaps out of 11 personnel on first, second and third down.

The gap in 11 personnel wasn't that large for most of the game, but it grew in the fourth quarter. This was surprising, considering how well

Noah Fant

has played this season.

Fant ended up leading the tight end room in receiving yards, but Parkinson scored a touchdown.

Tyler Mabry became the team's third tight end. Two of his three snaps occurred in three-tight end sets, including one where he scored a touchdown.

Dissly, Fant and Parkinson are all under contract for next season. If all of them stay in Seattle, it will be hard to trust any of them for fantasy football purposes.