Looking ahead to the NFL draft, the PFF grading system should be used as a starting point in player evaluation but also a significant portion of the final projection of an NFL player's future. High grades must be investigated to discover if a player's positive play in college will translate to the NFL and average to poor grades may need some digging to see if a player was put into a difficult situation that dictated his performance.
For Duke quarterback Daniel Jones, the biggest question marks start with his three years of mediocre grading, but there's also a three-game glimmer of hope to start the 2018 season.
Jones started 2018 on fire, grading at 91.9 in his first three games, good for fourth in the nation, but the rest of the season saw him grade at only 73.4, 53rd-best during that time period. It may be easy to point to Jones' collarbone injury as the source of his step back in play, but the 73.4 is certainly more in line with the rest of his career than the 91.9. In fact, it's better than what we saw from Jones in his first two years in college. In his three-year career, Jones has a grade of 68.0 sans those three strong games at the beginning of 2018 season, a level of production that should raise huge red flags for a potential top pick.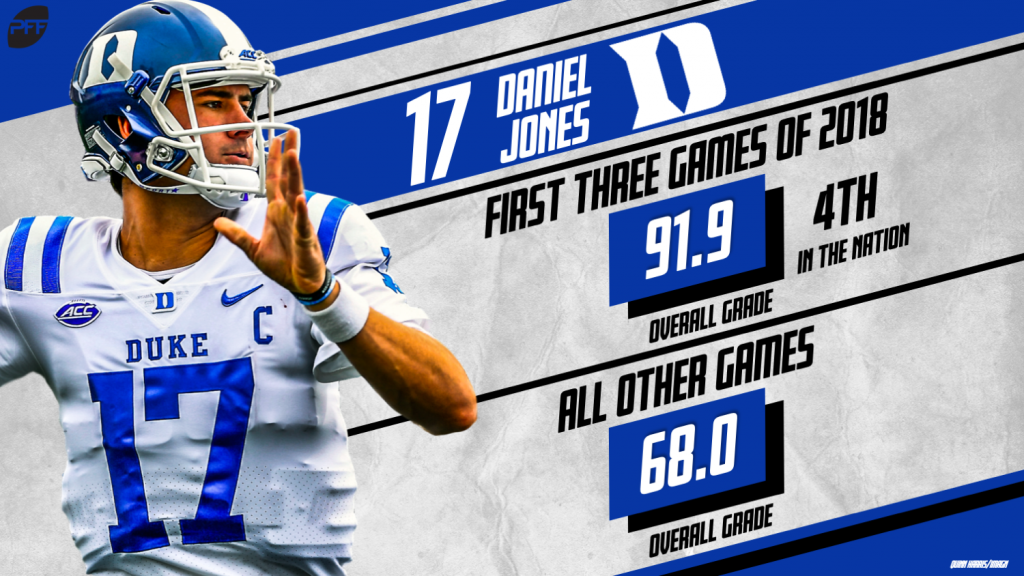 And therein lies the problem with Jones as a prospect. To this point, he's a quarterback garnering top-end-of-the-first-round hype after looking like a first-round prospect for only three games in three seasons. Projecting quarterbacks is nothing more than playing the odds that a player will succeed, and while it's not impossible for Jones to have a fine career, he'd be an outlier to turn into a top-15 quarterback given the lackluster throw-for-throw production in college. Like any player, there are some things to like and others that cause concern, let's take a look.
The Good
It's not difficult to find the few plays that may have scouts drooling, but the problem is that there aren't enough of them on Jones' tape. His early 2018 was filled with impressive plays under pressure, and perhaps the best part of Jones' game is his willingness to make throws with defenders in his face. Multiple times in his career, Jones stood in, took a hit and still had enough on the throw to get the ball to his receiver, creating some of the best highlights in the draft class. The Virginia Tech game was a great display of what Jones is capable of.
Here, he creates enough room to get the ball down the field under pressure, getting the ball to his receiver's hands on one of the best throws of the 2018 season.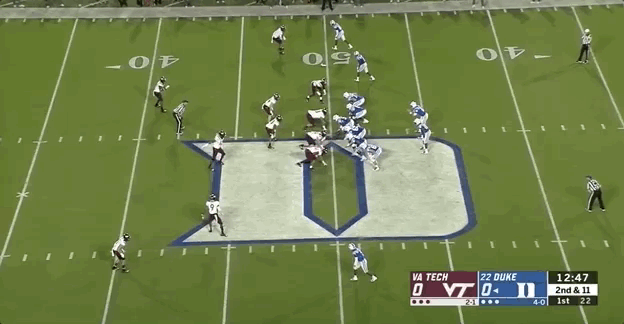 Earlier in the game, Jones shrugs of a potential sack to make the throw and convert the first down.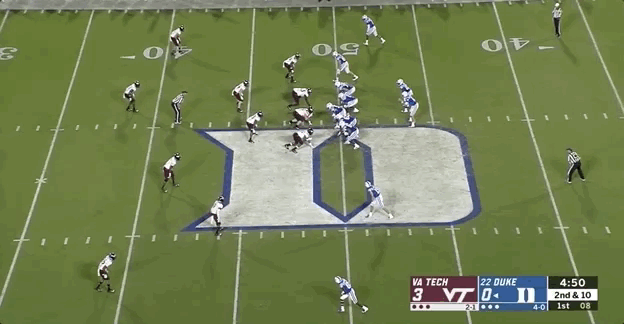 So if you're highlighting positives to Jones' game, put toughness and willingness to throw with bodies around him into that bucket, but that's also a very unsustainable part of quarterback play when it comes to extracting favorable results. This trait reminds me of new Jacksonville Jaguars quarterback Nick Foles, who has done a fantastic job of driving the ball down the field and giving his receivers a chance to make plays even with defenders in his face and while taking a hit. But willingness to make throws under pressure leads to a wide range of outcomes, which is why Foles led the league in passer rating under pressure in 2018, but it's an unstable metric that shouldn't be weighed too heavily. To sum it up, Jones has a quality trait in his ability to get the ball down the field under pressure, but it can't be the sole trait to hang his first-round status upon.
Beyond Jones' ability to hang in the pocket, he does other things marginally well, from showing good balance in the pocket, a propensity to keep his eyes down the field during chaos, and he showed off a few nice cover-2 shots on his 2018 film. He's a classic example of a quarterback flashing everything needed for next-level success, but there's not enough of it to warrant a first-round pick. "How often" is more important than simply flashing a skillet, and that's where Jones is behind his peers when comparing him to current NFL quarterbacks or even those in this draft class.
The Negatives
Here's the other side of throwing under pressure. Jones has a few ugly forced throws when defenders are in his face. This highlights the unsustainability of positive play under pressure.  
Here, Jones is trying to make a big play under pressure and it backfires.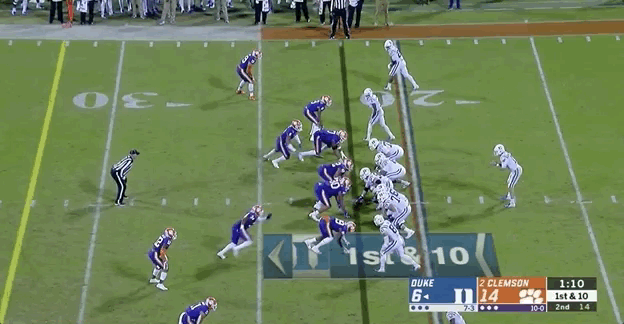 To be fair to Jones, his supporting cast at Duke was not great, and he did face the 48th-highest percentage of pressure in the nation last year. However, even in a clean pocket, there's little to get excited about in Jones' game. His work throwing down the field has been average, as he's graded between 58.3 and 71.1 in each of his three seasons on throws of 20-plus yards.
Against Virginia last season, Jones misreads the free safety and fellow NFL draft prospect Juan Thornhill tracks the ball well for the interception.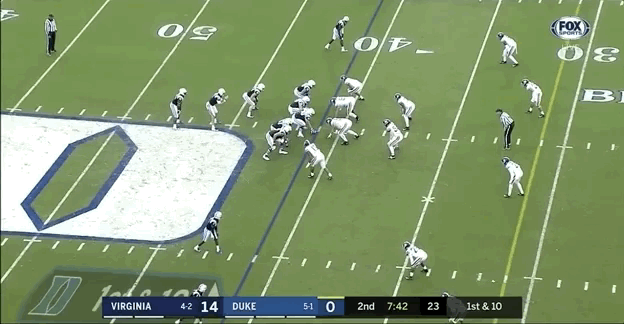 Overall when throwing down the field, Jones tends to look tentative on touch passes and that has led to three years of inconsistency.
In addition to the downfield throwing issues, Jones can get stuck on reads a bit long and his intermediate accuracy and decision-making is nothing special.
Here, he's late and behind on this "out" route against Miami.
It's not that there are a number of glaring negatives to Jones' game; it's that he simply hasn't made as many plays as his peers, and there is no standout attribute that he displays as a passer.
Let's debunk one of the biggest myths in the draft
One of the biggest "positives" that has been cited with regard to Jones is his college head coach, David Cutcliffe. Yes, Cutcliffe coached both Manning brothers, so there are some projecting him as a QB guru who has molded Jones into an NFL-ready product. The problem with this reasoning is that Cutcliffe does not come with Jones as a package deal at the next level, and any great coaching Jones has received should have already been evident on his college film. That has not been the case to this point, and if anything, Cutcliffe's expertise is more of a negative than a positive given Jones' level of play in college and the obvious point that Cutcliffe's tutelage has nothing to do with how he will progress in the NFL.
Final Word
Things can escalate quickly in player evaluation and Jones has emerged from intriguing third-round prospect to overrated first-round prospect. His best value remains as a third-rounder as a team invests and hopes that he can continue his upward trajectory, catch fire with his play under pressure and develop into a capable starter at the next level. Hitching the franchise to Jones is very risky given his college level of play, but like any evaluation, there is a wide variety of potential outcomes and an NFL team may take the chance that they can get the most out of Jones' skillset