NFL teams lacking quality young wide receivers are running out of excuses. Every draft over the last three years has been dubbed good for wide receivers, and the 2022 class is no different.
It seems, based on what coaches, general managers and scouts are saying, that good wide receiver help will continue to be in abundance for years to come.
There are six wide receivers among the top 30 prospects listed in PFF's big board: USC's Drake London, Ohio State's Garrett Wilson and Chris Olave, Alabama's Jameson Williams, Arkansas' Treylon Burks and Western Michigan's Skyy Moore. This year's class comes on the heels of 2021, when there were five wideouts taken in the first round: Ja'Marr Chase, Jaylen Waddle, Devonta Smith, Kadarius Toney and Rashod Bateman.
---
Click here for more PFF tools:
Draft Guide & Big Board | Mock Draft Simulator
Dynasty Rankings & Projections | Free Agent Rankings | 2022 QB Annual
Player Grades
---
Los Angeles Chargers head coach Brandon Staley had to face off against Chase, Smith and Bateman.
"All you have to do is look at the guys that we had to defend this year," Chargers head coach Brandon Staley said last week at the NFL ccouting combine. "And watching the film from last year, my first go of it as a head coach, that class was unbelievable, and I think this class is really good, too." 
From 2019 to 2021, there were 10.7 wide receivers taken in the first two rounds of the NFL Draft per year. From 2012 to 2018, there were just eight wide receivers taken in the first two rounds of the draft per year. PFF currently has 10 wide receivers listed in the top 64 of its 2022 big board.
So, what's caused this 33.75% increase in wide receivers selected over the first two rounds of the draft over the last three years?
Staley believes it's more than just an increased need for wideout help.
"I think what you're seeing is these kids that come up nowadays, the passing game is at the front of everything that they do from when they're a young kid until when they're in high school, and the passing game is where it's at." 
Staley threw in a personal anecdote. Obviously, he lives in Southern California now while coaching the Chargers. His sons are seven and five years old and already signed up to play flag football this winter. Staley didn't have that option growing up in Cleveland when there was still snow on the ground at this time of year and Pop Warner or Pee Wee football was the only easily accessible option.
"So you can imagine that amount of improvement that you can make when you're throwing and catching from when you're five and seven all the way until you're 18, and I think that's what you're seeing," Staley said. "You're seeing the skill level of these guys really translate to the NFL game because they're ready."
It also helps that high school and college offenses are throwing the ball more.
"I think the passing game in college, you're seeing a lot of pro coaches go to college and really train these guys the right way," Staley said. "And I think that just In the two years that I've been the head coach – through all the receivers here from a formal interview standpoint – but they're very impressive from a knowledge standpoint. It used to be like, 'Hey, I only know one position.' Well, now they're moved around. They know outside receiver, inside receiver, hey, they're very aware of pass concepts. You could say, 'Hey man, third-and-8, hey, we're playing against single-safety man, draw me your favorite play.' And hey man, they're going up there and ripping it. So I think that foundation and knowledge has been a big reason for those guys' success."
From 2012 to 2018, only nine rookie wide receivers went over that 900-yard mark. From 2019 to 2021, 11 wide receivers went over 900 yards in their rookie season, and only two – Philadelphia Eagles wide receiver Devonta Smith and Detroit Lions wideout Amon-Ra St. Brown – wouldn't have hit that number without the benefit of a 17th game.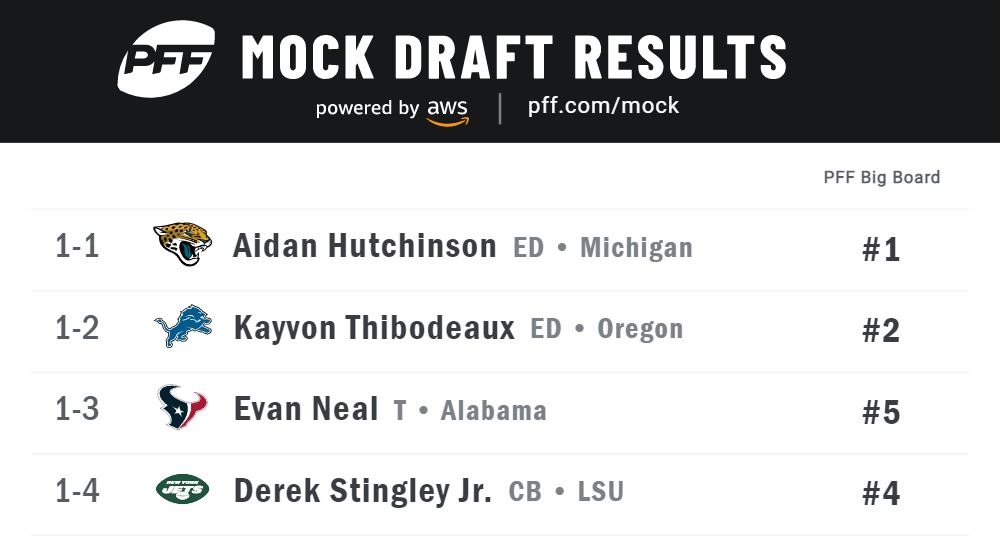 "They're throwing the ball a lot and so that helps the development of them," Cincinnati Bengals general manager Duke Tobin said last week at the combine. "Each class is a little bit different. I think at an early age, even in high school, they're throwing the ball a lot. So there's even development before they get to the college game that's happening that might not have been happening in the past.
"The evolution of athletes and how athletes have changed over time. These guys are big, strong, powerful, fast. They keep getting bigger, stronger and more powerful and faster. And then the evolution of the quarterback and how accurate they're becoming over time."
One scout we talked to at the combine mentioned that camps players attend year-round have become popular in recent years, which helps develop wide receivers, as well.
"High school seven-on-sevens have exploded over the last five years," he said. "All those kids play on those teams year-round. Combine that with the uptempo offenses in college and you have an uptick in the amount of quality WRs available in all shapes and sizes and in all rounds. More reps early continue to sustain the frequency of quality receivers as they move to the next level from high school to college."
---
2022 NFL Draft position rankings:
Top 10 players at every position
QB | RB | WR | TE | iOL | OT | DI | EDGE | LB | CB | S
---
All of that leads to an influx of talented wide receivers entering the draft year and year. Looking ahead to 2023, Ohio State's Jaxon Smith-Njigba is one of the most exciting players in college football, Pitt's Jordan Addison won the Fred Biletnikoff Award as a true sophomore, and LSU's Kayshon Boutte was one of college football's top receivers before suffering a season-ending injury.
Gone are the days of Wing-T offenses, as spread offenses have overtaken the high school and college ranks, leading to better and more knowledgeable wide receivers who are being taken earlier in the draft and excelling right away. One example of that from this year's class is Wilson. The Ohio State wide receiver excelled in seven-on-seven camps, earned a five-star rating coming out of Lake Travis High School in Texas and now could be the first wide receiver drafted in part because he interviewed with teams so well at the NFL scouting combine.
It's a new era for young wide receivers.