Here's a look at PFF's linebacker rankings that encapsulates our grading of every snap dating back to 2014 as well as a deeper dive into film study on each player.
Version 2 of the 2018 NFL Draft Guide is here! For PFF Edge & Elite subscribers, a comprehensive guide featuring player profiles of signature stats, grades and exclusive PFF content including position by position rankings. Find out more information here and join PFF now!
[Editor's note: These rankings were originally posted on February 26, edited on April 9 following the 2018 NFL Scouting Combine and various pro day workouts, these rankings have evolved one final time on April 23 as we are just days away from the 2018 NFL Draft.]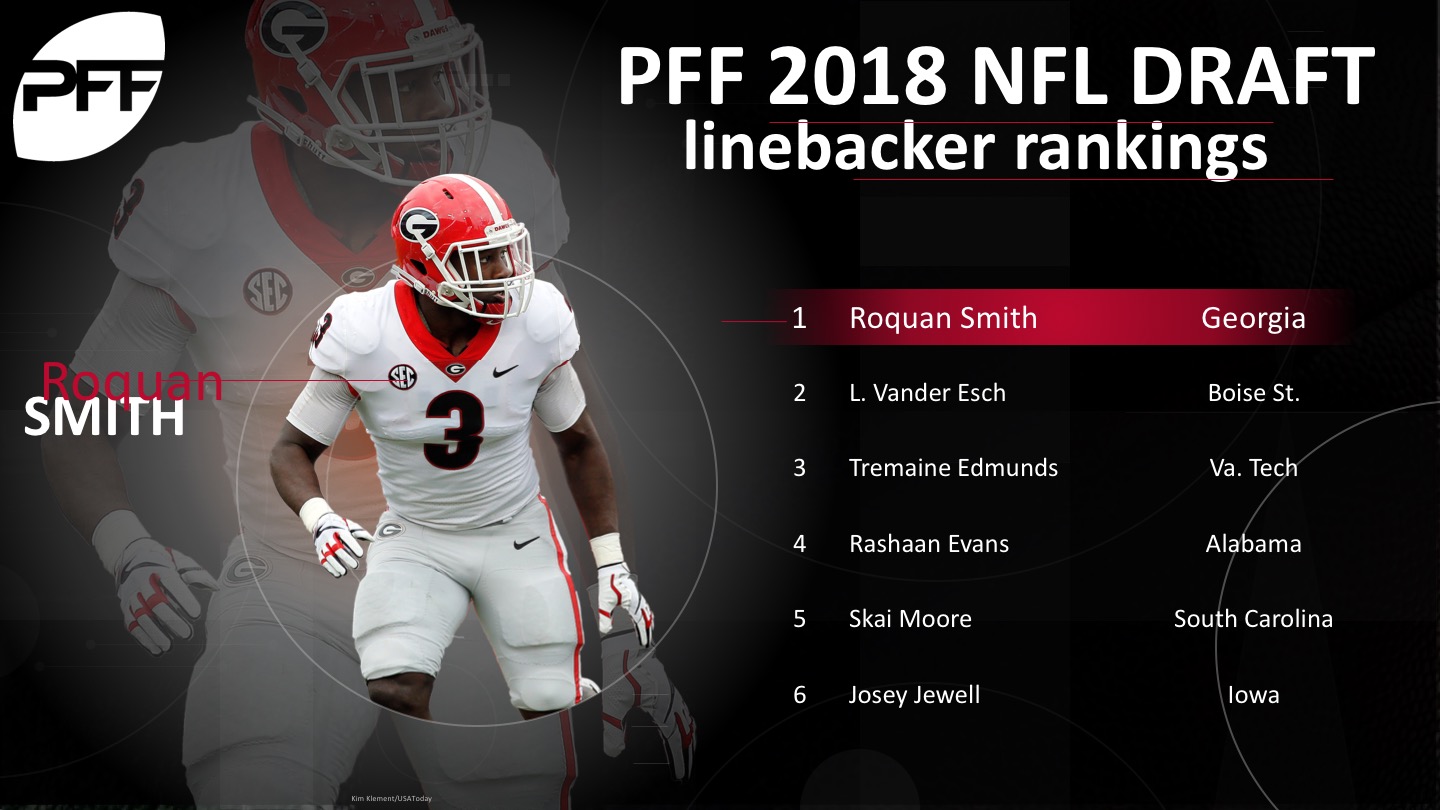 1. Roquan Smith, Georgia
The class of this year's linebacker crop, Georgia's Roquan Smith is a talented and athletic linebacker who perfectly fits the mold of the modern NFL. Like Atlanta's Deion Jones, Smith has the talent to be a matchup weapon on defense when it comes to coverage and has the speed and athleticism to make plays sideline to sideline, neutralizing some of the game's most effective offensive weapons. There will be people that nitpick his game, but his PFF grades have been excellent and he had 74 defensive stops in 2017, the second-most among all linebackers. His coverage skills can be something special at the next level, he is the best linebacker in this class and should be taken high in the first round.
2. Leighton Vander Esch, Boise State
The third linebacker who has first-round value on PFF's draft board, Boise State's Vander Esch is something of a one-season wonder, but that one season showcased the kind of impact linebacker he can be. He's an instinctive linebacker who excels in the run game and is able to work quickly to the back through traffic and bottle up those plays. He notched 57 run stops in 2017, which led all FBS inside linebackers along with his run-stop percentage (15.9 percent). His coverage is solid and his positioning is sound, but he doesn't have the same coverage range and skills as the best players in this draft class yet, though he is still relatively inexperienced.
3. Tremaine Edmunds, Virginia Tech
If there is a player liable to make people lose their minds when it comes to the prospect of athletic potential, it's Virginia Tech's Tremaine Edmunds. A monster of a linebacker, Edmunds is 6-foot-5, 250-pounds at just 19 years old, and it comes on a long, lean frame. He looks unlike the rest of this linebacker group and is already a very good player. He is not, however, in Roquan Smith's class, and projecting him above Smith requires the assumption that he will put all of his athletic tools together with improved technique and performance at the next level. He has been very productive, with 128 defensive stops over the past three seasons, only two of which were every-down seasons. Edmunds is likely a very good linebacker in any scheme and has the potential to be special, but at the moment that potential represents a gamble.
4. Rashaan Evans, Alabama
Evans is another linebacker to come from Alabama's pipeline, which has produced a number of NFL linebackers recently. He has excellent athletic and physical traits, and that gives him as high a ceiling as any linebacker in this class. He could also go as high as the first round if teams fall in love with those physical abilities, but his game on the field needs significant development. His coverage needs work and how successful that work is will likely determine his ultimate value at the next level, but his play against the run and how efficient he can be on the blitz should allow him to make an early impact.
5. Skai Moore, South Carolina
Moore has a lot of negatives working against him, but his play has been excellent in the SEC, which is no small order. His PFF coverage grade of 88.7 was one of the highest in the nation in 2017, one spot above Georgia's Smith, and his instincts are clearly excellent. He will need to convince NFL teams that he can still produce with a step up in competition given he is both undersized and potentially less athletic than they would like. Missing the entire 2016 season with a herniated disc is also a major injury red flag and he will need to check out medically as well.
6. Josey Jewell, Iowa
Iowa's Jewell is an all-around linebacker who has graded well in all areas. He doesn't have the same eye-popping measurables as the players above him in this list, but he has some impressive tape that should get him deserved consideration regardless. He has been a quality coverage linebacker and allowed zero touchdowns in 2017 despite leading the draft class among linebackers with 55 targets on the season. He also had 61 defensive stops, the sixth-most among linebackers in this class, giving him three-down ability at the next level.
7. Shaquem Griffin, UCF
One of the most intriguing players in the entire draft, UCF's Shaquem Griffin is missing one hand after having it amputated as a child. He has been an exceptional pass-rusher in college, but would be remarkably undersized for that role in the NFL and will likely need to prove his abilities as an off-the-ball-linebacker. However, Griffen did generate pressure at a greater per-snap rate than 2016 first-round pick Hasson Reddick. Griffin has overcome long odds throughout his football career, but his true prospects at linebacker are all a projection.
8. Jerome Baker, Ohio State
Baker has the athletic profile of a first-round pick at linebacker, but his best season came in 2016. His 2017 season was solid, but a significant drop from the overall PFF grade of 87.7 that he managed the year before. He can move well in coverage and mirror receivers in man coverage, but he surrendered three touchdowns in each of his past two seasons and has just two picks and two pass breakups over that same span, so he needs to improve his ability to challenge at the catch point.
9. Dorian O'Daniel, Clemson
O'Daniel graded positively in each of his four seasons in at Clemson, ending his career with his best season to date in 2017 with plus-grades in each facet. He recorded a total of 20 QB pressures on just 58 pass-rushes, saw a passer rating when targeted of 70.0 and recorded 36 defensive stops, third on the team behind two interior defensive linemen.
10. Malik Jefferson, Texas
Jefferson was once one of the top high school recruits in the country, but he never quite fully realized that potential at Texas, and only this past season did we begin to see him tap into that potential. He has the athletic profile of a top NFL linebacker and when coming forwards he can be a stud, but things get significantly more worrying when he has to play in space and drop into coverage. He missed at least 10 tackles every season of his college career, and 15 in 2017. NFL teams will like his potential, but it's a long shot to think he will ever fulfill it entirely.
11. Al-Rasheed Benton, West Virginia
There are few linebackers that have the kind of leadership qualities that Benton displayed at WVU. He has three seasons of solid play, but saw his college career end on an ugly note, with back-to-back struggles and a bowl defeat as his send off. He didn't allow a touchdown in coverage over the past two seasons, albeit on just 33 targets, but did have two interceptions and three pass breakups in 2017 alone. Was a missed tackle machine in 2017, falling off 28 tackles, the most in the nation and three times as many as his 2016 total. He very well could prove to be a mid-round steal if he limits the missed tackles.
12. Genard Avery, Memphis
A player that split time between off-the-ball linebacker and true edge rusher, Avery presents NFL teams with a challenge in terms of identifying his best position. Avery had 128 total pressures over his college career. 
13. Stacy Thomas, Louisville
A year ago, Thomas posted one of the best single-season PFF grades we have seen from any linebacker in this class at Louisville (91.2). He took a major step back in 2017 and while he wasn't bad, he was notably less impressive and flawed as a player. Thomas doesn't wow athletically on tape and could potentially rejuvenate his prospects if he tests well before the draft, but otherwise, he hits the NFL coming off some weak tape. 
14. Foye Oluokun, Yale
Oluokun was a rocked-up safety at Yale who projects to linebacker in the NFL. He played safety with a reckless streak and has the athleticism and physicality to play linebacker at the next level.
15. Jack Cichy, Wisconsin
Has played just 737 defensive snaps over the past three seasons, and 388 over the past two. Injuries kept him sidelined entirely during 2017, but Cichy has big talent and could prove to be a late round steal if he can get healthy.
16. Micah Kiser, Virginia
If this was a decade or more ago, Kiser would be a much better prospect, but his weakness is coverage – the most important aspect of linebacker play in 2017. He surrendered seven touchdowns in his college career in coverage.
17. Fred Warner, BYU
A darling of many in the draft community, Warner has athleticism to burn and extensive positive play in coverage, the most important trait for NFL linebackers in 2018. Warner played the walk-out/overhang linebacker role at BYU, so there will be a transition to the NFL where he will need to occupy a more traditional position.
18. Ja'Whaun Bentley, Purdue
Another downhill thumper at a time where that trait has never been less valuable, Bentley had exceptional PFF grades this past season at Purdue. He improved marginally in coverage in 2017, but will need a big leap to be more than a two-down player at the next level.
19. Shaun Dion Hamilton, Alabama
If injuries weren't a concern, Hamilton would be one of the better linebacker prospects in this draft, but he was visibly hampered in 2017 and then suffered another injury on the top of that. Could be a late-round steal if a team can get him healthy.
20. Ben Niemann, Iowa
'The other Iowa linebacker,' Niemann was very productive in his own right alongside Jewell in the Hawkeyes' defense. In total, he missed just 13 tackles in his college career.
21. Quenton Poling, Ohio
Missed 18 tackles in each of the past two seasons, Poling has nevertheless been very productive at Ohio, grading well in all facets of the game over his college career.
22. Tegray Scales, Indiana
Another player coming off a down year, Scales was outstanding in 2016, and could go higher if teams are convinced they can get that player instead of the 2017 version. Allowed just one touchdown in each of the past two seasons in coverage.
23. Matthew Thomas, FSU
A highly athletic linebacker whose on-field play has yet to match those measurables. His grade has improved each season, and he is coming off a solid year, but Thomas will be drafted based on what teams believe he can become.
24. Tre' Williams, Auburn
Former five-star recruit with an underwhelming college career, Williams has been a solid run-defender that struggled more in coverage, never picking off a pass and notching just two pass breakups over his college career.
25. Mike McCray, Michigan
Excellent run-defense grades over the past two seasons for Michigan, but his coverage fell off in 2017 and he had some very ugly games on his tape.
26. Oren Burks, Vanderbilt
Played a different position virtually every season. He is a good athlete who could find a role as a box defender or tight end matchup weapon.
27. Andrew Motuapuaka, Virginia
Has excellent instincts and play against the run, but may find himself exposed in man coverage at the next level against superior athletes.
28. Alvin Jones, UTEP
Excellent athlete who struggles terribly when it comes to breaking down and securing tackles in space. Will find a role in the NFL, but needs to tighten that weakness up if he wants to keep it.
[Editor's note: These rankings were ever-evolving as we headed towards the draft. Comments, questions or for further information, follow @PFF_College.]
Position ranks: QB | RB | WR | TE | OT | OG/C | EDGE | DI | LB | CB | S