[Editor's note: This article was originally published on March 24, 2017, and updated on April 26 to reflect PFF's final draft board.]
The safety class for this year's draft is arguably one of the deepest in history. Not only do we anticipate multiple top-20 selections, but we could see as many as 10 taken within the top 100 picks. This group offers a little bit of everything, so teams looking for a strong run defender to put in the box will be just as intrigued with the class as teams that need the classic centerfielder. Below are our top 15 entering the draft.
[Editor's note: A player's ranking within the draft class for each particular category is noted in the corresponding box.]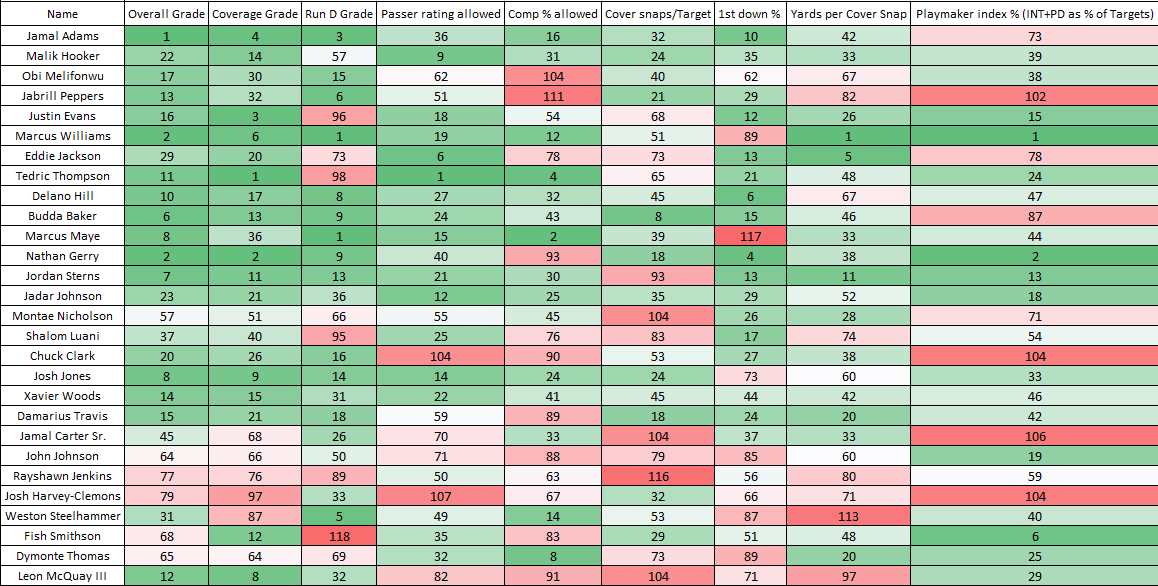 Rankings
Adams' 4.56-second 40-yard dash at the combine doesn't do his playing speed justice, as his instincts and all-around athleticism allow him to make plays most safeties simply can't. His change-of-direction skills look like those of a cornerback, thus giving him the versatility to not only play either safety position, but man the slot on nickel and dime situations as well. He gave up just 20 receptions on 39 throws into his coverage in 2016, and yielded just two-combined touchdowns in the past three seasons at LSU.
PFF scouting report for LSU safety Jamal Adamshttps://t.co/GOdaKNoSkw

— PFF College (@PFF_College) March 7, 2017
2. Malik Hooker, S, Ohio State
Hooker is a unique prospect because, while his flaws are readily apparent against the run, his range, instincts, and ball skills on the back end are rare. Teams in need of a true single-high free safety will love his seven interceptions from 2016 — many of them the highlight variety — as well as the fact that he was the primary defender on just two pass completions of over 20 yards.
"Trust his reads and breaks earlier than any safety in the class"

Malik Hooker scouting reporthttps://t.co/1qEiGNaLB8

— PFF College (@PFF_College) February 26, 2017
3. Obi Melifonwu, S, Connecticut
Much more than just a combine and Senior Bowl wonder, Melifonwu's film largely backs up his outstanding draft-prep season. He flashes impressive range for a player his size, but is also excellent against the run in the box because of his ability to square up and finish tackles consistently (ninth among all FBS safeties in 2016 in run-stop percentage). He is a matchup-breaker because of his size, speed, and physicality in coverage, and gave up just 40 total receiving yards in his final five college games.
44" vertical ✅
11' 9" broad ✅

Beyond his athleticism, what else should you know about UConn safety Obi Melifonwu?https://t.co/IFY1tzzA9X

— PFF College (@PFF_College) March 7, 2017
Evans is worth an early Day 2 selection because of his excellent coverage skills, but his tackling is a serious concern. He finished 2016 just 316th in tackling efficiency at the position with 21 missed tackles, but he defended 12 total passes while giving up a QB rating of just 53.1 on throws into his coverage.
PFF scouting report for Texas A&M safety Justin Evans. https://t.co/dESZpd5xM6

— PFF College (@PFF_College) March 13, 2017
5. Jabrill Peppers, S, Michigan
Peppers will require a bit of a leap of faith by the team that drafts him, as he appears to lack a natural position at the next level. While he graded No. 1 among all FBS safeties in pass-rushing productivity and towards the top in run defense, most of the plays he made while attacking forward were unblocked, and his size suggests that he won't be able to play a similar role in the NFL. His coverage skills at this stage are lacking, in part due to limited reps, but also from what appears to be limited read-and-react skills, as he tended to let balls get completed comfortably in front of him before rallying to the receiver. 21 catchable balls were thrown into his coverage in 2016, and the only one that wasn't completed was a receiver drop.
"Tackling is much improved from 2015, where he tended to overrun plays"

Scouting Jabrill Peppershttps://t.co/9kAeAVX9Tl

— PFF College (@PFF_College) February 25, 2017
Williams is a solid, dependable player both in coverage and against the run. He did not miss a single tackle when playing within 8 yards of the line of scrimmage at the snap, and led all FBS safeties in run-stop percentage when playing at that depth. While not a flashy hitter on the back end, he had 10 combined interceptions between 2015 and 2016 and gave up just 11 total receptions as the primary defender on 430 total coverage reps the past two seasons.
PFF scouting report for Utah S Marcus Williams. https://t.co/oE6qIDuaQR

— PFF College (@PFF_College) March 10, 2017
7. Xavier Woods, S, Louisiana Tech
Woods has had three years of strong grading, and he showed the skills to make an impact at both free safety and while covering the slot. His 85.0 coverage grade ranked 16th in the nation in 2016.
Jackson is a converted cornerback with the size and athleticism to be a versatile coverage defender at the next level when healthy. He offered little in terms of run support at Alabama, however, as he managed just one tackle and no stops on 66 snaps lined up within 8 yards of the line of scrimmage in 2016.
"Eddie Jackson has a high ceiling among the secondary options for potential centerfielders."https://t.co/gt0LxD8uu4

— PFF College (@PFF_College) March 22, 2017
9. Tedric Thompson, S, Colorado
Thompson was statistically the most impressive coverage safety in the country this year, although his lack of top-end speed and athleticism pushes him down the list of draft-eligible prospects at the position. He tallied seven interceptions and seven pass break-ups in 2016, and gave up completions on just 40.3 percent of passes thrown into his coverage.
Colorado S Tedric Thompson has "a well-roundedness to his game that suggests he could develop into a starter." https://t.co/WS02oqf8vF

— PFF (@PFF) March 13, 2017
10. Budda Baker, S, Washington
This is sure to be one of our most controversial positions on a player, but we have real concerns about how Baker's game translates to the NFL. He flashed constantly at Washington when attacking forward, but many of the plays he made were unblocked, and he also overran far too many with his overaggressiveness. More concerning is his coverage skill-set, as he certainly possesses the athleticism, but his size allows receivers and tight ends to consistently beat him on contested balls. He also tends to go for the big play too often, which often results in receivers still coming down with the ball and having the space to create bigger plays after the catch.
I have a feeling our opinion on Washington S Budda Baker's ability to translate to NFL will differ from others: https://t.co/DmIpxjLdVA #PFF

— Josh Liskiewitz (@PFF_Josh) March 23, 2017
What Hill lacks in flash he makes up for with consistency. He proved at the combine that he has the size and athleticism to translate his game to the NFL (4.47-second 40 at 6-foot-1 and 216 pounds), and his senior year production also bodes well. He allowed just 22 receptions on 40 throws into his coverage last season, and defended a total of seven passes.
Gerry is most effective in the box, as he is a solid run defender and can make plays against the pass underneath with his excellent feel for the game. In three years of play at Nebraska, he gave up a completion percentage of just 51.5 percent and picked off 13 passes, but his limited change of direction and playing speed could make him a liability in man coverage at the next level.
Here's our pre-draft scouting report on Nebraksa's Nathan Gerry. https://t.co/pH81aDH1vF

— PFF (@PFF) March 13, 2017
Maye is a solid box defender, as he finished second among SEC safeties in run-stop percentage in 2016. Off the line of scrimmage he is not as effective, however, as he has speed and agility limitations that hurt him in coverage.
Position fit: Box safety

Stat to know: Second-highest run-stop percentage among SEC safeties in 2016

Marcus Maye:https://t.co/jyfS71U87p

— PFF College (@PFF_College) March 22, 2017
Jones blew up the NFL Combine, showing a great combination of size and speed that often showed up on tape. He finished 2016 with six pass breakups, tied for seventh in the nation. He has to do a better job of tackling as he missed 13 last season, ranking him 61st in tackling efficiency among FBS safeties.
15. Jordan Sterns, S, Oklahoma State
Sterns burst onto the scene in 2016, earning an 84.5 overall grade that ranked seventh in the nation. He has box safety potential, as he works downhill in the running game while showing the skills to excel in short coverage. Sterns must improve his tackling, as he missed 39 of his 328 attempts over the last three seasons.
Class superlatives
Best box safety: Obi Melifonwu, Connecticut
At 6-foot-4 and 223 pounds., Melifonwu is capable of erasing tight ends with his size and physicality in a way that less than a handful of current NFL safeties are capable of. He is also a viable run defender, capable of taking snaps at linebacker based on personnel and game situation.
Best versus the run: Obi Melifonwu, Connecticut
Melifonwu is a solid wrap-up tackler who consistently breaks down to make open-field tackles and is capable of delivering huge hits coming forward. His excellent run-stop percentage ranking was already highlighted above, but he also finished 17th in the FBS in tackling efficiency, and considering his size, awareness and technique, this should translate well to the next level.
Best in center field: Malik Hooker, Ohio State
While there are a number of strong contenders for this category, this is what makes Malik Hooker a viable top-20 pick. Hooker has an uncanny ability to track the ball in the air, and has the size and explosiveness to consistently outplay receivers for the ball in the air.
Most versatile in coverage: Jamal Adams, LSU
Adams is capable of performing at a high level in man coverage as well as zone, and appears to have a natural feel for deciphering routes and closing down space. Because of his ability in all types of coverage, he is likely to see reps at cornerback as well as safety, both from the slot and on the perimeter.
Best pass-rusher: Jabrill Peppers, Michigan
Peppers does an outstanding job of timing his blitzes and stunts, and has a knack for avoiding blockers on the edge with little space to operate. In 2016 he racked up 18 total QB pressures on 100 rushes.