With all of the Power Five conferences (sans the PAC 12) having seen the field, it was time to revisit the PFF 2021 NFL Draft Board. There are a number of new names — some all the way into the top 20 — and some dramatic fallers, as well. It's why the thought of a fall without any games whatsoever would have turned the evaluation process into a madhouse. At the top, however, the same old familiar names aren't going anywhere anytime soon.
Editor's note: Use promo code SUPERBOWL25 for 50% off any PFF subscription. And if you haven't already, check out PFF's customizable NFL Mock Draft Simulator, which is now updated with a select group of 2021 prospects. Try it today!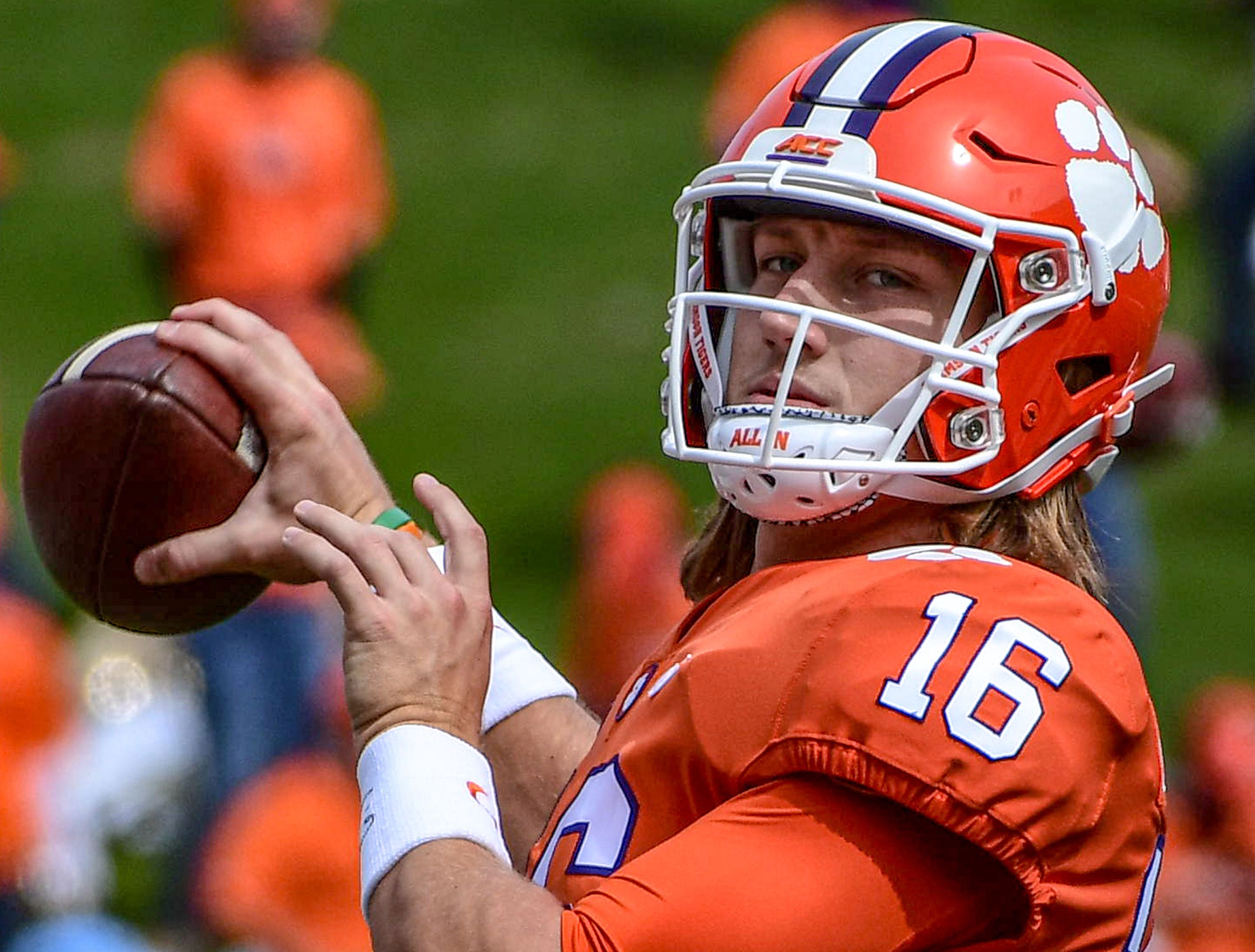 This one ain't changing anytime soon. Lawrence has a 91.5 passing grade through six games and looks even better than the guy we've seen in years past.
The accuracy was on full display against Nebraska, as Fields didn't have a single off-target pass on 21 attempts in his first game back.
We won't see him this fall, but that won't change his evaluation. Sewell graded out better as a 19-year-old last year than guys like Tristan Wirfs and Jedrick Wills Jr., who are dominating already in the NFL.
What Chase did winning the Biletnikoff award and leading college football in pretty much every conceivable receiving category last season as a true sophomore is enough to solidify his position here on our board. Jaylen Waddle was the only real threat to overtake as WR1, but now his ankle injury means Chase is taking the top spot.
Yet another opt-out who is in no danger of falling anytime soon. Modern athleticism with throwback size is a combination that will be coveted by every single scheme in the NFL.
We said going into the season that all we needed to see was his special production on limited snaps translate to a full-time role. After four straight 100-yard games, I'd say he ticked that box. He hauled in six deep catches on seven targets in those four games and should be an elite deep threat in the league.
We haven't seen him yet, as Moore was mysteriously out for Purdue's opening-week win. If he's progressed at all from the guy we saw in 2019, he'll stay a top-10 player for us.
The absurd showcase game against Central Arkansas really did Lance's stock no favors, as he struggled with his accuracy. However, his combination of arm talent and legit game-breaking running ability maintains his spot in the top 10.
With seven touchdowns and 274 yards already through three games, Pitts is on pace for an all-time receiving season at the position. Still more receiver than complete tight end, he's a mismatch at either position.
Leatherwood has run into trouble at times with his outside hand and has already allowed seven pressures on the season. His combination of feet and length — that he knows how to use — makes me confident he'll figure it out.
After a knee injury sidelined him early on, Barmore has eased back in with 11 pressures in four games. It hasn't quite been the Quinnen Williams-esque leap some were hoping for, but he's still producing in a full-time role.
Rousseau's status isn't nearly as set in stone as the opt-outs above him on this list. He's a freak-long lineman who looked much more comfortable on the interior than outside. With only one season of college football, he's more project than a finished product.
Texas passes about as much as any team in the country, and Cosmi has already been on the field for 241 pass plays this season. He's only allowed seven pressures and owns the third-best pass-blocking grade among Power Five tackles.
Farley is getting some competition for his CB1 spot, but as it stands, he's still there on our board. Size, athleticism and production is a combination that makes you feel pretty good about translating to the league.
Yes, it was only one game, but Paye looked like a different player entirely against Minnesota. His 88.4 pass-rushing grade last Saturday was far and away a career-high. With his explosiveness and agility, don't be surprised if he's EDGE1.
Size be damned, Smith just wins. Whether it's along his routes or at the catch point, Smith finds a way to come down with the ball. He's hauled in 45 passes for 556 yards this season and not dropped ONE SINGLE PASS.
He's yet to allow more than 50 yards in any single game this season. Yes, he got beaten for a touchdown this past week against Tennessee, but he's allowed only 10 catches from 21 targets for 110 yards for the season.
The single biggest riser on the draft board. Wilson had an inconsistent and injury-plagued 2019 season but has looked like the best quarterback in college football so far this year. He's earned a 94.0 passing grade, with five of his six games being above 87.0. The competition level isn't great, but he's not missing throws either.
One of the more disappointing players we were high on heading into the season. Basham has only managed a 73.8 pass-rushing grade in five games after a 90.6 a season ago. He's up 10 pounds to 285 pounds this year, and it's not helped his effectiveness.
Owusu-Koramoah is cut from the Patrick Queen mold of undersized linebackers that are so explosive it doesn't matter. JOK continues to make plays that others simply can't physically.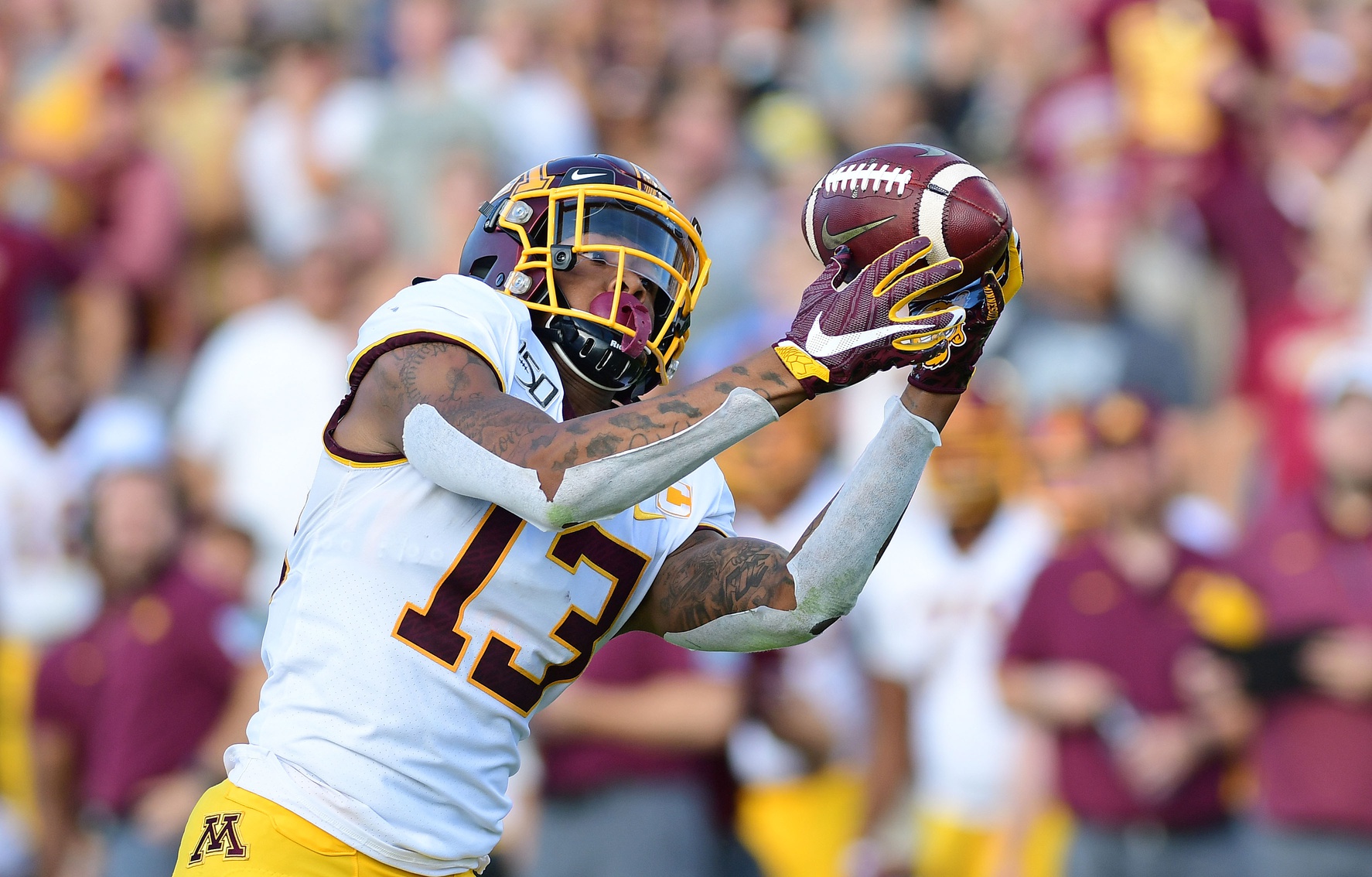 He gave a tough Michigan defense the business in his first time out, with over 100 yards. He's taken over Tyler Johnson's slot role, with 44 of his 62 snaps coming there.
Early returns on the outside were solid for Wade as he allowed two catches from three targets for 10 yards with a pass breakup. However, we're going to need to see more than just one game against Nebraska to get on board fully with him outside.
Status quo here for Amon-Ra. He'll be in line for far more targets this season with Michael Pittman's 100-plus gone to the NFL.
Davis had to shake the rust off a little bit in Week 1 after initially opting out. He allowed two pressures against Nebraska, although both came on stunts.
Bolton has picked up where he left off, stuffing stat sheets for Missouri's defense. He's already got 18 stops and seven pressures in four games.
The fumbles in back-to-back games are a little worrisome after three fumbles last year. The 23 broken tackles on 83 carries, though, are why he gets this spot.
Campbell had a hiccup for a 90-yard score against Alabama, but that's been about it for him this season. He's had a pass breakup in every single game this season already.
While the competition level hasn't been great, Kendrick has been the most dominant corner in the country this season. He's not allowed a single catch on seven targets and has a pick plus two pass breakups. It will be worth monitoring the undisclosed injury that caused him to miss the Syracuse game this past week.
Darrisaw has seen a meteoric rise after countless dominant performances this season. The left tackle's 94.4 overall grade is the second-highest in the country.
Moehrig put on a show this past week with a three-pass-breakup performance against Oklahoma. He's got special coverage ability for a 6-foot-2 safety.
Unless he's chasing down ball carriers in space, Moses still has a ways to go at the linebacker position. You see the rare athleticism, but he's only earned a run-defense grade of 56.9 and a coverage grade of 50.0 this season.
There's no doubt Freiermuth looks like he'll be featured more this season. He was targeted 10 times, hauling in seven for 60 yards and a score against Indiana Week 1. He was only targeted that many times once all last season.
Little opting out drops him down this list for us. I thought we'd see him take the leap on the field this fall, but offensive line is one position where we stress having to see a sustained high-level play to buy-in. With one game in two years, we haven't seen that from Little.
Wilson's 2020 campaign has been the most head-scratching of anyone's in the country. At times in 2019, he looked like one of the strongest defensive linemen in the country, but now he's a complete non-factor. He's managed only 10 pressures and eight run stops in six games.
While Wilson has disappointed, Samuel has decidedly not. He's been excellent as a tackler with only two misses on 27 attempts and has already racked up three picks and four pass breakups in six games.
Oweh passed his first test as a starter with flying colors. He went to town on Indiana's tackles with 10 pressures and a 91.8 overall grade. After getting moved off the ball easily last year, he was playing with much better leverage. He could end up much higher on this list by the season's end.
Smith's consistency has improved this season, and with how powerful he is, you feel great about his style of play translating to the NFL. He may never be your Zack Martin-esque, elite pass protector, but he's a tone-setter and a line-of-scrimmage mover.
Paye got all the headlines from Michigan's win — and deservedly so — but Hutchinson was a problem in his own right. He notched 10 total tackles, including three stops, and also tallied three pressures.
Washington's had himself a rough go early on after a dominant 2019. His lack of size has been picked on more this year in the red zone than ever before, as he's already allowed three touchdowns in four games. His missed tackle total has also doubled from 2019, with six misses on only 16 attempts.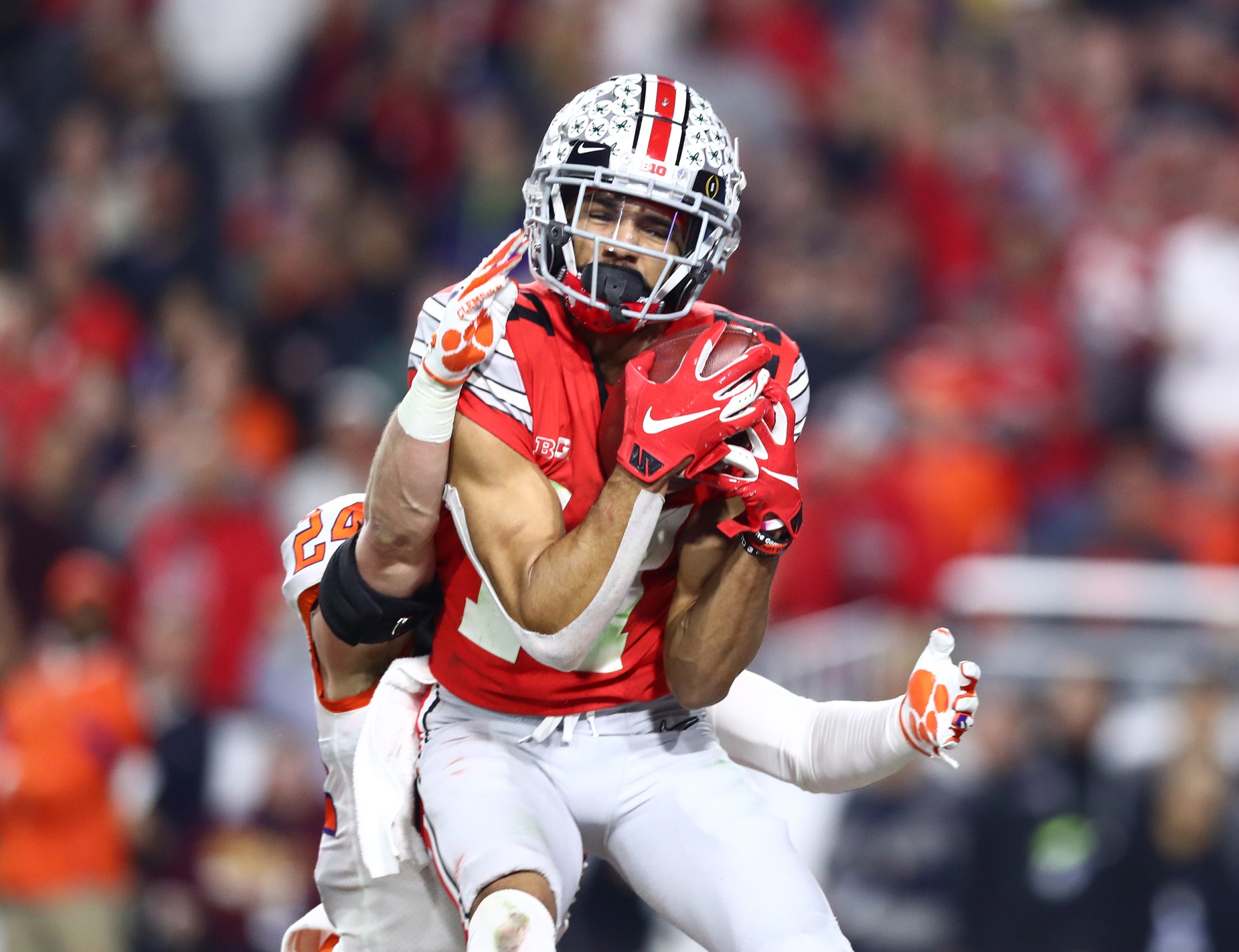 Olave was once again unguardable against Nebraska, posting six catches for 102 yards on seven targets. It could have easily been seven catches and a score had he been able to hang onto one as he hit the ground in the end zone.
Cisco's torn ACL drops him down our board a bit. He had moved into the slot some this season before the injury, but make no mistake, with 26 combined picks and pass breakups in just over two years, he's a deep safety.
We won't be seeing any of Onwuzurike, even when the Pac-12 returns, after he opted out. He could have played his way into the Round 1 conversation with better production after an 82.5 overall grade last year, but his physical tools are worth a shot on Day 2.
Trask has broken out to a degree, but we're still going to need to see more than three games before putting him in the first-round conversation. He's definitely improved his downfield skill set, racking up eight big-time throws already.
Horn's tape against Auburn's Seth Williams was the most dominant any corner has put on film this season. He's still a little too up and down, though, and has four penalties already in five games.
The Georgia transfer has been quietly dominant for the Gators through three games. He's racked up 16 pressures and an 87.1 overall grade. He's got that bend-burst combo evaluators love.
While he struggled a bit playing with one eye against Florida State, Eichenberg has otherwise taken the next step. His 93.0 overall grade is the third-highest in the nation.
There's been no better blitzing off-ball linebacker in college football than Surratt this year. He's managed 22 pressures on 56 pass-rush snaps. Unfortunately, his run reads and tackling are still a mess. He's missed 8-of-37 tackling attempts this year.
Even after gaining considerable weight to get up to 289 pounds this year, Linderbaum still looked nimble as ever in a zero-pressure performance against Purdue. He looks like the best pure center in the country.
The 6-foot-5, 270-pound defensive end is back and better than ever after an ACL tear cost him his 2019 season. He already has 34 pressures in six games after managing 45 pressures in all of 2018. He's a long and powerful base defensive end who can play both run and pass.
Holland had a ton of ball production in two years at Oregon, with 20 combined picks and pass breakups. To stay at safety in the NFL, we would have liked to see him get a tad more physical, but he opted out of the 2020 campaign.
Another opt-out, Slater has already performed at an elite level back in 2019 when he earned a 90.0 overall grade. While he may ultimately be a guard at 6-foot-3, he handled Chase Young at tackle better than anyone else in 2019.
Vera-Tucker is yet another standout in a loaded interior line class. He allowed only seven pressures on 590 pass-blocking snaps in his lone season as a starter for USC.
After a ho-hum redshirt freshman campaign, Ojulari has burst onto the scene this year. He's got 16 pressures through four games and gave Alabama's Alex Leatherwood his lowest graded outing of the season a couple of weeks ago.
Ossai is yet another long and athletic pass-rusher. He switched from a hybrid role last year to a full-time line of scrimmage player, and his performance has reaped the benefits. He's already racked up 21 pressures in five games for an 83.5 overall grade.
We won't see Surratt this fall, but what he put on tape last fall is enough to keep him as a top-75 player. He was the single most physical route-runner in the country last year and finished with 65 catches for 1,006 yards, 11 scores and 17 broken tackles in nine games.
Humphrey hasn't quite taken the next step we expected to see from him after he burst onto the scene with a 78.9 overall grade as a redshirt freshman in 2018. He's still a versatile and accomplished interior lineman.
It's a tad worrisome that Nasirildeen still hasn't seen the field in 2020 after an ACL tear last season. Hopefully, he can get back to the form we saw in 2019 soon.
The 6-foot-9, 400-pounder didn't play in Minnesota's season opener last weekend. He has the physical ability to push much higher on this list if he makes a similar leap as he did from freshman to sophomore year.
Wallace looks back to form, averaging just over 100 yards a game once again through Oklahoma State's first four games. He's an explosive downfield threat who consistently attacks the ball in the air.
Tryon has the length at 6-foot-5 and explosiveness to be a consistent bull-rusher in the NFL. Unfortunately, we didn't see that consistently enough in college after a 71.7 pass-rushing grade last year. Tryon has opted out of the 2020 season.
Jones is well undersized at 6-foot, 220 pounds, but it allows him to be versatile enough to line up anywhere and cover well — even the slot. He had his first career pick this past week covering the slot against Syracuse and has allowed only one first down in his coverage all year.
Thomas is finally easing his way back into the Clemson lineup, and he's managed a sack in each of the past two weeks. He's far more talented than this ranking, but we need to see it on the football field.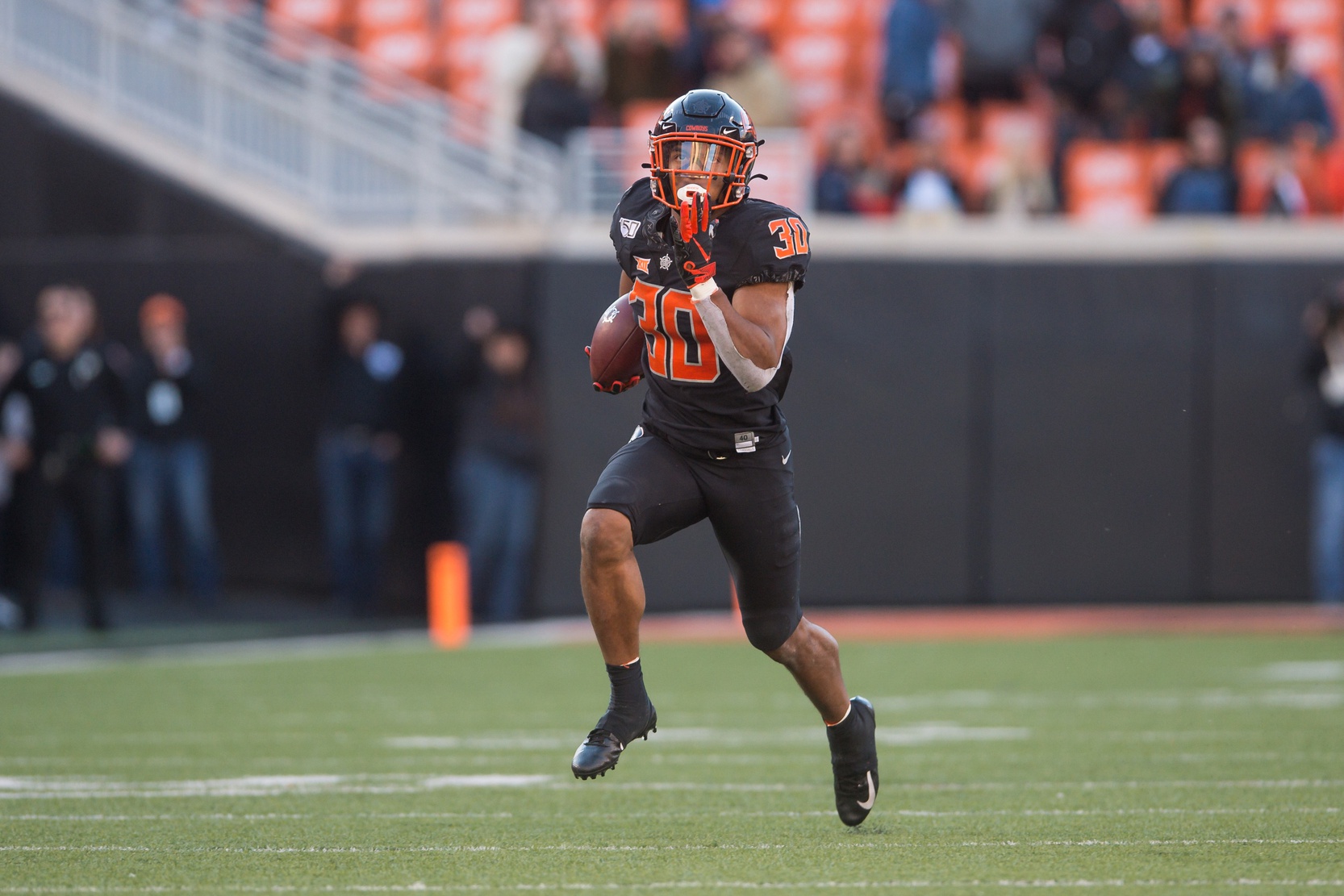 After Hubbard went for over 2,000 yards last year, there's not much he could really do to raise his draft stock. He's still rocking with absurd volume for the Cowboys, as he's taken 20-plus carries in all four games.
It's going to be a new offense but a familiar pass-heavy attitude for Lucas this year. He's taken over 1,500 pass sets over the past two seasons for the Cougars.
After picking off five passes last year, Harvell-Peel already has two in four games this year. He has versatile size at 6-foot, 210 pounds to play wherever you want.
Jordan is arguably the best tight end after the catch in the country and has four broken tackles on 18 receptions this season. I worry about his ball skills that have seen him drop 3-of-21 catchable targets this season.
Smith is still part of a heavy Ohio State defensive line rotation that saw him play 22 snaps this past week. It will be difficult for him to make his way up boards if that's all we see from him weekly this year.
Molden is the best returning pure slot corner in the country. He had 10 pass breakups and a 90.9 coverage grade last season.
Marshall has relished his role as top billing in the LSU receiving corps this year. He already has 27 catches for 512 yards and nine touchdowns in four games. That's over two touchdowns per game! He's got legit speed for a taller receiver at 6-foot-3 and some YAC ability as well.
Harris is never going to be a burner, but he'll never be easy to bring down one-on-one, either. He's already had two games with 10 broken tackles so far this season.
Carman is an ox of a left tackle at 6-foot-5, 335 pounds. He's improved in pass protection, as well, with only four pressures allowed on the season.
Roche isn't dominating the ACC quite like he did the AAC, but his 80.2 pass-rushing grade so far is still one of the best in college football. What's been most impressive has been his play versus the run, where he's racked up 17 stops in six games.
Ford is still making plays on the football almost weekly. He has three picks and two pass breakups in seven games this year. What's encouraging is he's cut back on the missed tackles, with only five whiffs on 47 opportunities this year.
We still don't know what exactly is going on with Brown at the moment, with reports saying a medical condition could cause him to miss all of 2020 even though he's not opting out. His explosiveness rivals Travis Etienne's, but he's only got 137 career rushing attempts.
Walker was back on the field last weekend with a ho-hum four catch, 38-yard outing. He's a sudden route-runner but needs to prove his seven drops from a year ago were a fluke.
Gainwell has opted out of 2020 to prepare for the draft. Even with only one year of starting experience, Gainwell is the most accomplished receiving back in the class and could legitimately play slot in the NFL.
Herbert has been a massive riser after leaving the Kansas program in 2019. He's on the older side as a redshirt senior, but you can't coach his tackle-breaking ability. He's forced 23 missed tackles on 75 carries this season and averaged 5.8 yards after contact per attempt.
Sherwood is one of the most physically imposing safeties in college football at 6-foot-2, 220 pounds with legit burst. He's only allowed 8-of-16 targets this year for 91 yards.
Shelvin reportedly was up to 375 pounds before opting out of the 2020 season. At that weight — or even the 346 he was listed at — Shelvin will have a difficult time doing much but stuffing the run. He looks like a sure-thing in that regard, however.
Cox hasn't quite seen the same level of production we saw last year at North Dakota State, but he's held his own at LSU. He's a long and versatile linebacker who can do a little bit of everything.
With how physical the 5-foot-11, 202-pound corner plays, a switch to safety may be in his future. He's opted back in this year, though, and will get another chance to show shutdown ability outside.
Kaindoh is still consistently less than the sum of his 6-foot-7, 265-pound parts. He's only managed a 63.7 pass-rushing grade so far this year.
The highest-graded tackle in the nation so far at 95.5 overall. He's barely been tested against BYU's weak schedule, though seeing him dominate it is encouraging.
Sanborn simply has to tackle better. You see great playmaking ability but awful finishing ability. He missed four of seven tackles in Wisconsin's opener.
The 6-foot-7, 255-pound Smith added some muscle to his frame this season and looks far more NFL-ready than he did in 2019. He already has 26 pressures through six games.
The Florida State defensive line has been a massive disappointment, and Durden is no exception. He has managed only six pressures in six games after racking up 45 last year.
Borom's improvement from 2019 to 2020 has been one of the most pleasant surprises this year. After allowing 20 pressures last season, he's yet to allow one in four games this year.
His combination of size, mobility and accuracy can win in the NFL. However, his 2019 tape was too inconsistent and came in too gimmicky of an offense to feel great about how it will translate.
Jackson can flat-out move. He's a tad undersized at 292 pounds and likely a center only, but he's handled nose tackles one-on-one far better this year than he did in 2019.
Yet another edge who has burst onto the scene early on. His 84.3 pass-rushing grade is tops in the SEC, and his 14 pressures are over halfway to his total from 2019.
He missed all of 2019 with a shoulder injury but was red-hot through four games in 2020, allowing only 6-of-18 targets for 100 yards with five pass-breakups. Unfortunately, against Oklahoma he was once again injured and will miss the rest of 2020.
It was an uninspiring 11-carry, 48-yard debut for Sermon at Ohio State. After falling out of favor at Oklahoma last year, he's going to have to turn things around to stay in PFF's top 100.
At 5-foot-9, 174 pounds, Darden is far from prototype size. For that size to matter, though, you have to be able to get your hands on him, and pretty much everyone Darden has faced has struggled with that. He's got 46 catches, 689 yards, 10 scores and 10 broken tackles in five games already.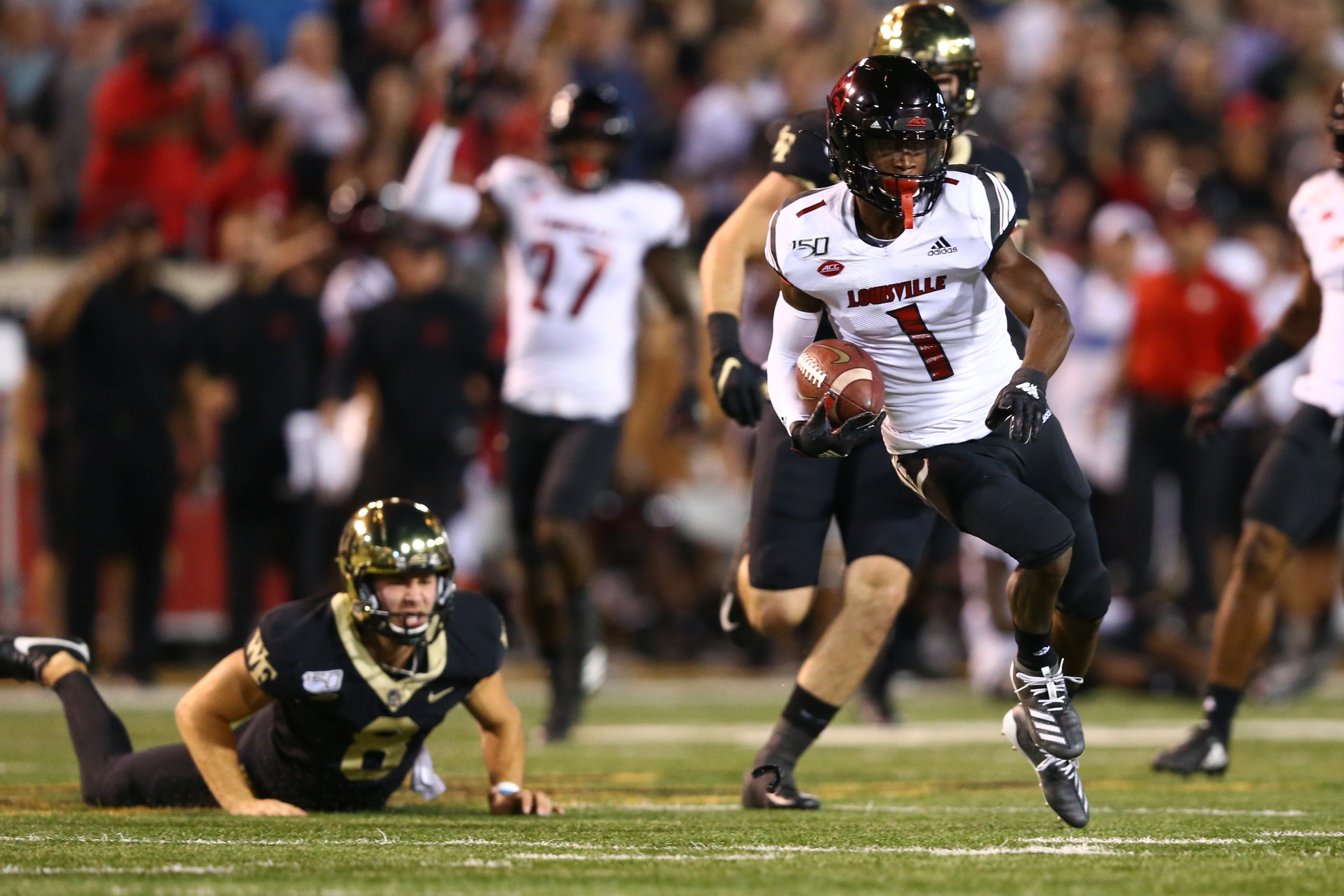 We haven't quite seen Atwell make the leap from gadget player to complete receiver we'd hoped for this season. Of his 32 catches, only 18 have gone for first downs. He's got game-breaking speed and is a weapon with the ball in his hands.
McGrone only managed a couple of stops and one pressure on 12 pass-rushing snaps in Michigan's season-opening win. His sideline-to-sideline speed will get him drafted highly, but we'd like to see more consistent production.
Collins is a massive off-ball linebacker at 6-foot-4, 260 pounds. He's been stuffing the stat sheet in all three of Tulsa's games this season. He already has 16 stops, eight pressures, two picks and a pass breakup.
It's been a rough go of it for Purdy without much help around him early this season. He's stumbled out to a 56.1 passing grade through five games.
McCreary has allowed a catch on only 11-of-18 targets for 148 yards with three scores, two picks and two pass breakups in five games this season. He's a smooth athlete who is willing to get physical. He's missed only four tackles on 69 attempts in his career.
Cleveland has finally locked down a full-time starting role, and he's flourishing. He has allowed only three pressures on 146 pass-blocking snaps all season for an 84.1 pass-blocking grade. He possesses one of the most powerful upper bodies of any interior linemen in college football.
Carter sneaks in the top 100 as arguably the best change-of-pace back in college football. He already has 584 yards on 74 carries, including 26 broken tackles in five games. At 5-foot-8, 199 pounds, he's a jitterbug that is tough to pin down.