Alabama defensive tackle Quinnen Williams is the crown jewel of this defensive tackle class. He broke the PFF record for single-season grade by a college interior defender in his only season as a starter for the Crimson Tide; he's head and shoulders above a class that features a ton of talented players. Mississippi State's Jeffery Simmons and Notre Dame's Jerry Tillery are the second tier, with positional versatility and production versus both run and pass. The biggest names of all though might be the biggest mystery as Houston's Ed Oliver and Michigan's Rashan Gary look like two of the biggest boom-or-bust prospects in this draft.
[Editor's Note: To view all of Pro Football Focus' advanced stats and grades for draft-eligible players, check out our 2019 NFL Draft Guide. All EDGE and ELITE subscribers already have access to the guide, and for those who don't, you can get your copy for as low as $9.99!]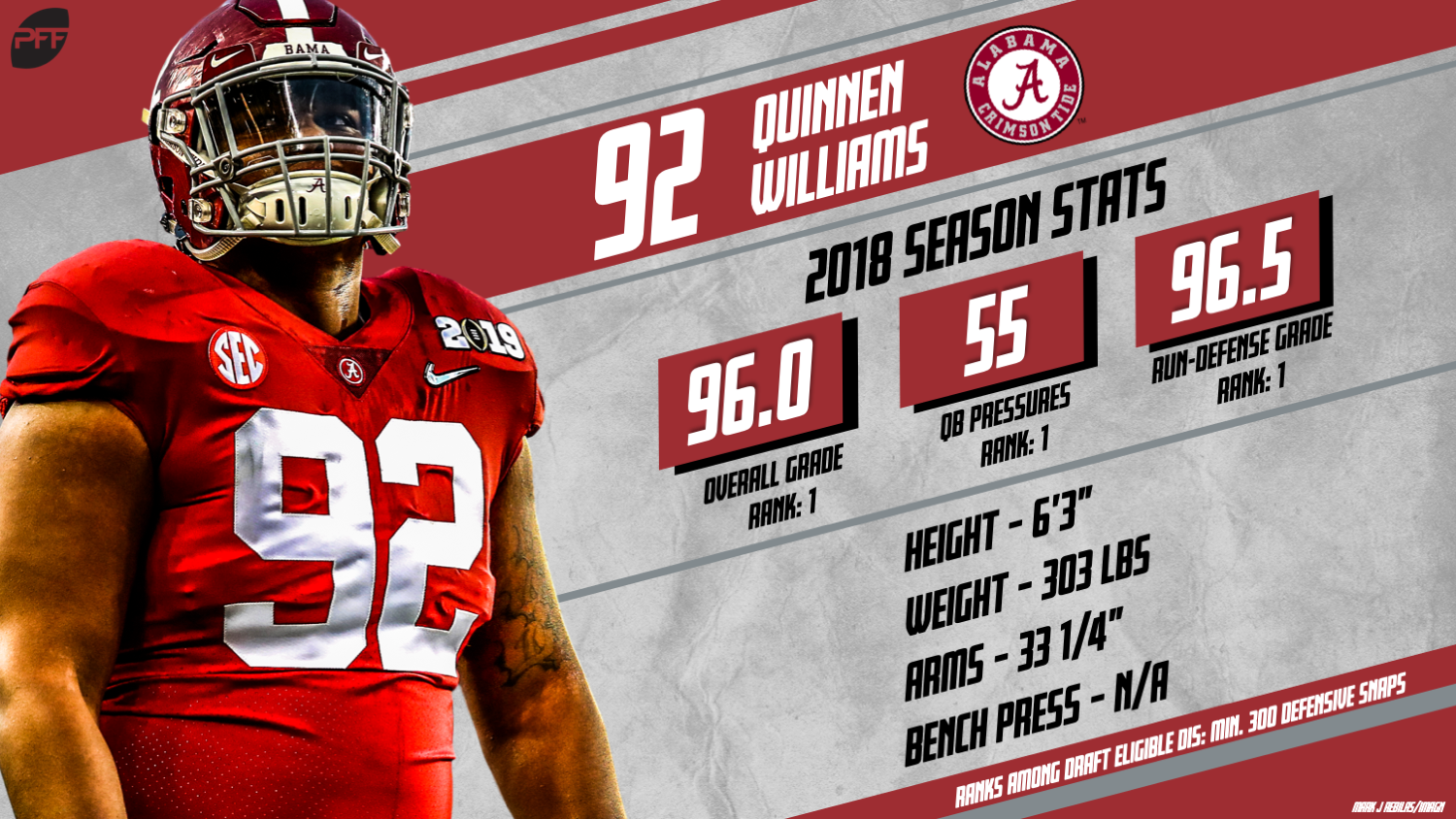 1. DI Quinnen Williams, Alabama
Williams earned the highest grade we've ever given to a college interior defender (96.0) in his lone season as a starter at Alabama.
2. DI Jerry Tillery, Notre Dame
Tillery tied Quinnen Williams for the highest pass-rushing grade among interior defenders in college football. Tillery's sack totals don't tell the whole story as he was a dominant week in and week out.
Related Article: Jerry Tillery is an elite player, deserves a place in the top-10 conversation
3. DI Jeffery Simmons, Mississippi State
He tore his ACL, but he did it early enough in the process that he could still play as a rookie. Simmons had a run-defense and pass-rushing grade over 90.0 this past season.
Related Article: How Jeffery Simmons' injury impacts the 2019 NFL Draft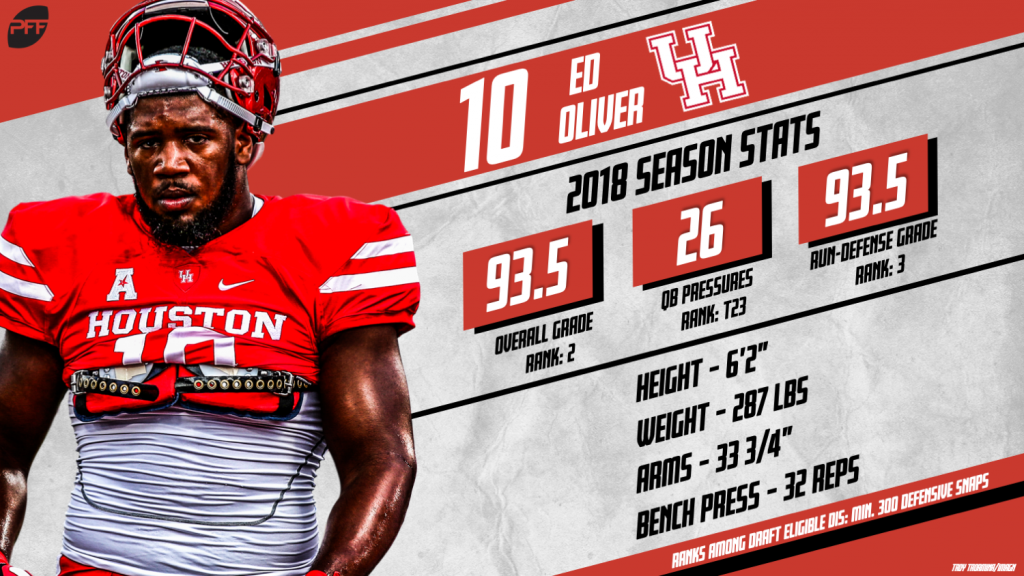 4. DI Ed Oliver, Houston
His pass rushing finally came around with a 90.8 grade this past season, but considering his size and the competition he was facing, he still has a ways to go.
Related Article: Did the Houston scheme hold back Ed Oliver?
5. DI Christian Wilkins, Clemson
Wilkins was top three in both run-defense and pass-rushing grade among interior players this past season.
6. DI Dexter Lawrence, Clemson
Nose tackles of 340-plus pounds are going the way of the Dodo in the NFL, but Lawrence is a pretty ridiculous athlete for his size. He had the 12th-best pass-rushing grade among interior players in college football.
Related Article: How Dexter Lawrence stacks up against recent 340-pound nose tackles
7. DI Khalen Saunders, Western Illinois
Saunders moves like an edge and even played there at times for Western Illinois. He went to the Senior Bowl and had the second-highest win rate among interior players in the one-on-ones.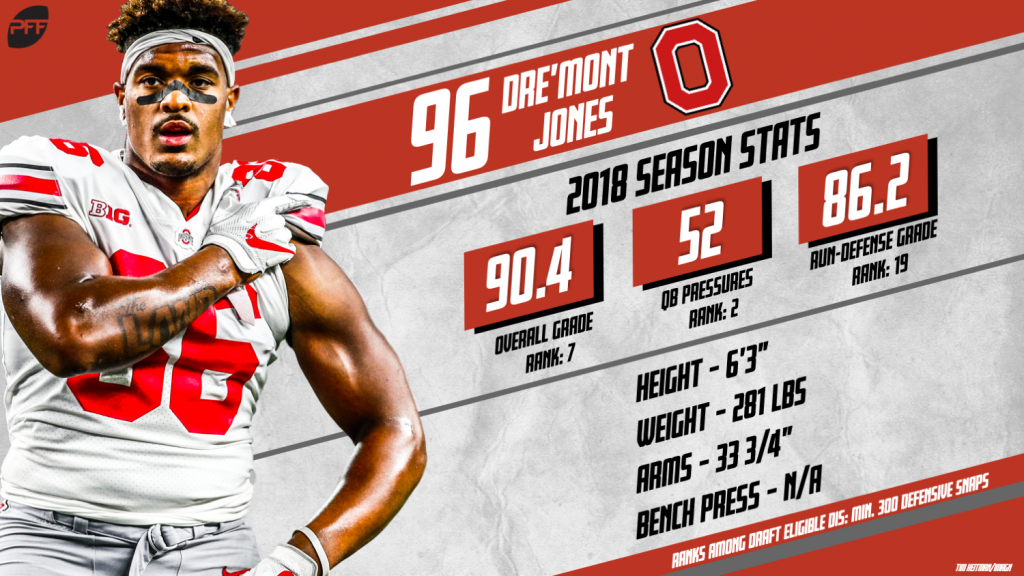 8. DI Dre'Mont Jones, Ohio State
No player in the FBS rushed the passer more than Dre'Mont Jones' 500 snaps this past year. The man simply didn't come off the field and still produced a 90.5 pass-rushing grade.
9. DI Greg Gaines, Washington
Gaines was one of the best run defenders in college football but flashed some pass-rushing chops at the Senior Bowl, where he had the third-best win rate among interior players in the one-on-ones.
10. DI Kingsley Keke, Texas A&M
Keke was played a bit out of position on the edge at A&M and should kick inside in the league. He dominated rushing from the interior at the Senior Bowl with the highest win rate among all DTs.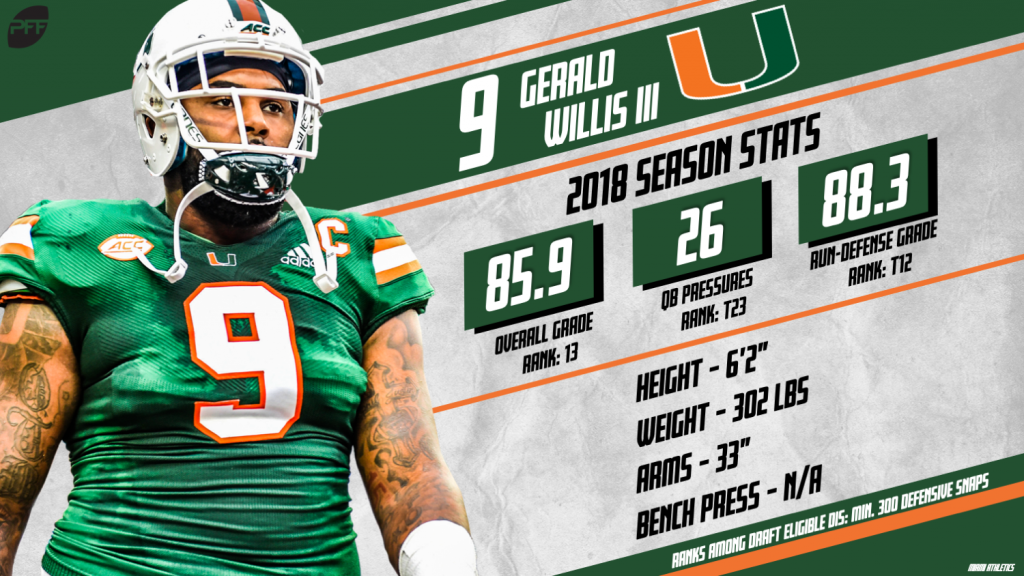 11. DI Gerald Willis III, Miami (Fla.)
An older prospect entering the 2019 NFL Draft at 23 years old, Willis earned an 88.3 run-defense grade in 2018, ranking tied for 12th in the 2019 draft class.
12. DI Armon Watts, Arkansas
Watts turned in an impressive 86.1 pass-rush grade with Arkansas in 2018, ranking seventh among draft-eligible interior defensive linemen.
13. DI Michael Dogbe, Temple
Temple's Dogbe earned an impressive 84.5 run-defense grade in 2018 and now has earned 82.0-plus run-defense grades in three straight seasons with the Owls.
14. DI Trysten Hill, UCF
Hill is an explosive athlete with a lot of potential at the next level. He earned 78.7 overall grades in 2017 and 2018 while playing 400-plus defensive snaps in each of the two seasons.
15. DI Renell Wren, Arizona State
Wren is naturally gifted with great size, explosiveness, and athleticism, but he struggles with consistency. He failed to produce an overall grade above 80.0 once in the last three years of his Arizona State career.