While training camps around the league have officially begun, some fanbases should already have an eye towards next April's draft (you know who you are). With Vegas already officially handicapping who will be the first pick in the 2020 NFL Draft, we thought we'd give our take on the race to the No. 1 overall pick.
The interesting thing to keep in mind is who will be making the pick at No. 1 overall after this season. Vegas currently has five teams projected with six or fewer wins in 2019. They are the Miami Dolphins (5), Arizona Cardinals (5), New York Giants (6), Oakland Raiders (6) and Cincinnati Bengals (6). The Giants and Cardinals are extremely unlikely to go quarterback while the Dolphins, Raiders and Bengals wouldn't have to go quarterback. Odds are, though, even if the team picking No. 1 doesn't need a quarterback, someone close enough to trade up will target a signal-caller. The 2017 NFL Draft was the only time a non-QB went No. 1 overall in the last five years. The value that the quarterback position presents is tough difficult to pass up.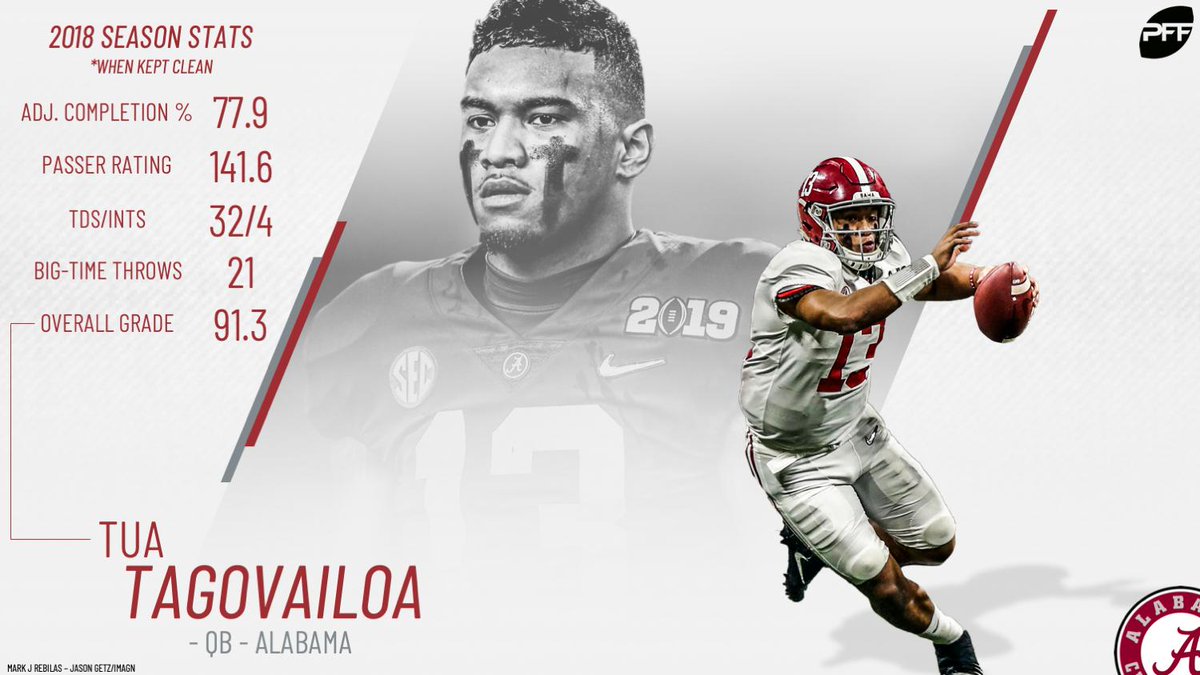 QB Tua Tagovailoa, Alabama (+150)
He's the favorite for a reason. Tua brings to the table pretty much everything you could ask for from a modern quarterback — except arm strength. His accuracy, anticipation, pocket presence and athleticism are all top-notch. No pages of an NFL playbook are off-limits with his skillset. The arm strength, though, is about at the baseline NFL level, and it simply won't look as pretty as other quarterbacks in the class. That being said, he has little more to prove other than that he won't crumble down the stretch again.
QB Justin Herbert, Oregon (+325)
While we agree with Tua being the favorite at this point, Herbert's odds offer the best value here if for nothing else other than he 'looks the part' more. The Oregon quarterback stands a prototypical 6-foot-6, 234 pounds and has the type of arm talent scouts drool over.  Herbert simply has to cut the ugly out of his tape. Watching games like Stanford and Cal, where he earned passing grades over 90.0, you can't help but see elite-level NFL ability. But then he goes out against San Jose State (59.8 passing grade) or Arizona (29.1 passing grade) and looks like the game is moving too fast for him. It's likely the reason he returned for his senior year. If we don't see that from him in 2019, there's a good chance he's the top guy on some boards.
QB Jake Fromm, Georgia (+500)
Fromm is largely the third wheel in the 2020 quarterback conversation, but he's got a couple of things in his favor at this point. One is the offense he plays in. It's visually closer to what most NFL offenses resemble. Over the past two seasons, Fromm has taken 436 snaps from under center compared to 54 from Tagovailoa and only five from Herbert. Fromm has also seen a steady upward trend to his performance over the last two seasons with an 81.1 passing grade as a freshman to an 86.8 last season. At the end of the day, though, the tools and high-end aren't on par with the other two at this point, making him a longer shot than his +500 odds to be the first pick at this point.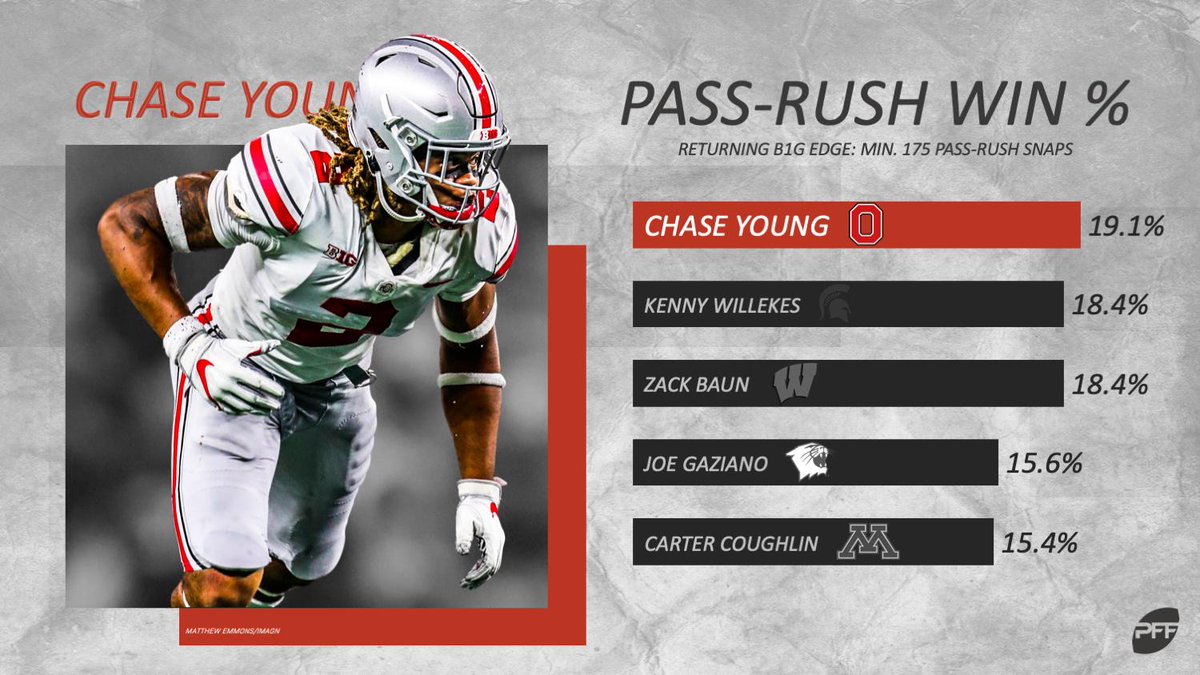 Edge Chase Young, Ohio State (+700)
If there is any non-QB who will be picked No. 1 overall, it's this guy. Young led the entire FBS in pressures as a true sophomore. In our five years of college grading, the only other sophomore to achieve such a feat was one Joey Bosa. At 6-foot-5, 265 pounds, Young is going to check every single box the NFL wants checked. He'll be a top-5 pick if healthy, and the top pick if the QB class fizzles out.
DI Derrick Brown, Auburn (+700)
This is the absolute sucker bet of the group. Brown is a massive disruptor on the interior for the Auburn defense, but he ain't going No. 1 overall. Maybe a decade ago he'd have a chance, but the game has changed since then. No one is taking a 320-pound defensive tackle No. 1 overall. It's no knock on Brown, but it's nearly impossible to be an every snap player at that weight without wearing down. If a non-QB isn't the first overall pick, the talent and value at edge or wide receiver will be the pick.
WR Jerry Jeudy, Alabama (+900)
With three-wide becoming the norm, there's not a team in the NFL who wouldn't be in need of Jeudy's services. The problem with buying him hard as the top pick – aside from the fact that only three wideouts have ever been picked first in the draft – is that Jeudy doesn't have the prototypical measurements. While they in no way, shape or form limit him on the football field, Jeudy's 6-foot-1, 192-pound frame doesn't fit the profile we've seen at the receiver position early in the draft.