Welcome to the very first edition of the offseason PFF GM Mock. This mock draft is designed to show what we would do if we were given the reins to all 32 NFL franchises. There's no guessing as to what teams might do, solely our opinion on what they should do. Let's kick it off at the top:
The Bengals are the lucky owners of the Burrow lottery ticket. 'Tank for Tua' gave way to 'Bomb for Burrow' well before Tagovailoa was injured. Burrow is in a stratosphere of his own as a prospect after finishing off the highest-graded quarterback season we've ever seen. He added five more big-time throws in the National Championship to bring his total to an FBS-leading 42 on the season.
While Burrow broke our passing record, Young broke our pass-rushing record. He's as complete an edge-defender prospect as we've ever seen in our six years of grading college football. No need to overthink this one.
3. Detroit Lions — CB Jeffrey Okudah, Ohio State
These top three picks are set in stone for any future GM mock until we start incorporating trades. Okudah passed his final collegiate test with flying colors against Clemson's pair of NFL wide receivers. He was targeted 10 times in the playoff semifinals and allowed only five catches for 47 yards while breaking up two passes. Put him across from Darius Slay, and watch your pass defense transform overnight.
The Giants' offense is currently chock full of complementary wideouts, but no there's no true number one. While it's a loaded wide receiver class, chances are you won't find that No. 1 receiver on the wrap in the second round. Insert CeeDee Lamb, the do-it-all receiver who broke 26 tackles on 62 receptions this season. It's not like the Sooners were only pumping him screens, either. Lamb's average depth of target was 13.2 yards downfield this year.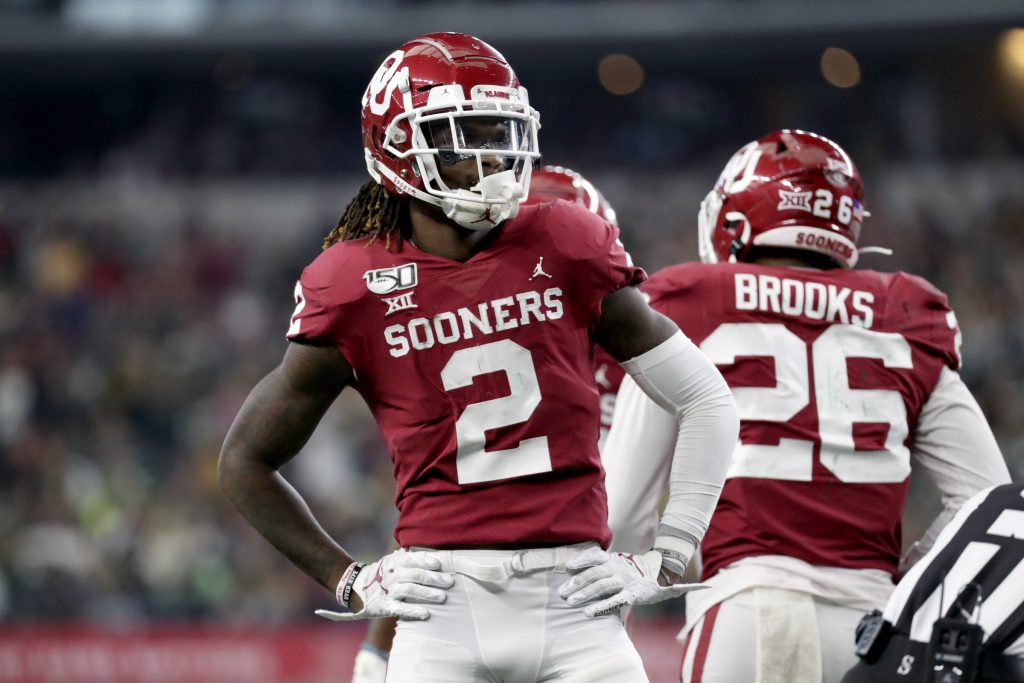 © Kevin Jairaj-USA TODAY Sports
5. Miami Dolphins — QB Tua Tagovailoa, Alabama
Tua will have an asterisk next to his name all offseason, but with his injury timeline, we should know by draft day whether further complications have arisen that could put his career in jeopardy. Assuming full health, Tagovailoa did nothing to dissuade us from our preseason opinion that he's a franchise quarterback prospect with a 90.3 passing grade.
Simmons seemed like the only Clemson defender who showed up in the National Championship game, as he broke up two passes and allowed only 21 yards on five targets. While the Chargers have offensive line needs, pairing Simmons with Derwin James is too dynamic a duo for us to pass up. Their versatility can revolutionize what an NFL defense should look like.
While it's not a sexy pick, Thomas will go a long way to ensuring Cam Newton stays healthy should he be the starter next season. Greg Little showed some promise as a rookie, but they can't let the line dip to the lows we saw from it last season. Thomas has allowed only 37 pressures in three years as a starter.
8. Arizona Cardinals — OT Jedrick Wills Jr., Alabama
No offensive tackle shot up draft boards more this season than Wills. He allowed only four pressures in his last six games against some stiff SEC competition. He's also without a doubt the most athletic tackle in the class and would be perfect in Arizona's screen game.
The National Championship was by no means a banner performance from Fulton, but you heard his name called a lot because Clemson picked on him a lot. He still allowed only 5-of-11 targets to be caught for 66 yards and two first downs. His NFL comparison in the upcoming PFF Draft Guide is actually A.J. Bouye, and I'm sure Jaguars fans would love to have him cloned.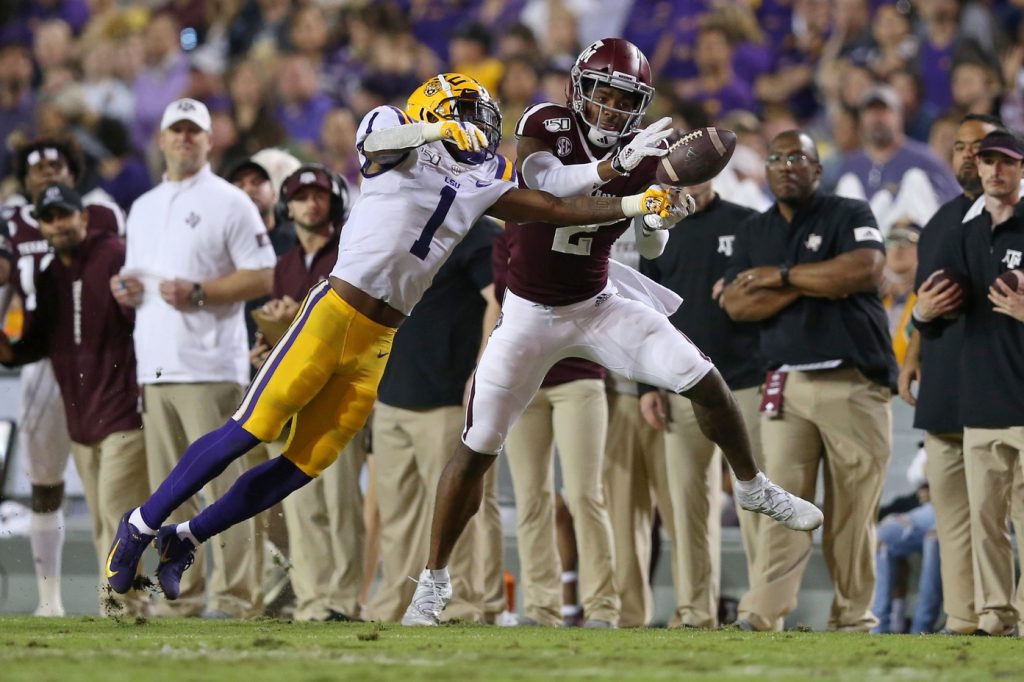 © Chuck Cook-USA TODAY Sports
Wirfs quietly dominated unlike any other offensive lineman in the country down the stretch this past season. He allowed one lone pressure in his final seven games. He also earned one of the top run-blocking grades in the country (89.2).
11. New York Jets — WR Jerry Jeudy, Alabama
Sam Darnold gets his go-to guy. There's no need to overthink Jeudy too much. He moves differently than any other wideout in this class and has absurdly polished route-running ability. Drops popped up a little more this year than they have in the past, but he still dropped only seven of 84 catchable targets this season.
12. Oakland Raiders — CB Trevon Diggs, Alabama
Diggs bounced back from an injury-shortened 2018 campaign in a big way. Outside of the LSU game where he lost at the catch point a number of times, Diggs allowed only 13 catches for 176 yards on the season. Those are lockdown cornerback numbers.
Epenesa lost a bit of steam after his dominant sophomore campaign, but he switched to a different role that asked him to play the run far more than he had before. What we love is his versatility — he lined up inside the tackles on 98 snaps this season.
Brown feels like a pretty safe projection with how much he dominated week in and week out in the SEC. He had only one start this season (LSU) where he earned a below-average grade. That will pair nicely next to Vita Vea on Tampa Bay's interior.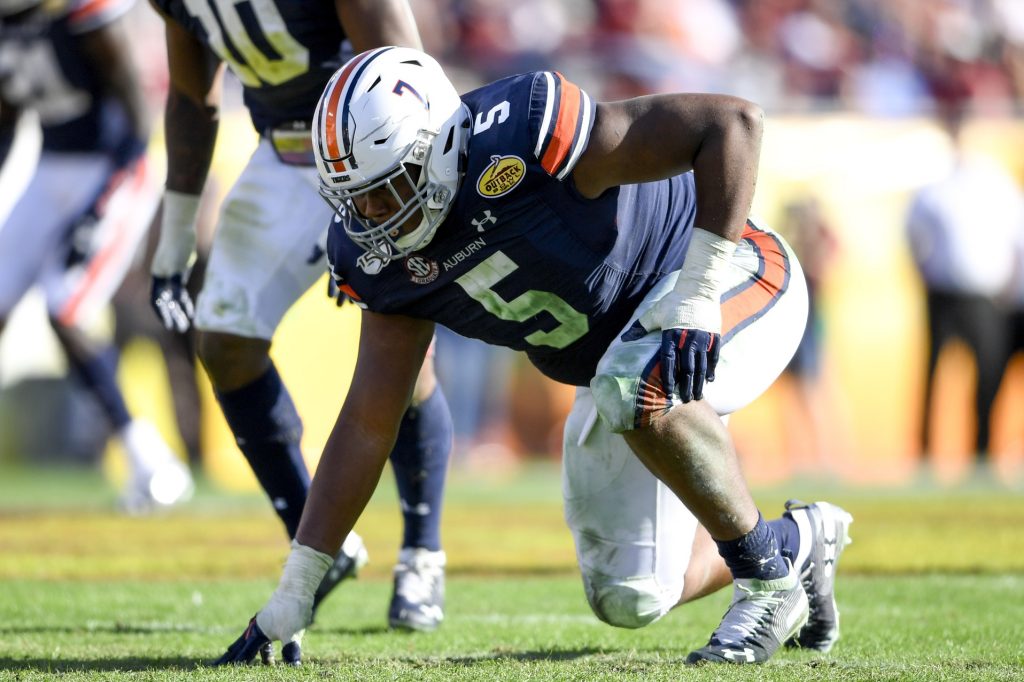 © Douglas DeFelice-USA TODAY-Sports
15. Denver Broncos — DI Javon Kinlaw, South Carolina
With a two-year sample on Kinlaw, we feel pretty safe about him being a difference-maker as a pass-rusher in the NFL. Kinlaw earned an 88.7 pass-rushing grade last season — the highest of any returning interior defender in college football. He followed that up with a 90.7 grade this year on 352 pass-rushing snaps.
16. Atlanta Falcons — Edge Curtis Weaver, Boise State
One of the most prolific pass-rushers in the country, Weaver has had 20-plus combined sacks and hits in each of the past two seasons. He doesn't fit the athletic profile that the Falcons have gone for at edge in the past, but with the results they've gotten from their recent first-rounders, maybe that's a good thing.
We've talked a lot about his missed tackle problem, but when it mattered most, Delpit wrapped up admirably. In the conference championship and through the playoffs, Delpit made 10 tackles and didn't miss a single one.
Jones earned the highest overall grade we've ever given to a non-Power 5 offensive tackle (93.2). And unlike many Group-of-5 tackles, Jones has all the length and athleticism to stick there in the NFL.
Shenault battled through a number of different injuries this season and still caught 56 balls for 764 yards while breaking 15 tackles. It wasn't quite the dominance we saw in 2018, but his role also changed significantly, moving from the slot to outside. Colorado simply couldn't get the ball to him accurately down the field this year.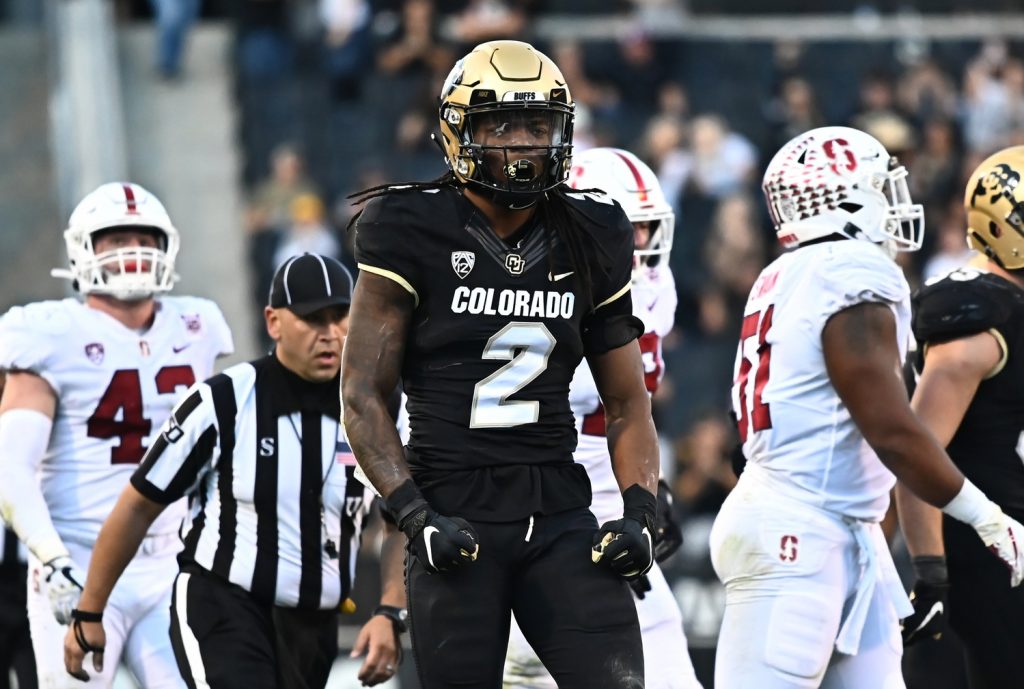 © Ron Chenoy-USA TODAY Sports
Higgins didn't produce at a terribly high level against a pair of NFL corners he faced in the playoffs, but not all of that was his fault. Trevor Lawrence left some plays on the field for his top wideout, and Higgins is every bit still a first-round type of prospect.
When DeSean Jackson went down, the Eagles receiving corps immediately became one of, if not the, slowest in the NFL. Ruggs' possibly sub-4.3 speed changes that overnight. Of his 98 career receptions at Alabama, 24 resulted in scores.
22. Buffalo Bills — CB Jaylon Johnson, Utah
Johnson has been a riser up PFF's board all year and has instincts for the position on par with any corner in this class. He's talked before about how tape study led to his pick-six against Washington, and that would fit in nicely in Sean McDermott's defense.
We simply can't see a team wasting a high pick on Herbert with all the bad play he's put on tape this season and years prior. In his supposed 'big wins' against Utah and Wisconsin, Herbert had passing grades of 58.3 and 64.4, respectively. You can't teach his arm talent, though, and a redshirt year (or years) in New England could be exactly what he needs.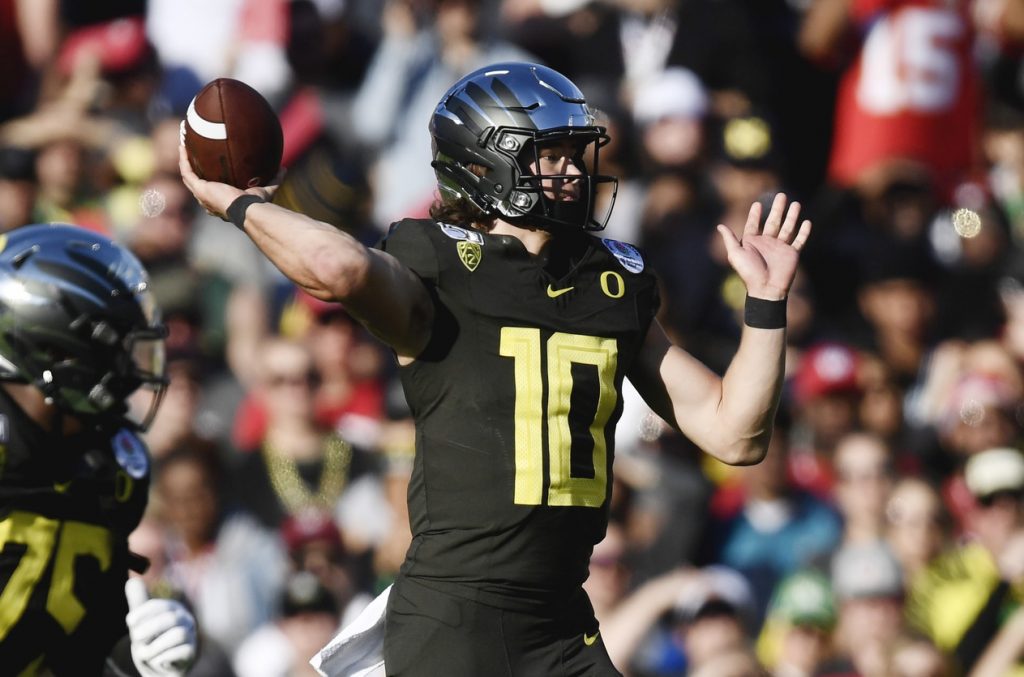 © Robert Hanashiro-USA TODAY Sports
The Saints love playmakers, and Reagor qualifies as exactly that. He may not have the biggest catch radius or the most inspiring production, but he separates at an elite level down the football field. That's something the Saints haven't had in quite some time.
Minnesota treated its 3-tech position as an afterthought this season, and it eventually burned them as they were gashed by the 49ers' ground attack in the playoffs. Elliott is an easy fit there, as he earned 90-plus grades in run defense and as a pass-rusher en route to the highest grade of any interior defender in college football.
Henderson won't be everyone's cup of tea, but he should taste just right for man-heavy defenses like the Dolphins'. Even with a relative down year this season, Henderson allowed only 20 catches all season long. He lost more downfield than he did in 2018, but he was often still at the catch point.
Get used to seeing long, rangy corners mocked to Seattle after seeing Tre Flowers get torched by Davante Adams last weekend. The Seahawks simply cannot expect to seriously compete for a Super Bowl in the loaded NFC with the corners they have at the moment.
28. Baltimore Ravens — S Ashtyn Davis, California
The Ravens love positionless coverage defenders, and Davis fits that bill. He can lay the boom as a blitzer or rob the seams from the middle of the field. He's the kind of player that makes the Ravens defensive scheme work.
29. Tennessee Titans — Edge Julian Okwara, Notre Dame
Even though he has a couple years left on his deal, 37-year-old Cameron Wake had his season end on Injured Reserve and might not be the most reliable option across from Harold Landry moving forward. The elder pass-rusher, though, could tutor a similarly freakish athlete on the edge in Okwara, who had an elite 90-plus pass-rushing grade this past season.
30. Green Bay Packers — WR Jauan Jennings, Tennessee
This might be a bit of a surprise, but when you flip on the tape, you'll see a rare skillset that is unmatched in this class. There are not many 6-foot-3, 210-pound wideouts who are as shifty after the catch as Jennings is. He broke 30 tackles on 59 catches this past season.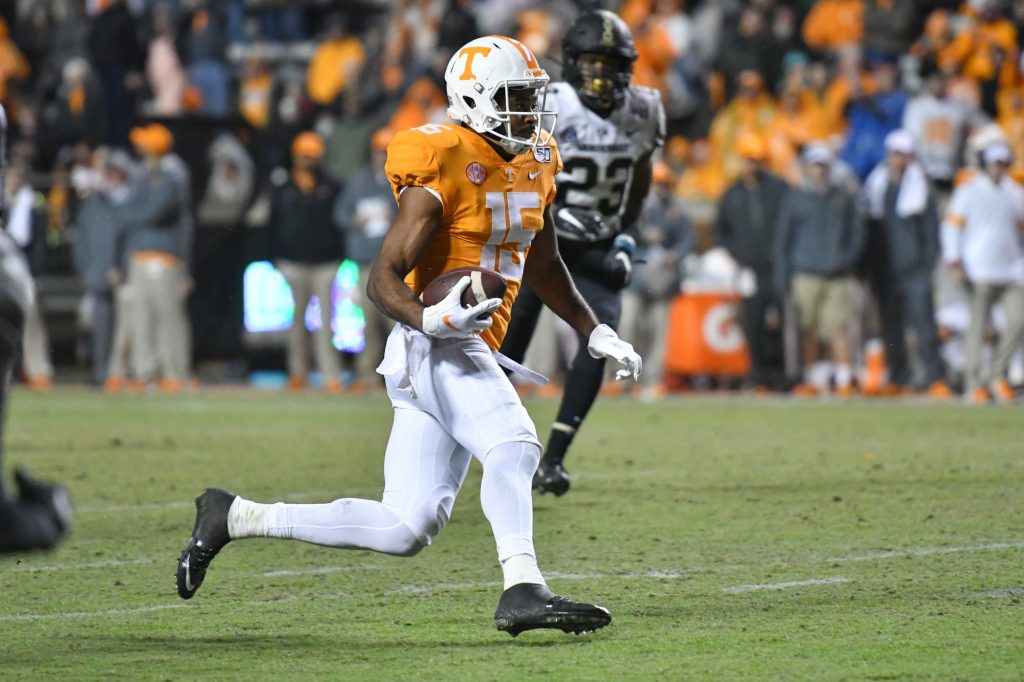 © Randy Sartin-USA TODAY Sports
31. Kansas City Chiefs — CB Cameron Dantzler, Mississippi State
On 568 coverage snaps over the past two seasons, Dantzler allowed all of 36 catches for 459 yards. Those are silly numbers for a sophomore/junior in the SEC. Dantzler also holds the title of the only cornerback not torched by LSU this season, as he allowed 2-of-4 targets to be caught for 13 yards in that game.
There's no guarantee Jimmie Ward will be back in San Francisco, making safety/slot an area of need. McKinney's Swiss Army knife skillset is a fit for any defense — even if Ward does return. He's earned grades over 79.0 in run defense, as a pass-rusher and in coverage each of the past two seasons.