Arizona Cardinals should trade down:

Arizona should be in the business of adding as many premium picks as possible with one of the worst rosters in the league.

Baltimore Ravens need to make Lamar Jackson happy:

The only thing that could do that is a new contract, but adding a top receiver in the draft couldn't hurt either. Baltimore has an opportunity to do that with the No. 22 overall pick, where the Ravens could take someone like

Jordan Addison

or

Quentin Johnston

.

Dallas Cowboys should spend an early-round pick on a defensive tackle:

Dallas could spend the No. 26 overall pick on someone like

Calijah Kancey

if he falls or wait until the second round for someone like

Keeanu Benton

. Regardless, the Cowboys should use one of their three top-100 picks on an interior defensive lineman.
Estimated reading time: 16 minutes
---
It's finally draft week.
With the 2023 NFL Draft kicking off on Thursday, here's what every team needs to do in order to best position themselves for the future.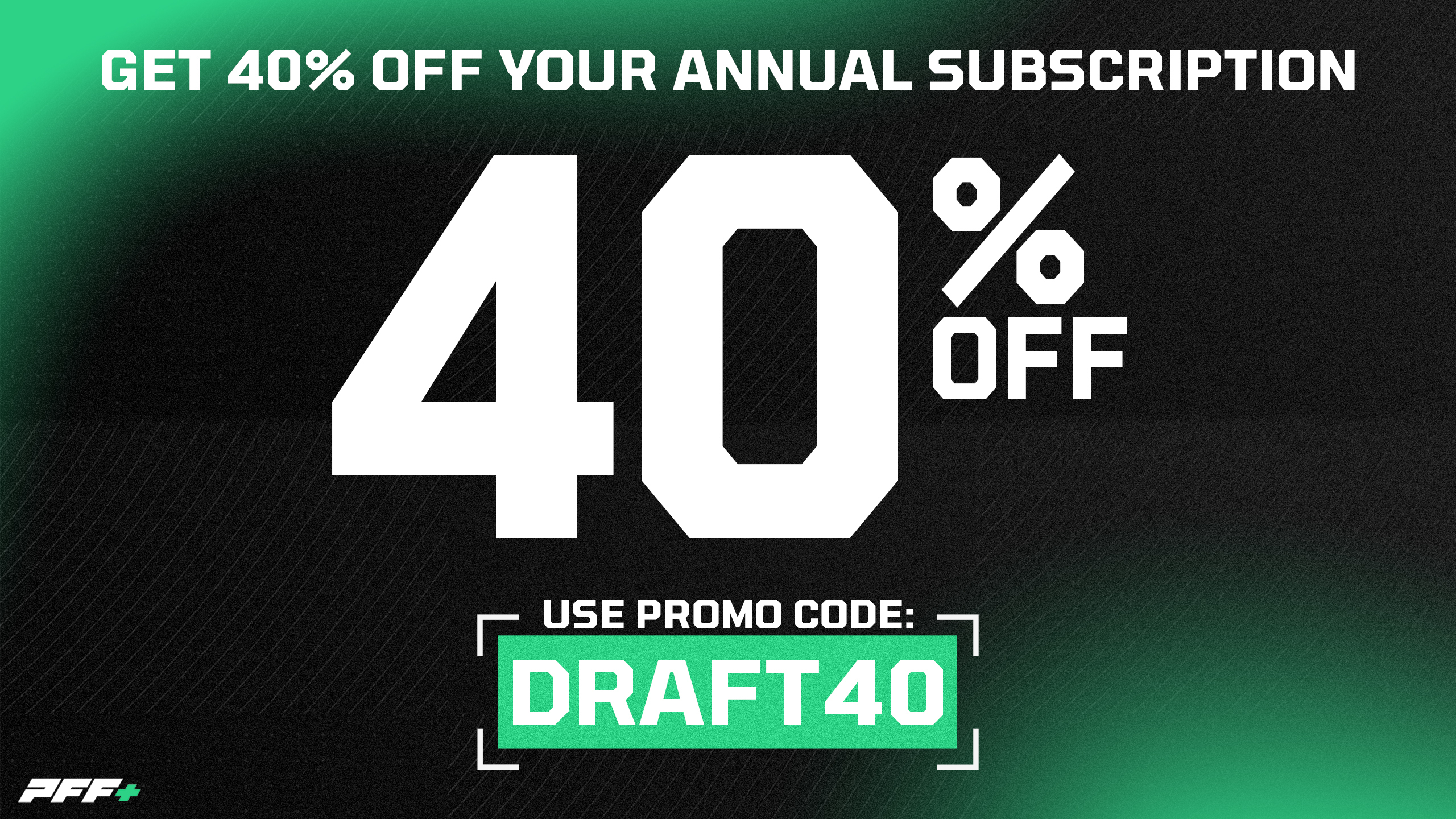 ---
Although Will Anderson Jr. would provide some much-needed juice to Arizona's pass rush, it's not the best thing the Cardinals could do with the third overall pick.
The wisest move would be to trade down to a team looking to draft a quarterback, like the Las Vegas Raiders or Tennessee Titans. Those franchises would likely give up a lot to move up for C.J. Stroud or Anthony Richardson, and Arizona should be in the business of adding as many premium picks as possible with one of the worst rosters in the league.
---
Without taking positional value into account, Bijan Robinson is the best football player in this year's draft. He's the best running back prospect since at least Saquon Barkley, and truthfully, that might not be going back far enough. 
Here's the thing though, positional value exists and the Falcons can't afford to take a running back, even one as talented as Robinson, with the eighth overall pick. Atlanta is still one of the worst teams in the league and should use that No. 8 pick on a more valuable position, like edge defender. It may be tempting for Arthur Smith to add a star running back like he had in Tennessee with Derrick Henry, but the Falcons need to look elsewhere. Plus, Tyler Allgeier had an excellent rookie season last year with an 86.7 grade that was fifth among all running backs.
---
The Ravens are in the middle of a stalemate with franchise quarterback Lamar Jackson, who requested a trade a month ago when contract negotiations stalled. Baltimore seemed to make him happier by signing Odell Beckham Jr., but even that doesn't guarantee he'll stay a Raven long-term. 
The only thing that could do that is a new contract, but adding a top receiver in the draft couldn't hurt either. Baltimore has an opportunity to do that with the No. 22 overall pick, where the Ravens could take someone like Jordan Addison or Quentin Johnston.
---
Josh Allen expressed a week ago how he'll dial back his running style to minimize the hits he takes. Another way the Bills can help their franchise quarterback avoid injuries is by attacking the trenches in the 2023 draft.
Outside of left tackle, Buffalo could stand to improve at every position along the offensive line. With the No. 27 pick, the Bills could go for the top guard in the draft in O'Cyrus Torrence or try to find a new right tackle in someone like Anton Harrison or Dawand Jones.
---
The Panthers paid a king's ransom to move up from the ninth pick all the way to No. 1, sending the Bears wide receiver D.J. Moore in addition to the No. 9 pick, No. 61 pick, a 2024 first-rounder and a 2025 second-round pick.
The early favorite to be the top selection was C.J. Stroud, who seems to fit everything new head coach Frank Reich wants in a quarterback. The new favorite is now Young, who would be the better selection for Carolina. For my money, Young is easily the top quarterback in this year's class thanks to his ability to create magic when under pressure in addition to his absurd mental processing ability. Size be damned, he has all the makings of a potential franchise quarterback and is well worth the No. 1 overall pick.
---
With the No. 9 pick, the Bears could continue to build around Justin Fields by taking one of the top offensive linemen available.
However, if Carter is somehow still available, Chicago can't pass him up. He's a blue-chip talent on the interior defensive line, arguably the Bears' biggest need. He has some off-field issues, mainly his involvement in a fatal car crash back in January, which he faced misdemeanor charges for. Still, he's a top-three talent in this draft at a position of need for Chicago, so the Bears shouldn't pass him up if he somehow slips to No. 9.
---
Mixon has been in the headlines for all the wrong reasons this offseason. In April, the case for his aggravated menacing charge was refiled, to which he pleaded not guilty to pointing a gun at a woman and threatening to shoot her in the face in January. With a nearly $13 million cap hit next season, there's a good chance the Bengals move on from the seventh-year running back. 
The good news for Cincinnati is that this is an excellent running back class with no shortage of starting options. The Bengals would be wise to take one somewhere in the draft.
---
The Browns' 39.6 team run-defense grade and 4.8-yard average depth of tackle were both the fourth-worst marks in the league. With only the two top-100 picks (No. 78 and 98), Cleveland would be wise to beef up their defensive line.
A true nose tackle like Siaki Ika and a powerful edge like Isaiah McGuire would go a long way in changing that putrid run defense.
---
Dallas Cowboys: Spend an early-round pick on a defensive tackle
The Cowboys did a good job of filling some needs this offseason, acquiring Brandin Cooks and Stephon Gilmore via trades.
One they haven't really addressed is along the interior of their defensive line. Dallas could spend the No. 26 overall pick on someone like Calijah Kancey if he falls or wait until the second round for someone like Keeanu Benton. Regardless, the Cowboys should use one of their three top-100 picks on an interior defensive lineman.
---
Denver Broncos: Use at least one third-round pick on the secondary
The Broncos don't possess any picks in the first two rounds of the 2023 draft, sending both to the Seahawks in the Russell Wilson trade. They do pick twice in the third round, sitting back-to-back at No. 67 and 68. 
At least one of those picks should be used on the secondary, which is pretty bare outside of Patrick Surtain II and Justin Simmons. Someone like Tyrique Stevenson or Antonio Johnson would give the backend of the defense a much-needed boost.
---
Detroit Lions: Don't be afraid to take a swing on a quarterback
The Lions are one of the fastest-rising teams in the NFL, barely missing the playoffs last season. Thanks to the Matthew Stafford trade, Detroit owns the No. 6 pick in the draft.
The Lions should heavily consider using that pick on a quarterback, should someone like C.J. Stroud, Anthony Richardson or Will Levis fall. They could even make a move up to No. 3 if they have a preference for any one of them. Jared Goff is at best an average signal-caller and Detroit has the coaching, offensive line and receiving corps to allow a young quarterback to blossom. There's a good chance the Lions won't be picking this high again anytime soon, so they should strike while the iron's hot.
---
The Rodgers era in Green Bay is *seemingly* over, as the Packers and Jets are working on a trade for the four-time MVP. One of the biggest issues Green Bay had in the last few years with Rodgers was surrounding him with a good receiving corps. In fact, the Packers haven't spent a first-round pick on a wide receiver or a tight end since 2002. 
Now that Love is taking over, Green Bay needs to snap that streak. There should be plenty of pass-catching options for the Packers at No. 15, such as Jaxon Smith-Njigba, Dalton Kincaid, Michael Mayer or Jordan Addison. They simply need to just take one.
---
Houston Texans: Don't take a defensive player at No. 2
Nobody knows what the Texans are planning on doing with the second-overall pick. Over the past couple weeks, C.J. Stroud, Will Anderson Jr., Tyree Wilson and now Will Levis were each at one point the betting favorites to go second on BetMGM Sportsbook. 
Houston needs to take a quarterback in this draft. Opting for a defensive player and just assuming you'll be bad enough to get Caleb Williams or Drake Maye next year is a dangerous game, especially for general manager Nick Caserio, who might not be around to make that selection next year if it happens. If the Texans really aren't sold on any quarterbacks besides Bryce Young, they should at least trade down and acquire as much young talent as possible for a roster bereft of it.
---
Indianapolis Colts: Address the secondary after taking a quarterback
The Colts are almost assuredly spending the fourth overall pick on one of the top-four quarterbacks in this class. After that, they need to address the secondary with their other two top-100 picks. 
After trading away Stephon Gilmore, the unit is nearly devoid of proven top-end talent. At No. 35, Indianapolis could take a ballhawk like Emmanuel Forbes or Cam Smith to pair with Isaiah Rodgers.
---
The Jaguars have done a good job of building their roster up to this point. The one area they still need to work on is the secondary, and Alabama's Brian Branch would be a dream fit at No. 24. 
He can play both as a slot corner and as a safety in Jacksonville's defense, as the Jaguars could use help at both spots. Not only that, he's a top-15 overall talent in this class. There's a chance he slips to the 24th pick and the Jaguars should sprint the card in if he does.
---
The reigning Super Bowl champions are the current betting favorites to lift the Lombardi again in 2023. If they want to become the first repeat champs since the 2003-04 Patriots, they should attack both sides of the trenches early and often. 
The Chiefs should look to potentially find a starting right tackle, improve at edge defender and find another interior defensive lineman to go along with Chris Jones. Any of the three should be the priority with the No. 31 pick.
---
After releasing Derek Carr, the Raiders brought in Jimmy Garoppolo as their new starting quarterback.
With that being more of a short-term solution than a long-term answer under center, Las Vegas would be wise to target a quarterback with its seventh overall pick, or even try to trade up to No. 3.
---
The Chargers only have their top three wide receivers (Keenan Allen, Mike Williams and Josh Palmer) under contract for two more seasons, so it'd be wise for Los Angeles to find some youth at the position as it transitions to Justin Herbert's second contract. With the No. 21 pick, the Chargers could go after Jordan Addison, Quentin Johnston or Zay Flowers.
Tight end Gerald Everett is also a free agent after this season, so the Chargers should prioritize a tight end at some point in the draft as well. They could even take one like Michael Mayer or Dalton Kincaid with the aforementioned 21st overall pick.
---
After years of aggressive transactions that led to a Super Bowl victory in 2021, it appears the Rams are finally crashing down to Earth. They haven't made a first-round selection since taking Jared Goff first overall in 2016 and won't be snapping that streak this year barring a trade into Day 1. 
With needs nearly everywhere on the roster, Los Angeles shouldn't be targeting a singular position and focus on taking the best player available each time. A couple trades down couldn't hurt either.

---
Tagovailoa revealed a week ago that he considered retirement after the multiple concussions that he suffered last season. With only four total draft picks, and only two in the top 150, the Dolphins would be smart to take at least one offensive lineman somewhere on Day 2. A strong pass-protector like Steve Avila or Matthew Bergeron could be a wise selection at No. 51.
---
The Vikings could go a number of ways with the No. 23 overall pick. One they shouldn't do is take Hendon Hooker, who has major red flags in that he played in a gimmicky Tennessee offense, is coming off a torn ACL in November and will be 25 years old as a rookie.
Instead, Minnesota should use that pick on a wide receiver or corner. The Vikings could also trade down, as they only pick five times in the 2023 draft.
---
While it wouldn't hurt to grab a cornerback, edge defender or wide receiver with the 14th pick, the Patriots should particularly look at offensive tackle for that selection.
None of New England's tackles in 2022 graded among the top 40 in the league. If Peter Skoronski or Paris Johnson Jr. are available, the Patriots should scoop them up. If not, Broderick Jones would be a worthy consolation prize.
---
The Saints' biggest area of weakness is along the defensive line, an area they should attack early in the draft. New Orleans is more aggressive than any team when it comes to the draft, trading up 24 times in the last 16 years, so a move up from No. 29 for an edge defender or an interior defensive lineman could be in the cards. 
In particular, keep an eye on Clemson's Myles Murphy, who fits the powerful mold the Saints usually look for in their edge defenders.
---
New York Giants: Take a corner or wide receiver in the first round
Two of the biggest holes the Giants have on their team right now are at corner and wide receiver, so they should look to upgrade one of them with the No. 25 pick.
Outside of Adoree' Jackson, New York's secondary could use a lot of work. Someone like Deonte Banks, Joey Porter Jr. or Emmanuel Forbes would give Jackson a good running mate on the opposite side of the field. 
Even after trading tight end Darren Waller, the Giants should add some size in their receiving corps. Quentin Johnston would do exactly that.
---
The Jets finally got the Rodgers trade done and can now focus on protecting their new franchise quarterback. Both of New York's tackles, Duane Brown and George Fant, graded below a 60 this past season while 2020 first rounder, Mekhi Becton, has played one game over the last two seasons due to injuries.
With the No. 15 pick, the Jets could look to add a tackle like Broderick Jones, Anton Harrison or Darnell Wright.
---
Philadelphia Eagles: Trade down from one of their first-round picks
As it stands, the defending NFC champions pick twice in the first round, at Nos. 10 and 30. 
Philadelphia should look to move down from one of those picks to acquire extra Day 2 and Day 3 capital. The Eagles currently don't own any picks from the fourth to sixth rounds of the draft.
---
Pittsburgh Steelers: Corner or offensive tackle in the first round
There are two positions the Steelers should be looking to target at No. 17: cornerback and offensive tackle.
Even after adding Patrick Peterson, the Steelers still need to find starting-caliber corners. Plus, Peterson is already 33 years old and isn't a long-term answer. Joey Porter Jr. would not only fill a need, he'd be a legacy pick as the son of Steelers great Joey Porter Sr.
The Steelers also desperately need bookends on the offensive line, as neither Dan Moore Jr. nor Chukwuma Okorafor was among the 50 highest-graded tackles in the league in 2022. They should be crossing their fingers for either Peter Skoronski or Paris Johnson Jr., but Broderick Jones would work too at No. 17.
---
After trading three first-round picks to move up to obtain Lance in 2021, there are reports now that the 49ers are entertaining offers for the third-year quarterback. 
Lance has played only 263 snaps across his first two seasons and San Francisco seems content on rolling with Brock Purdy as its starter going forward. However, Purdy is recovering from a torn UCL, and it's unknown if he'll be ready for the start of the season. Since Lance won't command that much in a trade, the 49ers should keep him around and see if he can hit the ceiling they once thought he had.
---
Seattle desperately needs difference-makers on its defensive line. The Seahawks' 65.1 pass-rushing grade last season was the fifth-worst mark in the league. With a top-five pick, they should look to improve that with a blue-chip edge defender or interior defensive lineman.
For my money, there are two of those players in this year's class. Will Anderson Jr. would be well worth the selection at No. 5 if he slipped to there. If not, Jalen Carter should be who the Seahawks target as long as his off-field concerns are checked out.
---
White recently requested a trade from the Buccaneers after contract negotiations stalled. This could actually be a blessing in disguise for Tampa Bay, as paying top-dollar to an off-ball linebacker wouldn't be shrewd for a team already leading the league with $75 million in dead cap. 
The Buccaneers should trade the fifth-year linebacker either before or during the draft and obtain as many picks as possible for a roster that needs to add young talent.
---
Reports came out recently that the Titans could be looking to move on from veteran quarterback Tannehill, who carries a $36 million cap hit next season. Since Tennessee has done nothing but commit to the rebuild thus far, it would be wise to do so and collect draft capital for a rebuilding roster. 
Even if the Titans don't trade up from the No. 11 pick for a quarterback, they can start third-rounder Malik Willis for a year. Either they figure out he can be the face of the franchise or they bottom out and take Caleb Williams or Drake Maye in next year's class.
---
Washington Commanders: Corner or offensive tackle in the first round
Even though the Commanders could use a quarterback, it'd probably be best not to try to move up from No. 16 to likely No. 3, which would command multiple first-round picks. Instead, they can see if fifth-round pick Sam Howell can be the long-term starter with Jacoby Brissett as a safety valve.
Instead, Washington should target either a cornerback or offensive tackle in the first round, where they can potentially get someone like Paris Johnson Jr. or Deonte Banks.