As we begin to evaluate the top quarterbacks in the 2020 draft class, we need to remind ourselves that today's successful NFL quarterbacks have each developed in different ways and at different times in their careers. Simply put, some quarterbacks experienced immediate success, while others needed more time to develop.
Here is a look at four unique categories that best describe how several of today's top NFL passers became successful, and how they could serve as a model for PFF's highest-ranked quarterbacks in this year's draft class.
[Editor's note: These are not player comparisons, nor are they a prediction as to where they will be selected in the 2020 NFL Draft (you can get the latter here). We are merely matching each prospect's expected NFL career trajectory to those who have come before them. If you are looking for player comps, however, be sure to subscribe to PFF EDGE or ELITE, where you'll be able to download our 2020 NFL Draft Guide.]
Pro Ready: Expect Immediate Success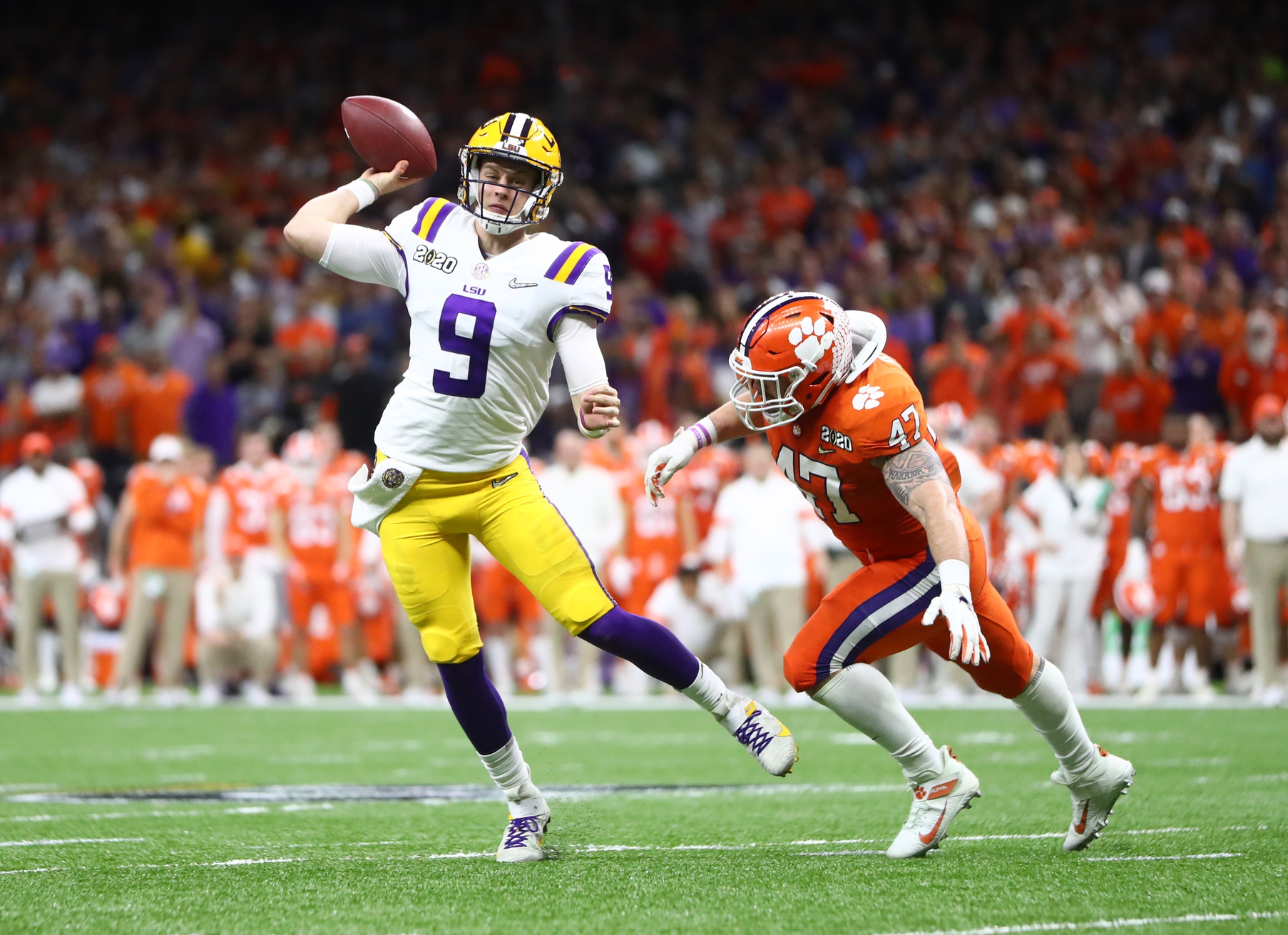 Joe Burrow, LSU
Last year, Joe Burrow earned the highest passing grade ever awarded to a college football player at 94.1. He threw an accurate pass on 61.6% of his throws targeted 10-plus yards downfield, which also set a PFF College single-season record. The previous record of 55.7% was set by Baker Mayfield in 2017. At 23 years old, Burrow is a mature and proven leader who has been trained in a pro system by offensive coordinator Joe Brady.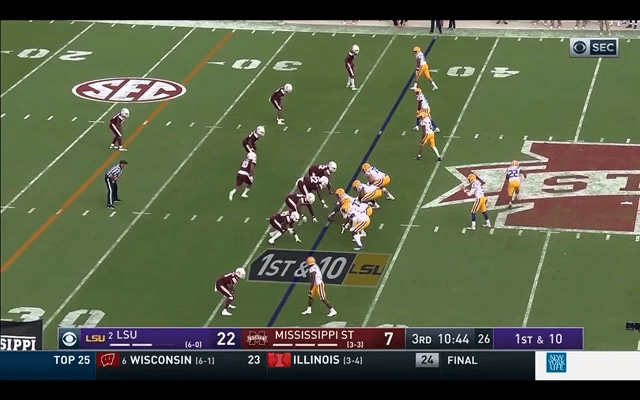 Burrow led all college football quarterbacks with a passing grade of 80.5 when pressured, and his 0.137 EPA per play against pressure also ranked first among all FBS quarterbacks. His performance under pressure while throwing deep passes of 20-plus yards downfield produced 11 big-time throws, zero turnover-worthy plays, an adjusted completion percentage of 75.7% (second-best among draft-eligible QBs) and zero sacks. He also earned a passing grade of 94.9 from a clean pocket, and his clean-pocket adjusted completion percentage (83.6%) and clean-pocket passer rating (140.9) both ranked second among those same draft-eligible signal-callers. Burrow really does have everything that's needed to be a franchise starter from day one. 
Taken after Andrew Luck, Robert Griffin III and Ryan Tannehill in the 2012 NFL Draft, Wilson didn't hear his name called until the third round and was selected just 13 picks ahead of Nick Foles and 27 picks ahead of Kirk Cousins. And while every one of them has achieved some level of success in the NFL, Russell Wilson remains the only quarterback from his draft class to lead his team to a Super Bowl title while starting every single game since entering the league.
Wilson became an immediate success from the first snap he took in a Seahawks uniform. He finished the 2012 season with the position's fifth-highest passing grade (87.7), posting a 15th-ranked 33 big-time throws while his nine turnover-worthy plays were the fewest among all 32 starters. He had the league's sixth-best passing grade (61.4) while under pressure and the second-best grade (92.3) while playing from a clean pocket.
Wilson was a dream come true for the Seahawks' coaches, who couldn't believe how quickly he took command of the playbook and the locker room. As a rookie quarterback, Wilson ranked in the top 10 in passing grade on deep throws of 20-plus yards (95.1, 5th) and on third-down (83.9, 6th), and his 28 total completions on passes targeted at least  20 yards downfield were the seventh-most league-wide.
Prior to Wilson's arrival in Seattle, the team had missed the playoffs in three of its previous four seasons. Since joining the team in 2012, Wilson has led the Seahawks to the postseason in seven of the last eight years, including two Super Bowl appearances. He is now what every team is looking for in every NFL draft, and Joe Burrow figures to be the same for the Cincinnati Bengals. 
Pro Ready: But Expect A Slow Start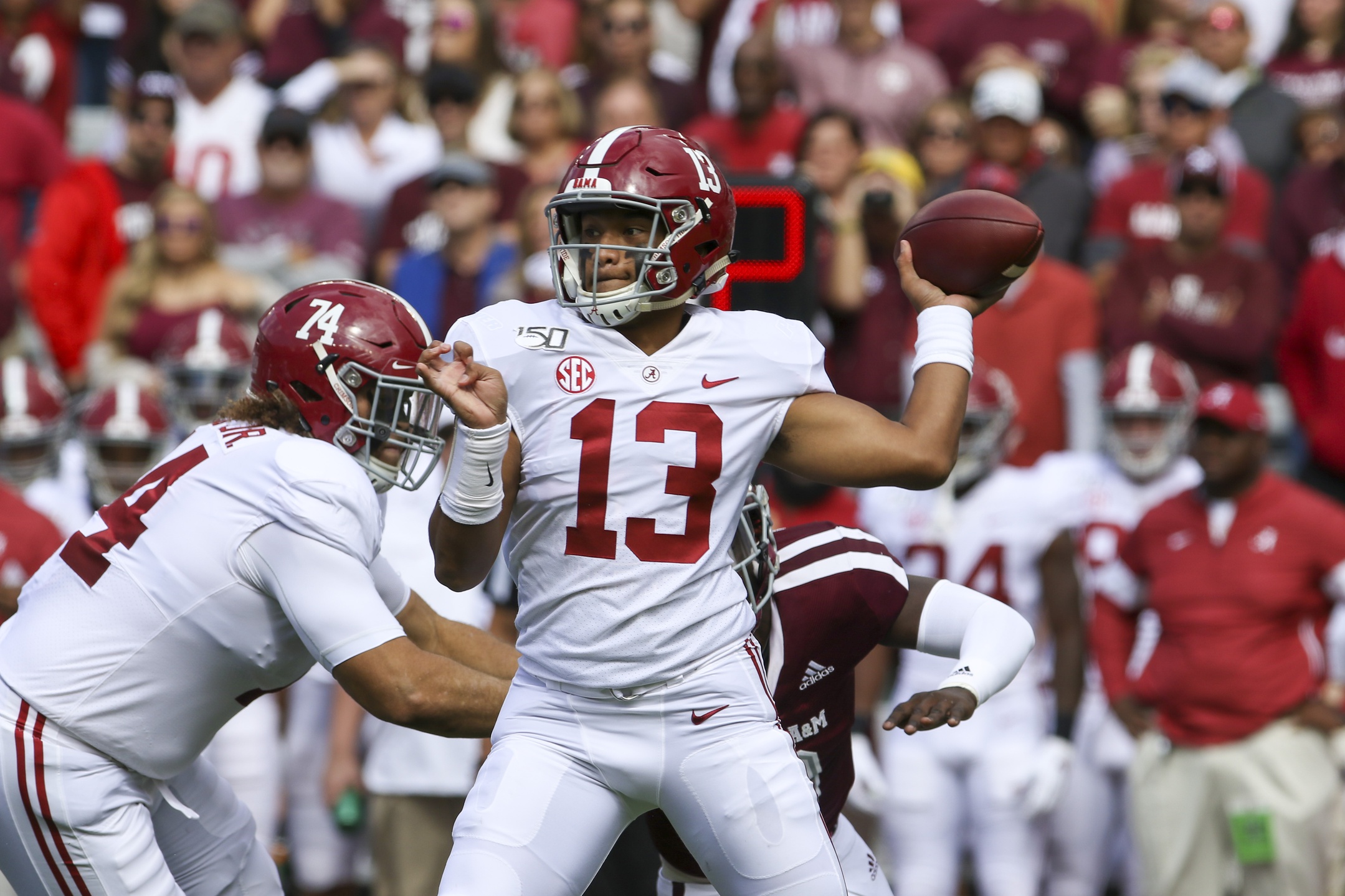 Tua Tagovailoa, Alabama
Tagovailoa is expected to get off to a slow start because of his hip injury and subsequent rehabilitation, but both the data and the tape suggests that he is an NFL-ready passer. Tua comes to the NFL already familiar with a pro-style offense, and he's accustomed to setting protections, checking out of potentially disastrous plays and quickly getting his team into a more favorable play with clear communication that allows his receivers to get on the same page.
Tagovailoa's poise under pressure was clear for all to see. Throughout his entire career, he converted only 12.5% of his pressures into sacks. For context, only seven quarterbacks had lower rates in all of college football last season. Perhaps even more impressive, though, is how well he took care of the football, as Tua recorded just 24 turnover-worthy plays during his entire three-year career in Tuscaloosa  — four QBs in college football had more in 2019 alone.
Among the top 10 quarterbacks in the 2020 NFL Draft class, Tagovailoa earned the sixth-best passing grade against pressure along with a fourth-best EPA per play figure while under pressure, and his passing grade on third downs (91.5) was actually better than Joe Burrow's (79.5). Like Joe Burrow, arm strength is not necessarily a calling card for former Bama passer, whose arm is described by PFF lead draft analyst Mike Renner as somewhat borderline by NFL standards. What does stand out, however, is Tua's poise in big games along with his compact throwing motion that produces high-level accuracy. He is the type of prospect that teams will be willing to move up the draft board for. 
In 2008, Matt Ryan was drafted to fill a major void after the sudden departure of Michael Vick in Atlanta. Looking to become an immediate success, Ryan began his career with a Week 1 start and a 62-yard touchdown on his first career pass in the NFL.
Ryan would go on to earn Offensive Rookie of the Year honors while also earning a passing grade of 87.2, second to only Peyton Manning among quarterbacks. During his rookie season, Ryan earned an NFL second-best 64.9 passing grade on throws under pressure and a third-best 90.7 grade when operating from a clean pocket. His passing grade of 98.5 on deep passes of 20-plus yards downfield was the best among all quarterbacks league-wide, while his production on third-down passes yielded a third-ranked 79.5 passing grade.
Ryan falls under this category due to a sophomore slump, but his career blossomed seven years later when he led his team to a Super Bowl appearance and took home league MVP honors. Ryan has more than lived up to his expected role as a franchise quarterback, and he continues to lead the Falcons 12 years after being drafted by the same club.
Project: Has to Wait before seeing immediate success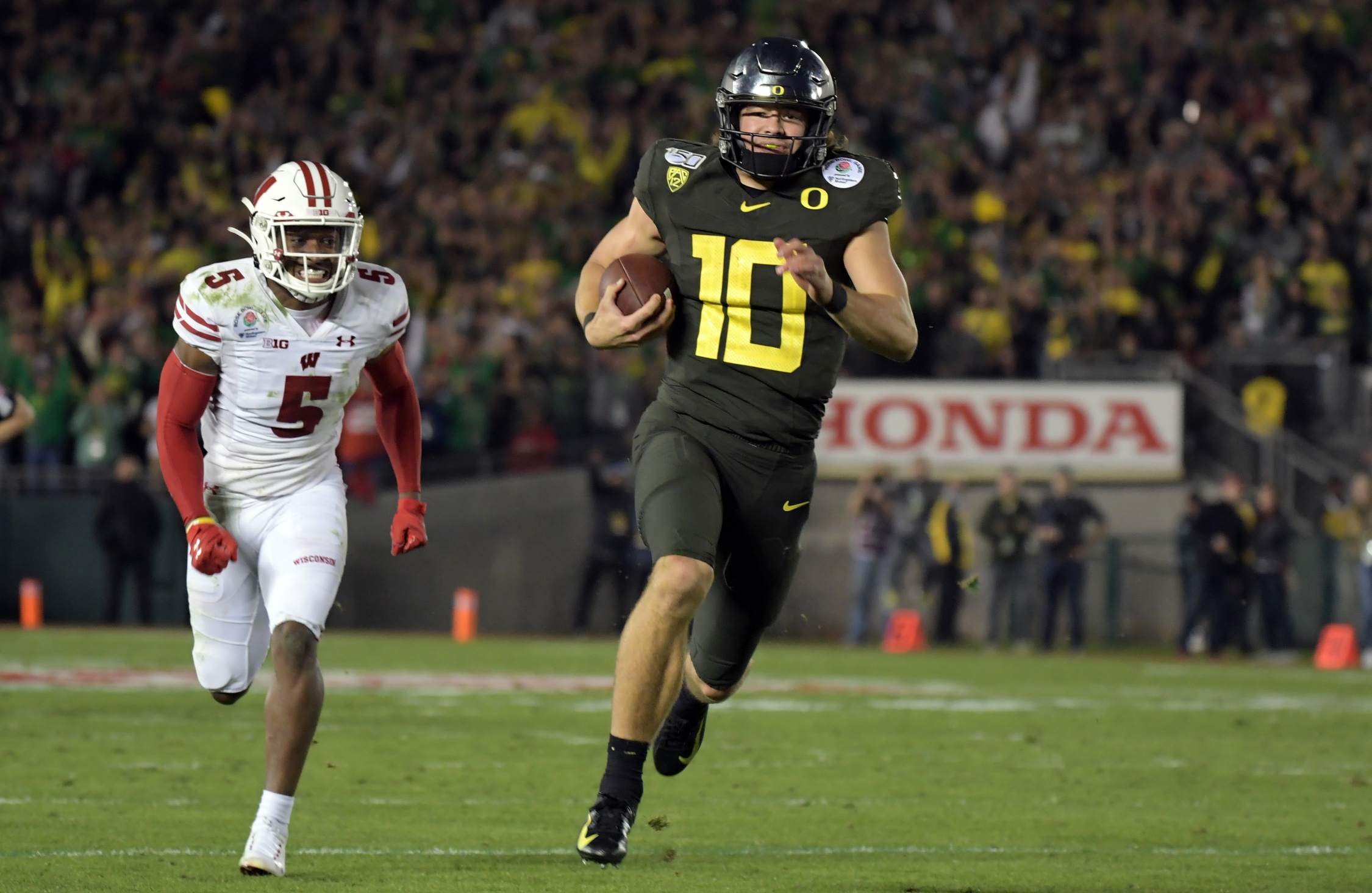 Justin Herbert, Oregon
After seeing that he started 43 career games for the Oregon Ducks, one may think that Herbert is ready to shine at the NFL level. After all, the 6-foot-6, 237-pound quarterback is known for his big arm and his excellent speed and mobility.
After winning the "Academic Heisman" following the 2019 season, Herbert seems to have the aptitude to process an NFL playbook. However, after looking through PFF's 2020 NFL Draft Guide, lead draft analyst Mike Renner correctly addresses the main concern about Herbert's on-field performance. According to the PFF database, Herbert failed to elevate his game against six specific teams with high-caliber defenses. In games against Auburn, Cal, Washington, Arizona State, Utah and Wisconsin, Herbert posted the following:
| | |
| --- | --- |
| PFF Grade | 64.0 |
| Completion % | 62.0% |
| Yards per attempt | 7.1 |
| Touchdowns | 9 |
| Interceptions | 4 |
| Big-time throws | 7 |
| Turnover-worthy plays | 10 |
The Kansas City Chiefs gave up two first-round picks and one third-rounder to move up from the 27th to the 10th overall pick to select Patrick Mahomes in the first round of the 2017 NFL Draft. Upon his arrival, Mahomes was ill-prepared to receive snaps from under center, and he needed more time to learn how to clearly bark out the long, wordy plays from Andy Reid's call list. But after paying the hefty ransom for Mahomes and his rocket arm, the Chiefs patiently tutored the young quarterback where he waited, listened and learned.
Mahomes finally saw his first action during the 2017 season finale, where he impressed with 22 laser-like completions and one interception — but that was just a taste of things to come. During his first full season as a starter in 2018, Mahomes exploded onto the NFL stage, earning PFF's second-highest passing grade (92.7) and leading the entire league in big-time throws (48). He shredded defenses while under pressure with a first-ranked grade of 84.1, and he was equally clinical from a clean pocket, where his clean-pocket passing grade of 92.7 ranked second among qualifying passers. He also earned PFF's top passing grade on throws targeted 20-plus yards downfield, and he also earned the first-ranked passing grade of 91.5 on the all-important third-down plays.
Mahomes appears to be Andy Reid's masterpiece. After winning a league MVP with 5,129 passing yards and 50 touchdowns in 2018, Mahomes has quickly paid off by handing the franchise their first Super Bowl title in 50 years. His journey is a representation of how even the best talent needs someone to come along and polish the rough edges.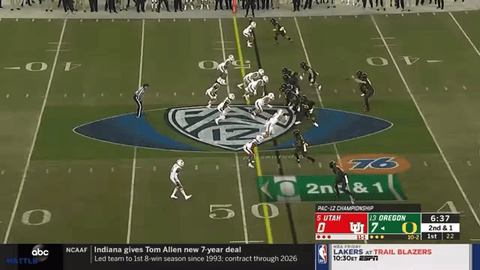 Over time, Herbert's strong arm could certainly prove to be an asset. He earned a passing grade of 90.0 on deep passes of 20 or more yards downfield and a grade of 85.0 on his third-down throws, and he's already put enough on tape to attract quarterback-needy teams to move up the draft board. Given Herbert's physical traits and the potential he's shown in past years, team executives will not be able to resist what Herbert has to offer and will likely look to polish the rough edges in the same way the Chiefs did with Mahomes. 
Project: Has to wait and will likely get off to a slow start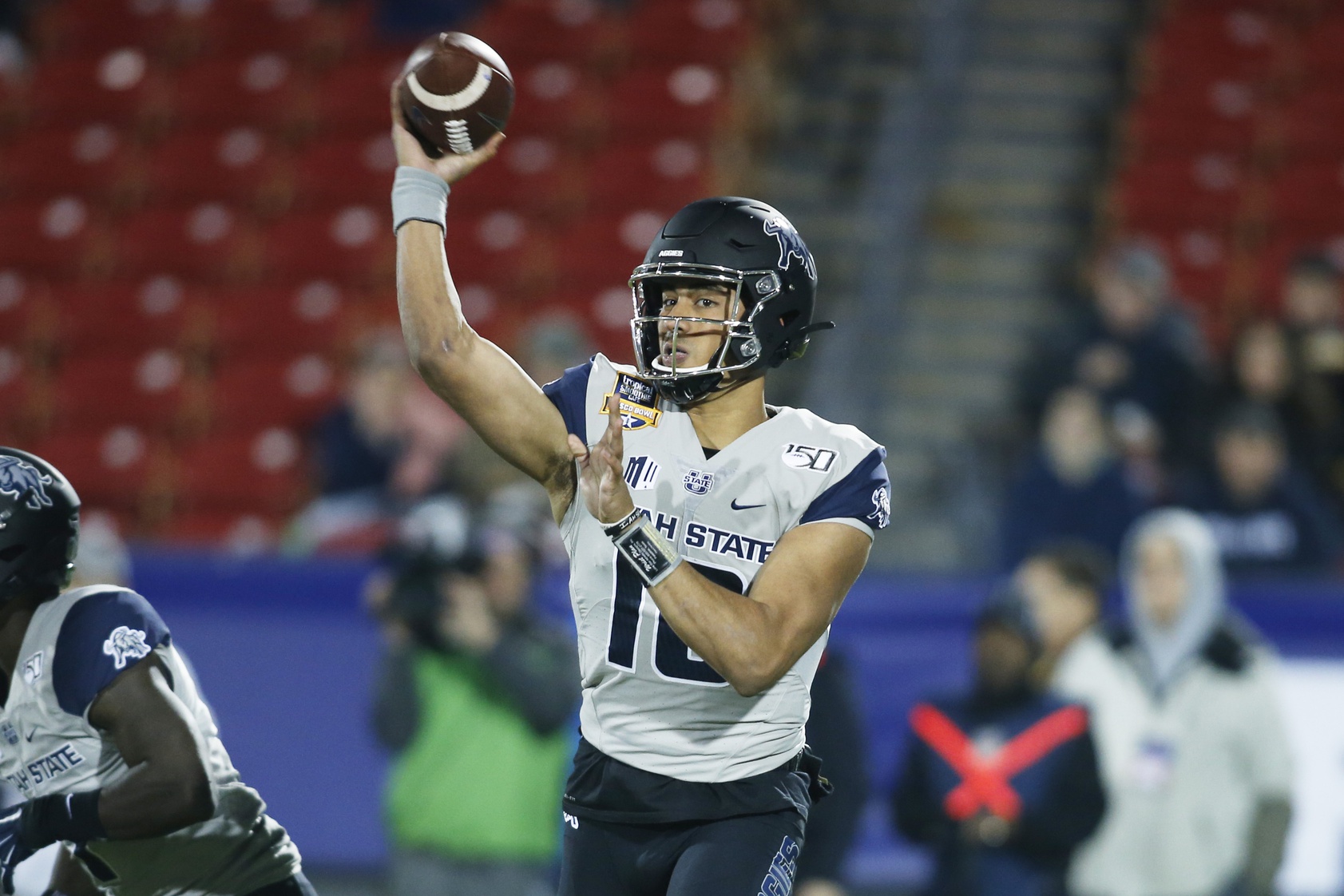 Jordan Love, Utah State
Jordan Love probably should have waited another season to leave college and enter the NFL draft.
Love began the 2019 season after losing his coach and nine offensive starters from his team in 2018. During his final season, the Utah State signal-caller registered 524 dropbacks and posted a PFF passing grade of 76.5 with 31 big-time throws and 26 turnover-worthy plays. And after throwing just six interceptions in both 2017 and 2018, his career total more than doubled after throwing a whopping 17 picks in 2019.
However, a closer look detects further inconsistencies even during Love's sophomore season of 2018 when he posted four games with passing grades below 60.0 against New Mexico (46.6), Wyoming (47.3), Colorado State (58.5) and Boise State (54.5). Among the top 10 quarterbacks in the 2020 draft class, Love ranked seventh with a 48.4 passing grade when facing pressure, and his -0.490 EPA per pass play when under pressure ranked ninth among that same group.
However, Love's favorable traits come to light when he pushes the ball downfield. He earned a passing grade of 87.1 on deep throws of 20-plus yards last year, and his 30 completions from such throws were more than Justin Herbert's 27. Love also earned a higher passing grade than Joe Burrow on third downs, and Love's 61 completions on third downs were more than both Burrow (59) and Tua (37). Love has already earned his college degree and will have plenty of time to commit fully to his craft leading up to the 2020 draft. The red flags are there, but so is his talent.
Garoppolo has come a long way since he was taken by the New England Patriots in the second round of the 2014 NFL Draft as a project player who would wait and develop as Tom Brady's understudy. He saw limited action during his first two seasons then earned his first career start in 2016 while Brady served a four-game suspension. Garoppolo won each of his first two starts with the Patriots before injury and Brady's return sent him back to the bench. It wasn't until the next season in 2017 that Garoppolo was traded to the San Francisco 49ers, where he started the last five regular-season games and earned PFF's highest passing grade (87.7) during that five-game stretch.
By leading his team to victory in all five games to conclude the 2017 season, Garoppolo proved that his three seasons under Brady had paid off. During those five weeks, his 83.3 passing grade under pressure ranked first among all quarterbacks, while his third-down passing grade of 93.0 also paced the NFL. He also graded at 83.9 (13th) while operating from a clean pocket during those final five games, but his 69.8 passing grade on throws 20-plus yards downfield was a foreshadow of his future struggles with consistency on those deep-pass plays.
However, Garoppolo was clutch for the Niners on third downs, where his 33 completions over those last five games ranked second among NFL quarterbacks. While it was only a small sample size, the 49ers correctly determined that Jimmy G could lead them back to relevancy, and they awarded him with a five-year, $135 million contract. After his long wait and a slow start, Garoppolo's NFL career has finally taken off, but some are still waiting to see more. His path is similar to the one Kirk Cousins has traveled, and it's likely the one that Love will have to endure, too.