Field position is huge in the NFL, and as much as it is important to be able to move the ball on offense, having a punter who can steal you an extra five yards between drives by pinning the returner to the sideline can be the difference between a successful and unsuccessful drive for any opponent. Coincidentally, that could also help the defense get the ball back for the offense in better field position.
It's one of the things that doesn't get discussed much, but having a better punter than your opponent can be a big factor in winning any game that turns into a field position battle.
The gulf between the top punters in the NFL and those who don't quite make the grade is stark, so there are plenty of teams who could be in the market to add some youth at the position this year. It just so happens that former Texas punter Michael Dickson produced not only the highest grade at the position in 2017, but the highest grade we've ever given to a punter in four seasons of college football grading.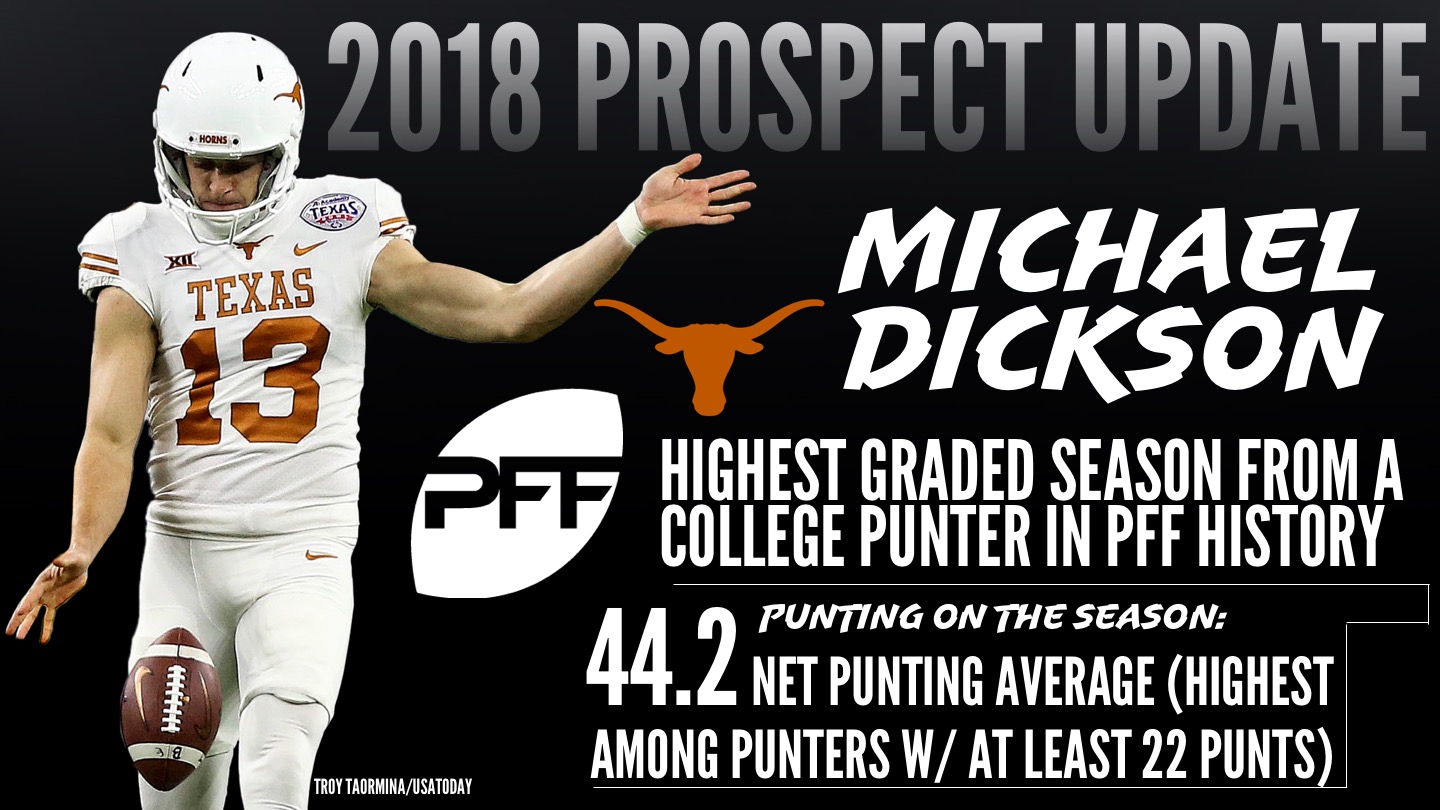 Dickson led the nation in a number of categories in 2017, including an average of 44.2 net yards per punt, a full 1.6 yards higher than Texas A&M's Shane Tripucka in second place among all punters to play in at least 10 games this past season. His 47.5 yards per punt also ranked at the top, while his 42 punts inside the 20-yard line were five more than any other punter this season.
Dickson was also named as the Texas Bowl MVP after an 11-punt game in which he knocked a massive 10 punts inside the opponent's 20-yard line. A performance reminiscent of Graham Gano's MVP winning performance as both a kicker and a punter in the Champ's Sports Bowl victory in 2008 for Florida State over Wisconsin.
Where Dickson really separates himself though is in his PFF grade, and his 2017 performance was a new record for our college grading, by a considerable margin. Special teams in college are much more primitive than in the NFL and we often see players with great raw tools massively improving grade wise with NFL coaching. That is great news for the team that drafts Dickson, or brings him in as an undrafted free agent, because his base level is far higher than anyone to come along in the past four years – he's basically the Aaron Donald of college punters.
If you're a team looking for a punter this offseason, Texas star Michael Dickson is the guy you want in the draft pic.twitter.com/OmkKjBW5UP

— Gordon McGuinness (@PFF_Gordon) March 29, 2018
So which teams could be candidates to draft Dickson during the NFL Draft later this month? Here's three that make a lot of sense:
Donnie Jones retired after winning the Super Bowl with the Eagles in February and while it was great for him to go out on top, it leaves the Eagles with a hole to fill at the position. Jones was tied for 13th among punters in the NFL with a 41.2 net yard average in 2017, but he was tied for just 26th with 23 punts inside the 20-yard line.
The Bears recently re-signed Pat O' Donnell, but it was just to a one-year deal, so there isn't much to keep them from drafting a potential replacement, especially after O'Donnell ranked tied for just 25th in the NFL with a 39.7 net yard average.
The Raiders cut Marquette King last week, saving $3 million in cap room but leaving them with a huge hole on special teams as King the third-highest graded punter in the NFL in 2017. He ranked fourth in net yardage, averaging 42.7 net yards per punt. With a top-five punter leaving, could they draft the nation's top punter to replace him?
2018 NFL Draft
---
Mock Drafts: 1 (Oct. 31, 2017) | 2 (Jan. 18, 2018) | 3 (March 8, 2018) | 4 (April 3, 2018)
Top 100 Draft Board | Top 10 WRs on the route tree | WR prospect fits | DI prospect fits | Underrated west coast prospects | 5 boom-or-bust prospects
Position ranks: QB | RB | WR | TE | OT | OG/C | EDGE | DI | LB | CB | S
Draft Quarterback Study: Lamar Jackson
Draft Corner Route Trees: Josh Jackson | Minkah Fitzpatrick | Denzel Ward | Donte Jackson | Isaiah Oliver | Carlton Davis 
Predictive Analytics: PFF College grades translation to NFL for pass-rushers | PFF College grades translation to NFL for QBs