The 2023 NFL Draft is officially in the books. After a flurry of selections from Thursday to Saturday, 259 players were selected to join the NFL.
With that, we give you our full recap of the Los Angeles Rams' draft, with analysis on every selection the team made during the weekend and an in-depth look at their top pick.
For more information on the players your favorite team drafted, it's not too late to get the 2023 NFL Draft Guide, which includes expanded scouting reports, draft grades, offseason reports, unique advanced data, PFF grades and much more.
More PFF draft content:
LIVE Draft Tracker | Mock Draft Simulator | 2023 NFL Draft Guide
Top 200 Big Board | PFF Mock Drafts | Measureables & Workout Data
NCAA Premium Stats | Draft Rankings By Position | Prospect Superlatives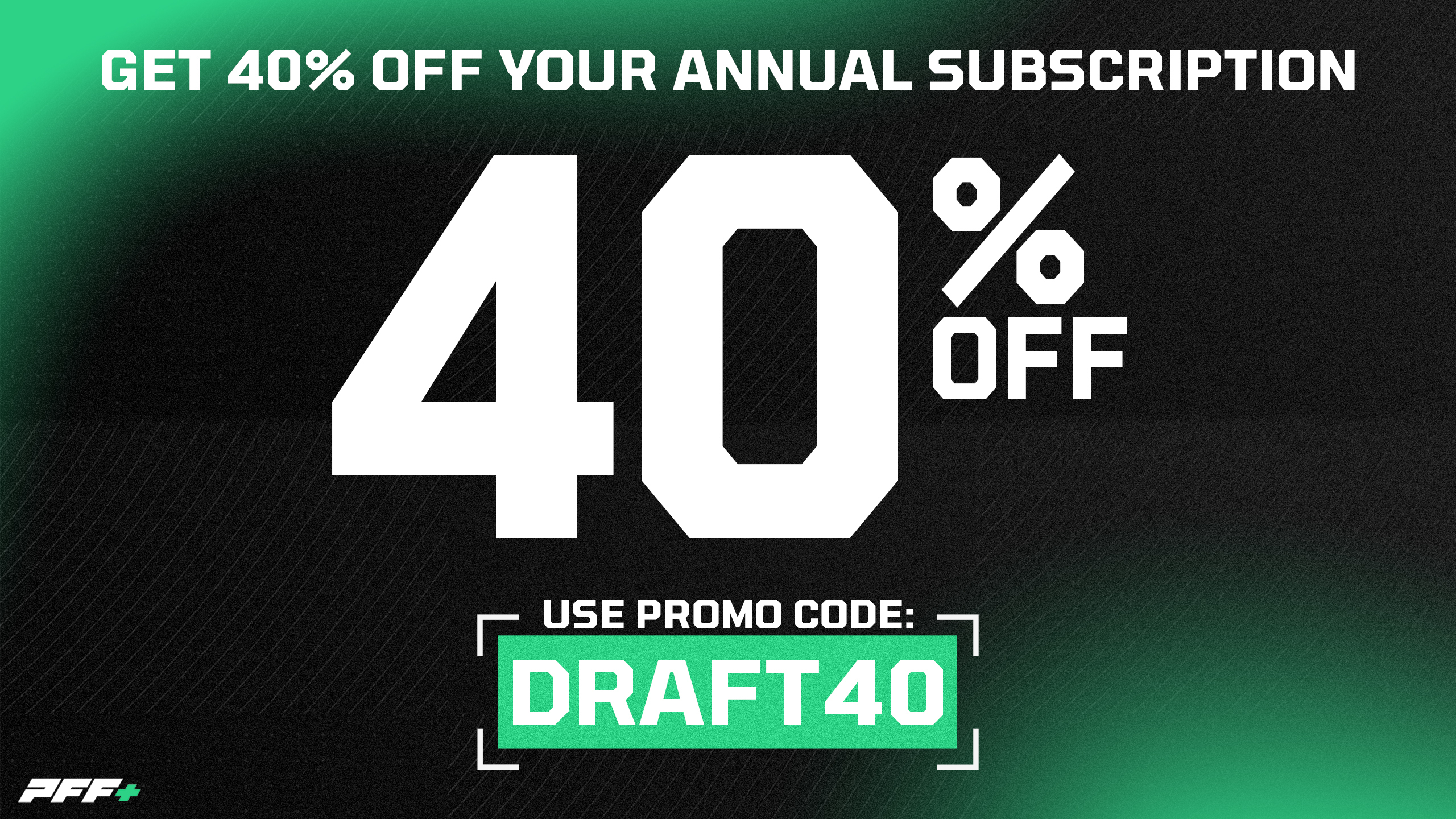 2023 NFL Draft Picks
R2 (36): G Steve Avila, TCU
R3 (77): EDGE Byron Young, Tennessee
R3 (89): DI Kobie Turner, Wake Forest
R4 (128): QB Stetson Bennett, Georgia
R5 (174): OT Warren McClendon, Georgia
R5 (175): TE Davis Allen, Clemson
R5 (177): WR Puka Nacua, BYU
R5 (161): EDGE Nick Hampton, App State
R6 (182): CB Tre'Vius Hodges-Tomlinson, TCU
R6 (189): EDGE Ochaun Mathis, Nebraska
R6 (215): RB Zach Evans, Ole Miss
R7 (223): P Ethan Evans, Wingate
R7 (234): S Jason Taylor II, Oklahoma
7 (259): DI Desjuan Johnson, Toledo
Day 2: Avila was the model of consistency in pass protection during TCU's Cinderella run in 2022. He averaged less than one pressure allowed per game last season and surrendered just one pressure to a vaunted Georgia defensive line in a blowout national championship loss.
The Rams have quickly become really thin along the defensive front around Aaron Donald. Young projects as a good fit in Los Angeles' defense, and he's one of the most explosive edge prospects in this class off the edge. He is by no means a finished product, as he falls into the 25th percentile in PFF pass-rush grade over the last two seasons, but he has traits worth betting on at this stage of the draft.
The Rams grab one of the most underrated players in the class. After producing at an elite level in the FCS for Richmond, Turner transferred to the Demon Deacons and earned a 92.2 PFF grade in 2022 — the second-best mark in the Power Five, behind only Georgia's Jalen Carter. Turner plays with excellent leverage and possesses strong hands and quicks.
Day 3: Stetson Bennett comes off the board in the fourth round after helping Georgia win back-to-back national championships in college. He put up an elite 90.9 passing grade when he was kept clean from pressure, and he now lands in a situation where he can develop. This gives him one of the best chances to succeed in the NFL, whether as a future starter or backup.
McClendon wasn't much of a run blocker in college, though he did grade far better on zone plays than gap plays. He did post 70.0-plus PFF grades in each of the past three seasons while seeing at least 595 snaps on the field in all three years. The intriguing developmental point here is that he recorded an 82.1 PFF pass-blocking grade in 2022.
A solid athlete on the edge at just 236 pounds, Hampton is likely ticketed for a rotational pass-rusher role. He'll need to add 10-15 pounds even for that role. He is explosive enough to disrupt quarterbacks though, as evidenced by his three sacks and 82.8 grade against North Carolina this past year.
The Rams needed reinforcements in their secondary, and they've done well to get the most out of smaller defensive backs like Darious Williams over the years, and Tomlinson can hopefully be the next in line, falling because of his 5-foot-8 stature. The TCU product earned a 78.4 grade in 2022 with five interceptions and has three years of starting experience, projecting as a solid slot option for the Rams. He plays like he's 6-foot-2 and if he can overcome the lack of size in a zone-heavy Rams scheme this could be a steal.
Mathis is an experienced prospect with four seasons with at least 500 defensive snaps in his college career — three at TCU and one after transferring to Nebraska. Mathis is a long edge rusher at 6-foot-5 with 35-plus inch arms and is coming off a career-high 77.6 PFF pass-rushing grade in 2022.
A former five-star recruit, Evans never quite lived up to that billing in college. He was still productive, though, and earned an 84.5 PFF rushing grade on gap plays in 2022. He averaged at least 6.5 yards per carry in each of the past three seasons.
Evans is a Division II punter, although he was the top punter on PFF's big board.
This is the stage of the draft where it makes sense to take chances on athletes. Taylor fits into that bucket with 90th percentile results or higher in the 10-yard split, vertical jump and broad jump as a 204-pound safety. And Taylor pairs that with a decent grading profile, including 72.0-plus PFF grades in each of the past two seasons as a starter.
Mr. Irrelevant of the 2023 NFL Draft! Johnson was on the field for 726 snaps in 2022 and produced PFF pass-rushing and run-defense grades above 85.0. A little undersized, he won 17.6% of his pass-rushing attempts and registered a tackle resulting in a defensive stop on 8.7% of his snaps in run defense.
DRAFT GRADE: A-

Prospect Spotlight: G Steve Avila, TCU
Avila has started at both center and guard over the course of his career. And he provides a physical presence regardless of where he's at. He allowed only 11 pressures on 540 pass-blocking snaps in 2022 for an 83.6 pass-blocking grade.
Strengths, weaknesses and NFL role
Where he wins: Anchor
Avila has the kind of anchor that you don't even try to challenge. He can create clean pockets to step into at the next level.
What's his role? Guard/Center
Avila has experience at both guard (2022) and center (2020-2021). I'm putting his build at guard if given the option, though.
What he can improve: Angles in the run game
This could very well have been an issue transitioning from center to guard, but Avila lost too many blocks immediately at the snap because of a poor angle of attack.
Free for 7-days. Subscribe to continue reading and unlock
All premium content with the best insights + analysis in the game
NFL Draft Guide, Big Board + Mock Draft Sim
Fantasy Draft Kit and Nathan Jahnke's award winning rankings
Bet smarter with PFF player mismatches and expert betting insights
NFL and CFB player grades and premium stats
Unlock all PFF data trusted by all 32 NFL teams
Already have a subscription? Log In