The 2023 NFL Draft is officially in the books. After a flurry of selections from Thursday to Saturday, 259 players were selected to join the NFL.
With that, we give you our full recap of the Indianapolis Colts draft, with analysis on every selection the team made during the weekend and an in-depth look at their top pick.
For more information on the players your favorite team drafted, it's not too late to get the 2023 NFL Draft Guide, which includes expanded scouting reports, draft grades, offseason reports, unique advanced data, PFF grades and much more.
More PFF draft content:
LIVE Draft Tracker | Mock Draft Simulator | 2023 NFL Draft Guide
Top 200 Big Board | PFF Mock Drafts | Measureables & Workout Data
NCAA Premium Stats | Draft Rankings By Position | Prospect Superlatives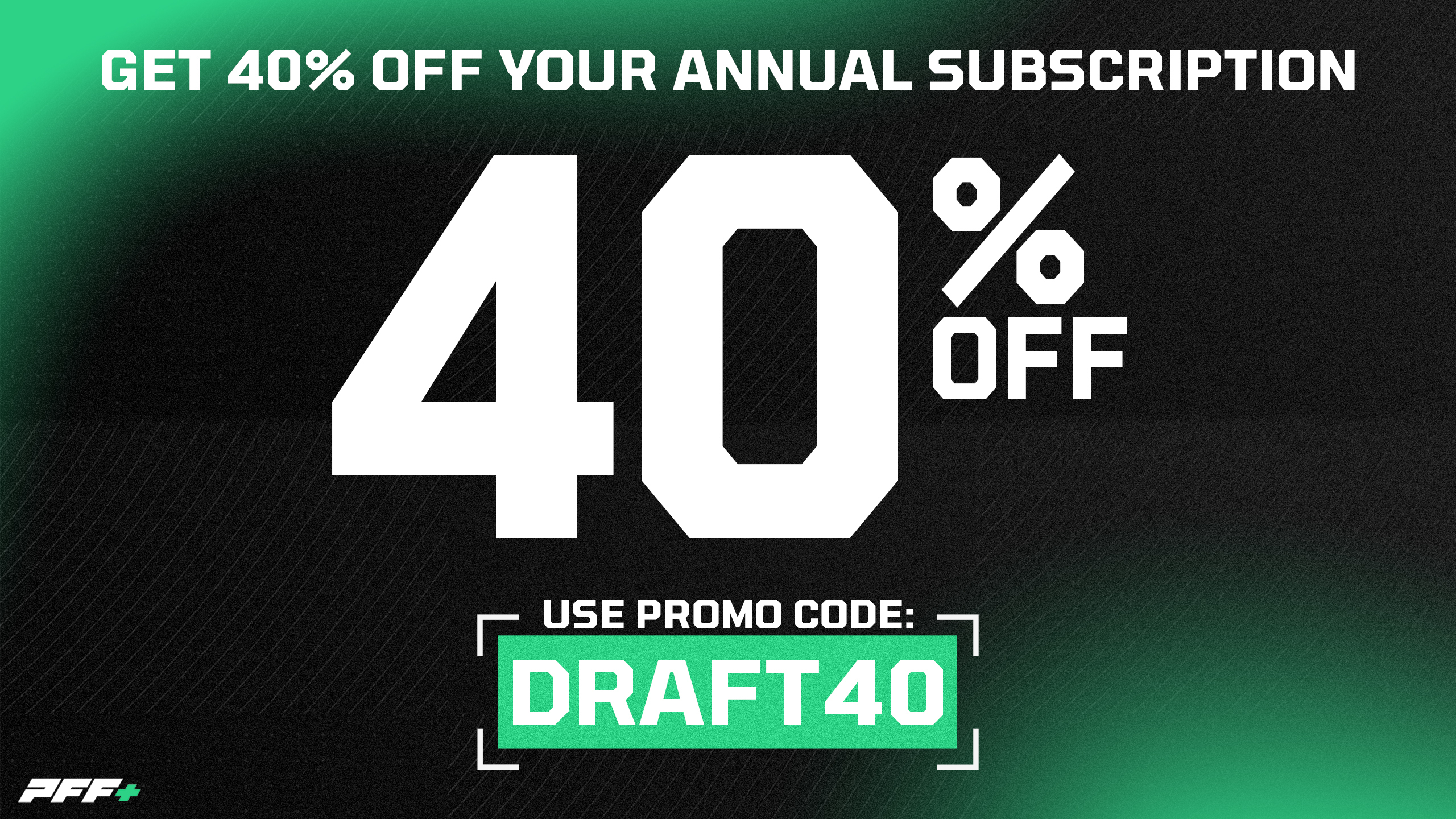 2023 NFL Draft Picks
R1 (4): QB Anthony Richardson, Florida
R2 (44): CB Julius Brents, Kansas State
R3 (79): WR Josh Downs, North Carolina
R4 (106): T Blake Freeland, BYU
R4 (110): EDGE Adetomiwa Adebawore, Northwestern
R5 (138): CB Darius Rush,  South Carolina
R5 (158): S Daniel Scott, Cal
R5 (162): TE Will Mallory, Miami (FL)
R5 (176): RB Evan Hull, Northwestern
R6 (211): EDGE Titus Leo, Wagner
R6 (221): CB Jaylon Jones, Texas A&M
R7 (236): OT Jake Witt, Northern Michigan
Day 1: The Colts stay at Pick 4 and swing for the high ceiling of Anthony Richardson. While Richardson was inconsistent as a passer, he is arguably the most incredible athlete at the quarterback position we have ever seen. He forced 39 missed tackles in 2022.
Day 2: Brents is in the group of long, athletic prospects that the Colts have gravitated to on defense over the past several years. There aren't too many cornerbacks out there at 6-foot-3 with 34-inch arms and a 42-inch vertical. Brents' production and grading profile don't overly impress, but he has traits worth betting on here for Indianapolis.
Downs was WR5 on both the PFF Big Board and the consensus big board but comes off the board here to Indianapolis as WR12. He is undersized, even for the slot, but he is one of the better underneath separators in this class and wins in contested situations over the middle of the field. Downs hauled in 13-of-18 contested targets for UNC in 2022.
Day 3: The Colts need reinforcements along the offensive line and land the 6-foot-8 Freeland, who tested off the charts with 95th percentile or better scores in the vertical jump, broad jump, short shuttle and three-cone. Freeland's athleticism will be best utilized as a run blocker in space, earning a 90.2 zone blocking grade in 2022, but he will need to improve as a pass protector at the NFL level.
One of the more puzzling fallers of the draft after a ton of buzz following a ridiculous combine performance that was truly one of the best we've seen, Adebawore needs refinement at the NFL level and can now develop behind a crop of good defensive linemen with the Colts. Adebawore earned an 80.3 pass-rush grade in 2022 but a lot of that production came from pure athletic advantages. He needs to improve his hand usage and counter moves beyond just speed to power.
Rush, a former high school quarterback and college wide receiver at the start, is an incredible athlete still learning the nuances of the cornerback position. At 6-foot-2 and 198 pounds, Rush ran a 4.36-second 40-yard dash and earned an 80.3 coverage grade in 2022. When he is in position, he has a knack for making plays on the ball, as well. This is the developmental type prospect you look for on Day 3.
Scott graded better in 2021 (81.8) than in 2022 (66.8) but finished strong in his last three games. He's a versatile and intelligent safety who is capable enough in the slot as well. He'll add depth to the Colts' secondary as well as a surefire contributor on special teams.
Mallory offers legitimate receiving ability and not much as a blocker. He'll give Richardson a threat up the seam and brings legitimate versatility in the slot. He just needs to become passable in the run game.
Jones is big, strong and young — a good combination of adjectives for a late-round cornerback. He fits best in a Cover 3 scheme and, fortunately, he lands with Colts defensive coordinator Gus Bradley, who runs more Cover 3 than any other defensive play-caller.
Witt is one of the rare prospects who PFF doesn't have data or grades on, but he came in at 211th overall on our final big board. He's an athletic tackle — shocking, given Indianapolis' strategy in this draft — who will be another developmental project for the Colts.
DRAFT GRADE: A+

Richardson oozes ability. His highlight reel from his lone season as a starter rivals any you'll see from a college prospect. He's still a project, though, and finished with an 80.1 overall grade this past season.
Strengths, weaknesses and NFL role
Where he wins: Tools
Richardson has one of the best combinations of arm strength, size and running abilty of any quarterback prospect in the PFF College era. Although he needs serious improvement as a passer, his rushing ability gives him a high floor.
What's his role? Offensive weapon
Richardson can expand a playbook in every way imaginable. You can draw up any run concept you want for him to tote the rock, and no downfield concept will be too deep for his arm to hit. If you're not getting him touches, even if he's a backup, you're missing out.
What he can improve: Consistent Fundamentals
Richardson flashes "it" — the ability to stand confidently in a tight pocket, put his cleats in the ground and deliver strikes down the field. That's difficult to coach into a quarterback if they've never shown it. But that too often all goes out the window when he's forced to adjust in the pocket and is left making his right arm do all the work.
Free for 7-days. Subscribe to continue reading and unlock
All premium content with the best insights + analysis in the game
NFL Draft Guide, Big Board + Mock Draft Sim
Fantasy Draft Kit and Nathan Jahnke's award winning rankings
Bet smarter with PFF player mismatches and expert betting insights
NFL and CFB player grades and premium stats
Unlock all PFF data trusted by all 32 NFL teams
Already have a subscription? Log In