A high-floor pass-protecting offensive lineman and three-year starter at center for Texas A&M, Erik McCoy is easy to fall in love with in this class. The 6-foot-4, 303-pounder has earned 72.6-plus pass-blocking grades all three years of his collegiate career, and he earned a career-high run-blocking grade (71.4) this past season.
McCoy is drawing a lot of attention from NFL circles as a result, as he's booked or has already had meetings with the Los Angeles Rams, Carolina Panthers, Baltimore Ravens, Arizona Cardinals, Washington Redskins and New York Jets. And teams are pouring on the praise. 
"They think I'm really good at the second level but also have the physical strength to maintain blocks at the first level," McCoy said in a March interview with Pro Football Focus. "I'm really good in space. And I'm a smart player that loves to communicate."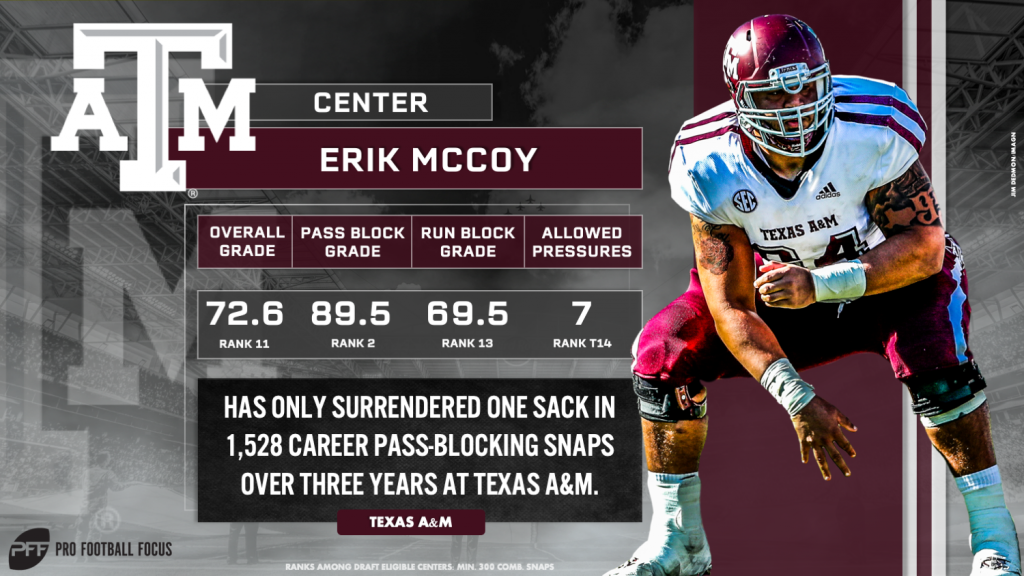 McCoy's smarts show up the most in pass protection. He allowed just seven total pressures (three hurries, four hits) across his 470 pass-blocking snaps in 2018, and ended the year tied for fourth among draft-eligible centers in PFF's pass-blocking efficiency (99.3). Among the 37 centers entering the 2019 NFL Draft with 600-plus pass-blocking snaps over the last three years, McCoy is tied for fourth in pass-blocking efficiency (99.3), having allowed just 19 total pressures across 1,445 pass-blocking snaps in the three-year span.
The driver behind McCoy's stellar pass protection is his commitment to film preparation and improving his technique. He said "technique and knowing what your opponent wants to do" are two of the most important things when it comes to pass protection and keeping your quarterback upright.
"Knowing what the defensive linemen have to do on every single play and how you can counter that and really beat them is important," McCoy said. "[Film] plays a huge factor in preparation, especially for the center position just because there's a large mental aspect of it. You have to know what the defense wants to do before the play… And you've got to be able to tip it off and help your offensive line."
McCoy said his pre-snap process is exhaustive. He first looks at the defensive linemen ahead of him to see which hand he has in the ground to know which way he'll be stepping first. He then looks to the second level to see if any of the off-ball linebackers are "giving anything away" or tipping blitzes, stunts, etc. Finally, now just a few seconds before the play starts, he communicates what he sees to the rest of the offensive line in an effort to put his four teammates in the trenches in the best positions to succeed.
That's the smart, communicating center teams are falling for in this pre-draft process.
Of course, McCoy isn't without fault, and NFL teams have highlighted areas of his game where he can improve.
"What I've heard from most teams in terms of feedback is keeping my head out of blocks, especially in the run game and especially at the second level because I kind of drop it a little bit," McCoy said. "Also, getting my hands more inside because I leave them outside at points and that gets me beat."
Though he earned career-high marks as a run blocker in 2018, McCoy admittedly does have room to improve in that area as he prepares to take his talents to the next level. But his commitment to getting better is evident, and his already strong pass protection creates for a high-floor projection in the NFL.