Day 1 of the 2019 NFL Draft is in the books. And a combination of steals, reaches, and surprises leave Day 2 chock full of talent at cornerback.
Pro Football Focus' top cornerbacks in the draft, Washington's Byron Murphy and LSU's Greedy Williams, are still waiting to hear their names called as the first- and second-best players still on the board. Three other PFF favorites at cornerback are also inside our up-to-date list of the best available players left in the 2019 NFL Draft, and another three find themselves in the top 50.
Murphy and Williams won't last long with multiple teams at the top of the second round in need of cornerback help, and the other six should follow suit well before the end of Round 3.
[Editor's Note: To view all of Pro Football Focus' advanced stats and grades for draft-eligible players, check out our 2019 NFL Draft Guide. All EDGE and ELITE subscribers already have access to the guide, and for those who don't, you can get your copy for as low as $9.99!]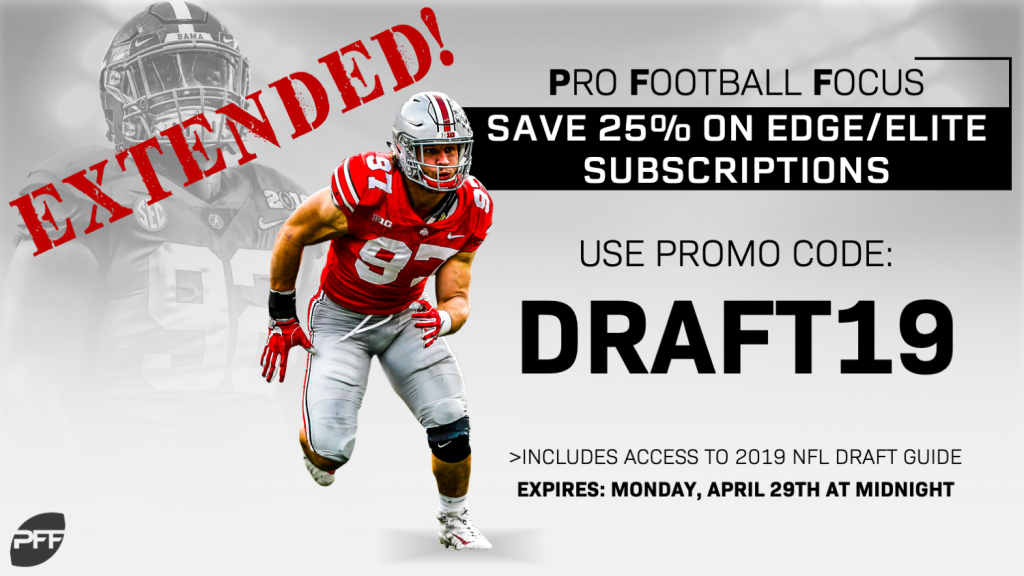 Byron Murphy, Washington
Slotted as PFF's best cornerback and sixth overall player in the 2019 NFL Draft prior to Thursday's chaos, Murphy is going to be a steal regardless of where he hears his name called having slipped out of Round 1. The 5-foot-11, 190-pounder is an aggressive, instinctive corner best suited in a zone-heavy scheme at the next level. He led all qualifying FBS cornerbacks in this class in overall grade (92.0) and coverage grade (92.1) in 2018. He's also a physical tackler with great ball skills and an even better first few steps coming out of breaks.
Related Article: Physicality, passion, run defense: Washington CB Byron Murphy has it all
Greedy Williams, LSU
LSU's Williams is a sticky man corner with some of the best match-and-mirror ability in the class. Defensive coordinators that want to play a ton of man coverage should jump at the opportunity to snag Williams off the board early on Day 2. Among FBS cornerbacks in this class targeted at least 25 times a year ago, Williams ranked ninth in completion percentage allowed (40.3%) and tied for 22nd in passer rating allowed (58.1).
Related Video: NFL Draft Profile: Greedy Williams
David Long, Michigan
Michigan's David Long isn't loved by everyone, but PFF is all in on him. He's a top corner in this class. The Ann Arbor standout finished the 2018 season ranked second in passer rating allowed (36.9), first in yards allowed per reception allowed (4.7), second in completion percentage allowed (29.0%), and second in forced incompletion percentage (32.3%). The numbers and film speak for itself – Long is a steal sitting there for the taking on Day 2.
Related Article: Michigan CB David Long can overcome size concerns to be a steal in the 2019 NFL Draft
Amani Oruwariye, Penn State
A lengthy, tall cornerback that teams should covet early on Day 2, Penn State's Amani Oruwariye turned in two strong years of grading in 2017 and 2018. He also had an incredible week at the Senior Bowl early in the offseason, earning the highest win rate among all defenders in the one-on-ones.
Justin Layne, Michigan State
Michigan State's Justin Layne is a raw cornerback prospect in this class, but there's still plenty to like about his game already. His 87.1 overall grade in 2018 ranked 10th in the 2019 class, and his 89.5 coverage grade ranked eighth. Removing targets in his coverage thrown nine or fewer yards beyond the line of scrimmage, Layne allowed receptions on just 11-of-49 targets for 259 yards, eight first downs and two touchdowns since 2017. His 22.4% completion percentage allowed leads all draft-eligible cornerbacks with 40 or more targets of 10-plus air yards in the last two years, and his forced incompletion percentage (30.6%) ranks sixth among the group of 89 qualifiers.
Related Article: Justin Layne eager to prove he's a 'lockdown corner' in the NFL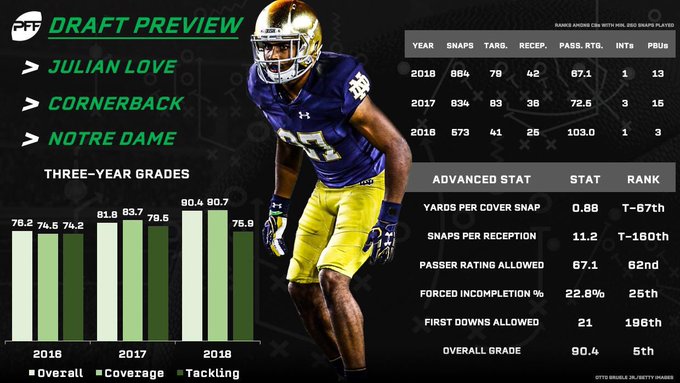 Julian Love, Notre Dame
Julian Love's 90.9 coverage grade in 2018 ranked second among primary outside cornerbacks in this class. The former Notre Dame standout forced 21 incompletions and logged 14 coverage stops in 2018, ranking sixth and 10th in the nation, respectively. He's a smooth athlete with strong coverage and ball skills that should only continue to get better in the NFL.
Rock Ya-sin, Temple
A one-year starter at Temple and former Presbyterian transfer, Rock Ya-Sin is an intriguing prospect with a size that teams covet on Sundays. In addition to his 13th-ranked coverage grade in 2018, Ya-Sin earned the fourth-best run-defense grade (89.4) among qualifying cornerbacks in this class. His athleticism (or lack thereof) is a concern, but his size, length, and physicality all show up nicely in press coverage; teams will like that.
Related Video: NFL Draft Profile: Rock Ya-Sin
Jamel Dean, Auburn
Jamel Dean's athletic testing and size are truly absurd. The 6-foot-1, 206-pound Auburn product wasn't expected to test well, but he turned in a 4.30-second 40-yard dash and top-end measurements in both the vertical (41") and broad (130") jumps at the 2019 NFL Scouting Combine. His 77.7 coverage grade in 2018 doesn't leap off the page, but Dean brings a high enough ceiling to the table for teams to seek him out Day 2.