At no point during the year will I ever care more about the height, weight and arm length of someone other than myself than in the brief window from late February through late April. I've never looked at a player earning a 90.0 overall grade in the NFL and questioned whether it could continue based on his arm length. Yet every spring, those measurements – or lack thereof – lay seeds of doubt in draft analysts' minds on whether they will lead to issues at the NFL level. At the end of the day though, size is not a skill, it's an asset. One can use said asset to their advantage, but that doesn't mean the lack of the asset can't be overcome with skill.
That was a very long-winded way of saying that I don't give a damn that Michigan cornerback David Long checked in at 5-10 5/8″, 196 pounds with 30 7/8" arms. He makes up for that very minor lack in height (5-11 and 31" arms are popular thresholds) with a handful of other elite skills. The majority of concerns about Long are things that might hurt him at the next level: He hasn't played zone, his length could be an issue, he doesn't have elite speed. But I'm here to tell you what he can do, and that's shut down receivers as well as any cornerback in this class.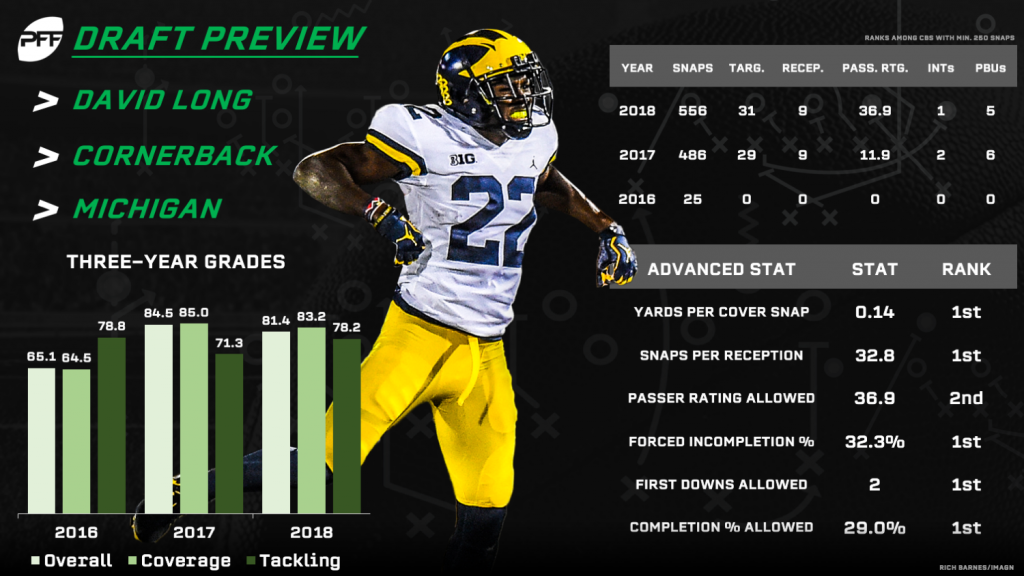 The statistics Long put up at Michigan are eye-popping. On 595 coverage snaps in his career, Long allowed a grand total of 18 receptions on 60 targets for 130 yards. There were 100 separate incidents of a cornerback allowing at least that many yards in a single game last year – that list includes draft prospects Saivion Smith (Alabama), Isaiah Johnson (Houston) and Kris Boyd (Texas). The craziness doesn't stop there. Of his 18 receptions allowed, only three resulted in first downs and one resulted in a touchdown. The longest catch he allowed in his career went only 24 yards, and this past season, it was 12 yards. He broke up more passes (19) than he allowed receptions and never allowed more than two catches in a single game.

Now, these numbers certainly come with a bit of a caveat compared to most. Michigan runs pretty much two coverages exclusively. Long lined up in press nearly every snap of his college career. From there, he either played man coverage or cover-2 where he'd press and then trap the flat. Off-coverage, zone coverage, slot coverage: all pretty much non-existent in Long's world. All will be present once he gets to the NFL, though, where even the most man-heavy franchises are running press-man less than 2/3 of their snaps. With his skillset though, I'd bet on him being a quick learner.
In the small sample sizes we did get, we saw a player with innate instincts for the position. Even when he's in man coverage, he flashed the read and react ability necessary to play in zone. Here he is in 2017 against D.J. Moore and Maryland. In man coverage, he reads the throw and falls underneath the corner route for a pick.
David Long comes off D.J. Moore in man coverage to snag a pick in the end zone, here.

Man, he's awesome. pic.twitter.com/2W8ghJXc2W

— Austin Gayle (@PFF_AustinGayle) April 1, 2019
That's not his man nor his responsibility, but it's a heck of a football play.
If that is the type of player you'll consistently be getting in zone coverage, Long should be one of the steals of the draft class. Because in man coverage, Long is already a clean projection. The Michigan corner's mirror ability is already second to none in this draft class. At the combine, he ran the fastest three-cone (6.45) and short shuttle (3.97) among every single player in attendance. That shows up repeatedly on tape, as he more often than not was in the receiver's hip pockets for the entirety of the route.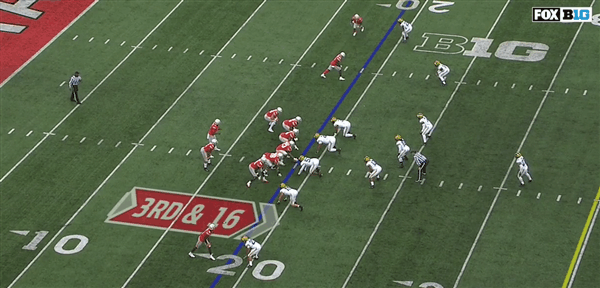 The worry is that Long's mirror ability won't matter without the size to absorb blows from more physical NFL receivers. It would be one thing if you saw him consistently ceding ground to larger wide receivers in college, but in fact, it was the opposite. Long had no problem going toe-to-toe with bigger receivers and sticking with them and their physicality throughout the route. Below you can see him eating 6-foot-4, 200-pound Michigan State wide receiver Felton Davis' lunch.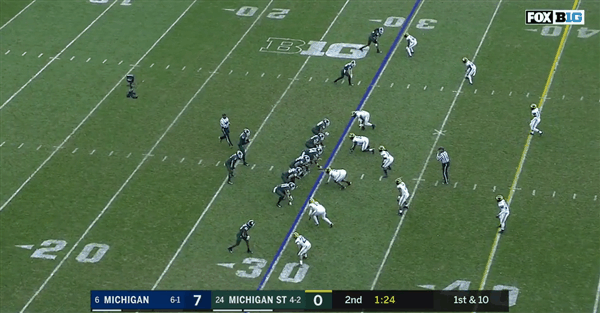 If any corner is going to overcome size deficiencies, it's going to be the one that plays the position like that. Long is a freak athlete who can be the perfect man-corner for any team that likes to play matchups with opposing receivers. Let him track and shorter, shiftier wide receiver and you've got yourself a first-round talent with what will likely be a mid-round pick.