Few cornerbacks have come close to Byron Murphy in our grading system. His 92.0 overall grade in 2018 led all FBS cornerbacks with 400-plus offensive snaps, and his 93.5 career grade at Washington ranks fourth among Power 5 cornerbacks in the PFF era (2014-Present).
In many aspects, Murphy is the best. And he likes it that way. 
"It's always been the goal to be the best corner," Murphy said in a February interview with Pro Football Focus.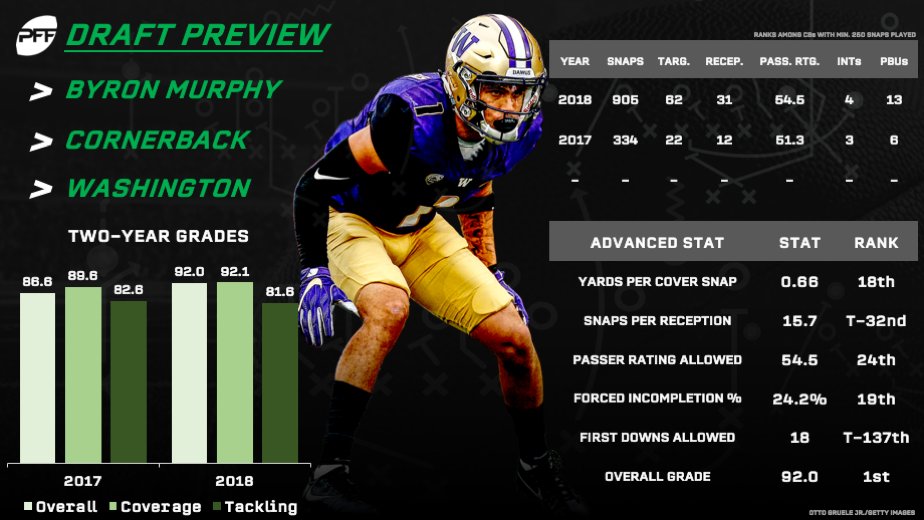 And the best he was. In addition to his top-ranked overall grade, Murphy ranked inside the top-20 in forced incompletion percentage (24.2) and yards allowed per coverage snap (0.66) among the 189 cornerbacks with 50-plus targets in 2018. He also ranked inside the top-20 in passer rating allowed (54.5) and yards allowed per target (5.16) among the same group.
Isolating Murphy's play to just targets of nine or fewer yards, he led the nation in forced incompletion percentage (26.7), ranked tied for third in yards allowed per reception (5.0) and fourth in yards allowed per target (3.3). He ranked tied for fifth in coverage grade (90.1) when targeted in that area of the field, as well.
Numbers aside, Murphy dominated the short and intermediate areas of the field – both in coverage and when playing the run. He earned an impressive 86.7 run-defense grade and logged eight run stops this past season, an aspect of his game he holds in high regard.
"I think it separates me a lot," Murphy said of his run defense, "because I love to tackle. If they put me at nickel, I'm trying to go in the box and make a couple tackles. Corners that can actually come up and stop the run, set the edge… That's a plus. A lot of people say corners can't really tackle, but one thing I always focus on at practice is tackling drills. Putting that into my game has been one of the biggest things other than just covering the guy."
Murphy's physicality in the run game follows him on passing downs. He brings heavy, violent hands when attacking the ball at the catch point and is more than willing to lay his shoulder into someone to break a pass up or put a guy down.
Here's one of several plays where Murphy's physicality shines bright.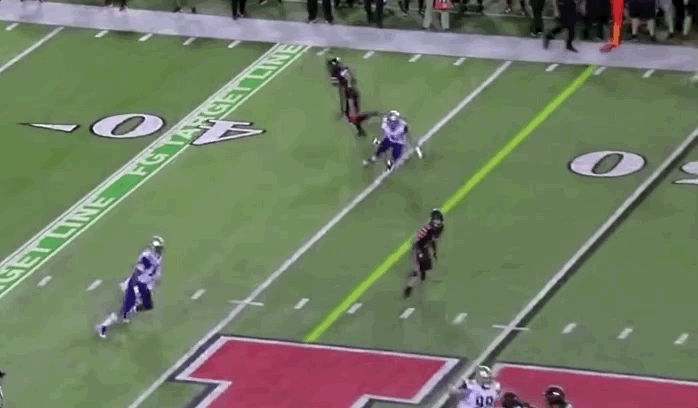 When asked where his mean streak comes from, Murphy didn't say the game needs to be played that way; it's rooted in his motivation and passion for the game.
"I think it all starts with my motivation," Murphy said. "When I'm out there playing, I've got a brotherhood I'm playing for. I've got people watching me. I've got family that I'm trying to take care of. I also have a son. When I'm out there, I'm just thinking about all those types of things. I play with a lot of passion and a lot of heart, and it shows my love for the game… When I'm out there, I just try and be as physical as I can and show everyone what I can do."
Murphy's grades, advanced stats and film itself all warrant high praise, but he was reluctant to call any of his success his own. He shifted praise away from himself in our interview and instead poured it onto Washington defensive coordinator/defensive backs coach Jimmy Lake.
"It also comes down to coach Lake," Murphy said. "He's a great coach. I think he's one of the best coaches in the nation. He pushed us every day at practice. I think it all started at practice… Everything that he was telling me, I was trying to get better at. Throughout the season, each game I just got better and better. And coach Lake also told me that."
Budda Baker, Sidney Jones, Kevin King, 2019 safety prospect Taylor Rapp and now Murphy have all developed under Lake's tutelage – quite the resume for a rising positional coach. But regardless of whether it's Lake's doing, his ability or a combination of the two, Murphy is an uber-talented cornerback prospect that should hear his name called early in the 2019 NFL Draft.