Round 1 of the 2017 NFL Draft is in the books. Friday will see the second and third rounds. After some picks that were expected Thursday (Myles Garrett at No. 1) and some surprises (the Bears, Chiefs, and Texans all traded up to grab quarterbacks), most predictions of the second and third rounds are already out the window. So with that in mind, here's a new mock for Friday's action, taking the picks of Thursday into account.

1 (33). Green Bay Packers (from Cleveland Browns)
Dalvin Cook, RB, Florida State
The Packers are keeping Ty Montgomery in the backfield, but it's tough to pass up a talent like Cook at the top of the second round. Cook broke 92 tackles on the ground this year, seven more than Leonard Fournette's exceptional 2015 season, adding game-breaking ability from the backfield for Green Bay.
2 (34). Seattle Seahawks (from San Francisco 49ers)
Forrest Lamp, T/G, Western Kentucky
Lamp's best position in the NFL is unclear, though our analysts would like to see him get the chance at tackle first, but on a Seahawks line that can be upgraded at four positions Lamp's versatility is an asset. Lamp allowed only 30 pressures in three seasons as a starter for Western Kentucky while being consistently productive as a run-blocker.
3 (35). Jacksonville Jaguars
The Jaguars went running back in round one, spurning rumors of moving on from Blake Bortles at the top of the draft, but competition for their 2014 first-round pick must be a priority still. Kizer has issues with consistency, but his high points, in particular his ability to manage pressure in the pocket (80.9 passer rating under pressure), mark him out as a player with the chance to grow into a quality starter.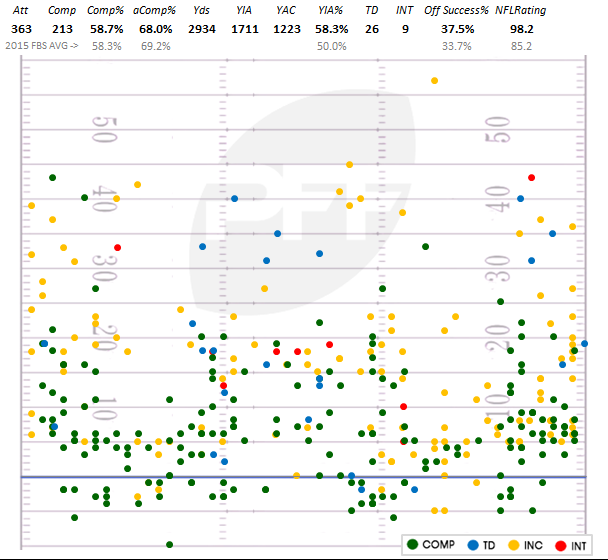 4 (36). Chicago Bears
Malik McDowell, DI, Michigan State
After giving up multiple picks for their quarterback in round one the Bears continue to build their defensive line here. McDowell's final season at Michigan State was cut short but his performances against Wisconsin (2 hits, 5 hurries) and Northwestern (8 stops) showed his progress and versatility as a productive player both off the edge and from the inside.
5 (37). Los Angeles Rams
The Rams add the versatile and sure-handed Jones to help young quarterback Jared Goff. Jones lined up all over the field and dropped only six of 164 catchable passes in 2016 and will provide a safe pair of hands for Goff in 2017.
6 (38). Los Angeles Chargers
With the Chargers adding former Jacksonville Jaguars head coach and Seattle Seahawks defensive coordinator Gus Bradley as the man in charge of their defense, a player like Melifonwu would be ideal. A strong tackler who has the athletic ability in terms of range, he could be a star in San Diego.
7 (39). New York Jets
With the Jets hurting for talent at the cornerback position, they add the physical Lewis, who projects well in Todd Boles' scheme outside or in the slot. He showcased tremendous ball skills in his time at Michigan, both when it came to swatting the ball away at making eye-popping interceptions.
8 (40). Carolina Panthers
Jordan Willis, Edge, Kansas State
The Panthers add depth to their aging edge rusher group with Willis. One of the most productive pass-rushers in the nation, Willis beat up on offensive tackles in the Big 12, finishing the year with 15 sacks, 8 hits, and 57 hurries.
9 (41). Cincinnati Bengals
A team pulls the trigger on the highly talented but embattled off-field Oklahoma Sooner. Mixon's ability on the field alone would likely land him in the top 20 of this draft as he has a rare blend of size, speed, agility, and vision necessary to succeed as a halfback in the NFL. While splitting time with Samaje Perine, Mixon forced 48 missed tackles and gained 3.75 yards after contact per attempt.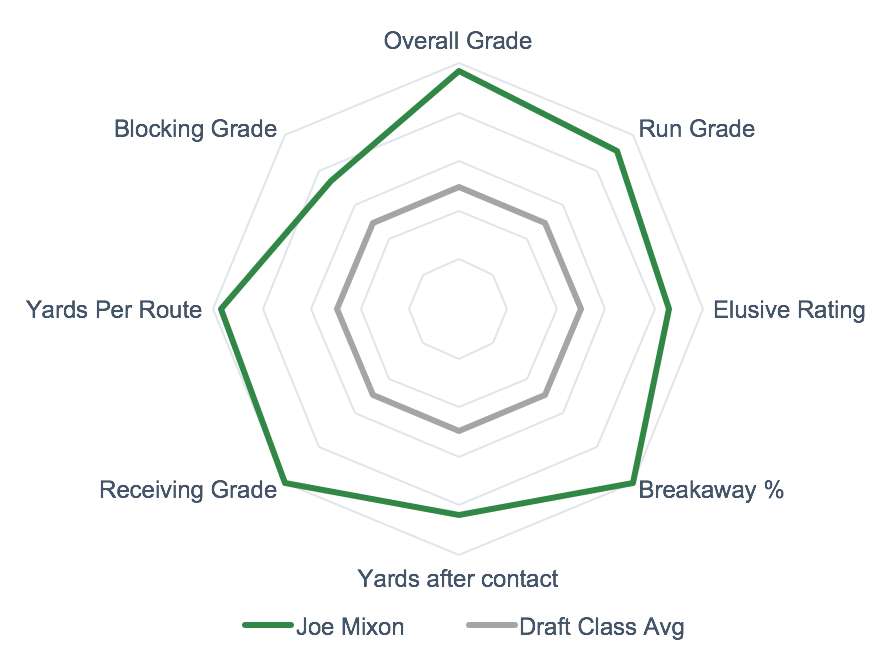 10 (42). New Orleans Saints
Zach Cunningham, LB, Vanderbilt
In a defensive-heavy draft, the Saints fill a large need in a struggling defense with their pick of Cunningham. Cunningham's 56 stops in the run game was the second-highest amount among all FBS LBs and he would slot in as a Day 1 starter in New Orleans.
11 (43). Philadelphia Eagles
The Eagles grab a dynamic playmaker out of the backfield after addressing defense in the first round. Kamara was one of the best in the nation evading tackles in 2016 as his 129.4 elusive rating tied for second in this draft class while averaging 2.4 yards per route run, fourth-best in the class. 2016 first-round pick Carson Wentz needs weapons and Kamara will be able to provide that early.
12 (44). Buffalo Bills
The Bills lost Stephen Gilmore in free agency and addressed that need in the first round, but still have a glaring hole at safety. Evans had one of the best grades in the nation at 88.3 despite missing a whopping 23 tackles. If Evans can breakdown under control, he can become a top free safety in the NFL with outstanding range, explosiveness, and ball skills.
13 (45). Arizona Cardinals
Cordrea Tankersley, CB, Clemson
The Cardinals beef up their defense and find a true cornerback to play opposite Patrick Peterson. Tankersley graded extremely well at Clemson and possesses the length and size to match up with big receivers. Will sometimes play too aggressively leading to penalties but his playmaking ability will be too much to pass up for Arizona here, as he recorded 9 interceptions and 17 passes defensed over the past two seasons.
14 (46). Indianapolis Colts
Curtis Samuel, RB/WR, Ohio State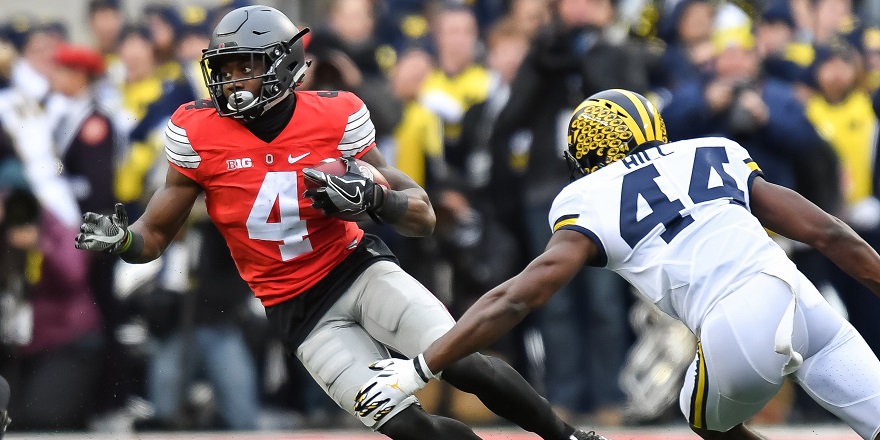 Samuel's problem is that he lacks a true position at this point, but he has proven to be a playmaker at both running back and slot receiver at Ohio State. Lining up in the slot for 425 snaps in 2016, he can make an impact wherever he lines up on the field.
15 (47). Baltimore Ravens
The No. 14 overall player on our big board, the Ravens get a steal and bolster the defense even further taking another SEC star in Carl Lawson. Lawson's 15.2 pass-rush productivity ranked 12th among all edge defenders in this draft class as he recorded 9 sacks, 13 hits, and 43 hurries. With questions about OLB opposite Terrell Suggs, the Ravens take the best player available and immediately add an impact player.
16 (48). Minnesota Vikings
Previously thought of as a sure-fire top-10 talent, Robinson drops to the second round and provides Minnesota with solid value and a necessary upgrade to their porous offensive line. Vastly improved from 2015 to 2016, Robinson allowed just 1 sack his final season after giving up 7 the previous. Robinson will need to improve his consistency as he'll at times look like that top-10 player he was thought to be but will follow it up with unbalanced stance and questionable awareness.
17 (49). Washington Redskins
One of the most productive pass-rushers in college football the past three seasons, Williams ranked top three in pass-rushing productivity (16.8) and run-stop percentage (12.7), while ranking ninth in third-down PRP at 20.9. Williams is a bit of a gamble based against the run as he's only played in 168 run snaps in his career but what he brings to the table as a pass-rusher is elite speed and bend around the edge that should be able to succeed in the NFL.
18 (50). Tampa Bay Buccaneers
The Buccaneers need to bolster their offensive line to protect QB Jameis Winston and do so with the technically sound guard out of Indiana. Feeney allowed just 2 sacks and 3 hits in the past three seasons including 1 of each this past season. A solid run-blocker, Feeney shows good footwork and the ability to take good angles to block.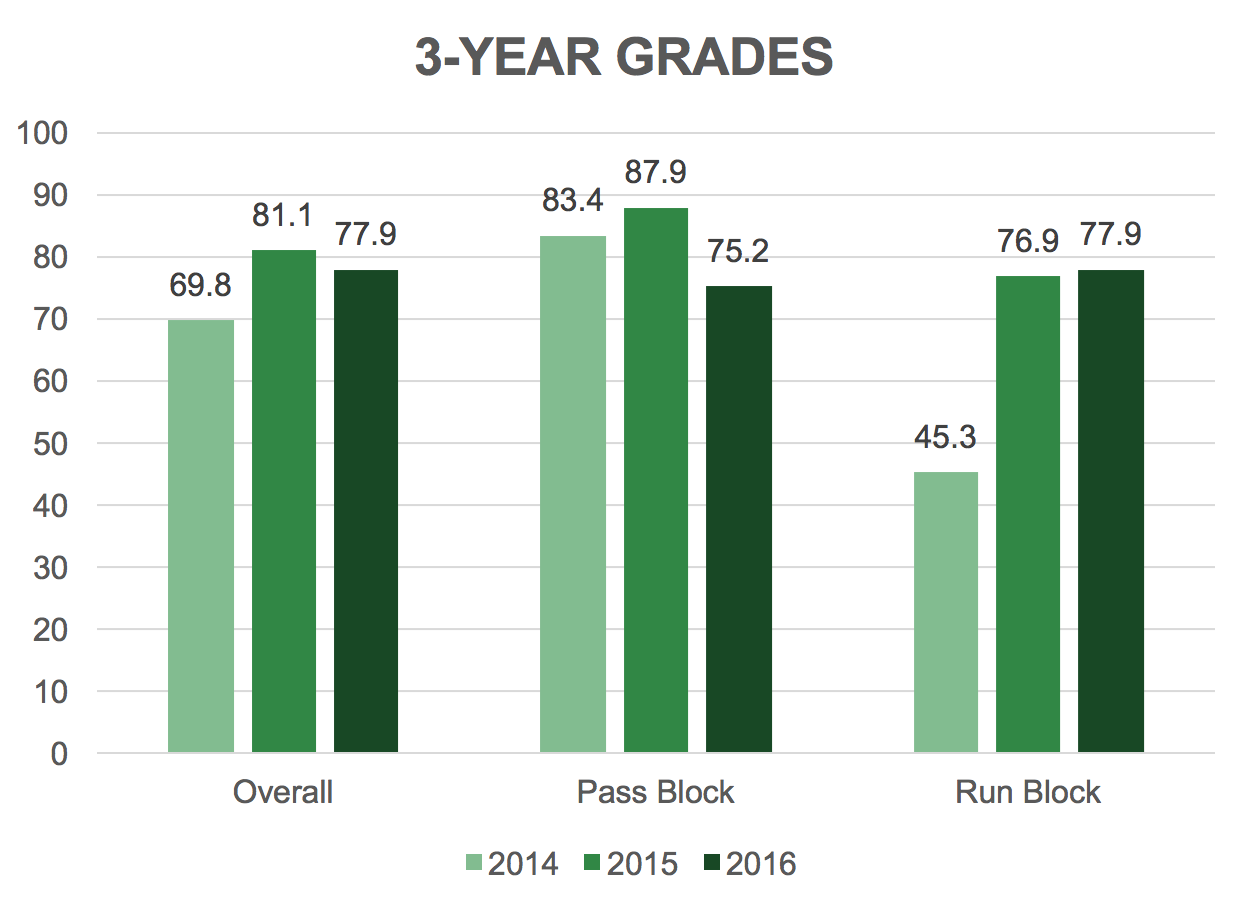 19 (51). Denver Broncos
Gerald Everett, TE, South Alabama
A versatile receiving option, Everett could make a big impact in Denver. He led all tight ends in college football in terms of missed tackles forced after the catch, with 24 missed tackles forced in 2016 and 22 in 2015.
20 (52). Cleveland Browns (from Tennessee Titans)
DeMarcus Walker, DI, Florida State
Walker's biggest problem is that he lacks a true position in the NFL, which is why he isn't off the board until now. His ideal role is as a 3-tech as an interior pass-rusher, and as a base 4-3 defensive end. When he's on the field he makes plays though, and his 17 sacks were second-most in the nation in 2016.
21 (53). Detroit Lions
Akhello Witherspoon, CB, Colorado
The hype for Witherspoon started late, but he is getting a lot of talk right now, and should come off the board on Day 2. His 13 pass breakups in 2016 were tied for the best mark in the nation, with him frequently showcasing his ability to go up and find the ball.
22 (54). Miami Dolphins
Taylor Moton, G, Western Michigan
Moton has the ability to play both guard and tackle, but we like him as a better fit on the inside. He surrendered just two quarterback hits and eight hurries on 467 pass-blocking attempts in 2016, and just 34 total pressures on 1,376 pass-blocking snaps over the past three seasons.
23 (55). New York Giants
Nathan Peterman, QB, Pittsburgh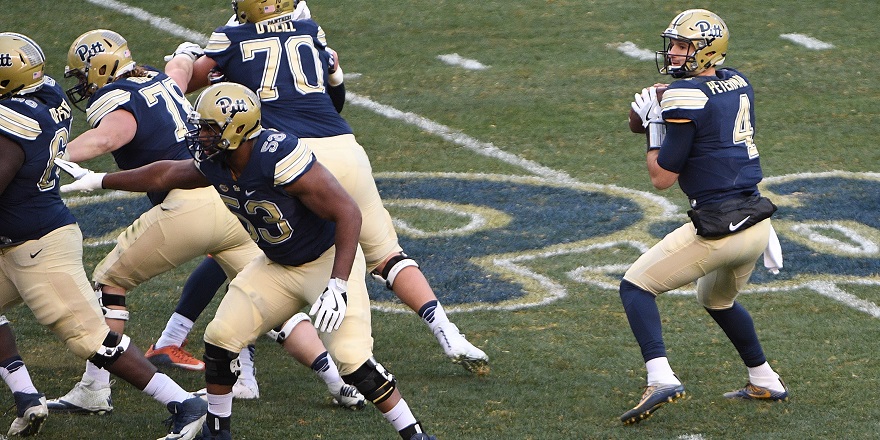 The Giants have surrounded quarterback Eli Manning with as many options as possible this offseason, but perhaps it's also worth casting an eye to the future. Peterman was second in the nation last year with a 114.7 NFL quarterback rating when pressured.
24 (56). Oakland Raiders
He doesn't get the hype of the more well-known running backs in this draft class, but don't let that make you think that Hunt isn't productive. Only Florida State's Dalvin Cook forced more missed tackles as a runner in 2016.
25 (57). Houston Texans
With the second-highest run-blocking grade (79.6) in this draft class, Kittle might not be O.J. Howard, but he can be a very good all round tight end in the NFL. His 1.91 yards per route run ranked seventh in this draft class in 2016.
26 (58). Seattle Seahawks
Roderick Johnson, T, Florida State
Johnson will require some seasoning at the next level, but he absolutely has the talent to be successful in the NFL. He allowed 3 sacks, 4 hits, and 9 quarterback hurries in 2016, and was better as a run-blocker than in pass protection in college.
27 (59). Kansas City Chiefs
The Chiefs add another short-term offensive weapon for Alex Smith, and a long-term weapon for new quarterback Patrick Mahomes with Rose Bowl standout Chris Godwin. When Godwin was targeted his QBs passer rating was 135.1, seventh-best among wide receivers in this draft class.
28 (60). Dallas Cowboys
The Cowboys add a great fit to their secondary with Tabor. Tabor, who was knocked for his lack of long speed, excelled in the Gators zone-heavy scheme. When targeted Tabor allowed a passer rating of just 41.3 in 2016.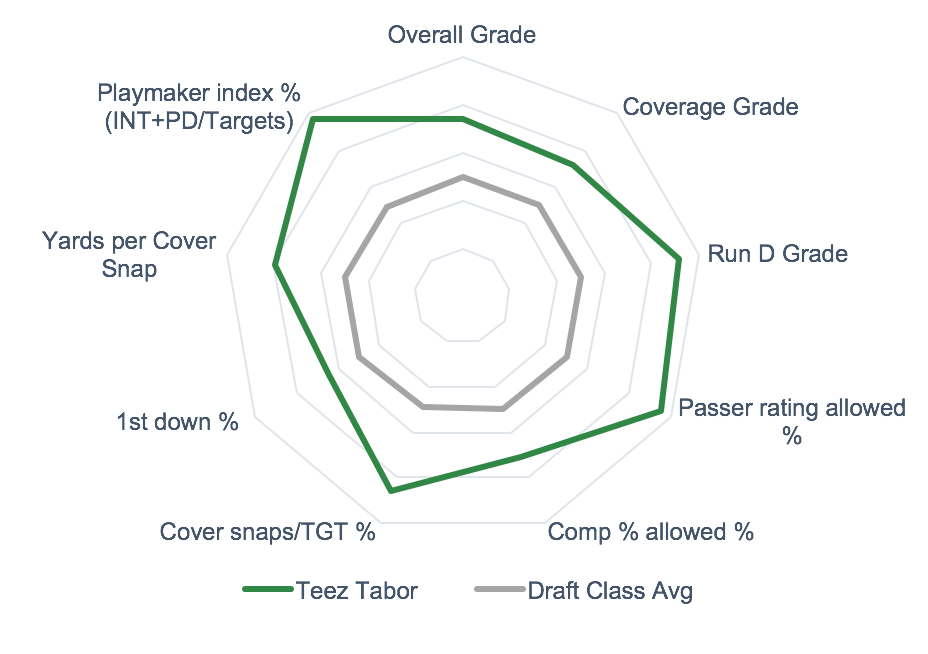 29 (61). Green Bay Packers
The Packers add depth to their pass rush in Mathis. Mathis' 20.2 pass-rush productivity ranked second among all edge defenders in this year's draft class, with his work coming during a productive early part of the 2016 season, before injury wrecked the year for the Huskies standout pass-rusher.
30 (62). Pittsburgh Steelers
The Steelers add a schematic fit with King, who struggled in man-man reps at the Senior Bowl but excelled in Iowa's zone-heavy scheme. King's overall grade of 85.7 ranked third among draft-eligible Big 10 CBs.
31 (63). Atlanta Falcons
Bucky Hodges, TE, Virginia Tech
The Falcons add yet another talented receiver to their offense with Hodges, who projects more as a move tight end. Hodges has had the most snaps in route, targets, receptions, and yards for any tight end since 2014.
32 (64). Carolina Panthers (from New England Patriots)
Offering the versatility to play guard or tackle Dawkins brings physicality in the run game and the experience of working as a blindside protector for the last three seasons at Temple. Dawkins only allowed 9 pressures this season, with three of those coming in one game against Penn State.

1 (65). Cleveland Browns
The Browns passed on quarterbacks on Day 1, but have shown that they are willing to cast the net wide to try to find their quarterback and they snag Kaaya this time. A four-touchdown display against Pitt was the highlight of Kaaya's final season with the Hurricanes adding another option in the Browns' QB room.
2 (66). San Francisco 49ers
McDermott was the unfortunate victim of Myles Garrett in the season opener at Texas A&M but after allowing 11 pressures to Garrett and the Aggies surrendered only seven pressures for the rest of the season.
3 (67). San Francisco 49ers (from Chicago Bears)
After jettisoning Tramaine Brock in recent weeks the 49ers need help at corner and in King add a long corner with the ability to erase opposing wide receivers. Nearly 50 percent of the production King allowed all season long came in two games against Cal (4 catches for 91 yards) and Arizona State (3 catches for 97 yards). After that Arizona State game, King allowed just four catches for 22 yards in three games against Washington State, Colorado and Alabama to round out his collegiate career in style.
4 (68). Jacksonville Jaguars
Cooper Kupp, WR, Eastern Washington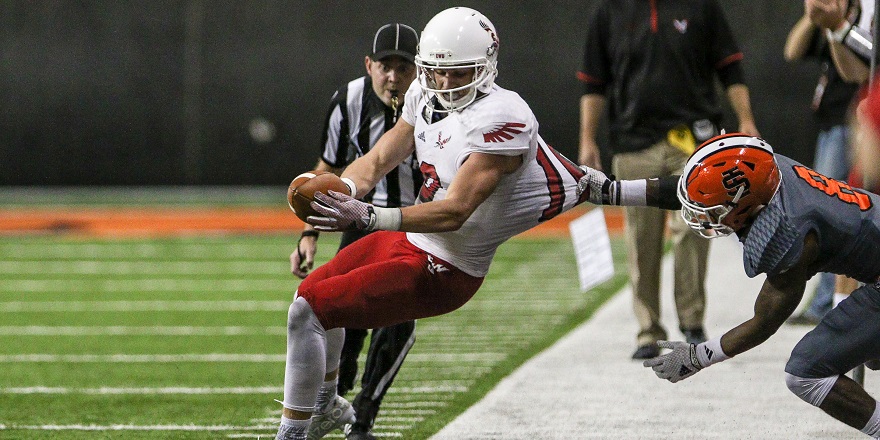 As a general rule, you look for small-school players to dominate against lower-level competition if they're going to have a chance in the NFL. Kupp didn't just do that, he dominated when he stepped up too. He shredded Washington State, Oregon, and Washington to the tune of 597 yards and nine touchdowns over the last three seasons before showing well at the Senior Bowl this season too. He'd be another weapon in the passing game to help Blake Bortles reverse his 2016 decline.
5 (69). Los Angeles Rams
Taywan Taylor, WR, Western Kentucky
One of our highest-graded receivers over each of the last two seasons, Taylor excels down the field hauling in more than 1,600 yards on deep passes over the last two seasons; comfortably the most among receivers in this draft class.
6 (70). New York Jets
We already went to the well once, but the Jets add another corner to their secondary here, after having the fourth-worst team coverage grade last season. Over the past three years, Elder has been targeted on 26 deep passes without giving up a single touchdown.
7 (71). Los Angeles Chargers
The Chargers add a center to keep Philip Rivers on his feet. Pocic did not allow a sack or a hit on his quarterback for the entire season, and spent time at offensive tackle at the beginning of the year for LSU.
8 (72). New England Patriots (from Carolina Panthers)
Deatrich Wise Jr., Edge, Arkansas
One thing the Patriots always seem to do is find value picks in the draft, and the versatility Wise brings gives them just that. Wise's 7.8 run-stop percentage ranked second among draft-eligible SEC 4-3 DEs in 2016.
9 (73). Cincinnati Bengals
The Bengals help their interior run defense with the addition of Tomlinson. One of the strongest forces against the run in the nation in 2016, his 23 run stops tied for the third-most for all SEC interior defensive linemen.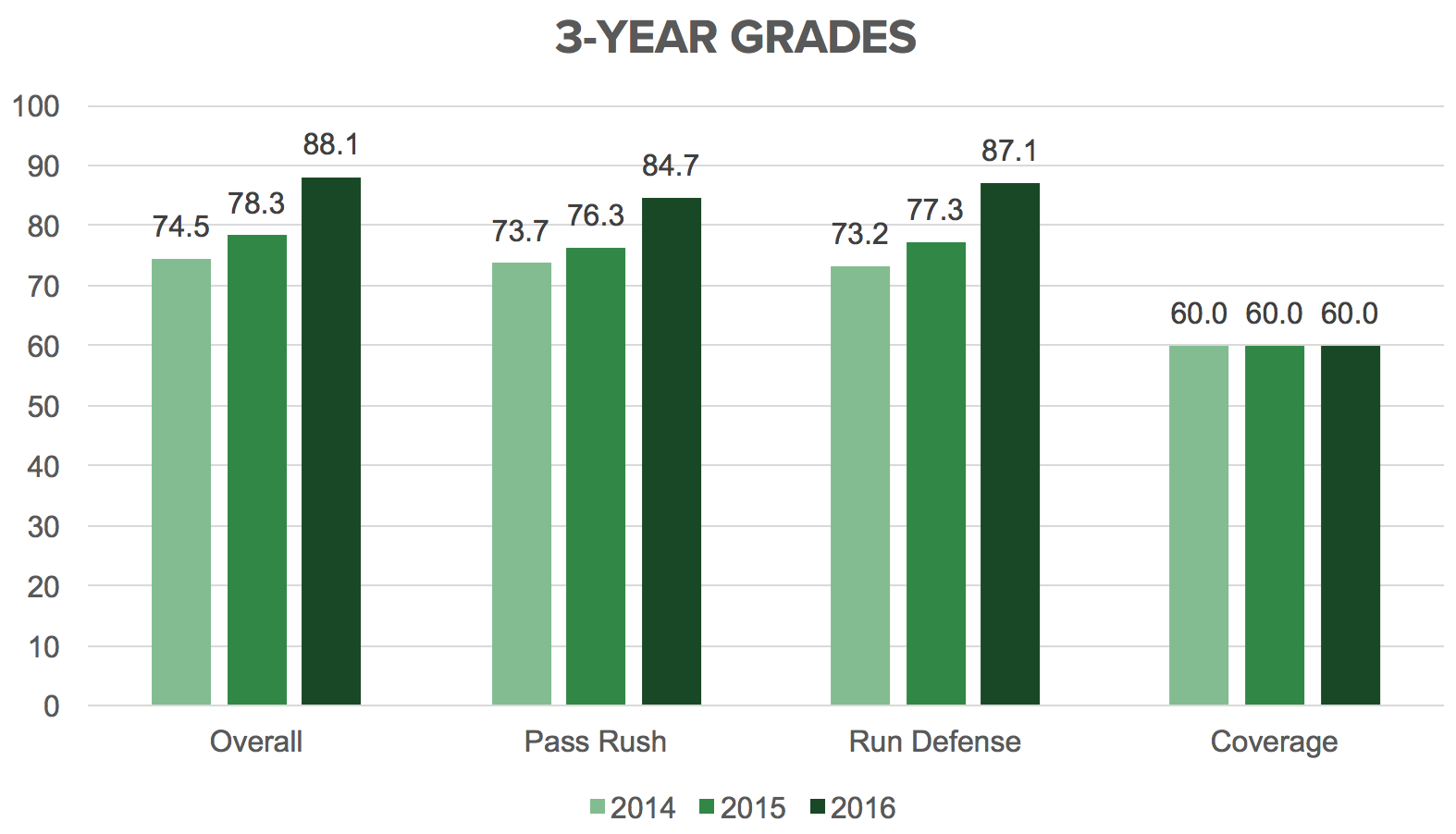 10 (74). Baltimore Ravens (from Philadelphia Eagles)
After losing Jeremy Zuttah in free agency, the Ravens add Roullier to compete for the starting center position. Over the past two seasons, Roullier gave up just one sack and two hits on 882 pass-blocking snaps.
11 (75). Buffalo Bills
The Bills add a solid all-around safety prospect in Marcus Williams. Williams had the second-highest tackle efficiency against the run in 2016 while also accumulating 10 interceptions over the past two seasons.
12 (76). New Orleans Saints
Raekwon McMillan, LB, Ohio State
The Saints add another linebacker to their needy defense, and one who offers a different skill-set to Zach Cunningham, with McMillan. McMillan excelled in run defense, accumulating 42 stops in 2016, which tied for fourth-most among Big 10 LBs in 2016.
13 (77). Arizona Cardinals
The Cardinals add another deep threat to Bruce Arians' vertical passing game with Hansen. Particularly efficient downfield, he caught every pass traveling 20-plus yards in the air thrown his way in 2016.
14 (78). Baltimore Ravens
Carlos Henderson, WR, Louisiana Tech
This Ravens offense lacks a playmaker who can make people miss in space, and Henderson can be just that. He forced 48 missed tackles last season, almost twice as many as the next-highest receiver (26).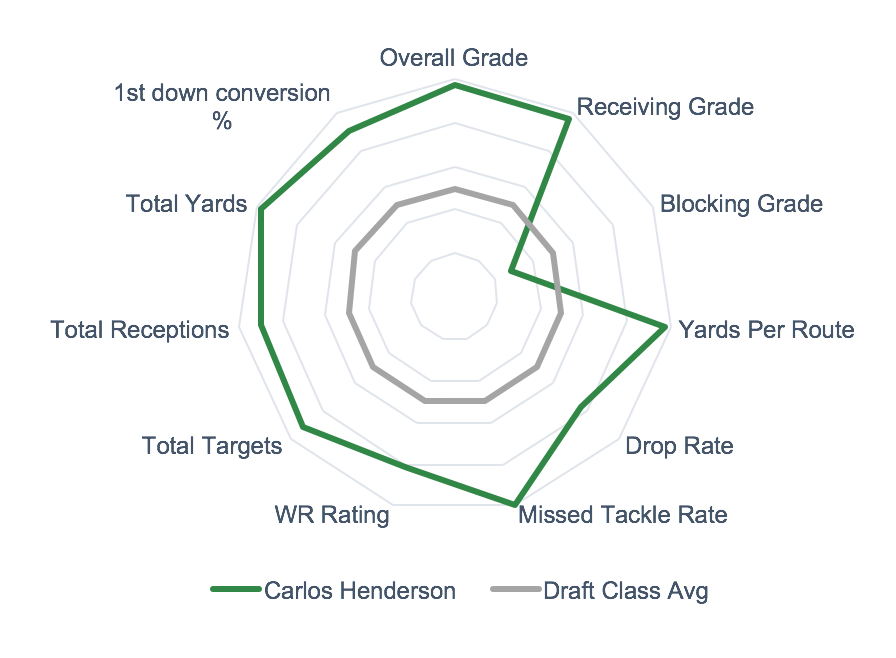 15 (79). Minnesota Vikings
After not bringing back Adrian Peterson this offseason, the Vikings bring in Foreman to compete for the big back role. Foreman forced 64 missed tackles in 2016, the most in the Big 12.
16 (80). Indianapolis Colts
Wilson allowed a passer rating of 29.9 when his coverage area was targeted in 2016 but didn't grade among the top CBs in the draft. He brings aggressiveness to the position but will need to clean up his technique and learn to play more under control in the NFL.
17 (81). Washington Redskins
An experienced and athletic defensive back, Washington lands a versatile cornerback out of Colorado. While notching just 1 interception in 2016, Awuzie was able to breakup 9 passes but does need to improve as a tackler as he missed 33 the past three seasons.
18 (82). Denver Broncos
Isaiah Ford, WR, Virginia Tech
Quick in and out of his breaks, Ford also shows good body control and use of hands in contested passes. Ford doesn't have the speed to take the top off a defense but should be a weapon in the short to intermediate range.
19 (83). Tennessee Titans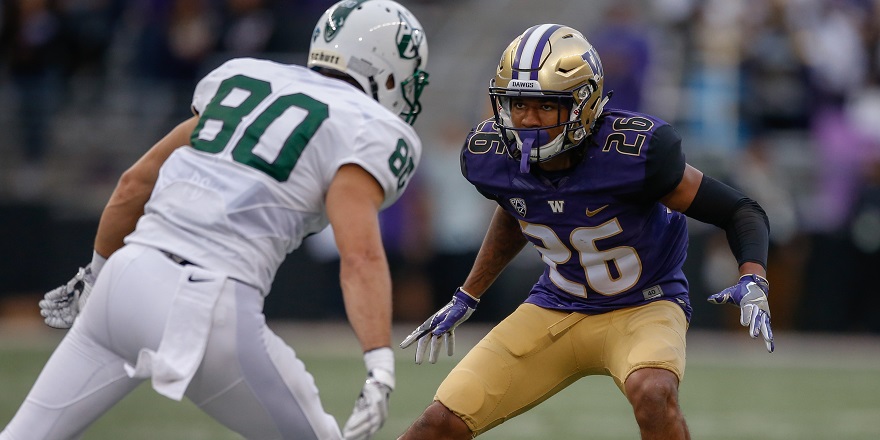 Jones' fall stops here as the talented Huskie cornerback would likely land in the first round had it not been for a pro-day torn Achilles. Jones didn't allow a TD in 2016 and just 1 in 2015 while racking up 8 interceptions and 12 pass defenses over that span. If Jones returns from his injury fully healthy, this might be the steal of the draft.
20 (84). Tampa Bay Buccaneers
Arguably the best receiver after the catch in the draft class, Stewart averaged 10.7 yards per completion after the catch. Stewart is a nice complement to the bigger targets that Tampa Bay have surrounded Jameis Winston with, and can make people miss in space and add another dimension to this passing game.
21 (85). Detroit Lions
Mack Hollins, WR, North Carolina
Despite what his official 40 time says, Hollins has elite deep speed and improved his hands tremendously dropping just one pass in 2016 after dropping six passes in 2015. He'll need to stay healthy and learn an NFL route tree but his deep threat warrants major consideration.
22 (86). Minnesota Vikings (from Miami Dolphins)
Vincent Taylor, DI, Oklahoma State
A powerful and aggressive defensive tackle, Taylor beat up on Big 12 offensive lineman in 2016 to the tune of 8 sacks, 8 hits, and 33 defensive stops. He'll need to add more counter moves and improve his awareness but Taylor's production shows he can succeed at in the NFL.
23 (87). New York Giants
The Giants add to their backfield with a powerful runner in Perine. Shows good ability to keep feet moving through contact as he averaged 3.5 yards per carry after contact in his career. Perine also showed excellent hands in the receiving game he dropped just one pass the past three seasons.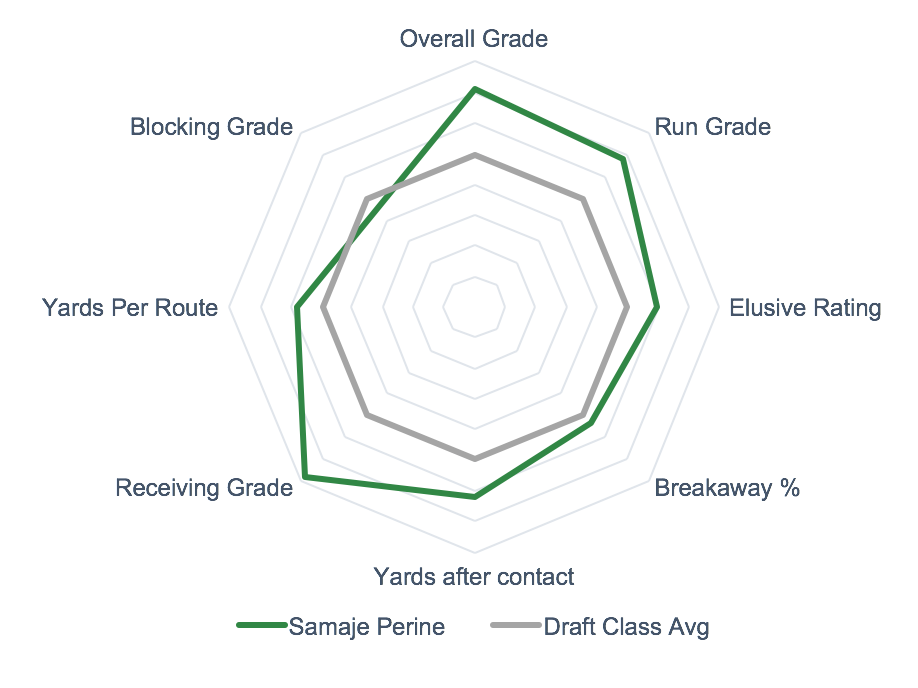 24 (88). Oakland Raiders
An explosive and instinctive run-stopping machine, Brown ranked second in the nation to Rueben Foster in overall and run-defense grades. First in tackling efficiency and third in run-stop percentage, Brown fills a need for Oakland with solid coverage skills.
25 (89). Houston Texans
Justin Senior, T, Mississippi State
The Texans look to protect their first-round investment and draft an SEC talent in Senior. He's a raw prospect, as he'll need to learn NFL techniques and schemes, but he has the natural athleticism to do so and graded well, especially in third-down passing situations, ranking fourth in third-down pass-blocking efficiency at 98.6.
26 (90). Seattle Seahawks
Rasul Douglas, CB, West Virginia
The Seahawks land their rangy, lengthy corner in the highly productive former FBS leader in interceptions. With 8 interceptions and 10 pass defenses in 2016, Douglas excelled in the pass-happy Big 12 and has the athleticism and length Seattle covets at the position.
27 (91). Buffalo Bills (from Kansas City Chiefs)
With Mike Gillislee signing in New England with the Patriots, the Bills add a contender for carries behind LeSean McCoy. Williams forced 55 missed tackles as a runner in 2016, tied for eighth-most in this draft class.
28 (92). Dallas Cowboys
Trey Hendrickson, Edge, Florida Atlantic
Ignoring level of competition, there was no pass-rusher in this draft class more productive than Hendrickson, who racked up nine sacks, 13 hits and 55 hurries in 2016. That level of production warrants a pick here by the Cowboys.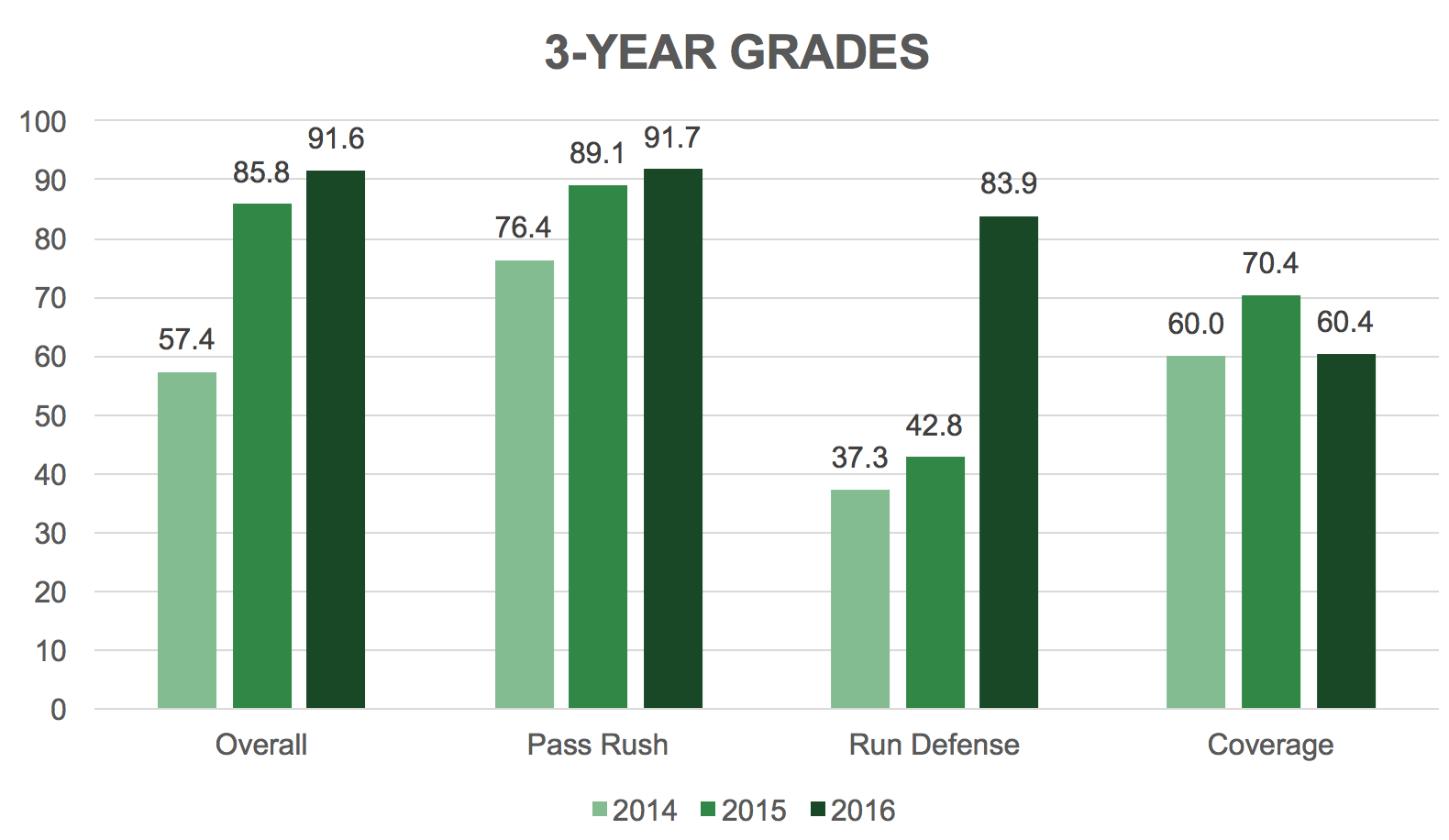 29 (93). Green Bay Packers
Shaquill Griffin, CB, Central Florida
The Packers add a cornerback to their depleted secondary that was exposed at the tail end of the season. Griffin adds a physical presence at CB and his grade of 87.6 ranked eighth overall for all FBS CBs.
30 (94). Pittsburgh Steelers
The addition of Butt adds a well-rounded TE prospect to the Steelers offense. Butt's receiving grade of 88.0 in 2015 was the third-highest in the FBS.
31 (95). Seattle Seahawks (from Atlanta Falcons)
Zane Gonzalez, K, Arizona State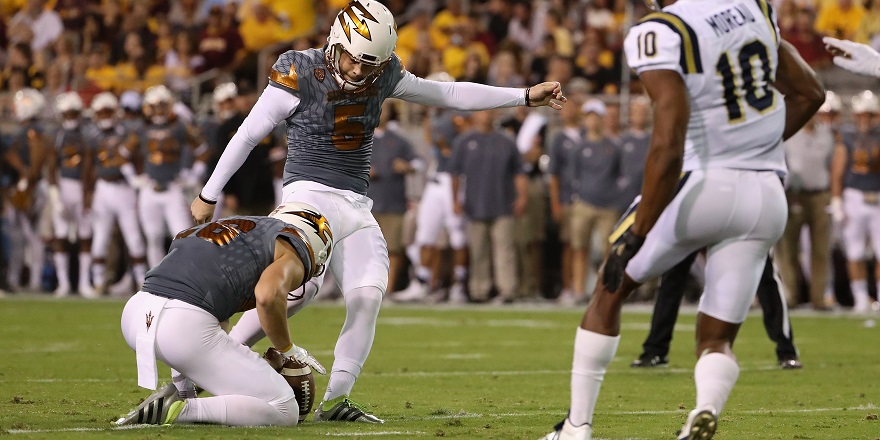 With Steven Hauschka struggling in Seattle and eventually leaving this offseason, the Seahawks added former Minnesota Vikings kicker Blair Walsh. With possibly the best kicking prospect we have seen in recent years on the board, the Seahawks should snap him up, especially considering no kicker in America other than Baltimore's Justin Tucker can boast having kicked more field goals in 50 yards and beyond in 2016.
32 (96). New England Patriots
Cameron Sutton, CB/S, Tennessee
The Patriots add another cornerback to their deep ranks with Sutton. Sutton, who was a standout his freshman year struggled to find that success in the past two seasons, but will have time to learn behind established veterans and compete for playing time at both cornerback and safety.
33 (97). Miami Dolphins (compensatory)
The Miami Dolphins take a shot here at a physically gifted safety prospect in Baker. Baker, who excelled close to the line of scrimmage, had the second-highest tackling efficiency of all Pac-12 safeties when defending the run.
34 (98). Carolina Panthers (compensatory)
The Panthers try again to add weapons around Cam Newton with the selection of Smith-Schuster. His 3.40 yards per route run in 2015 ranked sixth-best among WRs with at least 100 targets.
35 (99). Philadelphia Eagles (from Baltimore Ravens, compensatory)
The Philadelphia Eagles add a legitimate deep threat who has great in-air ball tracking skills to go with a huge catch radius and strong hands. Reynolds was targeted 28 times last season on go routes, hauling in 15 of those targets for 433 yards and seven touchdowns; A&M QBs had a 138.4 QB Rating when targeting him on go routes in 2016.
36 (100). Tennessee Titans (from Los Angeles Rams, compensatory)
The Tennessee Titans use the 100th overall pick to add depth to the interior of their defensive line. Vanderdoes is capable of lining up in multiple spots along the line and if it weren't for his injury history, his combination of size and ability is deserving enough of going earlier than 100th overall. Vanderdoes has graded positively as a pass-rusher and as a run defender for three straight seasons.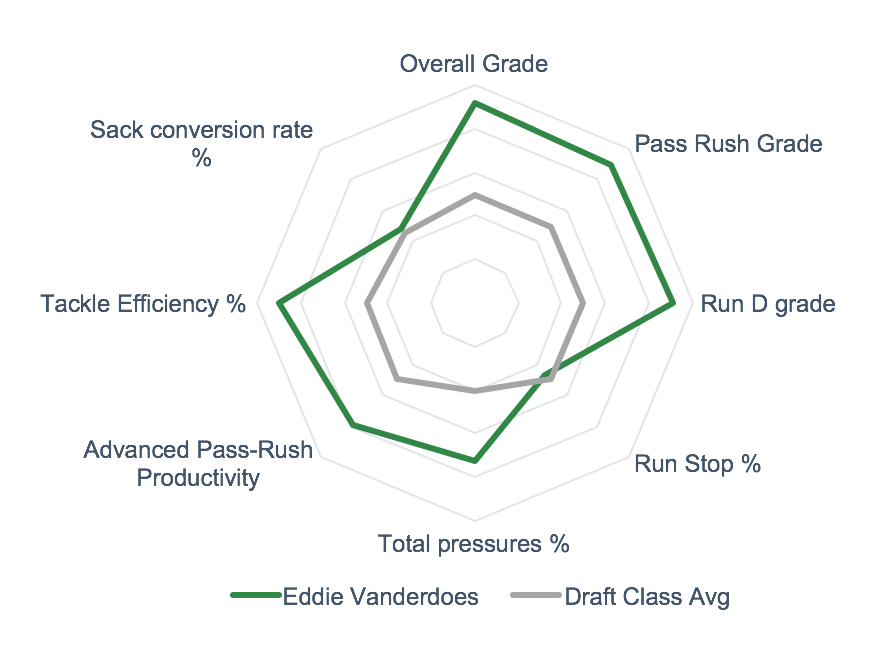 37 (101). Denver Broncos (compensatory)
Wormley had quite a bit of success as a pass-rusher at Michigan – his 12.5 pass-rush productivity rating ranked first among all defensive tackles in 2015 – but much of that was due to him just being physically dominant over athletically inferior college players, an advantage he likely will not have most weeks on Sunday. With that being said, Wormley moves extremely well for someone who measures in at 6-foot-5, 298 pounds, he has a very powerful frame and his use of his length and hands to shed blocks in the run game suggest that with some coaching he could turn into a complete package at the next level.
38 (102). Seattle Seahawks (compensatory)
Jeremy McNichols, RB, Boise State
McNichols was a workhorse back at Boise State who plays bigger than his size and has proven he can be effective in both zone and gap schemes. McNichols has the tools to be an above-average runner at the next level but where he's most effective is in the passing game: over the past two seasons he ranks third in receptions, fourth in receiving yards, and first in receiving touchdowns among draft-eligible running backs.
39 (103). New Orleans Saints (from New England Patriots, through Cleveland Browns, compensatory)
Channing Stribling, CB, Michigan
After selecting Marshon Lattimore with the 11th overall pick, the New Orleans Saints go back to the cornerback well as they attempt to revamp the back end of their defense. Stribling's athletic measurable are a bit of a concern but he makes up for it somewhat with his size and ball skills at the catch point; and it's tough to argue with his college production. Stribling ranked second among all FBS cornerbacks this season with just a 22.7 QB rating against him and opposing QBs had a microscopic 32.3 QB rating against him over the past three seasons.
40 (104). Kansas City Chiefs (compensatory)
The Chiefs add depth on the edge with pick 104, with a player who possesses a surprising amount of straight-line explosiveness along with the ideal build for the position. He's a bit of a bull in a china shop at the moment, but his non-stop motor, a strong showing during Senior Bowl week and improvements in production over the course of his college career – he was fifth in the country with 71 total pressures last season – suggest this is a player with plenty of room to grow as a football player.
41 (105). Pittsburgh Steelers (compensatory)
There are plenty of incredible stories to be told about individuals in this year's draft overcoming adversity en route to achieving a life-long dream, and Conner's is right up there toward the top of the list. The Pittsburgh Steelers add a big-bodied back to provide depth behind Le'Veon Bell and the former Pitt Panther continues his journey in the Steel City. At the very least Conner should have a role as a short-yardage back in the NFL, but if he can continue to bounce back to his 2014 form (his 88 broken tackles as a runner in 2014 are the second-most in a single season out of the past three years) he could be one of the steals of the draft.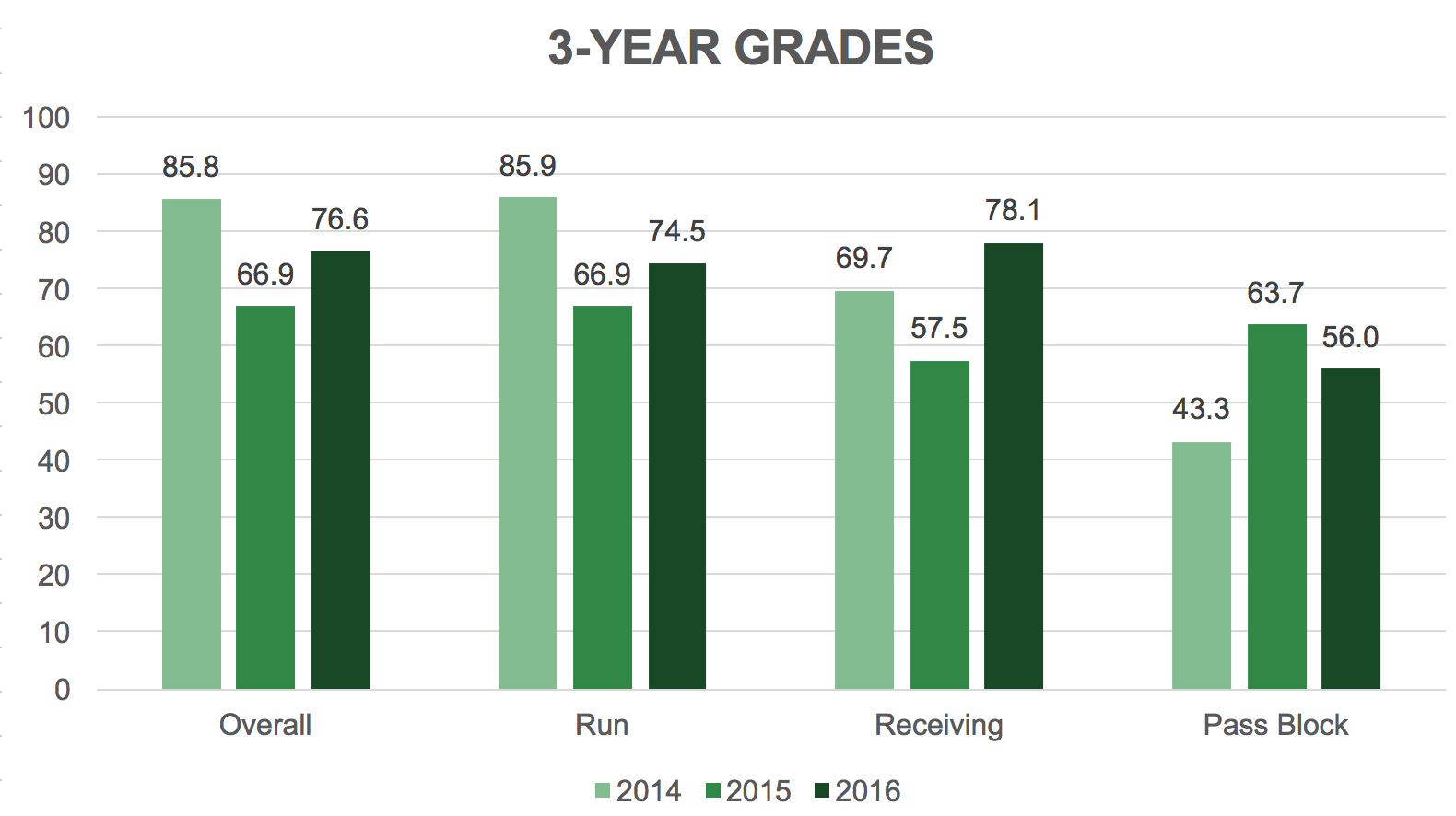 42 (106). Seattle Seahawks (compensatory)
Pass-protection figures to be a concern for Elflein at the NFL level, but in the right scheme – and at the right position – he should be an effective run-blocker, as he's demonstrated an ability to create movement at the point of attack. Elflein has graded positively as a run-blocker in each of the past three seasons.
43 (107). New York Jets (compensatory)
The Northwestern product projects as a slot receiver at the NFL level but that doesn't mean he's limited to short-underneath routes around the line of scrimmage. Carr is a strong route-runner who demonstrates a strong ability to read coverages and adjust his routes accordingly; he's adept at finding the holes in a zone and is a legitimate threat at the intermediate level.