• Cowboys trade out of first round, select guard Steve Avila: The TCU product is an NFL-ready guard who possesses impressive power that can be leveraged to displace defenders at the point of attack.
• Tony Pollard gets his new running mate: With Ezekiel Elliott out of the picture, the Cowboys add UCLA's Zach Charbonnet in the second round.
• Dallas adds to its tight end room: A young Cowboys tight end room gets even younger as the team selects Michigan's Luke Schoonmaker, one of the better blockers in the tight end class.
Estimated reading time: 7 minutes
---

---
It's becoming more apparent that trading down in the first round of the 2023 NFL Draft could be the Dallas Cowboys' optimal draft strategy, as it enables the team to pick more frequently when each selection's draft value should be the highest. Moreover, the work the Cowboys did through the trade market and free agency has left them without a glaring need in the starting lineup, meaning there isn't as much pressure to get an immediate impact player in Round 1, though the team's goal is still to pick as many future contributors as possible.
Without further ado, let's dive into this week's Cowboys seven-round mock draft.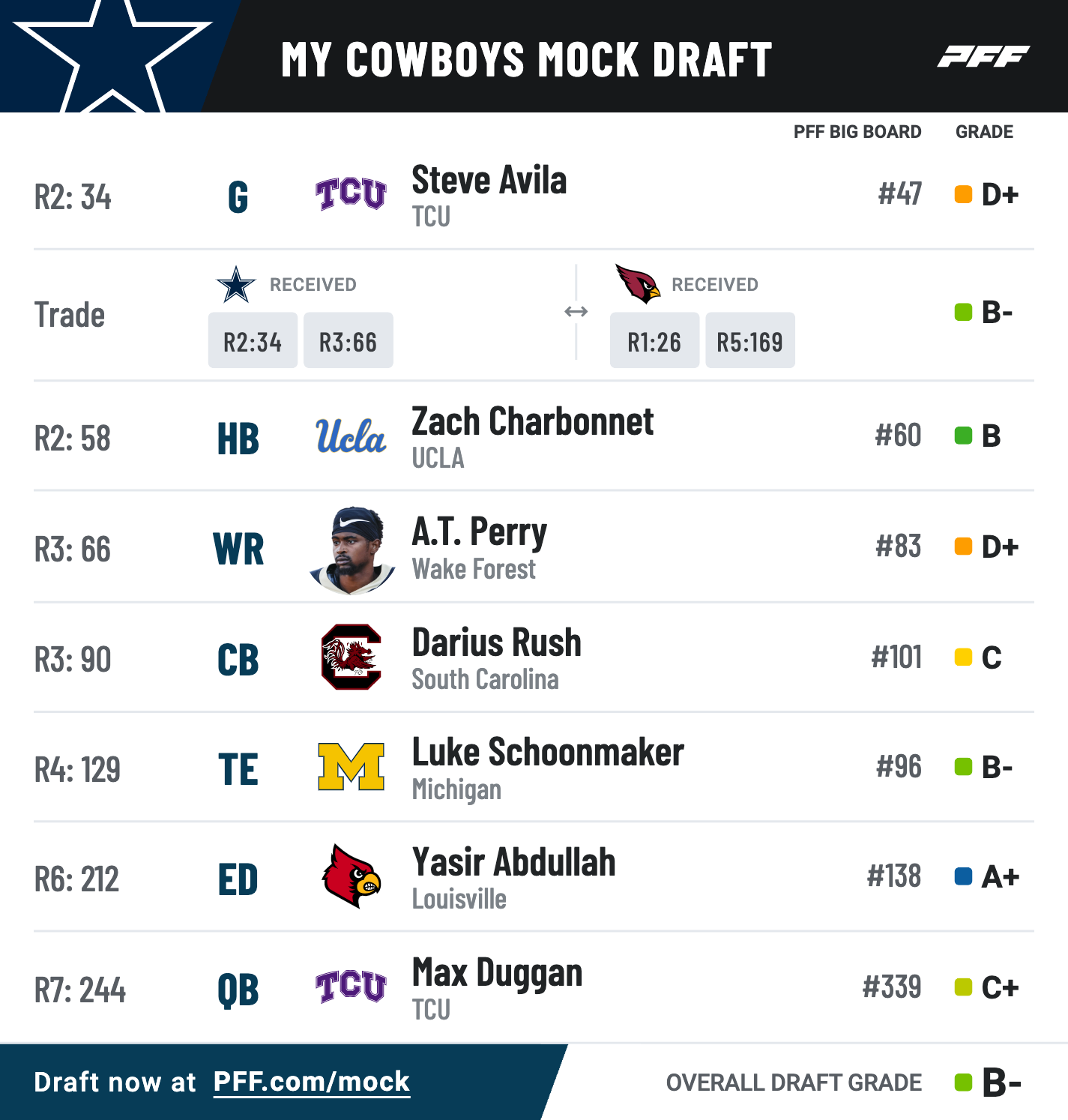 ---
TRADE: Cowboys send 26th and 169th overall picks to the Arizona Cardinals for the 34th and 66th overall picks
As things stand, if you asked me who the favorite is to be Dallas' first pick in the 2023 NFL Draft, Avila would be the answer. Therefore, the ability to trade down and still pick him would be ideal for the Cowboys' front office.
Avila is an NFL-ready guard who possesses impressive power that can be leveraged to displace defenders at the point of attack. He thrives on double teams, which should bring images of Avila and Tyler Smith hammering poor B-gap defenders in the run game together in a Cowboys uniform. In pass protection, Avila displays solid range for a guard to pair with a strong anchor and active hands, which is why he allowed only 11 pressures and no sacks across 540 pass-blocking snaps in 2022.
Avila isn't the sexy pick that many fans are clamoring for, but he's a Day 1 starter who could help solidify Dallas' offensive line for the next half-decade.
---
With Tony Pollard on the franchise tag and no other proven NFL talent behind him, the Cowboys will almost assuredly leave the 2023 NFL Draft with a running back.
Charbonnet is one of the most well-rounded backs in the class, displaying impressive patience and vision to wait for his blocks to develop and identify the optimal running lane to maximize the potential gain on a play. His balance and elusiveness enabled him to break his fair share of tackles at UCLA, as he averaged 4.15 yards after contact per attempt (14th in the nation among running backs with 100 carries) en route to an elite 93.6 rushing grade in 2022 (fourth in the nation).
The UCLA product would be the perfect complement to Pollard in Year 1 before graduating to bell-cow duties in Year 2 in the Cowboys' offense.
---
The Brandin Cooks trade eased the Cowboys' need for a receiver early in the draft, but that doesn't mean they won't dip their toes into the wide receiver waters at some point. The mock trade-down with the Cardinals provides Dallas with the opportunity to grab one of the most enticing mid-round receivers in this draft.
In a class dominated by small, jitterbug types of receivers, Perry possesses X-receiver size to go elite athleticism (9.62 raw athletic score) and a nuanced route-running approach that he uses to generate separation with consistency. Perry is extremely flexible and nimble for his size, giving him access to running routes that 6-foot-3 wide receivers typically just don't have the capabilities to master. He still needs to refine his timing while sharpening his breaks, but Perry possesses all the requisite traits to be a high-end route runner in the NFL.
Moreover, due to CeeDee Lamb performing best in the slot, Perry has a legitimate pathway to finding playing time on the outside early in his career. Moreover, once Cooks departs (likely after 2024), Perry should be ready to step into a No. 2 or No. 3 role, depending on Michael Gallup's performance over those two seasons.
---
Similar to Cooks and the receiver position, the Stephon Gilmore trade removed cornerback as a "must-have" in the 2023 NFL Draft for Dallas. Nonetheless, grabbing Rush at the end of Round 3 was too good of a value to pass up.
The Senior Bowl is one of the most important weeks on the NFL draft calendar, as it gives prospects the ability to compete with their highly rated peers on a play-for-play basis, and Rush might have had the best week of any prospect in attendance. He routinely showcased NFL-caliber coverage ability throughout the week.
Rush does an excellent job anticipating route breaks, enabling him to crowd short-to-intermediate breaking routes in man coverage. His size and 9.81 raw athletic score show that he has the necessary traits to match receivers down the field, as well. Coming into the 2022 season, Rush was overshadowed by teammate Cam Smith in South Carolina's secondary. However, Rush arguably outperformed his more highly touted teammate, earning an 80.3 coverage grade to best Smith's 64.4 mark.
Rush is an impressive boundary cornerback prospect who should be able to provide ample depth and special teams value early in his career before graduating to the starting lineup once Gilmore moves on from the Cowboys.
Love how smoothly Darius Rush flips his hips to get back in phase with the receiver after he crosses face. Have no doubts that the #Cowboys will be big fans of the South Carolina CB. pic.twitter.com/E2T5TgrVer

— John Owning (@JohnOwning) February 5, 2023
---
While the Cowboys don't "need" a tight end due to Jake Ferguson and Peyton Hendershot's presence, they'd still be wise to grab one to boost the group's overall talent level. This may be later than many fans want to target a tight end, but fret not, as Schoonmaker has an NFL-ready skill set that should enable him to contribute early in his career.
One of the reasons rookie tight ends tend to struggle to see the field early in their career is their lack of blocking ability, but Schoonmaker shouldn't have those problems, as he's one of the better blockers in the tight end class.
One of the best aspects of Dallas' offense is its ability to optimally utilize the different skill sets in the tight end room, where tight ends coach Lunda Wells deserves a ton of credit, and Schoonmaker should be no different. He can create impressive displacement on double teams while also showing the ability to latch and use his body as a shield to prevent defenders from making plays on the ball carrier.
Schoonmaker also displays promising receiving ability despite never tallying more than 420 receiving yards in a single season, as he's an excellent athlete who displays the foundational route-running elements that could enable him to grow into a serious threat as an NFL pass catcher.
---
He may be undersized (6-foot-1 and 237 pounds with 32 3/8-inch arms), but he's one of my favorite edge defender sleepers in the class, and we've all seen what Cowboys defensive coordinator Dan Quinn can do with undersized yet athletic pass rushers.
Abdullah is one of the better pure speed rushers in the class, possessing the get-off, upfield burst, cornering ability and closing speed to consistently be a high-side threat when rushing the passer. He isn't going to get labeled a technician when rushing the passer anytime soon, but he does a good enough job using his hands to win when the opportunity arises. The Louisville product's pass-rush repertoire is built on his speed up the edge, but once he fine-tunes his hands and feet to the point that he can win even when his speed doesn't do most of the legwork, he'll become a real force as an edge rusher.
Being able to find a player with such easily identifiable NFL traits in the sixth round is a boon for the Cowboys, and Abdullah should have no problems carving out a role on special teams and as a designated pass-rush specialist for the Cowboys' defense.
---
The are more than a couple of quarterbacks the Cowboys could target in the latter half of the 2023 NFL Draft, but Duggan may be the one they've shown the most pre-draft interest in. Dallas not only met with him at the combine, but he also participated in the team's "Dallas Day" for local prospects.
Duggan's skill set needs substantial work, but his athleticism, leadership and work ethic provide him a strong foundation to work with. Duggan would be a great pet project for Dallas' new offensive coordinator Brian Schottenheimer and quarterbacks coach Scott Tolzien.