I debated faking an illness all week to avoid having to face the shame of Notre Dame getting housed in the Big House. I swallowed my pride though, showed up to work and vowed to never talk about that game ever again. Let's get to the takes!
[Editor's Note: All EDGE and ELITE subscribers have access to PFF's Preseason 2020 NFL Draft Guide. Subscribe today to download your copy!]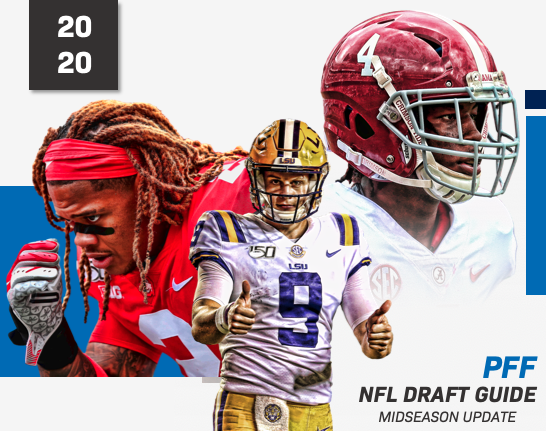 Reassessing the Tackle Class
In case you haven't heard, this has a chance to be a special group of tackles come next April. With news that TCU tackle Lucas Niang will miss the next few months after hip surgery, I thought it would be good to assess where everyone stands near the top of the class. Somewhat unusually, many of the top prospects are true juniors with another year of eligibility left, so it could look very different come next spring. As it stands right now, though, these would be how I'd tier the tackle class.  
Top of the Class
RT Tristan Wirfs, Iowa
LT Andrew Thomas, Georgia
Up and Coming
LT Alex Leatherwood, Alabama
LT Samuel Cosmi, Texas
LT Josh Jones, Houston
RT Jedrick Wills, Alabama
Solid if Unspectacular
LT Ezra Cleveland, Boise State
RT Jared Hilbers, Washington
RT Jack Driscoll, Auburn
LT Prince Tega Wanogho, Auburn
Injury Concerns
LT Walker Little, Stanford
LT Trey Adams, Washington
RT Lucas Niang, TCU
The first six above could very well end up in the first round when it's all said and done. That's how talented and deep this tackle class is. With the number of NFL teams desperate for help at the position, that's going to make a lot of GM's happy.
Burrow is Human(ish)
'Bad' Burrow made his unceremonious return to the Bayou this past weekend, as the LSU QB finished with 321 passing yards, one touchdown and one pick. Wait. That's not quite right. Burrow struggling could pass for one of Justin Herbert's best games so far this season. It was certainly a far superior performance than what Herbert put up against Auburn's defense in Week 1. Burrow still earned a 72.9 passing grade in his only game this season that finished with a passer rating under 100. If this is as low as Burrow is going to sink this season, you might as well pencil him into the number one overall pick.
Get your Chase Young Takes Off
If you logged into Twitter Saturday, chances are you saw a tweet about Chase Young being good. He is. Here's PFF's definitive Young take: He'll be the first non-QB selected next April, a perennial Pro-Bowler and is the best pass-rushing prospect we've ever graded (started in 2014).
Small School Watch
RT Jordan Steckler, Northern Illinois
Yet another four-year starter at tackle for Northern Illinois, as Max Scharping was drafted in the second round last April. Steckler doesn't have quite the grading profile that Scharping did over his career, but he has turned it on strong this season with the second-highest pass-blocking grade in the country (91.0). This past week he didn't allow a single pressure against Akron and has allowed only five on the year. He tends to play a tad high, but he can really get out and move and has the athleticism to stay at tackle in the NFL. Steckler is an intriguing Day 3 prospect at this point.
Stock Report – Up
QB K.J. Costello, Stanford
Costello's senior season could not have had a worse start. Between poor play and injuries, Costello torpedoed his draft stock about as hard as one possibly can the first eight weeks of the season, as he earned a 50.4 passing grade in the three games he did play. This past week, though, he diced up Arizona pretty good. He racked up three big-time throws, no turnover-worthy plays and an 88.8 passing grade in the Stanford win. It looked like the player we'd thought we see more of heading into the season.
KJ with a beat of a throw.

2016 #AllAmericanBowl ???????? alum K.J. Costello (@kj_costello) dealing for the Cardinals.#GoStanford ????

— All-American Bowl (@AABonNBC) October 26, 2019
WR Tylan Wallace, Oklahoma State
Wallace didn't answer any of the questions we had about his route running against Iowa State, but he did provide the highlight of the weekend. 
Tylan Wallace.

Oh my god pic.twitter.com/AJDCpGPHAF

— Cam Mellor (@PFF_Cam) October 26, 2019
Wallace has been a monster after the catch in 2019 with 13 broken tackles and an FBS-leading 530 yards after the catch. He may not be a complete number one type of receiver, but he's showing how deadly he can be in an 'offensive weapon' type role.
S Jeremiah Dinson, Auburn
Dinson's play on Saturday is Exhibit A in why sometimes coverage stats can be misleading. He allowed completions on all five of his targets against LSU for 27 total yards, but he didn't allow a single first down. The Senior is in his third year as a starter for the Tigers and has slowly been making his way up the PFF board with his play this season. His 90.2 coverage grade is the highest in the country. He's been an extremely sound tackler over the course of his career and has only two misses on 50 attempts this year.
Stock Report – Down
LT Cole Van Lanen, Wisconsin
Van Lanen was, for all intents and purposes, put on an NFL football field Saturday. By the end of the game, it was fairly clear he wasn't ready. Van Lanen earned a pass-blocking grade of just 5.6, as Chase Young turned him inside out on multiple occasions. With another year of eligibility left, chances are you'll see Van Lanen back with the Badgers in 2020.
RB Kylin Hill, Mississippi State
We preach passing game for running backs here at PFF, so when Hill let two swing screens clang off his stomach against Texas A&M this past weekend, of course he was going to be sliding down. Just as concerning as the drops was the way he attacked the football. Or I should say didn't attack the football. Hill let both balls get into his body instead of extending his hands to pluck the ball out of the air, meaning there's a good chance these drops will follow him.
Edge Kenny Willekes, Michigan State
After a fairly hot start to the season against some weak non-conference opponents, Willekes has cooled significantly. Over his last four games, Willekes has only five total pressures on 130 pass-rushing snaps. It's fair to wonder if he's still not 100% after breaking his leg in the bowl game last year as his grade has dropped significantly from 2018. 
2022 Watch List
CB Derek Stingley Jr., LSU
The highest-graded cornerback in the country hasn't even turned 19 yet. It's safe to say that we'll have a rare prospect on our hands in a couple of years. At The Opening coming out of high school, Stingley ran a 4.30s 40-yard dash and had a 42-inch vertical. Now he's locking up SEC wideouts three years his senior. He's allowed a completion percentage against of 40.8% on the year with four picks and 10 pass breakups, as well. If he were allowed to declare this season, there's a very good chance he'd be the first corner off the board. There's a good chance he's the best cornerback prospect since Patrick Peterson in 2011.