The NFL draft process is always full of surprises, as random players will develop out of nowhere to put themselves on the radar of NFL scouts. Others experience the natural expected development and move from mid-round options to early-round options while some players take already-strong games to new levels and move into top-10 status. There's been a healthy mix of all of the above this season in college football, and after 10 weeks a number of players have improved their draft status quite a bit.
Here are the 10 players who have taken the biggest jumps so far:
Jonathan Allen, defensive interior, Alabama
While this list is littered with players who have come out of nowhere to rank among the top draftable prospects, Allen has moved from first-round talent to top-10 talent. Coming into the season, we knew Allen had the tools and small-sample production to be in the first round mix, but he's used his extended playing time to dominate up front, leading to the nation's No. 2 overall grade among interior defensive linemen at 91.7 to go with the top pass rush grade at 95.0. He's rushed the passer efficiently from all over the line, notching seven sacks, eight QB hits, and 28 hurries on 270 rushes, while showing that he can hold up against the run on early downs. Allen has put himself in the conversation to be one of the top defensive off the board in the draft.
Ryan Ramczyk, OT, Wisconsin
One of the best stories of the season, Ramczyk is a Division III transfer who stepped in to show that he belongs at the FBS level and beyond. As Wisconsin's starting left tackle, Ramczyk has shown strong movement skills that have translated in pass protection where he's surrendered only 11 hurries on his 272 attempts. In the run game, he's shown the power to move defenders at the point of attack in Wisconsin's man-heavy scheme while also efficiently finding second-level defenders. With an offensive tackle class that lacks clear leaders at the top, Ramczyk has made a move to be in the conversation early in the draft.
Tre'Davious White, CB, LSU
After a strong 2014 season, White was not great last season, but he's been outstanding from Week 1 here in 2016. He's played tight coverage on the outside and in the slot, allowing only 127 yards on 38 targets (3.3 yards/target) while ranking sixth overall among cornerbacks with an 88.4 grade on the season. White has made a move to be mentioned among the best cornerbacks in the draft class, though it's a deep group that should give NFL teams a strong variety from which to choose.
Mitch Trubisky, QB, North Carolina
The buzz is heating up for Trubisky who we highlighted before the season as a potential breakout candidate. The perceived lack of top-end signal callers has helped Trubisky's case who has the size and arm the NFL will covet. While he has parts of his game to clean up, Trubisky has shown the ability to make tight-windowed throws while handling pressure well (second in nation in adjusted completion percentage under pressure at 68.6 percent). Trubisky's overall grade is hurt by playing against Virginia Tech in hurricane-like conditions, but aside from that game, he's had a strong season and he'll garner early-round consideration if he declares for the draft.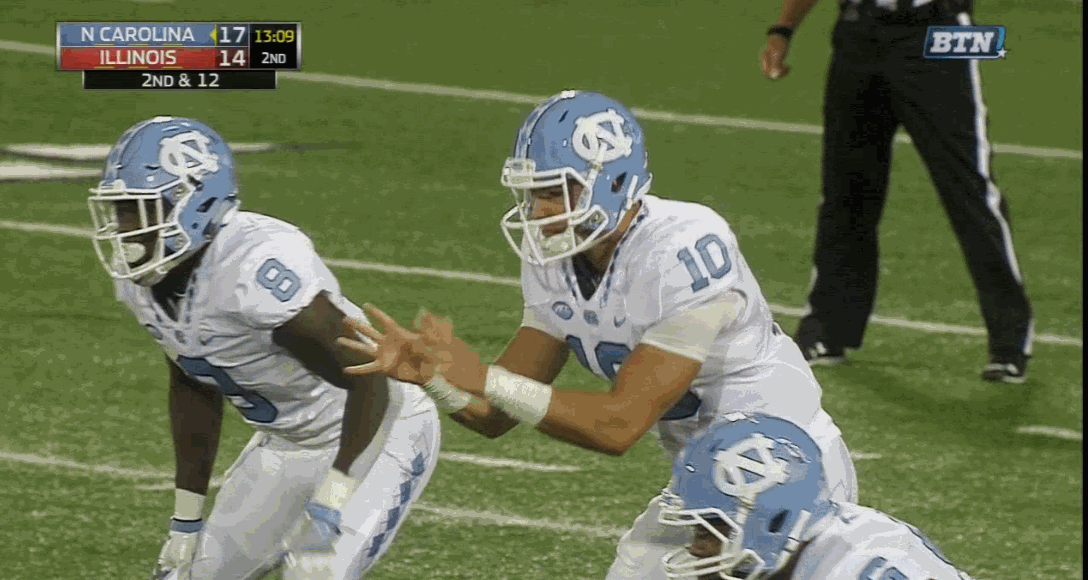 Dede Westbrook, WR, Oklahoma
The nation's most dominant receiver in recent weeks, Westbrook has built upon the flashes he showed last season to become the go-to guy for Oklahoma QB Baker Mayfield. He's shown the route running to get open at the short and intermediate level and the speed to create big plays down the field or after the catch. Westbrook has caught 63.2 percent of his deep targets (12-for-19) and his 586 deep yards and nine touchdowns both lead the country as he's turned many heads and put himself on the radar for the NFL.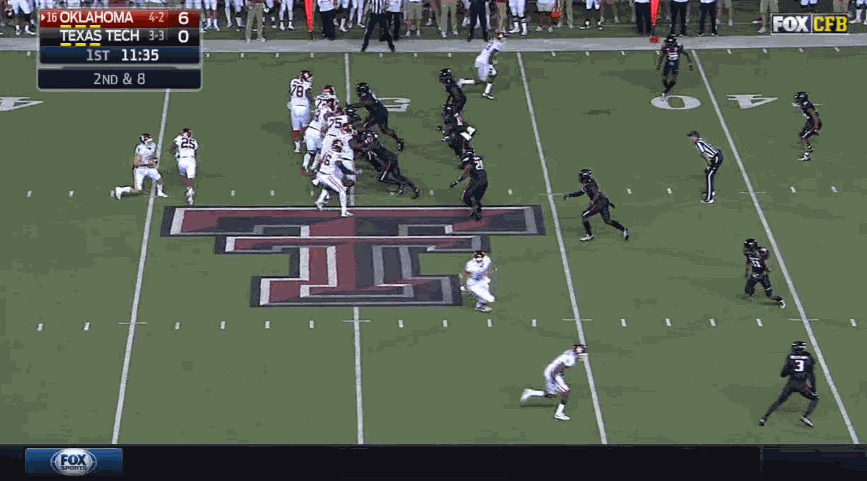 Jordan Willis, edge defender, Kansas State
A deep class of edge rushers adds another strong name to the list as Willis has had a dominant season for Kansas State. He's beat up on opposing right tackles, rushing off the left side on 96.8 percent of his rushes, but the production is difficult to ignore. Willis uses strong hands and a variety of moves to rank fifth overall as a pass-rusher at 89.5 while posting the top grade against the run at an identical 89.5. Willis didn't come completely out of nowhere as he had a strong 2015 season, but he's taken his game to a new level and even in a deep class, Willis will garner more notice.
John Ross, WR, Washington
Ross has made the most of his time on the field this season, averaging 3.64 yards per route to rank fifth in the nation. He's shown his big-play ability, tying for 12th with 11 catches on passes thrown 20-plus yards in the air as his speed has been too much for Pac-12 cornerbacks. He's already being compared to last year's first round wide receiver Will Fuller, though Ross catches the ball cleaner than Fuller, and he'll fulfill a team's need for a game-changing speed receiver and downfield threat. Ross also adds a dynamic threat to the punt return game as he's a threat to score every time he touches the ball.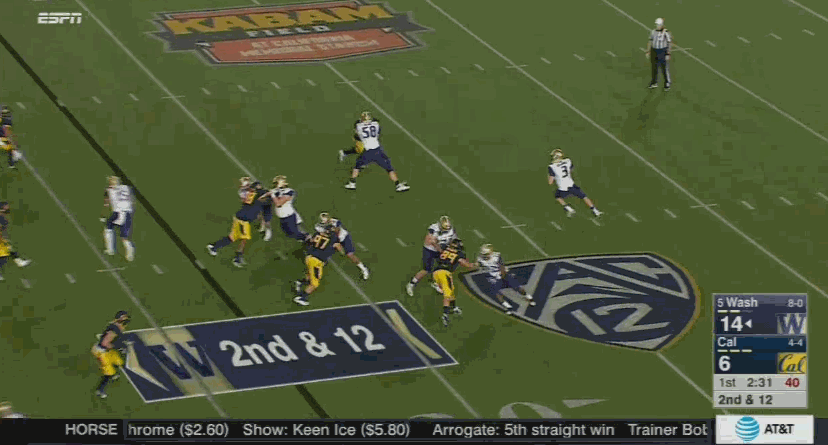 Solomon Thomas, defensive interior, Stanford
Another defensive lineman that has taken his game to the next level, Thomas was one of the best players in the Pac-12 year ago, but he's improved in all areas this season. His ranks 13th among interior defensive linemen with an 86.8 grade against the run and an 83.1 pass rush grade that ranks 13th on the strength of eight sacks, eight QB hits, and 20 hurries on 275 rushes. Thomas is one of the few bright spots in the Stanford defensive front and he will be one of the most coveted defensive linemen come draft time.
Malik Hooker, S, Ohio State
Hooker kicked off the season in style with three interceptions in his first two games, showing great range and ball skills. His ability to be a playmaker in coverage has caught the NFL's attention as the league is lacking in that department so Hooker's emergence is a pleasant surprise. The redshirt sophomore had only 25 career snaps to his name coming into the season, so even if scouts knew about his talent, seeing it on the field was crucial for his stock. If there's a concern, it's Hooker's 10 missed tackles on only 58 attempts, including a number of bad, open-field whiffs, but his playmaking ability on the back end if difficult to ignore and Hooker will be watched closely down the stretch.
Channing Stribling, CB, Michigan
A deep cornerback class continues to add more viable players and Stribling's breakout season should not go unnoticed. Often overshadowed by Michigan's lockdown corner, Jourdan Lewis, Stribling brings a different look than Lewis at a listed 6-foot-2 so look for teams in need of a long cornerback to take a close look. Stribling has been targeted 38 times this season, allowing only 11 catches (28.9 percent) while breaking up six passes and intercepting three more. Stribling has work to do to improve in the run game and as a tackler, but his long frame and production have put him on the map this season.