There has been talk about the possibility of the 2020 NFL Draft being more unpredictable than ever given the circumstances — GMs operating out of basement bunkers, fewer in-person visits and official pro days where teams typically gather a lot of their information. While this may be true, we have still garnered a general idea of some prospects who have been on the rise and prospects who have fallen on most boards during the pre-draft process, which often comes down to disappointing athletic testing. 
[Editor's note: Check out PFF's 2020 Mock Draft Hub, NFL Draft Big Board and NFL Mock Draft Simulator. PFF Elite subscribers can also download the 1,100-page 2020 NFL Draft Guide.]
Using the information at PFF's disposal — much of which is broken down in the 1,250-plus pages of the PFF Draft Guide — I decided to evaluate 10 of those prospects to determine if their rise up boards or fall down boards has been warranted. You can explore where some of these prospects go with PFF's mock draft simulator using either our Big Board, the consensus big board or a mixture of the two. 
Risers
I, for one, am shocked that the quarterback with the good athletic traits and big arm is rising up draft boards after being asked to throw without defenders. 
There is significant movement behind the idea that Herbert will be the second quarterback off the board behind Joe Burrow, and while there may be some smoke involved there, the idea that Herbert is the safer prospect than Tua Tagovailoa is misplaced. Even with the injuries to Tagovailoa, the things we saw from him from an accuracy and grading standpoint at Alabama give every reason to believe he will be the better NFL quarterback. 
The one stat that would terrify me if I'm considering draft Justin Herbert or Jordan Love is this…

% of uncatchably off-target throws targeting when an OPEN receiver 5-18 yards downfield in 2019:

Tua 4.3%
Hurts 5.0%
Burrow 5.1%
Love 14.1%
Herbert 18.1%

— Mike Renner (@PFF_Mike) April 13, 2020
Herbert has the obvious arm talent, but it's the other things about playing quarterback that should scare you. The tweet above from PFF's Mike Renner is one such area for concern. Herbert simply missed too many open passes in that short-to-intermediate range, and he tended to shrink against any sort of quality defense that Oregon played last season rather than rising to the occasion. Teams may feel that he is the "safer" prospect, but I'm taking Tagovailoa 10 times out of 10 ahead of Herbert assuming there are no debilitating red flags in his medical records.  
Johnson has been making a steady climb up big boards — and for good reason. PFF's Anthony Treash looked in depth at what makes Johnson a top-25 prospect on PFF's Big Board, and one big takeaway is that he is one of the smarter defensive backs in the draft. He studies a lot of film and he puts that film into action on game days. That was apparent in this interview with PFF's Austin Gayle. 
Beyond that tape study and his football instincts, Johnson was just flat-out productive at Utah. He was targeted 50 or more times in each of 2017, 2018 and 2019 and never allowed a passer rating higher than 57.6 in any of those three seasons. He intercepted seven passes and broke up another 17 compared to just three touchdowns allowed into his coverage. Johnson is confident in coverage, willing to jump plays for the interception and quick to bounce back from a mistake. He deserves the first-round love he's getting.  
I'll start this off by saying that sell is a little harsh. Jefferson comes in at 32nd on the PFF Big Board, a player who we see right on that Round 1 and Round 2 border. The consensus has trended towards the idea that he is the clear-cut WR4 behind Jerry Jeudy, Ceedee Lamb and Henry Ruggs. We're not going to buy that with the other talent at wide receiver going up against Jefferson. 
As of right now, we have Laviska Shenault Jr., Jalen Reagor, Michael Pittman Jr. and Tee Higgins all listed ahead of Jefferson on our Big Board. While the 4.43 40-yard dash and production he put up for LSU last season are terrific, there are still some questions about projecting him to the NFL. How does Jefferson handle press coverage, something he rarely saw in the slot for LSU last season? Can he consistently create space for himself rather than exploiting holes in zone coverage? Jefferson is a strong prospect in this class, but there are a lot of those. He hasn't done enough to say that he's the obvious WR4 regardless of team fit.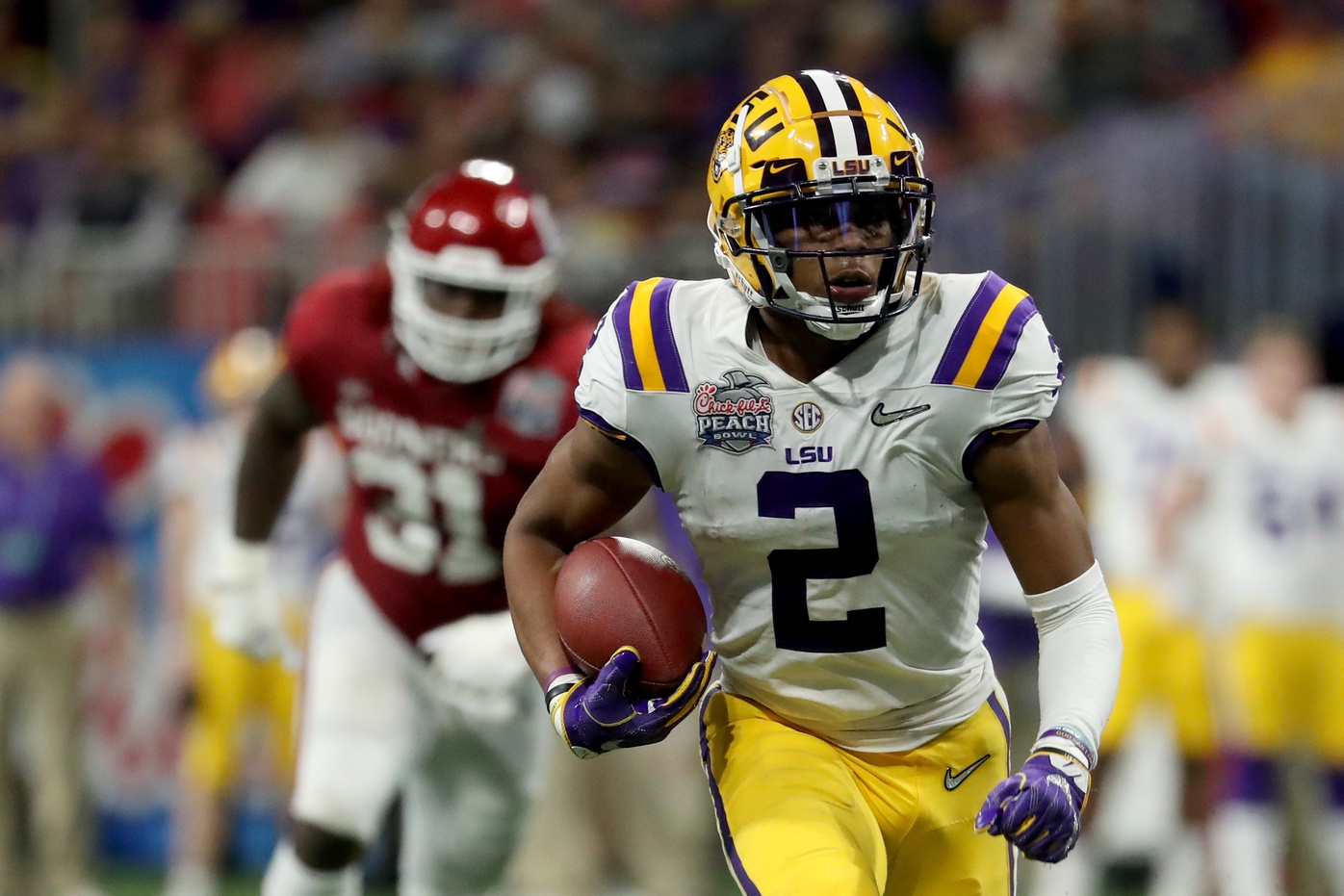 S Jeremy Chinn, Southern Illinois – SELL
Chinn absolutely blew up the Combine in Indianapolis. His 40-yard dash (4.45 seconds), vertical jump (41 inches) and broad jump (11 feet, six inches) all finished north of the 90th percentile at the position, and Chinn did it all while listed at 6-foot-3 and 221 pounds. That kind of athleticism is going to perk up some ears, particularly for a small-school prospect without a whole lot of workable tape to go off. It has even bumped him up into the back part of the first round in some mock drafts out there. We simply can't get on board with that hype. 
Chinn checks in at just 107th on the PFF Big Board, and it really comes down to him being more athlete than football player at this stage. He doesn't exactly play to his size and athleticism, rarely attacking the ball carrier. As the PFF Draft Guide says, he also looks a tick slow reacting to plays. The athletic tools are all there, but if a team is expecting an early contributor, Chinn isn't going to be that. He is still very much a work in progress. 
Winfield's instincts at the safety position are going to be some of the best you see in this class. He's a natural at tracking both routes and the football once the pass is in the air. In other words, those seven interceptions he had this past season are no fluke. Then there is the physicality aspect of his game, something that is not hard to venture comes from his father. 
As @PFF_Mike said in the PFF Draft Guide, Antoine Winfield Jr. looks like a heat-seeking missile.

like father, like son pic.twitter.com/JQpoWWWeto

— Anthony Treash (@PFF_Anthony) April 14, 2020
After two seasons that were shortened by injury, Winfield put it all together this past season with an 88.1 overall grade and an 89.2 grade in coverage. He's someone you can expect not to get beat consistently while also providing some playmaking ability in your secondary, and that's why he's one of the best safeties in this class. Running a 4.45 in Indianapolis certainly didn't hurt matters, either. 
Fallers
Epenesa's lack of athleticism may have him falling into the second round come later this week, and he would be a massive value to any potential suitors should he fall that far. 
"If he falls to R2 he's gonna be a huge steal."

???? @PFF_Mike on Iowa's A.J. Epenesa pic.twitter.com/raoVuX1b6R

— PFF (@PFF) April 10, 2020
As the PFF Draft Guide says, Epenesa has the length, power and versatility to be an every-down player in basically any scheme. The Combine numbers certainly don't help his case to win on the edge against NFL tackles, but it's hard to ignore his history of production at Iowa. After earning a PFF grade of 90.1 in 2018, notching 46 pressures in just 229 pass-rushing snaps, Epenesa kept up the production in a larger role last season with an overall grade of 84.3. He doesn't have to win with his burst off the edge because of the kind of power and hand usage he employs. It remains to be seen where his best role is at the NFL level, but we'll have to sell the idea that he is no longer a first-round talent. 
Dantzler's 40-yard dash time is an example of a Combine drill that does raise some red flags. When you're asking a guy to run with NFL wide receivers downfield, 4.64 seconds simply isn't going to cut it — particularly when said player is listed with a slight 6-foot-2, 188-pound frame. That has dropped him to 50th on our final Big Board. 
The positives to his game are still there, though. He had a track record of strong play in press coverage at Mississippi State, someone who looked comfortable in the red zone and attacking balls in the air with the goal of coming down with an interception. If he were to add on some muscle and prove he is faster than that 40 time, Dantzler would be a pretty safe first-round target, but those things are concerns when projecting his game to the NFL.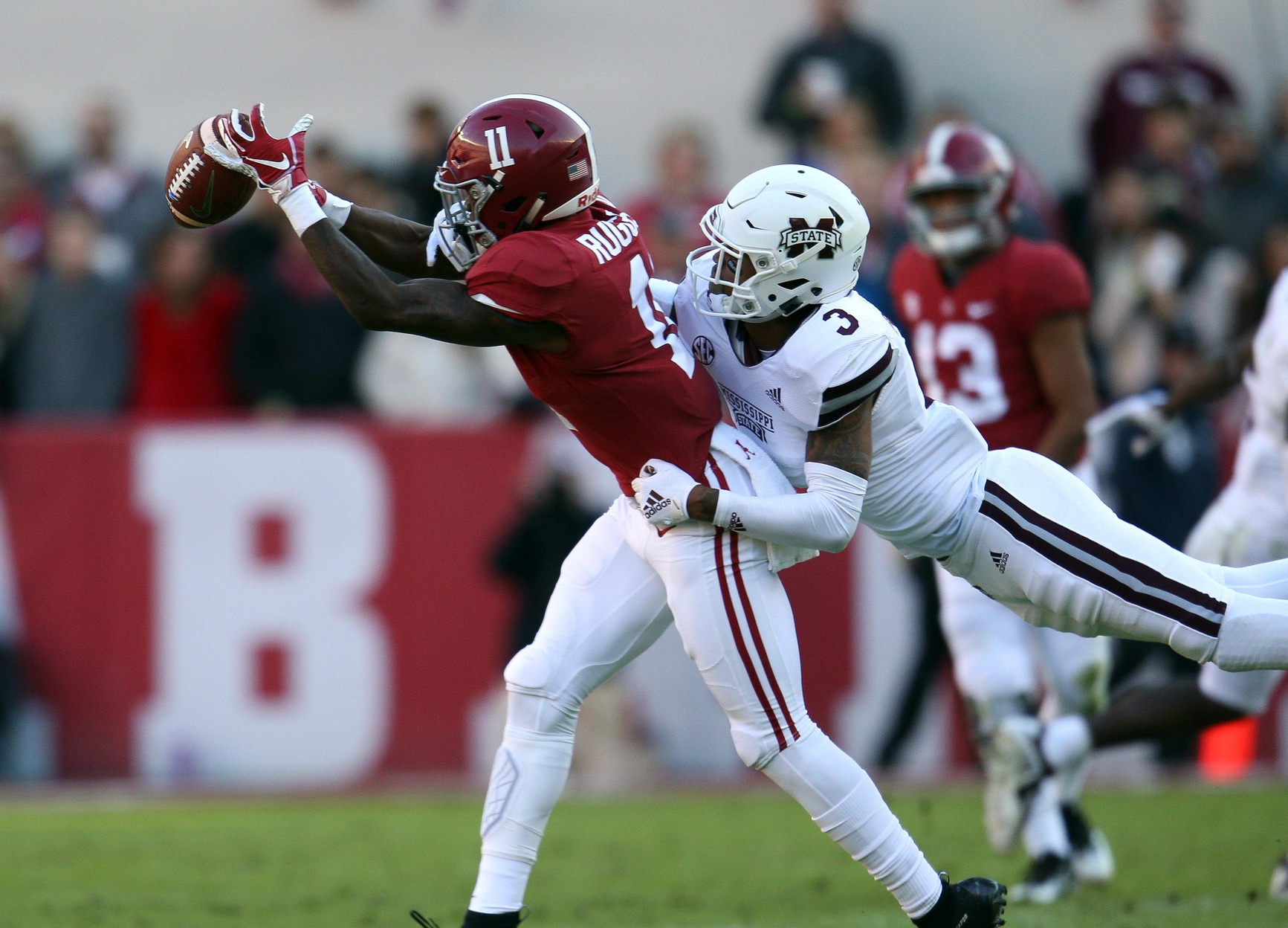 Shenault has been a favorite of mine throughout draft season, but it's clear at this point that his history of injuries (and current injury situation) has him viewed in a less favorable light around NFL circles. That said, we try not to play doctor too much at PFF, and what Shenault has put on the field still has him as WR4 in our books. 
After putting up an extremely productive season in 2018 (even with the missed time due to injury), Shenault transitioned to more of a traditional outside role this past season, getting deeper downfield on his route tree and relying less on screens. He battled injuries once again, but Shenault showed he could excel in that role too, putting up his second consecutive receiving grade above 85.0. 
Laviska Shenault Jr: Best WR after the catch in the NFL Draft

Per @PFF_Mike pic.twitter.com/S3o14bEXOc

— PFF Draft (@PFF_College) April 15, 2020
Shenault's calling card is his ability after the catch, and the kind of explosive athlete he is — with the ability to stop and start on a dime — indicates he'll be able to do similar things at the NFL level out of the gate. The opportunity to get that kind of potential difference maker in Round 2 is something that NFL teams should be jumping all over. 
Going into the 2019 season, Pinckney had all the makings of being a potential first-round selection at this time. Then he had a disastrous 2019 season at Vanderbilt, earning an overall grade of 53.8 and catching just 20 passes all year. 
He was still at 43rd on PFF's Big Board heading into the Senior Bowl, but he didn't look like the kind of athlete who could win as a receiver downfield when lined up next to other players at the position, struggling to separate even against linebackers. The Combine only underscored those athletic limitations. A 4.96 40-yard dash is problematic for someone with featured tight end aspirations. This is a weak tight end class, but Pinkney is well down our board at this point, dropping all the way to 170th overall and TE9. 
Jennings wasn't someone getting a whole lot of hype nationally, but he was up there for us after a 2019 season in which he forced 30 missed tackles on 59 receptions while averaging eight yards after the catch and over 16 yards per reception in total. Those numbers catch your attention. It wasn't just the numbers, either — his balance and suddenness for someone his size was impressive. That is why his combine numbers were so disappointing. 
Jennings put up a 4.72 40-yard dash (11th percentile) and a 29-inch vertical jump (third percentile). It's easy to overreact to athletic testing, but those are some rough numbers when you're talking about a wide receiver. We're still probably higher on Jennings than most given his production at Tennessee last season, but he has dropped to 70th on our most recent Big Board, down from 31 going into the Senior Bowl.