With the PFF Draft Big Board set, we will be releasing some of our favorite teams throughout this week, which will highlight, among others, the school-school prospects, the high-floor/low-ceiling prospects and the prospects with the most "upside."
Today, we are looking at the small-schoolers. These players didn't go to blue bloods or even Power 5 programs, but they are still firmly on the NFL's radar. Here, we present PFF's All-Small School Team.
[Editor's note: Check out PFF's 2020 Mock Draft Hub, NFL Draft Big Board and NFL Mock Draft Simulator.]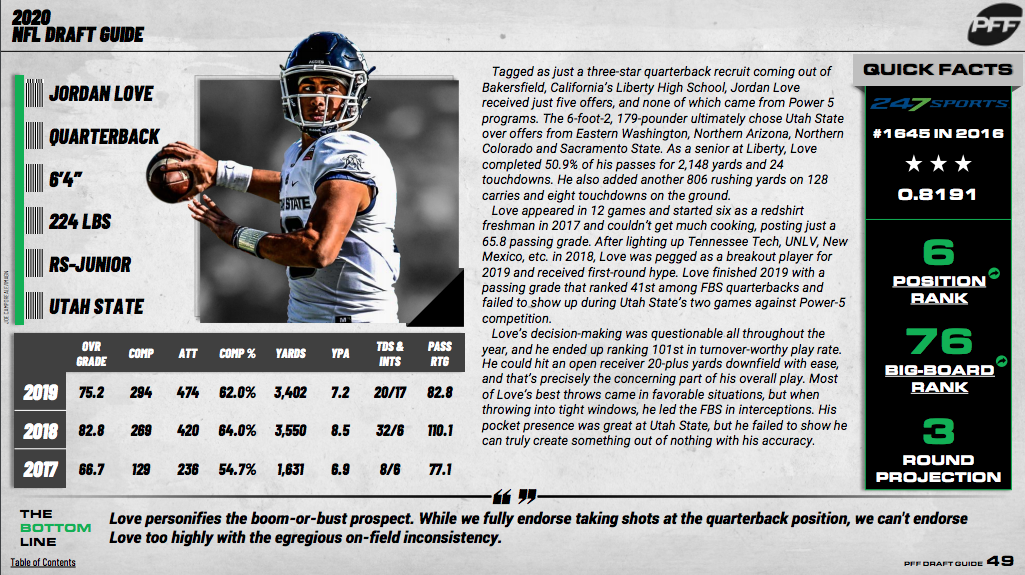 QB: Jordan Love, Utah State
Even though we've made it no secret that we do not see Love as a first-rounder, he's still comfortably the top small-school prospect on our board. Over the past two seasons, Love's 51 big-time throws are the ninth most in the country.
RB: Antonio Gibson, Memphis
Gibson touched the ball all of 77 times in his entire college career (33 catches, 44 receptions), and he broke 33 tackles on those touches. With freaky athleticism — he ran a 4.39-second 40 — and that kind of elusiveness, you better believe we're taking a chance on Gibson on Day 3.
WR: John Hightower, Boise State
Hightower doesn't just have the speed, but he also has the sneaky route-running chops. He's a bit of a poor man's Justin Jefferson in the way he's able to sink his hips with ease to sell breaks. Despite mainly being a deep threat for Boise State, Hightower still averaged 2.83 yards per route over the past two seasons.
WR: Isaiah Coulter, Rhode Island
We have only graded one of Coulter's seasons at Rhode Island, but it was more than enough for us to give him a fourth-round grade. He's got legit speed and breaks routes downfield without losing a step. The physicality of the NFL game will be a wakeup call, but if he can get over that hump, the talent is certainly there.
TE: Adam Trautman, Dayton
Trautman has almost everything you could want from a modern tight end…except speed. It's simply going to limit him in the NFL, as the dynamic threats at the position aren't running in the 4.8s. He can still get open and be reliable underneath, though, as evidenced by his two drops on 72 catchable targets last season.
LT: Ben Bartch, St. John's
The Division III tackle not only dominated his low-level competition, but he also dominated NFL-caliber talent at the Senior Bowl. Offensive linemen aren't supposed to do that when making a leap that large in competition level. That's why we're so high on him.
LG: Netane Muti, Fresno State
The top interior offensive lineman on our board, Muti will fall down boards due to the Achilles and Lisfranc injuries that limited him to only 318 snaps over the last two years. Still, he allowed only 14 pressures on nearly 700 career pass-blocking snaps.
C: Matt Hennessy, Temple
Hennessy has the type of grading profile you love to see from a college offensive line prospect, as he improved mightily every year. He went from a 73.6 overall grade in 2017 to 76.9 in 2018 to 86.5 this past year. Hennessy has plus athleticism for the position, as well, and he should come off the board on Day 2.
RG: Danny Pinter, Ball State
Pinter only switched from tight end to offensive tackle a couple of years ago and has made massive strides since. He earned a 74.6 overall grade in his first season as a starter, but that skyrocketed to a 91.2 this past season. He's played right tackle at Ball State but is likely a guard in the NFL.
RT: Robert Hunt, Louisiana
Hunt was dominating this past season before an injury cut his year short. He had earned an 87.1 overall grade through seven games before going down. He's a massive 330 pounds and may ultimately kick into guard, but he looks nimble enough to at least get a shot on the edge.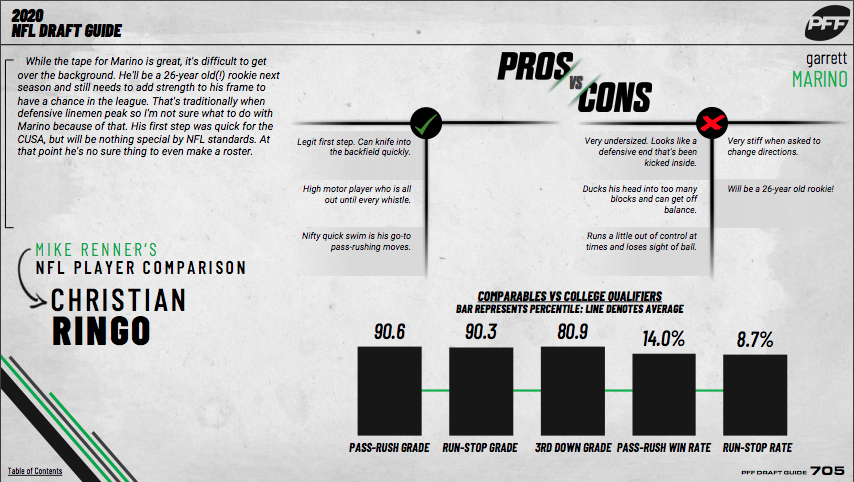 DI: Garrett Marino, UAB
It's not a banner year for small-school defensive tackles, but Marino takes the cake in terms of production. He earned a 90.3 run-defense grade and 90.6 pass-rushing grade last season. The issue is that he's well under 300 pounds and will already be 26(!) years old as a rookie.
DI: Teair Tart, FIU
Tart didn't even play half of FIU's defensive snaps this past season or in 2018, but he still made his presence felt. He earned run-defense grades of 90.2 in 2018 and 90.7 this past year, playing a little more than 300 snaps in each.
EDGE: Curtis Weaver, Boise State
The top small-school prospect on the PFF draft board, Weaver dominated unlike any non-Power 5 player we've ever graded. Over the past three seasons, Weaver racked up an absurd 72 combined sacks and hits. Those are big boy numbers.
EDGE: Trevis Gipson, Tulsa
A late bloomer, Gipson didn't put it all together as a pass-rusher until down the stretch as a senior. This past year he earned an 89.7 pass-rushing grade after earning a 74.4 in his first year as a starter in 2018. With length and bend, Gipson has legit edge tools.
LB: Akeem Davis-Gaither, Appalachian State
Davis-Gaither played an interesting hybrid role in Appalachian State's defense, where he rushed the passer off the edge almost as much as he dropped into coverage. The crazy thing was that he won a lot as a pass-rusher, earning an 82.2 grade in that regard, even at 219 pounds. He's a project, but he's still one of our favorite small-schoolers in the draft.
LB: Logan Wilson, Wyoming
Wilson has the size (241 pounds) and athleticism to be an every-down linebacker in the NFL. That bodes well when you consider his production at Wyoming, where he earned a 90.6 overall grade this past season. However, the concern is that he'll already be 24 years old before the start of his rookie season.
CB: Amik Robertson, Louisianna Tech
Robertson is a straight-up dog at the cornerback position. He's only 5-foot-8, 187 pounds, but Robertson plays completely unafraid. He also dominated to the tune of a 91.2 coverage grade this past season, with five picks and 17 pass breakups. He'll be a slot or safety in the NFL at his size, but he'll also be darn good.
CB: L'Jarius Sneed, Louisianna Tech
I cheated a little here, as Sneed actually played safety this past season, but he did once play corner for LA Tech. He'll most likely return to the cornerback position, given his 4.37 speed and 31 ⅜-inch arms. Sneed earned above-average coverage grades all four years for the Bulldogs.
S: Kyle Dugger, Lenoir-Rhyne
Dugger is a physical freak who checked in with the biggest hands (10 ¾ inches), longest arms (32 ⅞ inches) and highest vertical of any safety at the combine. He is explosiveness personified at 6-foot-1, 217 pounds, and he plays every down like it. His best position may even be at linebacker at the next level.
S: Jeremy Chinn, Southern Illinois
Chinn is yet another freak of nature who had a 41-inch vertical and 11-foot-6 broad jump while weighing 221 pounds at the combine. Despite that size, he wasn't quite the physical in-the-box player that Dugger was and looks his best when he lines up like an actual safety. I'm guessing that he'll be coveted by man-heavy teams, as he has the ability to stick with tight ends.