It was another fantastic week of Senior Bowl practices as executive director Jim Nagy and company deserve all the credit for a seamless week. While Austin Gayle has you covered with all the risers and fallers from the week., I'll be diving into some high-level takeaways from the week that was.
The Senior Bowl is a valuable piece of the evaluation process as it gives players a chance to prove they belong with others who will all be rostered in the NFL in a few months' time.
QBs remain status quo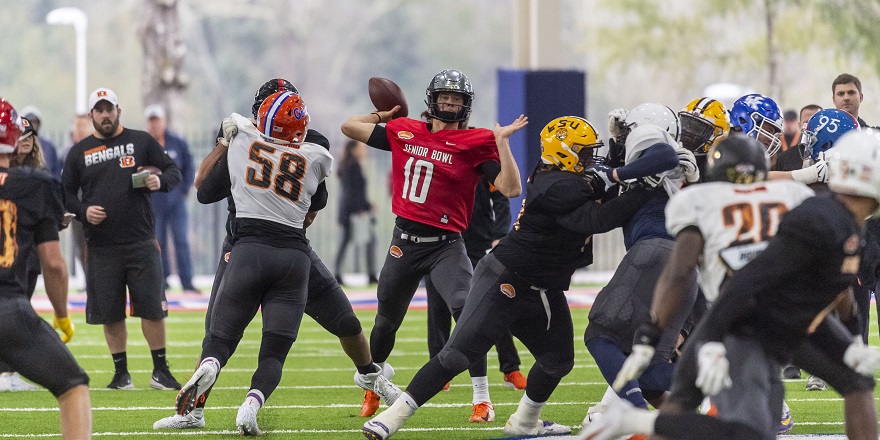 If you loved Oregon's Justin Herbert or Utah State's Jordan Love heading into this week, chances are you're still enamored with their skillset. If you were down on them heading into Mobile, chances are their performance this week hasn't changed your opinion either. Love had the most big-time throws in the practices this week but was also very inconsistent with his accuracy. Herbert on the other hand was far better in that regard and had the highest accuracy percentage of any quarterback on the week. His concerns though couldn't necessarily be answered in a controlled environment like the Senior Bowl. His ability to read a defense, find open receivers, and play winning football are his biggest issues and those can't be answered against defenses in Mobile that aren't allowed to blitz or play anything other than single-high coverages.
Notre Dame and Ohio State show out
With five players from Ohio State (the second-most of any school at the Senior Bowl) and four from Notre Dame, the two midwestern blue bloods were well represented in Mobile. Both groups put on a show as well with receiver K.J. Hill, guard Jonah Jackson, cornerback Troy Pride Jr., and safety Jalen Elliott all making our top-10 risers. Even outside of those guys, safety Alohi Gilman, receivers Chase Claypool and Austin Mack, and defensive tackle Davon Hamilton all helped their draft stock with their performances this week.
Weak cornerback group
We knew it was going to be a rough group going in after LSU's Kristian Fulton and TCU's Jeff Gladney bowed out of the practices before they began, but boy did it get ugly. Wake Forest's Essang Bassey and Nebraska's Lamar Jackson tied for the worst grades in the one-on-ones that we've ever given to a cornerback since we started analyzing the Senior Bowl practices four years ago. There might not be a single corner in the group drafted in the first two rounds and outside of Notre Dame's Troy Pride Jr., there may not be another corner drafted on Day 2. Something to keep in mind when looking at all the receivers that "dominated" down here.
Top-50 breakdown
12. Javon Kinlaw, DI, South Carolina
I said heading into the week that I'd be surprised if Fulton or Kinlaw ever even put on pads in Mobile. They've both played elite football in the best conference in America. They really didn't need this week for their draft stock. Fulton dropped out right before the week, but Kinlaw still made the trip. He dominated the first day and showed his freakish blend of power and quicks. At some point his agent must have said that's enough though as he dropped out of Day 2 with a minor injury.
18. Josh Jones, T, Houston
No offensive tackle had a higher win rate in the one-on-ones than Jones' 64% this week. Even flipping from left to right to guard, Jones showed he's every bit a first-round talent. This is the kind of prospect this week of practices was made for and Jones
27. Justin Herbert, QB, Oregon
Herbert very much looked the part of a franchise QB. While he may not be rising up our board at PFF, Herbert can be penciled into the top-10 at this point. The arm talent he possesses is still rare and someone's going to believe they can tap into and realize that potential.
31. Jauan Jennings, WR, Tennessee
Jennings came into the week at No. 31 primarily for his after-the-catch ability, which isn't something you can see on the field at Mobile. He had a big opportunity to show he could separate and win on the outside after playing primarily from the slot at Tennessee. While he got off the line of scrimmage against press very well and that's encouraging, Jennings didn't show near the polish or explosiveness in his routes of some of the others. His 67% win rate in those drills was right around average for the receiver class.
38. Michael Pittman Jr., WR, USC
Pittman was yet another receiver with a ho-hum week. He absolutely bullied some of the smaller corners this week, but had Troy Pride Jr. in his hip pocket on anything downfield. Speed and separation ain't necessarily his game and he even said as much in the interviews. Even when he's not open, Pittman can still make plays.
39. Jonah Jackson, G, Ohio State
Jackson firmly put himself into the conversation for PFF's OG1. He doesn't have the raw power that our current top guard — Fresno State's Netane Muti — possesses, but he is the most technically sound pass protector in the class. He's a sure-fire top-50 player on our board.
40. Zack Baun, Edge/LB, Wisconsin
We had questions about whether Baun would be playing on the edge or off-ball in the league. He came down to Mobile and firmly stated in his interviews that he sees himself as an off-ball linebacker in the NFL. It's not the position he played at Wisconsin and it showed this week. He looked far more comfortable rushing against offensive tackles this week than playing man coverage against tight ends. He didn't have a single win in the coverage one-on-ones. That's no death knell to his draft stock considering he didn't do it at Wisconsin, but it's a little scary projecting forward.
43. Jared Pinkney, TE, Vanderbilt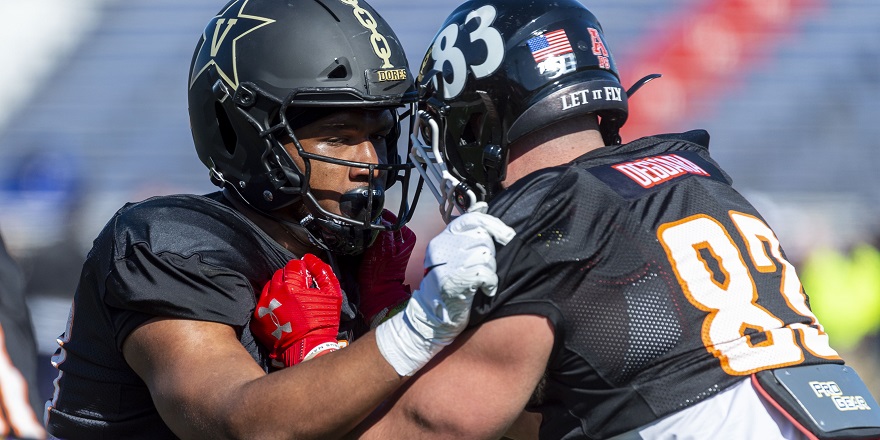 Alongside some undersized, athletic tight ends, Pinkney looked notably worse athletically. His speed really is lacking at the position and will likely be falling down PFF's draft board after his performance this week. The difference makers at tight end in the NFL can win down the field and Pinkney did not show that kind of ability even against linebackers in Mobile.
44. Terrell Burgess, S, Utah
The fact that Burgess took part in the man coverage drills against wide receivers this week and didn't look out of place is already a huge boon for his stock. His size will be a bit of an issue at only 192 pounds, but his ability to drop down and cover the slot while also making plays deep should be coveted. Burgess had a pick go through his hands on the last day of practices as he jumped in front of a seam route from deep middle.
45. Bradlee Anae, Edge, Utah
Anae looked quite easily the most technically sound edge rusher at the Senior Bowl. His hand usage was top notch, but his lack of top-tier athleticism really showed against some of the more athletic tackles. It's also worrisome that he had only 31 ⅞" arms — a very short number for an NFL edge rusher.
46. Nick Harris, C, Washington
From the start at the weigh in, things went south for Harris. He checked in at only 293 pounds — the lightest of any offensive lineman in Mobile. That's very light for the position and not going to help with his play strength concerns. He got routinely pushed back into the pocket and finished the week with the lowest grade of any offensive lineman in the one-on-ones. The weight room needs to be Harris' friend from now until training camp.
Biggest takeaway: Offense is booming
Defenses around the NFL are already reeling to find ways to stop modern offenses. With the upcoming crops of talent at receiver and offensive tackle in the 2020, it doesn't look like that's going to be changing anytime soon. Even though none of our top-three tackles or top-six wide receivers were down in Mobile, both those groups still dominated their peers on the opposite side of the ball. Houston offensive tackle Josh Jones, Ohio State wide receiver K.J. Hill, and Baylor's Denzel Mims all looked like they could step on an NFL field tomorrow and be quality starters.