• Alabama quarterback Bryce Young claims the top spot on Mike Renner's preseason top 100 big board.
• Clemson linemen Myles Murphy and Bryan Bresee crack the top 10 thanks to their frames and pass-rushing production.
• Stanford quarterback Tanner McKee — at No. 17 overall — is the QB3 on this preseason big board.
---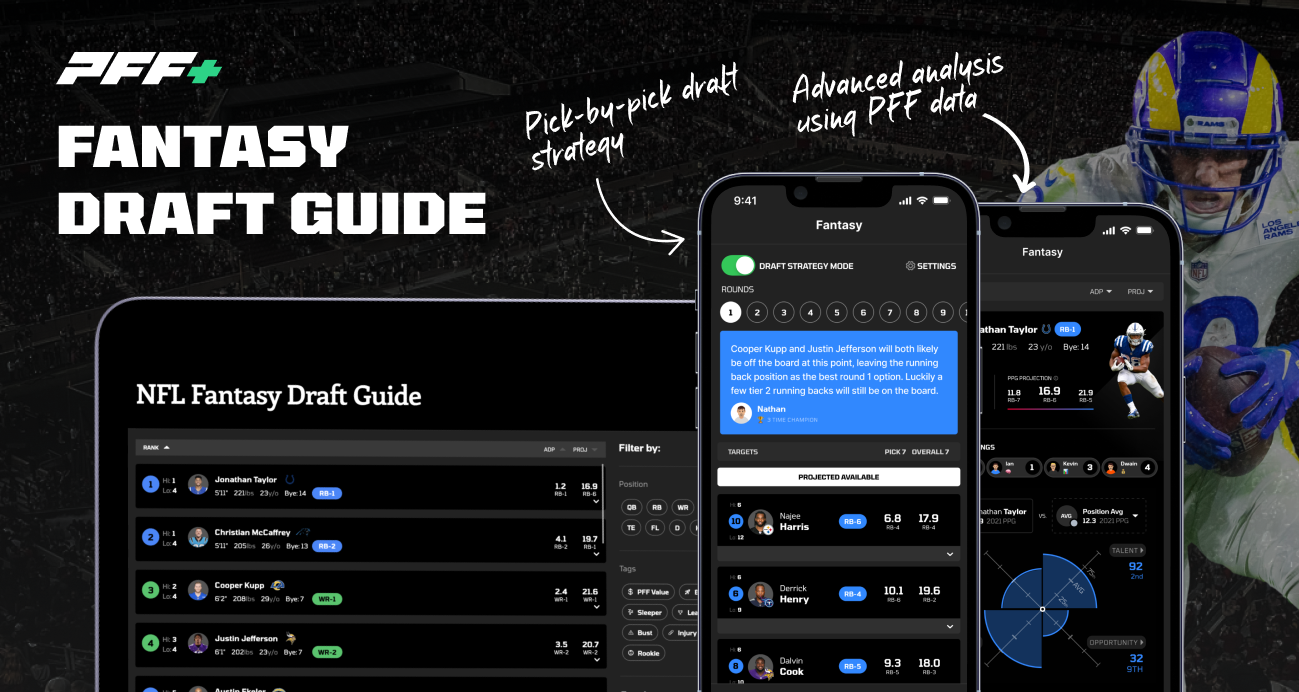 The reigning Heisman Trophy winner is not simply a product of the Alabama system — he is a bona fide playmaker with NFL-caliber arm talent. His 92.0 passing grade last season is the highest of any returning Power Five quarterback.
Listed at 6-foot and not even scraping 200 pounds, his stature will be picked apart as much as his on-field performance this year.
Your FBS leader in quarterback pressures last season was just a true sophomore. Anderson joined Chase Young as the only true sophomores in PFF's eight years of grading college football to accomplish such a feat. That's the caliber of prospect the 6-foot-4, 243-pounder should end up as. He could skip the 2022 season and still be a top-five pick.
Stroud will come with some of the same knocks as Justin Fields did coming out, as a lot of the criticism surrounding him a year ago was driven as much by the offense as it was Fields' play style.
In that offense, Stroud earned a 92.2 overall grade as a redshirt freshman compared to Fields' 91.5 mark in the same year. But let the record show that they do not play a similar brand of ball despite Stroud's similar 6-foot-3, 218-pound stature.
No, Stroud is far more of a true pocket passer than Fields ever was. His 2.68-second average time to throw — Fields was at 3.14 for his college career — and 10.8% pressure-to-sack conversion rate (Fields was at 23.6% for his career) are ideal figures for a pocket passer projecting to the NFL.
On the loaded Georgia defensive line, it was the true sophomore who finished with the highest pass-rushing grade. His 90.0 mark was tops among all Power Five defensive tackles in the country, and that's a feat we have never seen from a true sophomore. Carter is another prospect who could write his ticket to a top-five pick without playing another snap.
Murphy is one of those "know it when you see it" kind of physical specimens. The 6-foot-5, 275-pound defensive end is bigger, more powerful and more explosive than everyone he's going up against. And that was true as a freshman. He's earned a 92.2 run-defense grade for his college career.
Bresee was the No. 1 overall recruit in the 2020 cycle, and while he hasn't quite lived up to that lofty billing, you still see it. And by "it," we mean the undeniable movement skills that few 6-foot-5, 300-pound men have ever been capable of. He earned an 81.2 pass-rushing grade back as a true freshman before tearing his ACL only four games into his sophomore campaign.
Before Jaxon Smith-Njigba went for over 300 receiving yards in a game, Boutte was doing it as a true freshman in 2020 against Ole Miss. The crazy thing about that game was that, even with 14 catches for 308 yards and three scores, Boutte still left yards on the table with two drops.
Those ball skills will be the biggest worry for the explosive LSU wideout, as his 9.9% career drop rate and 28% career contested catch rate need to improve.
Being bigger and also faster than most receivers you face is helpful for playing the cornerback position. While that's true for many cornerbacks in college, it will also be true for the 6-foot-2, 205-pounder in the NFL. He's got low-4.3 speed at that size, and it showed with how infrequently he let guys get by him. On 17 deep targets last season, Ringo caught as many balls (two) as opposing wide receivers.
A 6-foot-3, 200-pound slot cornerback? You don't see that often. That's what Johnson was in the Aggies' defense last season, and he still earned an 87.4 overall grade. He's exceptional at flowing to the football and easily gets off wide blocks with his length. His 62 targets faced last season resulted in a grand total of 228 yards. We'll see him play more traditional safety in 2022 to solidify his stock.
Smith-Njigba will be a hotly debated prospect after the scouting combine next spring because the 6-foot, 198-pounder is no "Underwear Olympics" kind of athlete. Last spring, he reportedly ran the 40-yard dash in the high 4.5s. There's simply no track record of receivers drafted in the top 10 without elite size or speed. That said, his floor is so high with his ball skills, route-running and after-the-catch ability that I wouldn't be too worried.
Aidan Hutchinson and Andre Carter — the two men tied for the highest pass-rushing grade in the country last season. That's impressive company for Carter, regardless of the competition level faced. The thing is, Army still played Wake Forest, Missouri and Wisconsin last season, and in those games, he racked up 14 pressures on 71 pass-rushing snaps. The 6-foot-7, 265-pounder is built for the NFL game, as well.
The "Gumby rusher" of the class, Anudike-Uzomah can bend around the edge for days. That's the kind of rusher who will convert a lot of pressures into sacks, and the Kansas State product did just that in 2021. He racked up 43 pressures, with 13 of those being sacks. He could stand to get a little stronger, but he's already a safe bet to be a first-rounder.
If Mayer ran a 4.5-second 40-yard dash, we'd be talking about him as a top-five pick. He's that gifted as an all-around tight end. Unfortunately, he won't be running within a tenth of that anytime soon, which puts him far more in the Zach Ertz mold of tight ends — still a viable path to success in the NFL. The fact that he's already a physical presence as a true sophomore makes him so special.
The most technically sound offensive tackle in the draft class, Skoronski has been that way since his true freshman campaign. He earned an 81.4 overall grade that season, and he improved that to 83.8 in 2021. While not the physical specimen we saw in this past year's tackle class, Skoronski gets the job done.
Roy has play strength beyond his years for a sophomore. He was only slightly behind Jalen Carter for the top Power Five pass-rushing grade at the position last year (89.6). At 6-foot-4 and 297 pounds, he has the length and strength to be a scheme-versatile defensive tackle.
Williams is unfortunately stuck in a scheme that isn't set up to make his numbers look the best. He's got a press-man kind of athleticism and ability, yet he ran only 26 snaps of press-man coverage last season. He's racked up 13 pass breakups in two seasons for the Orange.
You won't find much in McKee's grading profile that will "wow" you. With only 2,325 passing yards, 15 touchdowns and seven picks, you may even wonder why he's on this list.
But then you flip on the tape to see the offense and separation he was working with from his receivers, and you start to understand. Despite putting up less than half as many total passing yards as Bryce Young, McKee had over twice as many passing yards into tight windows (725 to 326). McKee out-graded both Young and Stroud on solely tight-window throws; he just had one of the more difficult quarterback jobs in the Power Five last year.
The last of the freak athletes in Georgia's front seven last season. Smith was the composite No. 1 overall recruit in 2019, according to 247Sports, although he's yet to make that kind of impact as an edge rusher. He's still one insane athlete who makes plays ranging in the run game that defensive linemen aren't supposed to make.
Ika is a 350-pound nose tackle who doesn't move like one. He's not a hold-the-point guy; Ika is playing on the other side of the line of scrimmage. He racked up 33 pressures in his first full season as a starter in 2021 after transferring from LSU.
A former five-star tackle recruit, Jones has played all of 463 snaps in his career so far. They've been pretty darn impressive reps, though, as he's earned an 82.0 overall grade. He'll take over at left tackle full-time this fall.
Johnston's raw stats of 1,091 yards and eight scores over two seasons don't quite do him justice. One reason is that TCU's quarterbacks have left a lot of yards on the field. Another reason is that Johnston's production is a result of only 55 catches, meaning he has an explosive 19.8 yards per reception average for his career. Finally, on that small catch sample, he's broken 26 tackles for his career. The 6-foot-4, 201-pounder is a scary after-the-catch weapon.
Johnson spent the 2021 season at guard for the Buckeyes, earning a 79.1 overall grade. Make no mistake about it, though: Johnson is a tackle. He'll be on the left side this fall, where his feet, length and athleticism will be on full display.
Ricks is one of the best press cornerbacks in the draft class. He may not be an uber-athlete, but he makes up for it with his length. In two seasons at LSU before transferring to Alabama, Ricks earned an 84.6 coverage grade.
This is about as high as you'll ever see PFF rank a running back. A big portion of that is because Robinson can be so much more with his receiving ability. Robinson finished with 79 broken tackles last season, the third-most in the country. But he did it across only 10 games.
The reigning Biletnikoff Award winner for the top receiver in the country, Addison was Kenny Pickett's go-to guy last season — and for good reason. He just gets open. It's crazy to think that Addison racked up 100 catches for 1,593 yards with 17 scores and still left quite a bit more on the table with 11 drops.
Dexter earns this spot not so much for what he was last year, but rather what he could be in the future. The 6-foot-6, 312-pounder put reps on tape last year that leave your jaw on the floor but still only earned a 72.3 overall on 481 snaps.
Foskey has had the kind of career progression every coach dreams about. From barely playing as a freshman to becoming an adequate role player as a sophomore to shining as an impact starter as a junior. Now he's back for his senior season with his eyes on raising his draft stock toward the top 10. He's got the tools to do so at 6-foot-5 and 265 pounds with pocket-collapsing power throughout.
Simpson is one hell of an all-around athlete at 6-foot-3 and 230 pounds — so much so that he played slot for the Clemson defense last season. He's a Swiss Army knife that can do pretty much anything asked of him. That showed as a blitzer, a role from which Simpson racked up 31 pressures on only 90 pass-rushing snaps.
Branch has been the single best tackling defensive back in the country over the course of his career. He's missed only one of his 82 tackle attempts in two seasons. That's a great starting point for a safety. Add in his instinctive and physical play style, and you've got a possible first-rounder.
Sewell is a man among boys on tape despite being the relative youngster over the course of his career. He can chase down running backs with ease despite tipping the scales at over 250 pounds. Now he just has to play more under control after missing 19 tackles last season.
Smith put together a breakout 2021 season in his first campaign as a starter. He allowed only 15 catches on 32 targets for 184 yards with three picks and nine pass breakups. If you can't tell by those numbers, Smith has some serious ball skills at cornerback.
Freeland moves so well for a 6-foot-8 tackle. He had a breakout 2021 campaign that saw him allow only five pressures on 426 pass-blocking snaps in his first season on the left side.
Nelson has steadily improved in all three seasons as a starter, as his play strength has continually improved. He went from a 46.8 pass-blocking grade as a freshman to a 78.7 mark as a sophomore to an 85.3 figure last year.
Joseph is the best ball hawk in the draft class. On 56 career targets at Northwestern before transferring, he picked off nine passes. We just need to see him improve as a tackler after he missed 20 tackles on 101 attempts last season.
Beebe is a road-grading tackle-to-guard convert. He earned an 85.4 overall grade in his first season starting at left tackle in 2021.
Harrison has to get quite a bit stronger before he even thinks about declaring for the draft, but the fact that he still graded out well in 2021 is a great sign. He earned an 85.6 pass-blocking grade in his first full season as a starter last year. I'll bet on the athlete Harrison is.
Ojulari is an undersized edge winner, much like his brother Azeez. He possesses one of the more refined pass-rushing toolboxes and racked up 54 pressures last season because of it. Ojulari is reportedly up to 250 pounds now, which is a good sign for his draft stock.
Abrams-Draine started his career at receiver before flipping to defensive back last year. He split time between the slot and out wide in his first seasons and excelled wherever he lined up. He broke up nine passes and picked off three more on only 43 targets.
Vorhees is one of the cleanest interior offensive line prospects in the class. He's been starting ever since his freshman year in 2017, although his 2019 season (foot injury) and 2020 season (COVID-19) were shortened. He earned a 90.1 overall grade on 902 snaps last year.
It's hard to blame Burton for transferring from Alabama to Georgia. He's way more talented than his 497 yards last season suggest, but he couldn't feature in the run-first Georgia offense. Burton is a well-built 6-foot, 200-pound receiver who plays a physical game before and after the catch.
Harrison is the size-speed freak of the draft class. The 6-foot-6, 272-pounder has sub-11.0-second 100-meter dash times on his resume. He just needs that explosiveness to translate as a pass-rusher more consistently after tallying only 28 pressures last season.
The fastest running back in America, Achane is more than just that. Playing second-fiddle to Isaiah Spiller the past two seasons, Achane soundly outperformed him when given the opportunity. The 5-foot-9, 185-pounder has averaged 7.2 yards per carry and 4.3 yards after contact for his career.
Battle is a big, physical safety who would be best in a two-high or box role. He does his best work driving downhill, as he broke up four passes and picked off three more a season ago.
If you haven't heard of the TCU transfer before now, you will this fall. He's going to light up the stat sheet in Lane Kiffin's offense. In two years at TCU, Evans averaged 7.3 yards per carry and 4.8 yards after contact on 146 carries.
Campbell has throwback size at 6-foot-5 and 246 pounds with three-down athleticism. He's a rangy tackler who wraps up consistently. Over his career, he's missed only 17 attempts on 187 opportunities.
Catalon at only 5-foot-10 doesn't possess the lanky frame that many in the NFL covet at the safety position. Flip on the tape, though, and you won't be too worried. He hits and covers ground like a missile. Over the past two seasons, he's allowed only 248 yards into his coverage.
Kincaid started his college career at San Diego before transferring to Utah. He's such a natural receiver for a 6-foot-4, 240-pounder. He consistently created separation down the field last season and caught 36 passes for 510 yards. A 14.2 yards per reception figure is quite high for a tight end.
Levis took a massive leap forward after transferring from Penn State to Kentucky last season. We saw his elite physical ability get harnessed to play the quarterback position within structure, and he earned a 90.6 overall grade as a result. Levis still could stand to be more consistent with his mechanics and improve upon his downfield accuracy.
Gilbert sat out all of 2021 after transferring from LSU due to undisclosed personal reasons. His off-field will have to be vetted, but his on-field needs no such scrutiny. He's a freak athlete who may even play some receiver for Georgia at 6-foot-5 and 255 pounds.
Few backs in the Power Five had tougher sledding than Bigsby last season. He averaged only 1.8 yards before contact on the season. When he gets in the open field, though, Bigsby is still a problem with elite stop-start ability at his size (6-foot, 213 pounds).
Washington is primed to fill Jahan Dotson's shoes in the Penn State offense. He already made a name for himself as a sophomore operating almost exclusively from the slot (91.1% of snaps). He hauled in 64 balls for 820 yards with 16 broken tackles. He's got a running back-esque build at 5-foot-10, 207 pounds that can do work after the catch.
Wooden is a bit of a tweener at 6-foot-5, 284 pounds. That's an old school 3-4 defensive end build and more than likely an interior player in today's NFL. He uses that length well as a pass-rusher where he racke dup 41 pressures a season ago.
Downs has some of the best acceleration and agility of any receiver in the draft class. He ticks the production box wholesale after racking up 1,335 yards on 101 catches last season. Downs' concerns revolved around his size where at 5-foot-10, 175 pounds he may never be more than a slot only.
Tucker was the Syracuse offense last season. He may not be the most creative runner, but when he gets a runway he's damn nea impossible to bring down. Nearly 10% of his runs last season went for 15-plus yards as he finished with 1,515 yards on 247 carries with 12 scores last season.
After toiling on the bench his first three seasons, Foster had a breakout 2021 campaign at left tackle. He earned an 80.9 overall grade and never allowed more than three pressures in a game.
Daniels has been dominant when on the football field. It's the "when on the football field" that's the problem. He's played only 510 snaps in five years because of injuries.
Duck is one heck of an athlete for a 6-foot-1, 200 pound corner. After an outstanding freshman campaign that saw him earn an 81.3 coverage grade, Duck has struggled to stay on the field since with only 436 snaps the past two years.
Bell is like a jumbo running back with the way he moves at 6-foot-3, 232 pounds. So much so that South Carolina even gave him seven handoffs a season ago. He's at his best after the catch where he broke 13 tackles on 30 receptions last year.
After a breakout 2020 season that saw him earn an 85.9 overall grade, Lole missed all of 2021 with a shoulder injury. He's a leverage demon on the inside and can play nose or 3-tech.
Nchami is yet another player who simply can't stay on the field. He's only seen 288 snaps the past two seasons, but been dominant on them. He's racked up 33 pressures on only 148 pass-rushing snaps. Expect a breakout year if he can stay healthy.
Phillips is an undersized yet uber competitive corner. At only 5-foot-10, 183 pounds, it's going to be difficult for him to raise his draft stock too highly, but his tape against Ohio State was a thing of beauty last season. In that game he allowed 5-8 targets for 38 yards with an interception.
Richardson is the wildcard in the quarterback class. He's taken only 77 dropbacks in his entire collegiate career yet has a highlight reel that is better than most draft hopefuls. At 6-foot-4, 232 pounds, Richardson has an elite physical prowess.
Musgrave has the kind of high-end athleticism that all the difference makers at the tight end position in the NFL possess. The problem is he hasn't even been close to a difference maker for the Beavers. He was barely featured with only 22 catches for 304 yards last season.
Leary is on the smaller end for the position, but don't let that make you think his arm is too. He's one of the best downfield passers in the class with 31 big-time throws a season ago.
The opposite side of the best guard duo in America last year with Kenyon Green. Robinson was a similarly brutish run blocker who still has some work to do in pass-protection after a 65.6 grade in that regard last season.
The younger brother of former USC defensive tackler Marlon, Tuli is already the more explosive of the two. That's why at 6-foot-4, 290 pounds he was able to line up on over 50% of his snaps as an edge and still earn a 79.8 pass-rushing grade last season.
If you haven't seen Vaughn's highlights please stop reading this and go watch. He's electric in the open field at only 5-foot-6, 176 pounds. So much so that I believe he can still be productive at almost unprecedented size. He certainly is for Kansas State as he led the country with a 93.4 rushing grade last season.
McDonald started his career as a sub-package rusher before breaking out in a full-time role last season. He racked up 45 pressures including 13 sacks for an 85.3 pass-rushing grade. You saw why he was a sub-package player, though, as he's still a liability vs. the run at well under 250 pounds.
To'o'To'o has all the physical tools you could want from an NFL linebacker. He just didn't play up to them his first season in Nick Saban's defense after transfering from Tennessee. To'oTo'o allowed 42-50 targets for 390 yards without a pick or pass-breakup.
Corum was wildly underutizlied by the Wolverines last season. He's one of the most difficult backs in the country to bring down one-on-one and broke 49 tackles on 144 attempts last season. He's a load at 5-foot-8, 210 pounds and has tremendous balance with that low center of gravity. That's ideal size to break tackles in the NFL.
Schmitz has put enough good on tape that it was very surprising he returned for another season. He's earned overall grade over 82.0 now for three straight seasons. He's taken 1,724 snaps in his career at center, but has size to play all three interior positions (6-foot-4, 320 pounds).
Flowe has played one game in his collegiate career. He's not making this list because of his performance. He's making it because he's one heck of an athlete at 6-foot-3, 220 pounds. He may not have shown it on the field much yet, but just wait.
Scott has a long way to go from a technical standpoint. That's obvious in his 66.6 overall grade last year. You can't teach people to move the way he does at 6-foot-5, 334 pounds, though.
Porter is like is if his father played corner. He wants to beat up wide receivers and often does so. He fared better against the Ohio State than any other corner in the country last season. We still want to see more ball production, though, after only three pass-breakups and one pick last season.
Chandler doesn't even tip the scales at 300 pounds, but that hasn't seem to have effected him in the run game. He's a smooth mover who earned an 88.9 run-blocking grade and 86.0 pass-blocking grade last season.
Moten is a rocked up 223 pound safety that doens't move like one. He's not solely a box player at that size and actually lined up the vast majority of his snaps deep for Moten.
Stevenson is a hulking 6-foot, 214-pound corner. He consistently moves receivers off their routes. After transferring from Georgia, Stevenson allowed only 25-49 targets for 228 yards in 2021.
We'll see how healthy Tupuola-Fetui is this season. He looked dominant in limited snaps in 2020 (91.8 pass-rushing grade) before he tore his Achilles last offseason and played only 130 snaps in 2021. His bull-rush technique is as good as it gets in college football.
Van Dyke has the arm to go high. Considering he didn't even start 2021 as a starter, his 75.5 overall grade in his first season was a success. From a prospect perspective, we need to see better than a 71.1 adjusted completion percentage to get on board with him going highly.
Kelly's tape was a little too up and down for him to declare last season, but he's still a name to monitor. He's got the kind of smooth hips and suddenness that wins at the position.
Skinner is a Kyle Hamilton clone from a frame perspective at 6-foot-4, 220 pounds. He had a breakout 2021 season that saw him rack up 39 stops – 2nd most among safeties in the country.
Herbig is listed as a linebacker here because he's 228 pounds, but he primarily rushes the passer off the edge for the Badgers. His hand usage and bend are tremendous as evidenced by his 91.4 pass-rushing grade last season.
Slade's got one of the hottest motors at the defensive tackle position in the country. You won't find him taking too many of his 651 snaps from a season ago off. He finished with 40 pressures and an 86.1 overall grade.
Smith was primed to play a big role for the Bulldogs last season after transferring from West Virginia, but a litany of injuries capped off by an ACL tear ended his season. The last time we saw him he earned an 89.7 coverage grade for the Mountaineers.
LaPorta glides across the field so naturally despite being a well-sized 6-foot-4, 249 pounder. We saw that the most after the catch where he broke 10 tackles on 53 receptions in 2021.
You know a corner is putting up some elite tape when he makes this list at 5-foot-9, 180 pounds. There's not a corner with better pure match and mirror skills in the class.
Young is your quintessential Alabama "2-gapping" defensive tackle. He earned an 88.8 run defense grade on 399 snaps last season and that's why you're drafting him.
Anoma is a wildcard in the class. He's already been at three different stops (Alabama, Houston, UT-Chattanooga) before enrolling at Michigan just this month. He's a former five-star with some insane burst, but his off-field will have to be vetted.
Gibbs carried a hapless Georgia Tech offense as best he could for two seasons before transferring to Alabama. While on the smaller side for an Alabama back at 5-foot-11, 200 pounds, he's dynamic as can be with a level of juice they haven't had in a while.
Charbonnet had a breakout junior season for the Bruins after transferring from Michigan last offseason. He's got great balance for a 220-pounder and broke 69 tackles on 204 attempts.
Benton blocks on the sun in the middle of Wisconsin's defense at 6-foot-4, 315 pounds. He's got impressive ability to get up the field on the nose at his size. He earned a 74.9 pass-rushing grade last season.
Jarrett is a speedster that split time evenly betwen outside and the slot last year. Now he just needs to get featured more downfield as he hauled in 10 of his 17 deep targets.
McBride is on another level altogether physically from his Conference USA competition. For his career he's averaged 5.2 yards after contact per attempt.
Tyree Wilson is a prospect on the rise because of what his physical tools could be molded into. He's explosive off the line for a 6-foot-6, 272 pound edge. That's a handful for anyone to block. Wilson runs hot and cold, though, and only earned a 72.7 grade last season.
Bergeron has a very solid all-around tackle profile. He may not "wow" you, but he's exceedingly consistent. He only allowed 11 pressures on 378 pass-blocking snaps last season.
Gonzalez is a long and rangey corner who's just starting to figure it out. At 6-foot-2, 201 pounds he doesn't have any of the clunkiness you expect from a taller corner. Now we just need to see more plays on the football as he's yet to have an interception in his career and had only four pass-breakups on 55 targets last season.
Hall's linear explosion is NFL-caliber. The problem is he relies on that a little too much and lacks counters in his pass-rushing arsenal. Still, he put up an 81.2 pass-rushing grade last season.
Davis had a stellar true freshman year in 2019 that saw him earn a 79.6 overall grade on 549 snaps. He's only played 516 snaps since, however, as injuries struck. He may not even have his full-time role back this season with how talented Clemson's defensive line is.
The number 1 player on Bruce Feldman's Freaks List, Smith can really move for a 337-pounder. Now he just needs to defeat blocks more consistently as he only earned a 75.6 overall grade last season.
Levelston is a long 6-foo-5, 266 pound edge defender with some inside-outside versatility. He earned an 82.4 pass-rushing grade for the Mustangs in his first season as a starter in 2021.