The 2023 NFL Draft is over, and the grades are in for all 16 AFC teams.
For those seeking a deeper dive into every NFL team's draft, look no further than the newly updated PFF draft guide, which provides:
• A three-page profile for every top prospect in the class, highlighting pros, cons, strengths, weaknesses and career stats
• Scouting combine results and analysis
• Projected player roles and player comps
• A draft grade for all 32 NFL teams
• An offseason report card for all 32 NFL teams, showing additions, losses and the current state of every team's salary-cap situation
More PFF draft content:
LIVE Draft Tracker | 2024 Mock Draft Simulator | 2023 NFL Draft Guide
Top 200 Big Board  | PFF Mock Drafts | Measureables & Workout Data
NCAA Premium Stats | Draft Rankings By Position | Prospect Superlatives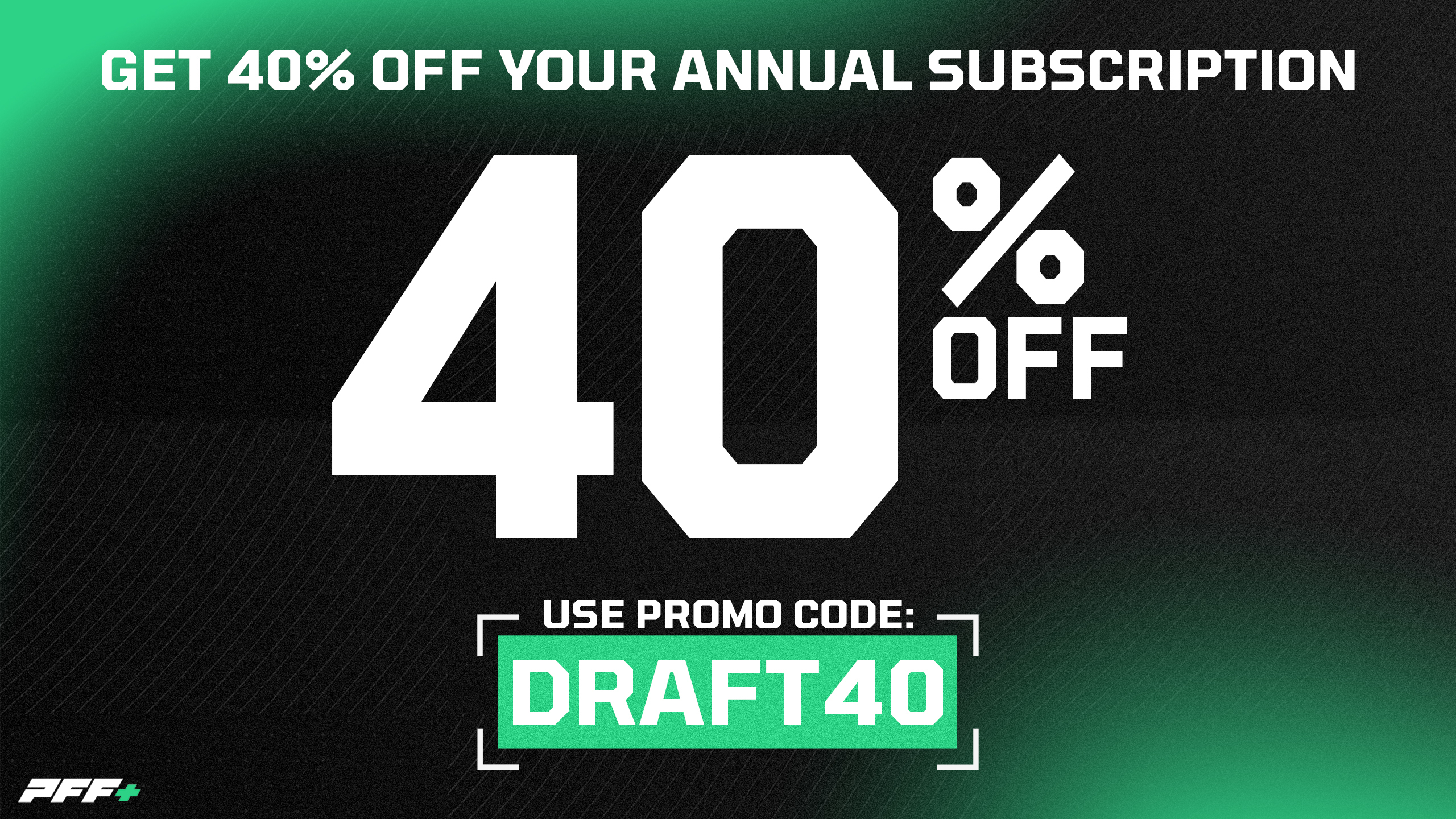 JUMP TO A TEAM:
BLT | BUF | CIN | CLE | DEN | HOU | IND | JAX
KC | LVR | LAC | MIA |  NE | NYJ | PIT | TEN
R1 (22): WR Zay Flowers, Boston College
R3 (86): LB Trenton Simpson, Clemson
R4 (124): EDGE Tavius Robinson, Ole Miss
R5 (157): CB Kyu Blu Kelly, Stanford
R6 (199): OG Sala Aumavae-Laulu, Oregon
R7 (229): OG Andrew Vorhees, USC
Day 1: Flowers is shifty, knows how to separate and complements what the Ravens have at the position well. He can replace the production they lost from Hollywood Brown after trading him away last year, as Flowers racked up 500 receiving yards on throws 20-plus yards downfield.
Day 2: Baltimore gets good value here in Clemson off-ball linebacker Trenton Simpson, a former five-star recruit in the 2020 class. Simpson's numbers did dip a bit from 2021 to 2022 as he moved from an overhang role to playing more in between the tackles, but the Ravens will surely take advantage of the physically gifted linebacker's versatility.
Day 3: Robinson has all the tools at 6-foot-6 and 257 pounds. He is a project, though, and while he has the length and power to play in the NFL, he needs to widen his pass-rush arsenal. Baltimore won't ask him to play a ton early, and they'll have to decide if he is a 3-4 end or an outside linebacker in their defense.
Kelly has a ton of football experience as the son of a former NFL corner and a four-year starter at Stanford, which ran a man-heavy scheme in his time there. Nonetheless, Kelly may be a better fit in a zone scheme due to his length and vision.
Vorhees made news at the combine after putting up 38 bench press reps (98th percentile) after tearing his ACL in the drills. That speaks to the kind of power that he brings to the interior. Vorhees earned 80.0-plus PFF grades in each of the past two seasons as a starter for USC and is an intriguing "redshirt" selection here for Baltimore in the seventh round.
DRAFT GRADE: B
---
R1 (25): TE Dalton Kincaid, Utah
R2 (59): G O'Cyrus Torrence, Florida
R3 (91): LB Dorian Williams, Tulane
R5 (150): WR Justin Shorter, Florida
R7 (230): OG Nick Broeker, Ole Miss
R7 (252): CB Alex Austin, Oregon State
Day 1: The Bills make a small jump but land the premier pass-catching tight end in the draft in Kincaid. The 10th overall player on the PFF big board, this is a huge value pick. Kincaid was the focal point of the Utah offense and led all players at the position with a 91.8 PFF receiving grade.
Day 2: Like the Giants just a few picks ago, this could have easily been the Bills' first-round pick. A mountain of a man at the position, he can still move better than his size would suggest. After starting his career at Louisiana, he made the move to the SEC with ease, finishing 2022 with an 89.9 PFF run-blocking grade, which was the best in the Power Five last season.
The Bills trade up to secure Williams, a player with legitimate range and a huge wingspan. Those traits helped him morph into one of the most impactful players at the position against the pass throughout his college career. Williams produced a top-10 coverage grade among FBS off-ball linebackers in two of his last three seasons at Tulane.
Day 3: Shorter is one of the bigger wide receivers in this class, coming in at 6-foot-4 and 234 pounds with nearly 34-inch arms. He was a big-play threat for the Gators and averaged 19.9 yards per reception in 2022 without a dropped pass. He'll likely fill a similar role for Buffalo and compete to be on the receiving end of Josh Allen bombs.
Most of Broeker's 3,323 offensive snaps at Ole Miss came at left tackle, but he kicked inside to left guard in 2022. He was a reliable pass protector for the Rebels with 70.0-plus PFF pass-blocking grades in each of the past two seasons.
Austin produced 70.0-plus PFF coverage and run defense grades in his final season in college. On the field for 476 coverage snaps, he allowed 42 receptions for 529 yards in 2022.
DRAFT GRADE: A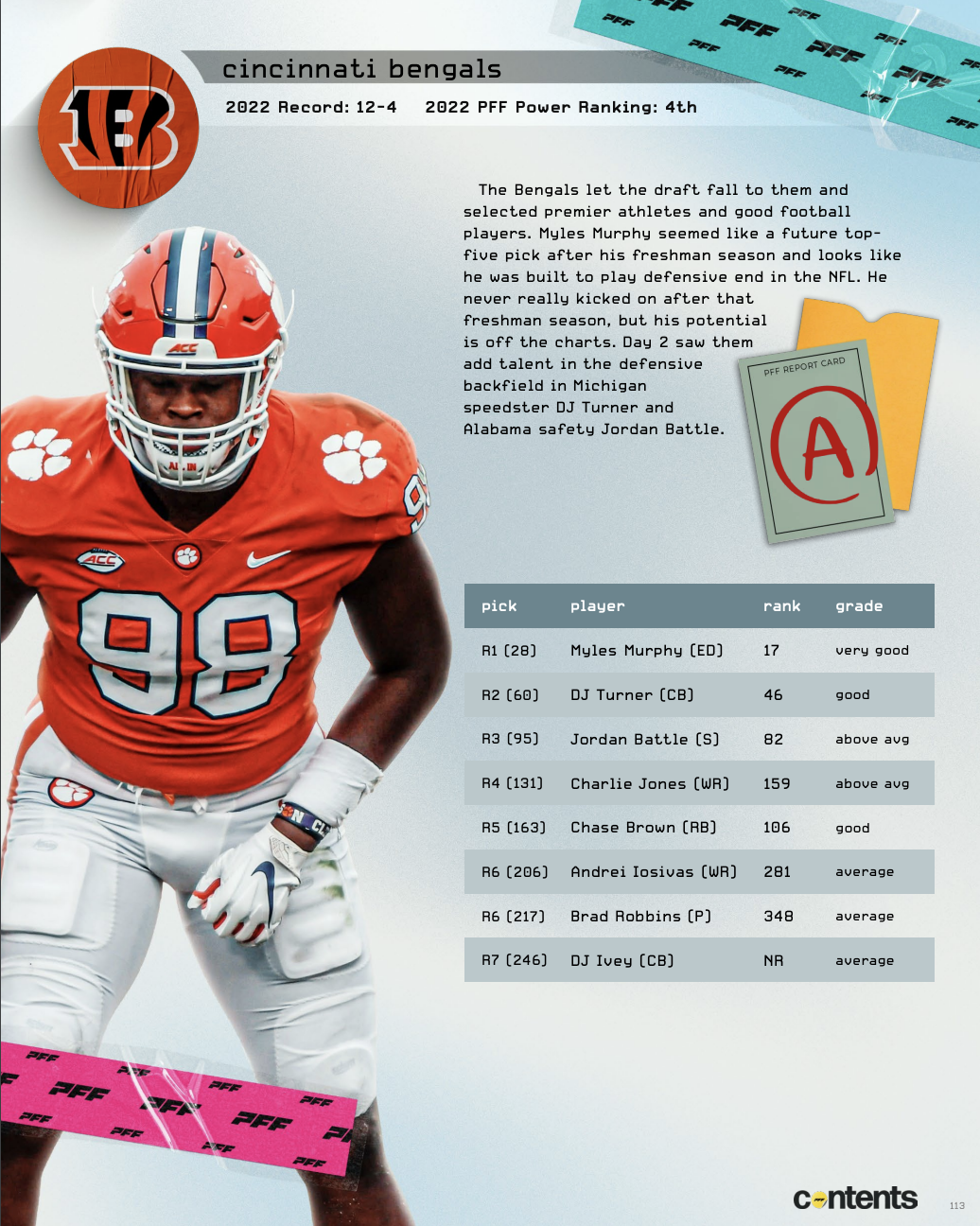 R1 (28): EDGE Myles Murphy, Clemson
R2 (60): CB DJ Turner, Michigan
R3 (95): S Jordan Battle, Alabama
R4 (131): WR Charlie Jones, Purdue
R5 (163): RB Chase Brown, Illinois
R6 (206): WR Andrei Iosivas, Princeton
R6 (217): P Brad Robbins, Michigan
R7 (246): CB DJ Ivey, Miami (FL)
Day 1: Murphy looked like a future top-five pick after a freshman season that saw him produce an 85.2 PFF grade, but we never really saw him progress beyond that. However, he has produced a PFF grade of at least 79.0 in each of the past three seasons and racked up 76 pressures over the past two years.
Day 2: Turner can flat-out fly, clocking a 4.26-second 40-yard dash at the scouting combine in Indianapolis. He did get picked on a little at Michigan, and there's still a fair amount of development needed, but he allowed just 46.5% of the passes thrown into his coverage to be caught in 2022 and forced 14 incompletions in the process.
The Bengals lost both starting safeties in free agency, so Battle could be a long-term replacement for Vonn Bell. He was one of the most consistent defensive backs in college football, earning 80.0-plus PFF grades in each of the past three seasons while playing more than 800 snaps in each.
Day 3: If the Bengals are looking to find a long-term replacement for Tyler Boyd in the slot, Jones could be just what they are looking for. He dropped just 2.7% of the catchable passes thrown his way in 2022 and averaged 2.70 yards per route run over the season.
Brown was a workhorse at Illinois with big-play speed, as his 83 forced missed tackles are second in the class behind Bijan Robinson. He's not a great receiver and, at times, has fumbling issues. Brown profiles as a useful RB2, which is exactly what the Bengals will be looking for after losing Samaje Perine in free agency.
Ivey put up a career-high 76.2 coverage grade across from Tyrique Stevenson at Miami, but only had six combined interceptions and pass breakups all year.
DRAFT GRADE: A
---
R3 (74): WR Cedric Tillman, Tennessee
R3 (98): DI Siaki Ika, Baylor
R4 (111): T Dawand Jones, Ohio State
R4 (126): EDGE Isaiah McGuire, Missouri
R5 (140): QB Dorian Thompson-Robinson
R5 (142): CB Cameron Mitchell, Northwestern
R6 (190): C Luke Wypler, Ohio State
Day 2: In a draft class of undersized wide receivers, Tillman was among the few top prospects with prototypical X measurables. He has good size, he is physical and he attacks the football in the air. With the additions of Tillman and the trade for Elijah Moore, Deshaun Watson will have more options in the passing game entering his second season with the team.
The Browns have made it a priority to improve the interior of their defensive line this offseason, and they continue that with the addition of Ika here. A mountain of a man at 358 pounds, he isn't just a run defender, registering a 76.4 PFF pass-rushing grade in 2022.
Day 3: There were questions about Jones' conditioning/commitment that likely contributed to his slide down boards, but there's a lot of reason to bet on Jones' talent at this stage of the draft. His size and length afford him room for error, and he has enough movement ability at his size to have success as a starter. Jones earned 80-plus PFF grades as the Buckeyes' starting right tackle in each of the last two seasons.
Cleveland adds a good power rusher to complement Myles Garrett. He has NFL size and power with the potential to be a plus run defender. Despite average burst off the edge, he put up an 84.5 true pass-rush grade in 2022.
Thompson-Robinson is the definition of a "gamer," a classic football cliche, with the desire to make something out of nothing on seemingly every snap. This can work against him, of course, with a lot of turnover-worthy plays as a result. However, his 77.4% adjusted completion percentage ranked 15th in college football and he offers great rushing ability.
Cleveland adds another Northwestern cornerback on top of 2021 first-rounder Greg Newsome II. Mitchell did well to match wide receivers stride for stride in trail technique in college, and he's a willing tackler with a 76.0 run-defense grade.
Wypler was the 54th-ranked player on the PFF big board, making this one of the better value selections in the draft in our eyes. He earned 79.0-plus PFF grades in each of his seasons as a starter for the Buckeyes, excelling as a zone run blocker (89th percentile over the last two seasons) specifically. Pair that with plus athleticism, and this looks like a steal for Cleveland.
DRAFT GRADE: A-
---
R2 (63): WR Marvin Mims, Oklahoma
R3 (67): LB Drew Sanders
R3 (83): CB Riley Moss, Iowa
R6 (183): S JL Skinner, Boise State
R7 (257): C Alex Forsyth, Oregon
Day 2: An analytics darling, Mims averaged 19.5 yards per catch over the course of his career in college. Despite not being the biggest player, he still managed to win 54.5% of the contested targets he saw. He tracks the ball in the air really well, averaged 2.75 yards per route run and was fifth in the nation with 602 yards on throws 20-plus yards downfield.
Sanders was the consensus No. 37 overall player and can play all over. He has the ability to drop in coverage and come forward as a pass-rusher, as evidenced by his 75.0-plus pass-rush and coverage grades. The Broncos will deploy him everywhere, with a likely primary role as the strongside linebacker, and their strong defense just got even better in the front seven.
Moss brings plenty of experience, playing more than 2,500 career defensive snaps at Iowa, much of which came in zone coverage. He's an above-average athlete who earned coverage grades above 81.0 in each of the past two seasons for the Hawkeyes, joining Patrick Surtain II, Damarri Mathis and K'Waun Williams in the Broncos' secondary.
Day 3: At 6-foot-4 and 220 pounds, Skinner could be a safety/linebacker hybrid at the next level, with 58 defensive stops over the last two seasons. Skinner earned an 83.3 coverage grade in 2022 but belongs closer to the line of scrimmage to get the most out of his skill set.
DRAFT GRADE: B+
---
R1 (2): QB C.J. Stroud, Ohio State
R1 (3): EDGE Will Anderson Jr., Alabama
R2 (62): C Juice Scruggs, Penn State
R3 (69): WR Nathaniel Dell, Houston
R4 (109): EDGE Dylan Horton, TCU
R5 (167): Henry To'oTo'o, Alabama
R6 (201): C Jarrett Patterson, Notre Dame
R6 (205): WR Xavier Hutchinson, Iowa State
R7 (248): S Brandon Hill, Pittsburgh
Day 1: After a lot of speculation that they would pass on a signal-caller, the Texans ultimately select the second-ranked quarterback on the PFF big board. Stroud earned a 92.2 PFF grade in 2021, tying with Bryce Young, and he was the seventh-highest-graded player at the position this past season.
The Texans shock everyone and move up to No. 3 to select the top edge defender on the PFF big board. Anderson produced a PFF grade of 89.8 in 2021 and 83.6 in 2022 and racked up 207 total pressures in three years at Alabama. Houston lands a top player, but they pay a steep price.
Day 2: Scruggs comes off the board before Ohio State's Luke Wypler after producing 67.5 and 71.5 PFF grades in each of the past two seasons. The 138th-ranked player on the PFF big board, there's still plenty of development needed, and he is likely scheme dependent. He produced a 72.6 PFF run-blocking grade on zone plays and a 62.9 PFF grade on gap plays.
Dell recorded 928 receiving yards out of the slot in 2022, 10th in the nation, with his 19 missed tackles forced a top-25 mark. While he's undersized, he creates separation with ease and is extremely difficult to mirror in coverage. Houston adds another dynamic weapon for new quarterback C.J. Stroud.
Day 3: Houston traded down twice to kick off the day and still land a solid prospect at a position of need, as Horton is set to develop alongside No. 3 overall pick Will Anderson Jr. Horton is a safety convert who has added a bunch of weight while maintaining plus athleticism. He posted pass-rush and run-defense grades above 70.0 in 2022.
To'oTo'o is a downhill, physical linebacker with a ton of big-game experience as a starter at Tennesee and Alabama. Much like Noah Sewell, To'oTo'o brings it in the run game but doesn't always diagnose well in coverage. He is a physical presence who isn't afraid of anybody. He'll bring solid on-field and intangible value to the to a Texans team that's trying to change its culture.
Hill is a safety who plays mainly in the slot and only gave up one touchdown in coverage this year after giving up six in 2021.
DRAFT GRADE: B-
---
R1 (4): QB Anthony Richardson, Florida
R2 (44): CB Julius Brents, Kansas State
R3 (79): WR Josh Downs, North Carolina
R4 (106): T Blake Freeland, BYU
R4 (110): EDGE Adetomiwa Adebawore, Northwestern
R5 (138): CB Darius Rush,  South Carolina
R5 (158): S Daniel Scott, Cal
R5 (162): TE Will Mallory, Miami (FL)
R5 (176): RB Evan Hull, Northwestern
R6 (211): EDGE Titus Leo, Wagner
R6 (221): CB Jaylon Jones, Texas A&M
R7 (236): OT Jake Witt, Northern Michigan
Day 1: The Colts stay at Pick 4 and swing for the high ceiling of Anthony Richardson. While Richardson was inconsistent as a passer, he is arguably the most incredible athlete at the quarterback position we have ever seen. He forced 39 missed tackles in 2022.
Day 2: Brents is in the group of long, athletic prospects that the Colts have gravitated to on defense over the past several years. There aren't too many cornerbacks out there at 6-foot-3 with 34-inch arms and a 42-inch vertical. Brents' production and grading profile don't overly impress, but he has traits worth betting on here for Indianapolis.
Downs was WR5 on both the PFF Big Board and the consensus big board but comes off the board here to Indianapolis as WR12. He is undersized, even for the slot, but he is one of the better underneath separators in this class and wins in contested situations over the middle of the field. Downs hauled in 13-of-18 contested targets for UNC in 2022.
Day 3: The Colts need reinforcements along the offensive line and land the 6-foot-8 Freeland, who tested off the charts with 95th percentile or better scores in the vertical jump, broad jump, short shuttle and three-cone. Freeland's athleticism will be best utilized as a run blocker in space, earning a 90.2 zone blocking grade in 2022, but he will need to improve as a pass protector at the NFL level.
One of the more puzzling fallers of the draft after a ton of buzz following a ridiculous combine performance that was truly one of the best we've seen, Adebawore needs refinement at the NFL level and can now develop behind a crop of good defensive linemen with the Colts. Adebawore earned an 80.3 pass-rush grade in 2022 but a lot of that production came from pure athletic advantages. He needs to improve his hand usage and counter moves beyond just speed to power.
Rush, a former high school quarterback and college wide receiver at the start, is an incredible athlete still learning the nuances of the cornerback position. At 6-foot-2 and 198 pounds, Rush ran a 4.36-second 40-yard dash and earned an 80.3 coverage grade in 2022. When he is in position, he has a knack for making plays on the ball, as well. This is the developmental type prospect you look for on Day 3.
Scott graded better in 2021 (81.8) than in 2022 (66.8) but finished strong in his last three games. He's a versatile and intelligent safety who is capable enough in the slot as well. He'll add depth to the Colts' secondary as well as a surefire contributor on special teams.
Mallory offers legitimate receiving ability and not much as a blocker. He'll give Richardson a threat up the seam and brings legitimate versatility in the slot. He just needs to become passable in the run game.
Jones is big, strong and young — a good combination of adjectives for a late-round cornerback. He fits best in a Cover 3 scheme and, fortunately, he lands with Colts defensive coordinator Gus Bradley, who runs more Cover 3 than any other defensive play-caller.
Witt is one of the rare prospects who PFF doesn't have data or grades on, but he came in at 211th overall on our final big board. He's an athletic tackle — shocking, given Indianapolis' strategy in this draft — who will be another developmental project for the Colts.
DRAFT GRADE: A+
---
R1 (27): T Anton Harrison, Oklahoma
R2 (61): TE Brenton Strange, Penn State
R3 (88): RB Tank Bigsby, Auburn
R4 (121): LB Ventrell Miller, Florida
R4 (130): EDGE Tyler Lacy, Oklahoma State
R5 (136): EDGE Yasir Abdullah, Louisville
R5 (160): S Antonio Johnson, Texas A&M
R6 (185): WR Parker Washington, Penn State
R6 (202): CB Christian Braswell, Rutgers
R6 (208): S Erick Hallett II, Pittsburgh
R7 (226): OT Cooper Hodges, Appalachian State
R7 (227): DI Raymond Vohasek, North Carolina
R7 (240): FB Derek Parish, Houston
Day 1: This makes a lot of sense given the reported suspension for Cam Robinson. The 24th ranked player on the PFF big board, the Jaguars get Harrison at about the right spot but pick up three additional picks by moving down. He allowed just nine total pressures from 447 pass-blocking snaps in 2022.
Day 2: This could very well be a long-term replacement for Evan Engram because Strange projects far better as a receiver than he does as a run blocker. He caught 62.5% of the contested targets he saw in 2022 and had a drop rate of just 3.0%. His 60.5 run-blocking grade confirms that you probably don't want him taking on defensive ends as an in-line blocker.
Jacksonville adds a complementary weapon to Travis Etienne by taking Auburn running back Tank Bigsby. The Jags employ inside-zone runs at a high rate, and Bigsby turned in the second-best rushing grade on such plays among Power Five running backs since 2020.
Day 3: Miller brings a hard-hitting presence to Jacksonville's run defense. The question is whether he will hold up in coverage. He should be able to contribute in the Jaguars' base defense and short-yardage packages in the early going.
At this point, Lacy is a better run defender than a pass-rusher and figures to be more of a special teams player than anything else early in his career. He has the size at 6-foot-4 and 279 pounds, but he produced a pass-rushing grade of just 68.6 in 2022, winning 11.9% of his pass-rushing attempts.
Jacksonville needed pass-rush depth after losing a handful of contributors up front in free agency. The Jaguars add the undersized Abdullah, who plays with his hair on fire, earning a 90.8 pass-rush grade with a 21.2% pass-rush win rate in 2022. He may be more of a tweener and could be molded as the late-round version of 2022 first-round pick Devin Lloyd, another athletic and versatile linebacker.
Johnson came into 2022 with first-round hype. While he took a step back this year, he still finished with an 81.6 overall grade. Johnson can be an absolute menace in the box and just needs some refinement in order to make plays on the ball. The Jaguars should be thrilled to pick up PFF's second-highest-rated safety in the fifth round.
Washington is a smooth mover and great hands catcher who knows how to find the soft spots in zones. Additionally, he has the ability to go up and win jump balls, as reflected in his 71.4% contested catch rate. Washington will also make defenders miss in the open field, forcing 15 missed tackles in 2022.
Hodges figures to kick inside at the NFL level and was a solid tester at the combine, earning a 78.4 pass-blocking grade and an 87.3 run-blocking grade in 2022.
Vohasek missed the second half of the 2022 season but had back-to-back pass-rush grades around 70.0 on the interior. He did not test particularly well, but that may have been tied to health.
​​Parish earned a 91.2 pass-rush grade with six sacks in less than four full games this year before tearing his biceps. His short-term development will depend on his recovery.
DRAFT GRADE: B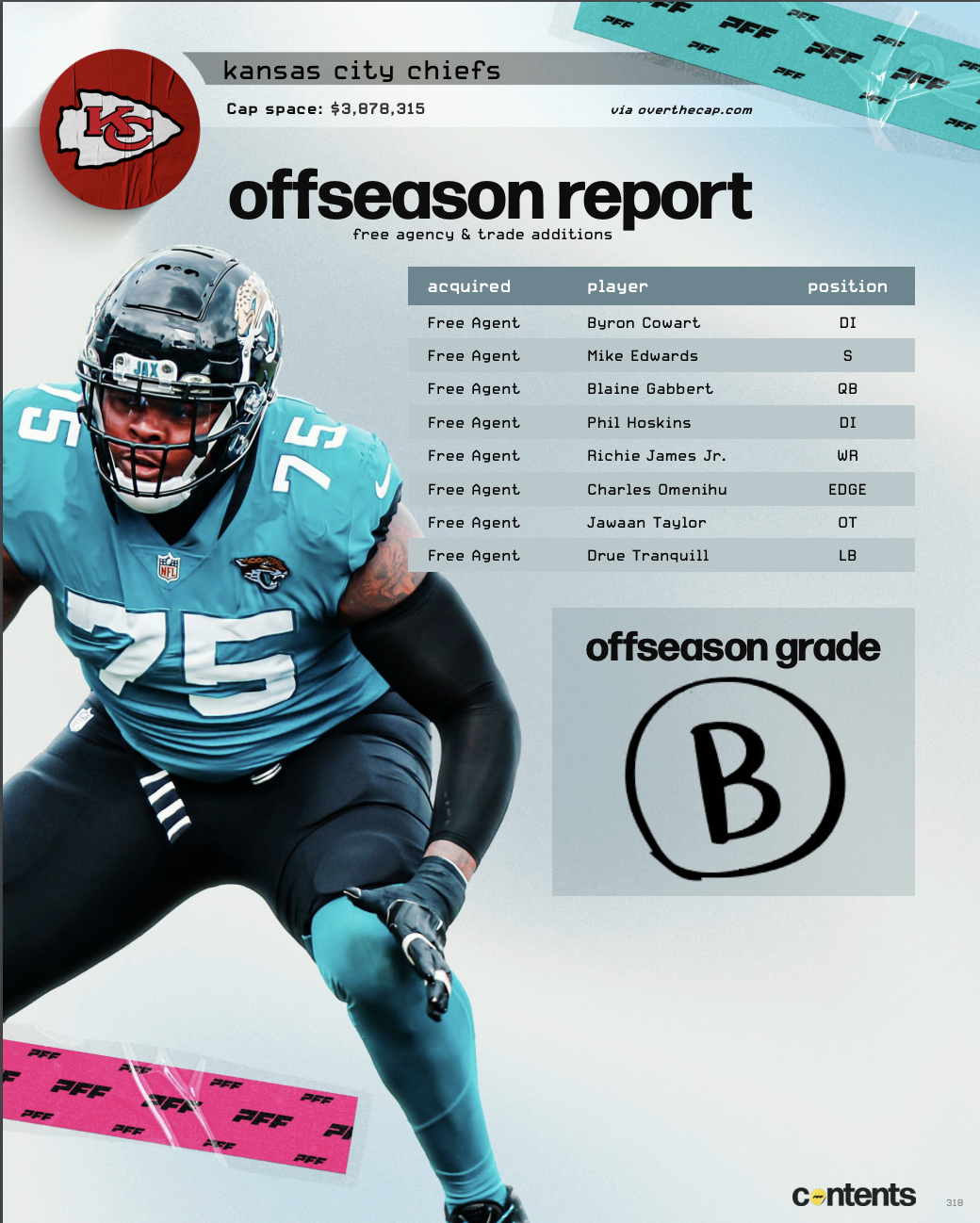 R1 (31): EDGE Felix Anudike-Uzomah
R2 (55): WR Rashee Rice, SMU
R3 (92): T Wanya Morris, Oklahoma
R4 (119): S Chamarri Conner, Virginia Tech
R5 (166): EDGE BJ Thompson, Stephen F. Austin
R6 (194): DI Keondre Coburn, Texas
R7 (250): CB Nic Jones, Ball State
Day 1: Anudike-Uzomah produced PFF grades of 74.0 or better in each of the past two seasons and is one of the best edge benders in this draft class. He was one of the most successful players in college football at converting pressures into sacks, with 21 of his 89 pressures over the past two seasons resulting in a sack.
Day 2: The Chiefs add another wide receiver to their committee with a target magnet in Rice, who was asked to do everything at SMU. Rice was top 10 in the country in both deep catches and screen catches in 2022, earning an 85.9 receiving grade on the season with his 16 contested catches, another top-10 mark in the nation. Rice's 41-inch vertical was 97th percentile and his 10-foot-8 broad jump was 89th.
This may be a bit early to draft Morris, who has a concerning track record due to injuries and a lack of starting experience (never played more than 643 snaps in a season), but the Chiefs are betting on his tools. The former five-star recruit has long arms and uses that length to his advantage.
Day 3: Connor is a strong safety/slot hybrid who was a four-year starter at Virginia Tech. He has the size and length to cover tight ends but misses too many tackles in the pass and run game. More than anything, this pick represents Steve Spagnuolo's preference for versatile safeties as he tries to find a replacement for Juan Thornhill.
Thompson is a former Baylor recruit who was dominant at Stephen F. Austin this past season. His 92.5 true pass-rush grade in 2022 is near the top of the class. He is lacking in the run game, and level of competition is a concern. Kansas City is banking on his pass-rush ability at 6-foot-6 to contribute to its suddenly loaded edge group.
The 336-pound Coburn joins a group that will compete for snaps in the run-stuffing DT role alongside Chris Jones in Kansas City's defensive line. Coburn produced a decent grading profile as a run defender throughout his Texas career but comfortably had his best season as a pass-rusher in 2022 with 31 pressures and a 79.3 PFF pass-rush grade.
Jones was solid in 2022, producing a 68.7 PFF coverage grade. On the field for 390 coverage snaps, he allowed just 44.1% of the passes thrown into his coverage to be caught this past season.
DRAFT GRADE: B-
---
R1 (7): EDGE Tyree Wilson, Texas Tech
R2 (35): TE Michael Mayer, Notre Dame
R3 (70): DI Byron Young, Alabama
R3 (100): WR Tre Tucker, Cincinnati
R4 (104): CB Jakorian Bennett, Maryland
R4 (135): QB Aidan O'Connell, Purdue
R5 (170): S Christopher Smith, Georgia
R6 (203): LB Amari Burney, Florida
R7 (231): DI Nesta Jade Silvera, Arizona State
Day 1: Wilson looks like he was built in a pass-rushing lab, so it's not a shock to see him go in the top 10. That said, he ranked just 28th on the PFF big board because the consistency just wasn't there in college. His 75.1 PFF grade last season was the highest of his career.
Day 2: The Golden Domer's wait is over, as the Raiders trade up to Pick 35 for one of the most polished prospects in the class. Mayer isn't a gifted athlete by any means, but he checks every other box as a receiver and a blocker. He has a high-level football IQ and was the engine of the Notre Dame offense in 2022. Mayer was targeted more than any other tight end in the country this past season and earned an FBS-best 92.5 PFF grade in the process.
Young is a bit of a limited athlete, but he is stout up the middle. He earned an 85.7 run-defense grade over the last two seasons, the seventh-best mark among interior defenders. He also showed improved pass-rush juice in 2022, setting career highs with 15 hurries, nine quarterback hits and four sacks.
Day 3: Tucker produced PFF grades of 70.0 or better in all four of his seasons in college, but this is a lot earlier than he was expected to go off the board. He's a shifty player who forced 31 missed tackles on 113 receptions over the course of his career at Cincinnati.
The Raiders desperately need improvements at outside cornerback, so they land one of the top remaining players at the position in Bennett after a trade-up. Bennett allowed a completion on just 44.4% of targets into his coverage and ran a blazing fast 4.30-second 40-yard dash, which landed him in the 99th percentile.
O'Connell was much better in 2021 than 2022, as his 90.6 grade dropped to a 67.2 mark despite his being set to turn 25 years old before Week 1. The particular concern is O'Connell's ability under pressure — where he earned a 48.0 grade — and his inconsistencies, but the highlight throws are really enticing.
Smith played 400-plus snaps in each of the past three seasons and posted 74.0-plus PFF grades in each of those seasons, too. One of college football's best run-defending safeties in 2022, he posted an 85.9 PFF run-defense grade but did miss 15.1% of the tackles he attempted this past season.
Burney is a sure tackler. He's also shown some flashes as a pass rusher. His struggles in coverage are a real issue, though, and he graded under 60.0 overall in each of the past three seasons.
Neither Silvera's measurables nor grading profile moves the needle much, but both are solid. He graded out in the 58th percentile of qualifying defensive tackles as a run defender in his final and lone season at Arizona State.
DRAFT GRADE: B-
---
R1 (21): WR Quentin Johnston, TCU
R2 (54): EDGE Tuli Tuipulotu, USC
R3 (85): LB Daiyan Henley, Washington State
R4 (125): WR Derius Davis, TCU
R5 (156): T Jordan McFadden, Clemson
R6 (200): DI Scott Matlock, Boise State
R7 (239): QB Max Duggan, TCU
Day 1: The Chargers land the third-ranked wide receiver on the PFF big board, and a player who can make people miss in space in TCU's Quentin Johnston. He forced 19 missed tackles on just 60 receptions and averaged 17.8 yards per catch. He did drop 11.8% of the catchable passes thrown his way this past season, though.
Day 2: Tuipulotu is one of the youngest players in the class at 20 years old and earned an 81.0 pass-rush grade in 2022 with a 19.1% pass-rush win rate. The Chargers are very smart to add a third edge beyond Joey Bosa and Khalil Mack. They can move him around as well, as the USC product has the size to play as a three-technique defensive tackle or on the edge.
Henley is as explosive as can be with a big tackle radius and elite tackling numbers. He missed a mere five tackles on 97 attempts in 2022, his first year at the Power Five level after transferring from Nevada. Henley's coverage skills are very much a work in progress, but he has the traits to develop into a quality off-ball linebacker for the Chargers.
Day 3: Davis ran a 4.36-second 40-yard dash and can be explosive with the ball in his hands. He lacks route-running polish and was generally at his best when running crossing routes. The speedster offers immediate value in the return game but is likely more of a gadget player than a consistent contributor on offense — think Year 1 and 2 Mecole Hardman.
McFadden started at tackle in each of the past three seasons for Clemson (right tackle in 2020 and left tackle in 2021-22), but he'll likely kick inside in the NFL at 6-foot-2. He graded out in the 88th percentile of all qualifying college tackles in zone run-blocking grade over his Clemson career and should add nice depth to a Chargers' offensive line whose depth was tested last year.
A rugged run-stopper out of Boise State, Matlock has little pass-rush ability. He does add beef to a Chargers defense that has long had issues against the run. His 78.3 run-defense grade was the best among Boise State's defense.
Duggan joins the Chargers as a developmental prospect who can comfortably sit behind Justin Herbert. He has tremendous intangibles and a solid ability to improvise. He needs to clean up his throwing mechanics and processing from the pocket.
DRAFT GRADE: A-
---
R2 (51): CB Cam Smith, South Carolina
R3 (84): RB Devon Achane, Texas A&M
R6 (197): TE Elijah Higgins, Stanford
R7 (238): OT Ryan Hayes, Michigan
Day 2: Smith is always around the football, has a propensity for pass breakups and tested faster than he played on tape, which could be a sign of continued growth. No one's big board ranking dropped more precipitously over the last month of the pre-draft cycle, but he could end up being a value. Smith makes a lot of sense starting in the slot with Jalen Ramsey and Xavien Howard out wide in Vic Fangio's loaded defense.
Miami gets another legitimate track star for their offense by taking Texas A&M running back Devon Achane at 84th overall. Achane clocked a 4.32-second 40-yard time and was a star member of the Aggies' track squad. He racked up a whopping 36 breakaway runs of 15-plus yards over the past two seasons.
Higgins is a bit of a tweener between being a bigger wide receiver and move tight end at 6-foot-3 and 239 pounds with 4.54 speed. He was an underneath target at Stanford who turned in PFF receiving grades below 70.0 in each of the past two seasons as a starter. Despite his size, Higgins ranked in just the 26th percentile at the position in contested catch percentage since 2021.
It's not a bad idea for the Dolphins to throw a late-round dart at the offensive line given their struggles up front in recent years. Hayes took a step forward in 2022, grading out above the 50th percentile at the position in pass-blocking grade on true pass sets and as a zone run blocker.
DRAFT GRADE: B-
---
R1 (17): CB Christian Gonzalez, Oregon
R2 (46): EDGE Keion White, Georgia Tech
R3 (76): S Marte Mapu, Sacramento State
R4 (107): C Jake Andrews, Troy
R4 (112): K Chad Ryland, Maryland
R4 (117): OG Sidy Sow, Eastern Washington
R5 (144): Atonio Mafi, UCLA
R6 (187): WR Kayshon Boutte, LSU
R6 (192): P Bryce Baringer, Michigan State
R6 (210) WR Demario Douglas, Liberty
R6 (214): CB Ameer Speed, Michigan State
R7 (245): CB Isaiah Bolden, Jacksonville State
Day 1: The Patriots move down to 17th overall, add a fourth-round pick and still land the second-best cornerback on the PFF big board. He has the size and speed you look for at the position and had the best season of his career after transferring to Oregon in 2022, racking up four interceptions and six pass breakups.
Day 2: White fits the mold of the defensive linemen that New England tends to look for up front — a powerful 6-foot-5, 285-pounder. White earned a 75.8 PFF pass-rush grade in his lone season as a starter for Wake Forest in 2022 after transferring from Old Dominion.
The Patriots continue to add different skill sets and body types at safety, a position they've had good depth at in recent years. At 221 pounds, Mapu came in at the 96th percentile among safeties in weight, and he paired that with an 85.9 PFF run-defense grade in his final season at Sacramento. He'll likely have a role in the box with New England.
Day 3: For the second year in a row, the Patriots reach on a center, as Andrews ranked No. 237 on the consensus big board. Andrews is adept as a run blocker in zone and gap concepts but earned a 56.5 pass block grade due to a lack of anchor and lower-body strength, which showed up with a 24th-percentile vertical and 44th-percentile broad jump.
Ryland was the No. 3 kicker on the PFF big board, earning 89.0-plus kicking grades in each of the last two seasons. The below-average grade here is less of an indictment of Ryland as it is the process of trading up for a kicker in the fourth round.
Sow is one of the more experienced offensive line prospects in this class, having played over 3,500 snaps across five seasons at Eastern Michigan. He's a big, athletic guard at 324 pounds who graded better on gap-scheme runs than zone runs in college.
New England landed a big, athletic guard in Sidy Sow in the fourth round and goes back to the well with the 6-foot-4, 339-pound Mafi here. Mafi earned an 88.3 run-blocking grade in a UCLA offense that moves lightning-fast under head coach Chip Kelly. This past season was his first as a full-time starter, perhaps signaling more growth and development ahead.
Boutte fell for many reasons — a lack of production in 2022 after lofty expectations, a very poor combine and apparent off-field concerns. However, this is a player that many analysts projected as the potential No. 1 wide receiver in the 2023 draft class before the season, and New England lands him at No. 187 overall.
The Patriots take their second specialist of the draft here with Baringer after trading up for Chad Ryland in the fourth round. Baringer's 76.4 PFF punting grade over the last two seasons ranks 26th out of 62 Power 5 punters with at least 50 punts.
Douglas is small, but he put up some impressive numbers at Liberty in 2022. He produced an 81.7 PFF grade against man coverage and averaged 2.57 yards per route run. He dropped just four of the 80 catchable passes thrown his way this past season.
Speed played six years in college, but this past season at Michigan State was the only year where he was on the field for more than 200 snaps. He saw 737 snaps for the Spartans but produced just a 57.2 PFF grade.
Bolden graded at 74.7 overall playing in the slot this past season under Deion Sanders at Jackson State.
DRAFT GRADE: A-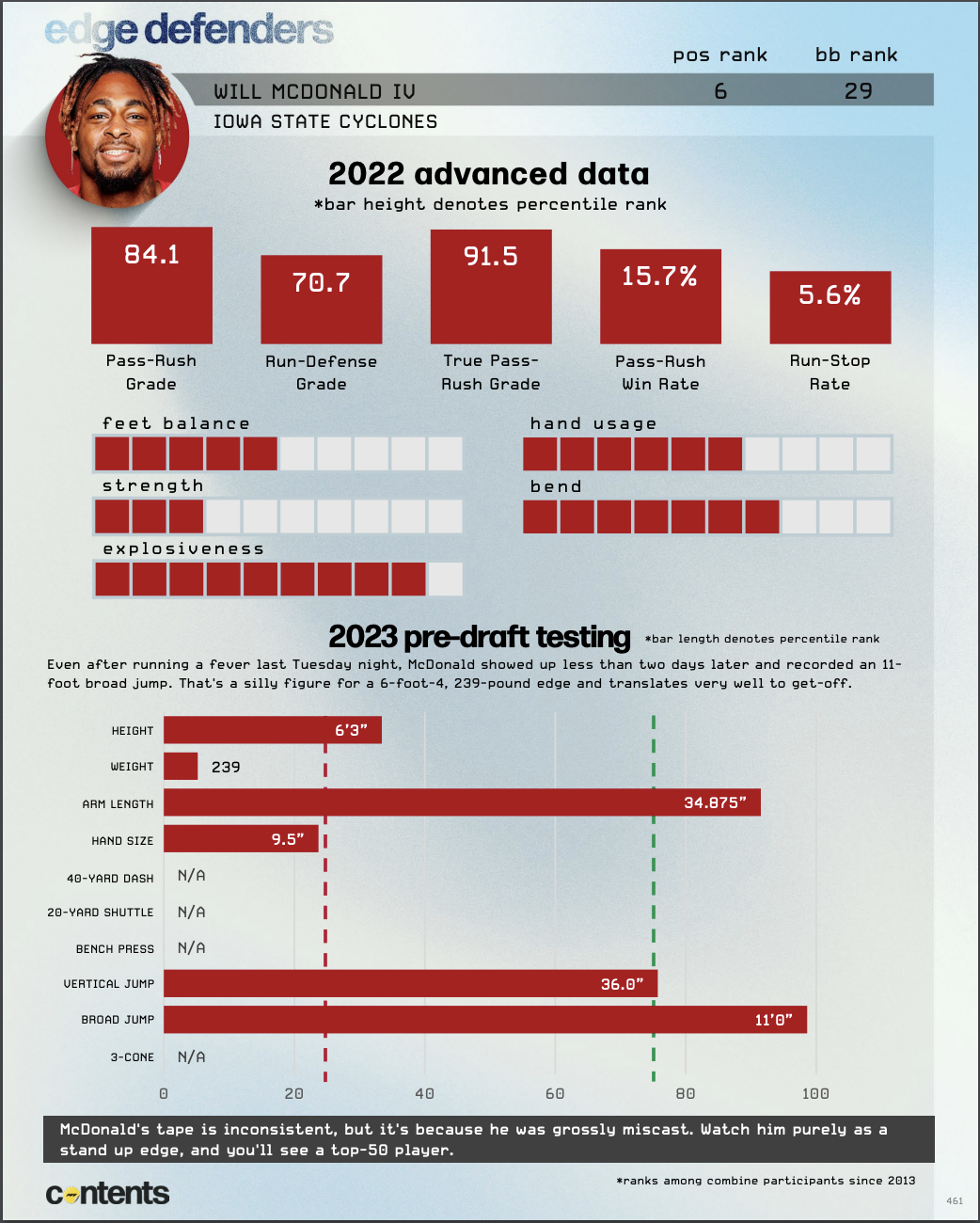 R1 (15): EDGE Will McDonald IV, Iowa State
R2 (43): C Joe Tippmann, Wisconsin
R4 (120): OT Carter Warren, Pittsburgh
R5 (143): RB Israel Abanikanda, Pittsburgh
R6 (184): LB Zaire Barnes,  Western Michigan
R6 (204): CB Jarrick Bernard-Converse, LSU
R6 (220): TE Zack Kuntz, Old Dominion
Day 1: McDonald had the best season of his college career in 2022 and flashed incredible lateral quickness. PFF's Sam Monson views him as the second-best pass-rusher in this draft class, but the Iowa State product was just the 29th-ranked player on the PFF big board. He finished his college career with 127 total pressures across 862 pass-rushing snaps.
Day 2: The Jets eliminated their need to take center by bringing back Connor McGovern on a cheap, one-year deal, but Tippmann gives them another long-term option at the position. He brings a unique combination of size and athleticism to the middle of New York's offensive line, along with an 84th-percentile run-blocking grade at center on zone runs since 2021.
Day 3: The Jets finally take their tackle. For now, Warren projects as more of a depth piece. He has the requisite build and length but needs some work in his technique and consistency in pass protection. The Jets will hope to develop him behind some veterans in the early going.
With reports the Jets were considering drafting Alabama running back Jahmyr Gibbs at 15th overall, they add a speedy depth piece to their backfield in Abanikanda, who earned a 90.6 rushing grade in 2022 and is a threat to break off a big gain on any given carry. Abanikanda's 10-yard split, vertical jump and broad jump all placed him in the 95th percentile or better. His hip flexibility and bend are not great, but if he can plant his foot in the ground and get upfield he will rip off chunks as a rotational piece.
Barnes is an undersized linebacker with great speed, landing in the 88th percentile for his 4.54-second 40-yard dash. Barnes' sideline to speed shows up with his 88.9 run defense grade in 2022.
Kuntz is a freakish athlete at 6-foot-7 and 255 pounds, as he put together one of the best combine performances we've ever seen. His 40-yard dash, vertical jump, broad jump, short shuttle and three-cone all ranked above the 90th percentile. At this point in the draft, you bet on these traits.
DRAFT GRADE: B-
---
R1 (14): OT Broderick Jones, Georgia
R2 (32): CB Joey Porter Jr., Penn State
R2 (49): DI Keeanu Benton, Wisconsin
R3 (93): TE Darnell Washington, Georgia
R4 (132): EDGE Nick Herbig, Wisconsin
R7 (241): CB Cory Trice Jr., Purdue
R7 (251): OG Spencer Anderson, Maryland
Day 1: The Steelers jump up three spots, giving up a fourth-round pick to make sure they land the offensive tackle they wanted. Jones impressed as a pass-blocker in 2022, earning a 84.1 PFF pass-blocking grade and allowing just nine total pressures from 470 pass-blocking snaps.
Day 2: Pittsburgh takes PFF's CB4 and 21st-ranked prospect to open up Day 2 of the 2023 NFL Draft. Porter wins with his length. The former Nittany Lion's 34-inch arms make it easy to disrupt his opponent at the catch point and line of scrimmage. Porter's 40% forced incompletion rate in 2022 led all Power Five cornerbacks.
The Steelers take a top interior defender that can line up in the A and B gaps, with the Steelers able to move Cameron Heyward, Larry Ogunjobi and Benton across the interior. Benton will help a Steelers run defense that struggled in 2022 up the middle, with a strong 10.5% run-stop win rate in 2022.
The freaky Georgia tight end's slide is over. Pittsburgh grabs the 6-foot-8, 272-pound Darnell Washington to continue their strong 2023 NFL Draft. He has a strong resume in the ground game, as his top-five finish among Power Five tight ends in run-blocking grade in 2022 proves, and is a mismatch weapon as a receiver.
Day 3: The Steelers' incredible draft continues. Herbig played on the edge at Wisconsin but figures to be more of a tweener in the NFL, and that's likely why he wasn't a higher pick. He knows how to rush the passer, though, as he won 23.9% of his pass-rushing snaps in 2022 and earned a 91.1 pass-rush grade.
Ranked 77th on PFF's big board. Price is a physically imposing corner at 6-foot-3 who is extremely aggressive at the line of scrimmage and tackles well.
Anderson is the only pick by the Steelers where the player has been outside the top 80 of the PFF big board. Anderson produced a 79.8 PFF pass-blocking grade in 2022 but struggled as a run-blocker.
DRAFT GRADE: A+
---
R1 (11): OT Peter Skoronski, Northwestern
R2 (33): QB Will Levis, Kentucky
R3 (81): RB Tyjae Spears, Tulane
R5 (147): TE Josh Whyle, Cincinnati
R6 (186): OT Jaelyn Duncan, Maryland
R7 (228): WR Colton Dowell, Tennessee-Martin
Day 1: The big question is whether Skoronski will play tackle or guard at the next level. He played tackle in 2022, though, and had a tremendous season. As Northwestern's starting left tackle this past season, he allowed just six total pressures on 474 pass-blocking snaps.
Day 2: Will Levis' slide ends early on Day 2, with the Titans trading up to Pick 33 to grab the signal-caller. Levis has supreme arm talent and an ultra-quick release, but the big knock on him is how little he put that into action. He lacked high-quality throws at Kentucky last season, which played a part in his middling 65.8 passing grade on the year. The good news is that Levis lands in an offense that will help open up some downfield opportunities.
Spears profiles as a nice complement to Derrick Henry in Tennessee's backfield. He is dangerous in the open field and is coming off an elite final season at Tulane during which he forced 63 missed tackles on the ground. Spears averaged at least 4.5 yards after contact per attempt in each of the past two seasons.
Day 3: After letting Austin Hooper walk in free agency, Tennessee adds another option at tight end to complement Chigoziem Okonkwo. Whyle has a big frame at 6-foot-7 and will find space over the middle of the field as a receiver, but he isn't likely going to be a physical, in-line blocker at 248 pounds.
Duncan has good footwork but can play a bit top-heavy, often struggling to anchor with not enough sand in the pants. He struggles against power, as the big Michigan ends pushed him around a bit, but he's a great athlete in space and fits very well in this Titans zone scheme. Tennessee has done well to overhaul their offensive line that was desperate for improvements.
Dowell is big at 6-foot-3 and earned an 85.2 receiving grade in 2022 with 15.3 yards per reception and 3.00 yards per route run. He's an explosive downfield threat for Tennessee and stays in-state, adding much-needed depth to the Titans' wide receiver room.
DRAFT GRADE: A
---