Bryce Young: The Alabama QB is the best prospect in the draft but size concerns have many wondering if he can survive in the NFL without being prone to injury.
Anthony Richardson: The Florida product's a

thleticism doesn't come around often at any position, let alone quarterback.

However, Richardson's career 53.9 completion percentage is one of the lowest marks for a player drafted in recent memory, let alone the first round.

Quentin Johnston: The TCU WR has size and speed that can't be ignored but was

also inconsistent at times, leading to a good, but not elite, 77.0 receiving grade in 2022.
Estimated reading time: 7 minutes
---
Every year, there are a handful of NFL draft prospects who bring about a wide variety of opinions, as questions about size, ceilings and scheme fit are abundant this time of year. Scouts and pundits often can't agree if a player is a top-tier prospect or someone they would gladly pass on.
We'll take a look at several prospects who may start some draft-day arguments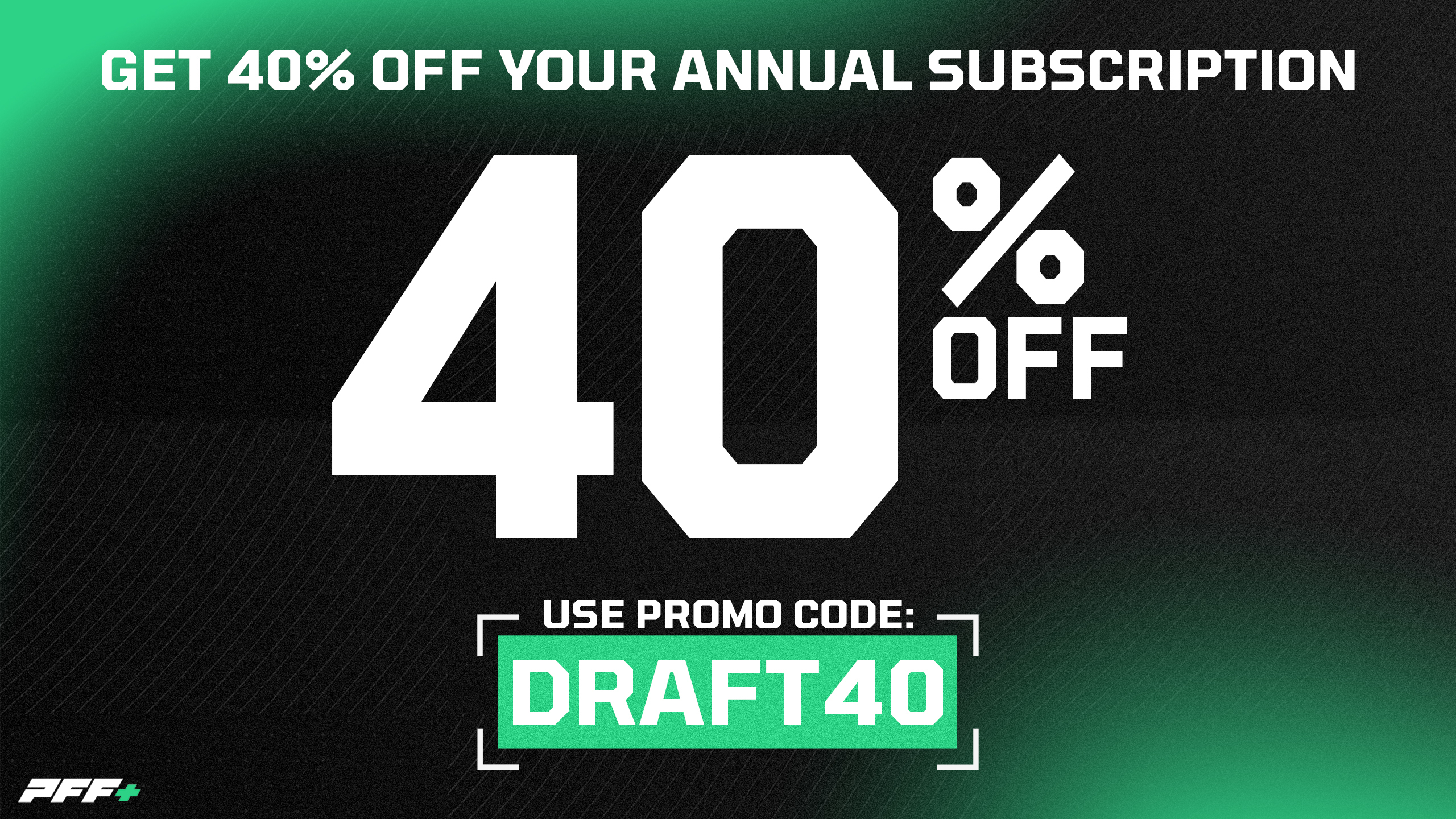 ---
Yes, even the likely first pick has his detractors. Young's tape is the best in the draft, as he's been the best quarterback in college football for two years straight. His instincts and accuracy are unparalleled in the class, and he seems to have the "it" factor reserved for elite quarterbacks.
Nonetheless, how much of "it" is going to be needed to overcome Young's 5-foot-10", 204-pound frame? We've seen several smaller QBs — Kyler Murray, Baker Mayfield and Tua Tagovailoa — get injured early in their careers, and Young has an even slighter build than all of them. Fans will hold their breath every time Young gets hit.
---
The anti-Young. Richardson has every tool in the box. He may be the greatest athlete ever drafted at the quarterback position, as he can create a 60-yard touchdown on any play with his arm or his legs. Athletes like Richardson don't come around often at any position, let alone quarterback.
However, Richardson's career 53.9 completion percentage is one of the lowest marks for a player drafted in recent memory, let alone the first round. He would really benefit from a redshirt season to tighten up his footwork and decision-making. His highlights are better than anybody, yet he goes through maddening stretches of inconsistency. A team with a bridge QB (Seattle Seahawks? Las Vegas Raiders?) will likely be the best fit.
---
Levis has the rocket launcher arm and dynamic feet that could make him a legitimate dual threat in the NFL. His build, skills and career arc are very similar to Justin Herbert's. When surrounded by NFL talent in 2021, he was spectacular, posting a 90.6 overall grade while carrying a Kentucky team that isn't by any means a traditional college football power.
The departure of most of that surrounding talent led to a frustrating 2022 for Levis, as his overall grade dropped to 68.6. He often looked jittery in the pocket and struggled to read defenses, especially when blitzed. Like Richardson, all the tools are there for Levis to succeed. He may just need to sit back and clean up fundamentals for a year or two.
---
Quite possibly the only true X receiver at the top of this draft, Johnston has size and speed that can't be ignored.  He's 6-foot-3, ran a 4.49-second 40-yard dash at his pro day and was unstoppable at times for TCU against top competition.
Johnston was also inconsistent at times, leading to a good, but not elite, 77.0 receiving grade in 2022. He posted four games with at least 130 yards and six others with under 50. There were times when it seemed he wouldn't assert his will on opponents, as evidenced by his 34.8% contested catch rate for the year. If you were building a receiver in a lab, it would look like Johnston. He just has to be more consistent.
---
Smith-Njigba's 2021 tape is stellar, as his 91.9 receiving grade was the highest in the country that year. He put up 947 yards in his last five games. He is lightning-quick with terrific hands and ran a 4.48-second 40-yard dash at his pro day to quell some concerns about his long speed.
Unfortunately, that 2021 tape is all we have. He missed most of 2022 due to injury. Some view him as clearly the best receiver in this draft, and the success of recent Ohio State graduates like Garrett Wilson and Chris Olave helps his cause. Some see him exclusively as a slot receiver in a draft with several of them. He could go anywhere from the sixth pick to the mid-20s.
---
Van Ness is a recent riser on most draft boards as teams are always hunting to improve their pass rush. He plays with a ton of power and can be a dominant player with excellent versatility. He led Iowa with nine sacks and may be a greater menace on the interior than he is on the edge. The PFF Draft Guide comparison to Justin Smith is incredibly apropos.
Concerns with consistency and his pass-rush arsenal make Van Ness an interesting case. He only played the 11th most snaps of any Hawkeye defender over the last two seasons despite being the top NFL prospect among the group. He also has only posted one game grade over 80.0 against a power five opponent in his career. He leans heavily on his bullrush and isn't a classic edge rusher. He may fit better in a 3-4 defense like the New England Patriots or Pittsburgh Steelers.
---
At 6-foot-4 and nearly 270 pounds, Murphy has prototypical NFL size and can run a ridiculous 4.51-second 40-yard dash. Murphy went to Clemson as a five-star prospect and was an important piece on arguably the best defense in the country. His pedigree and talent should make him a top-10 pick, in theory.
Murphy's tape sometimes doesn't match his freakish potential. There's plenty of good but seemingly not enough great. He doesn't win a lot on his first move and takes some poor angles when caught in space. His 85.2 overall grade as a freshman still stands as his best after two subsequent seasons hovering around 79. The elite tools are sporadically evident. A team taking him in the 20s or 30s is taking a real gamble that could pay off if he becomes one of the ten best players in this class.
---
As an undersized, explosive defensive tackle from Pittsburgh, the Aaron Donald comparisons for Kancey are inevitable. He broke Donald's combine record with a 4.67-second 40-yard dash and was the highest-graded pass rusher of any defensive tackle in the country in 2022. He held up well in the run game too with an 80.9 run defense grade.
Kancey will be a litmus test for smaller defensive tackles. Guys like Donald are dominant, but there seems to still be a perception issue with guys like that being able to hold up against NFL running games. Kancey ranks 14th on PFF's final big board yet is being mocked in the early-to-mid second round by some outlets. It will be interesting to see if any team values Kancey for the elite pass-rusher that he is earlier than that.
---
Branch can do it all. He's elite in the run game and can cover. Additionally, he is as sure a tackler as there is in this draft with only four misses in his career and was asked to do a lot in Alabama's defense. He was the highest-graded safety in this class in 2022. There's just one big question. Is he actually a safety?
By the numbers, Branch is not a safety, as he only played 7.3% of his snaps at safety during his three years at Alabama. Over the last two years, he has posted a 75.4 overall grade when lined up as a safety, a good yet unspectacular mark. By contrast, He's played around 70% of his career snaps as a slot corner. He carried an 82.6 grade overall when lined up in the slot in 2022, the best mark of any Power Five defender who played at least 200 snaps in the slot. He will be an immediate starter as a nickel corner, but the thought of him being the best safety in the draft takes a lot of projection.