The best available prospects are pulled from PFF's final big board and will be updated throughout the 2023 NFL Draft.
For more information on each player, make sure to check out the PFF's draft guide, NCAA Premium Stats and PFF's position rankings.
More PFF draft content:
LIVE Draft Tracker | Mock Draft Simulator | 2023 NFL Draft Guide
Top 200 Big Board  | PFF Mock Drafts | Measureables & Workout Data
NCAA Premium Stats | Draft Rankings By Position | Prospect Superlatives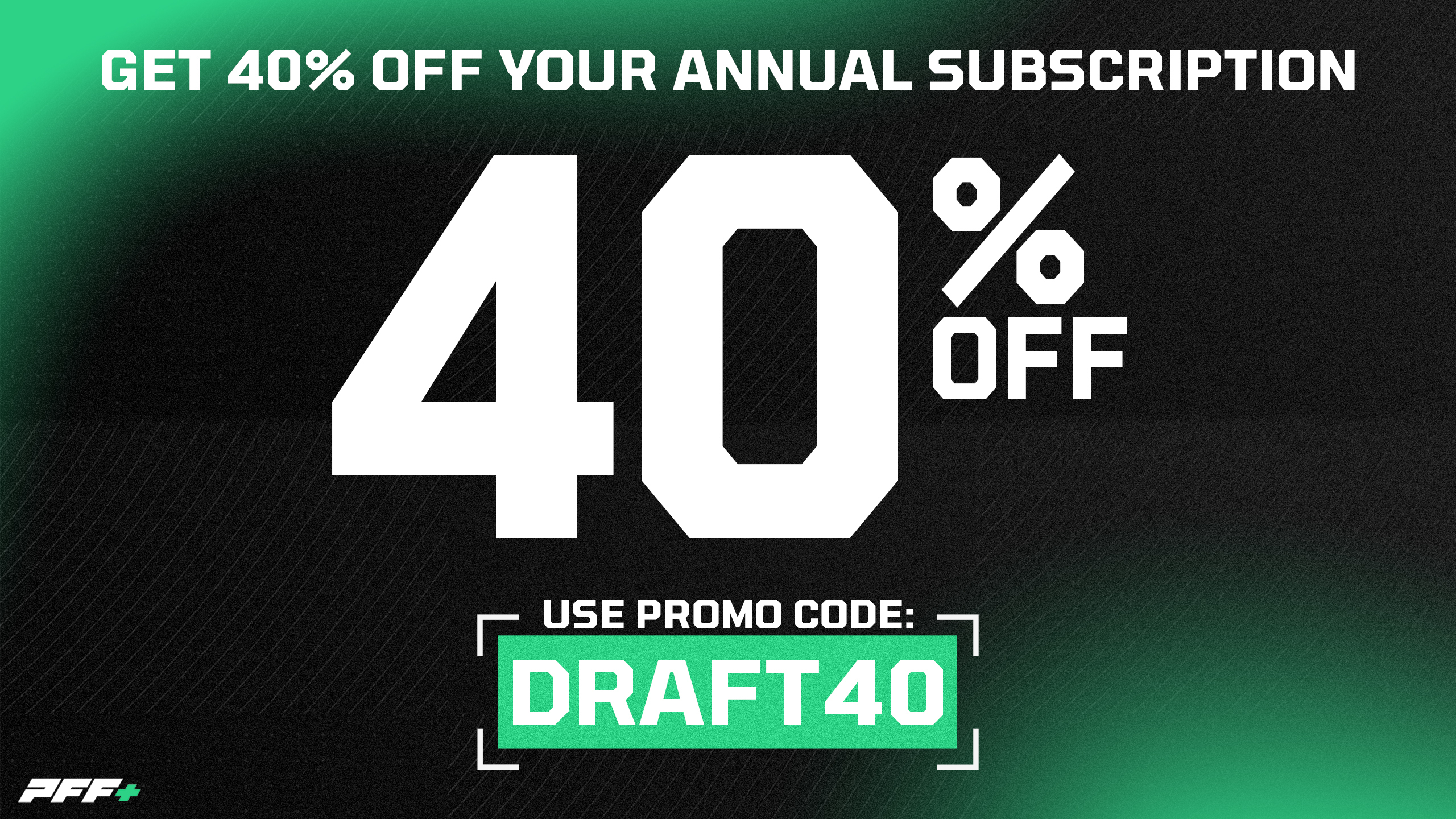 Ojomo took his game to another level as a redshirt senior in 2022. After earning a 74.9 overall grade in 2021, Ojomo improved it to 90.6 this past fall. He's a long interior rusher who is a force against the run. Interestingly enough, despite being a redshirt senior, Ojomo is still only 21 years old.

Pace is one of the smallest-framed linebackers you'll see, with only a 6-foot wingspan. He is a gamer, though, and has a nose for the football.

Carter is a unique 6-foot-7, 260-pound edge rusher with the kind of length that can give tackles problems. He earned a 93.4 pass-rushing grade with 59 pressures in 2021 before every school he faced came with a game plan to limit him this past fall. It's scary to think where his frame can go with year-round time in a weight room.

Ricks missed a large portion of 2022 after transferring from LSU to Alabama, but when he locked receivers down when he was on the field. He yielded all of six catches on 19 targets for 77 yards with five pass breakups on the year.

Tucker is in the running for the most explosive running back in this class. He's just a bit of a linear player and doesn't offer much in the passing game.

Hickman is a long, well-built safety who had himself a breakout 2022 campaign. He allowed only 13 catches on 30 targets for 107 yards with a pick and five pass breakups.

Mitchell is lightning in a bottle. He's got the kind of burners that don't get caught from behind. He recorded 31 carries of 15-plus yards to lead all of college football in 2022.

Thomas is one of the fastest cornerbacks in the draft class, and his tape shows more than just speed. He allowed only 22 catches on 58 targets for 257 yards this past fall.

Moreno-Cropper is one of the craftier route-runners in the draft class. He just doesn't quite have the size to feel good about how he'll translate to the NFL at 172 pounds.

Joseph can wear multiple hats on defense. He brings slot versatility and has had ball-hawking tendencies in his career with 10 picks on 73 targets.

Wright is a touch limited athletically, but he finds ways to make up for that on tape with his play style.

Clark has improved every single year as a starter. He just doesn't profile to much more than a two-down player.

There's a lot to work with physically, but why didn't it translate to more production in college already?

Tavai is easy to root for, but at his size, it would be unprecedented to see him carve out a role in the NFL.

Jones isn't quite athletic enough to project his game translating as an undersized linebacker.

Ekiyor is a steady and experienced guard with some minor physical limitations that he can find tricks to work around.