The 2022 NFL Draft is approaching, and there's no better way to spend time than on PFF's Mock Draft Simulator, where you can run through drafts to your heart's content.
The simulator also lets you see how other people have been drafting, accumulating data from the hundreds of thousands of mocks to show you trends within the draft community. You can see which players are popular picks for specific teams and how prospects' average draft positions have shifted over time.
Here, we will look at players whose draft stocks are rising or falling according to the trends in the simulator. Players such as Kayvon Thibodeaux, Derek Stingley Jr. and Kyle Hamilton may seem like they are plummeting down draft boards, but that hasn't been the case according to the mock draft data.
Click here for more PFF tools:
Draft Guide & Big Board | Mock Draft Simulator
Dynasty Rankings & Projections | Free Agent Rankings | 2022 QB Annual
Player Grades
---
RISERS
PFF Big Board Rank: 14
Mock Draft Sim ADP: 9.7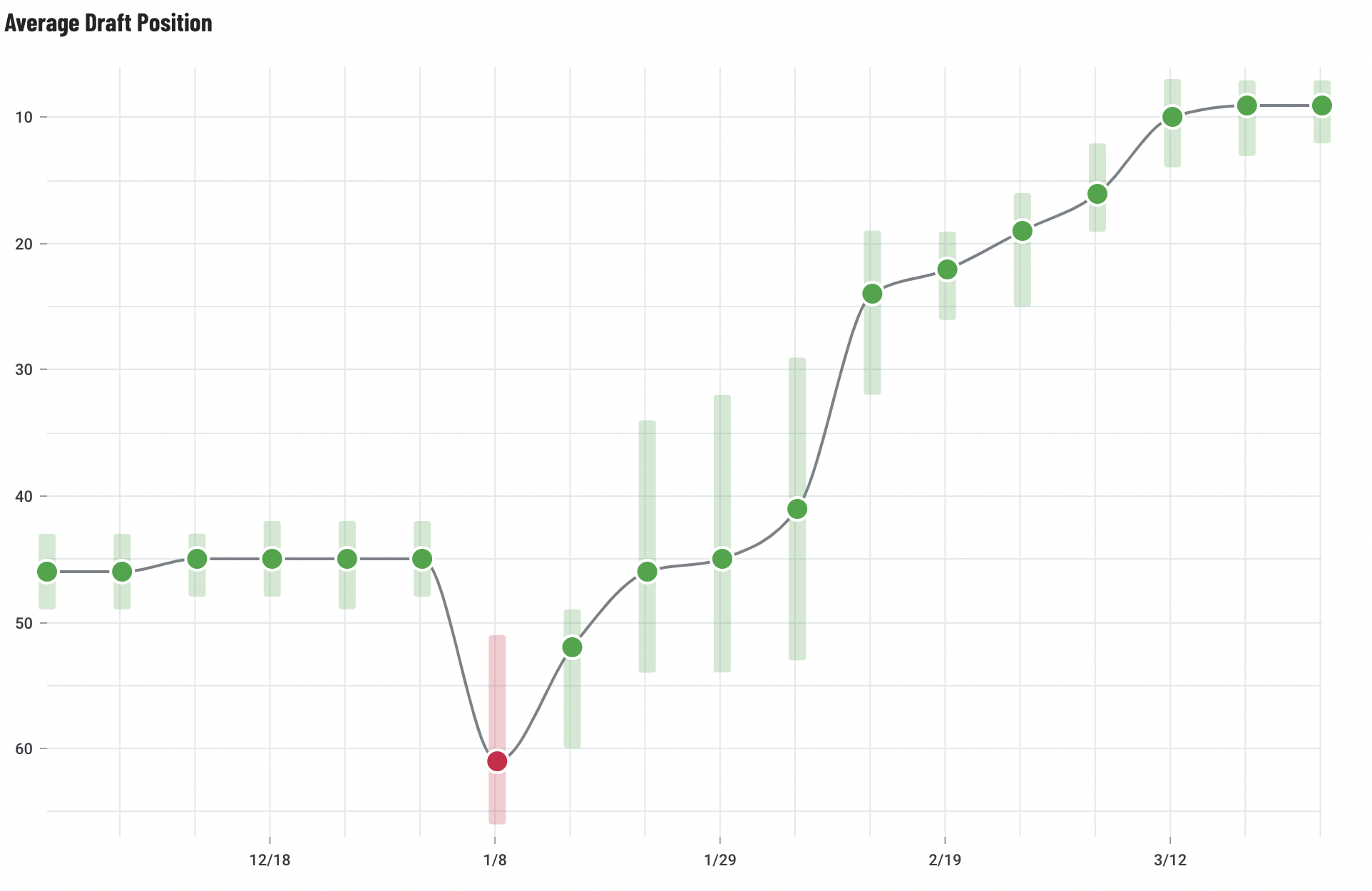 Almost all of this year's Georgia defensive prospects (with a notable exception to come) have seen their draft stocks trend upward in a major way since athletic testing began. It turns out, not only have they been exceptional prospects, but they're all freakish athletes, as well. None may be ascending quite like Travon Walker, who has surpassed Kayvon Thibodeaux on many boards as the No. 2 edge rusher in the draft and perhaps the No. 2 overall player come draft day.
That has yet to be reflected in the mock draft data, but we can see his stock consistently going up over the pre-draft process — and it may not be done climbing.
Walker put together one of the best workouts of any player at the combine, but teams need to reconcile that with his pedestrian production — particularly as a pass-rusher — in college. Playing on a loaded defense only explains so much, as does a scheme that set the unit up for success more than it set Walker up individually. Last season, Walker generated a pass-rush win rate of just 10.1%, less than half that of other elite prospects.
PFF Big Board Rank: 9
Mock Draft Sim ADP: 7.4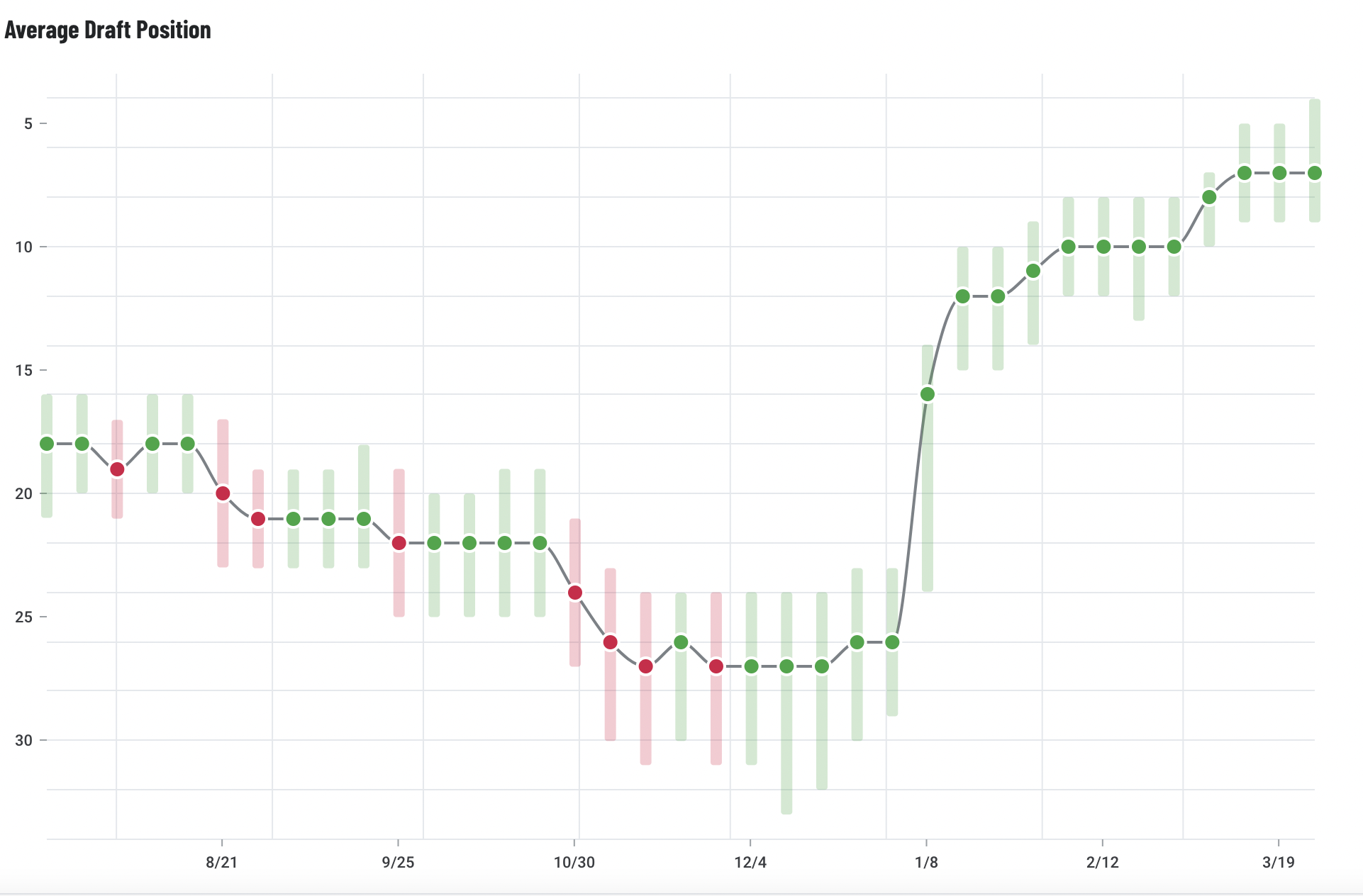 You don't have to go back very far to find a landscape where Derek Stingley Jr. was the clear No. 1 cornerback in the draft and Ahmad Gardner was being regularly mocked late in the first round. Since then, Gardner's stock has soared, with a 4.41-second 40-yard dash time at the combine quelling any concerns about his speed.
Gardner boasts prototypical height and length for the position and some exceptional tape to back it up. His calling card is that he didn't allow a touchdown in his entire college career, and he also allowed a catch on just 43.0% of passes into his coverage.
Gardner can blot out the sun at the catch point with his size, giving quarterbacks nowhere to place the football. His stock has been on the rise to the point where he could easily be the first cornerback off the board.
PFF Big Board Rank: 20
Mock Draft Sim ADP: 18.3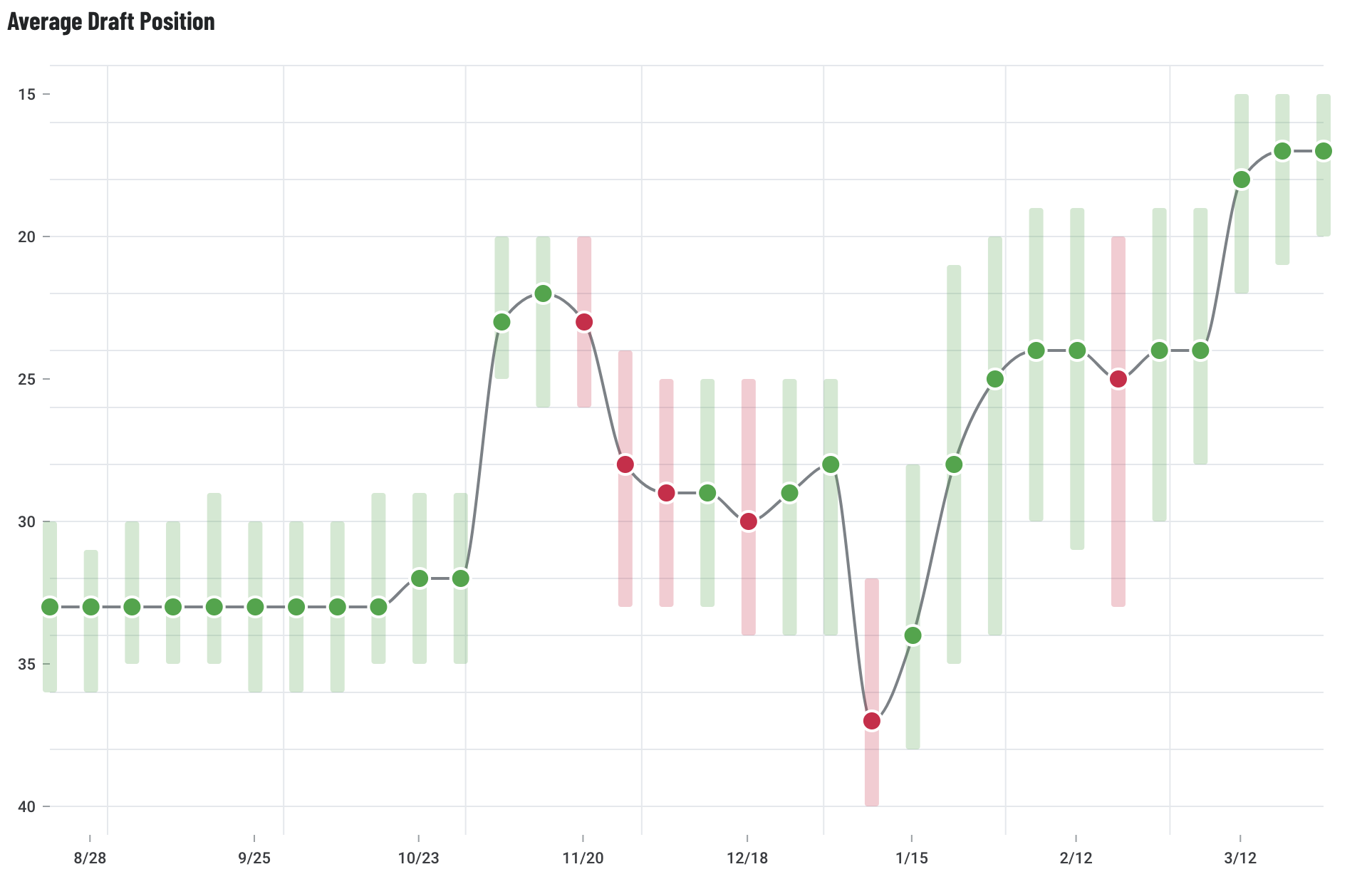 It's no surprise to see Jordan Davis on this list. From the moment he blew up the combine with an absurd 4.79-second 40-yard dash time at 341 pounds, his draft stock was going to be on the move. Davis had already shown flashes of peerless potential, but he still needed to prove he wasn't just a huge body — and it's now clear to prospective NFL suitors that his ceiling is quite high.
The big question for Davis is how much of an impact he can have on an NFL field, perhaps more in terms of volume than on any individual play. He played a total of 1,127 snaps in his four-year college career, with 378 the most he tallied in any single season. He notched 30 total pressures in four seasons across 603 pass-rushing snaps, and even against the run he was very good — but not great.
There are real questions about how well that will scale at the next level, but the flashes of what Davis can be are driving his stock ever higher as we get closer to the draft.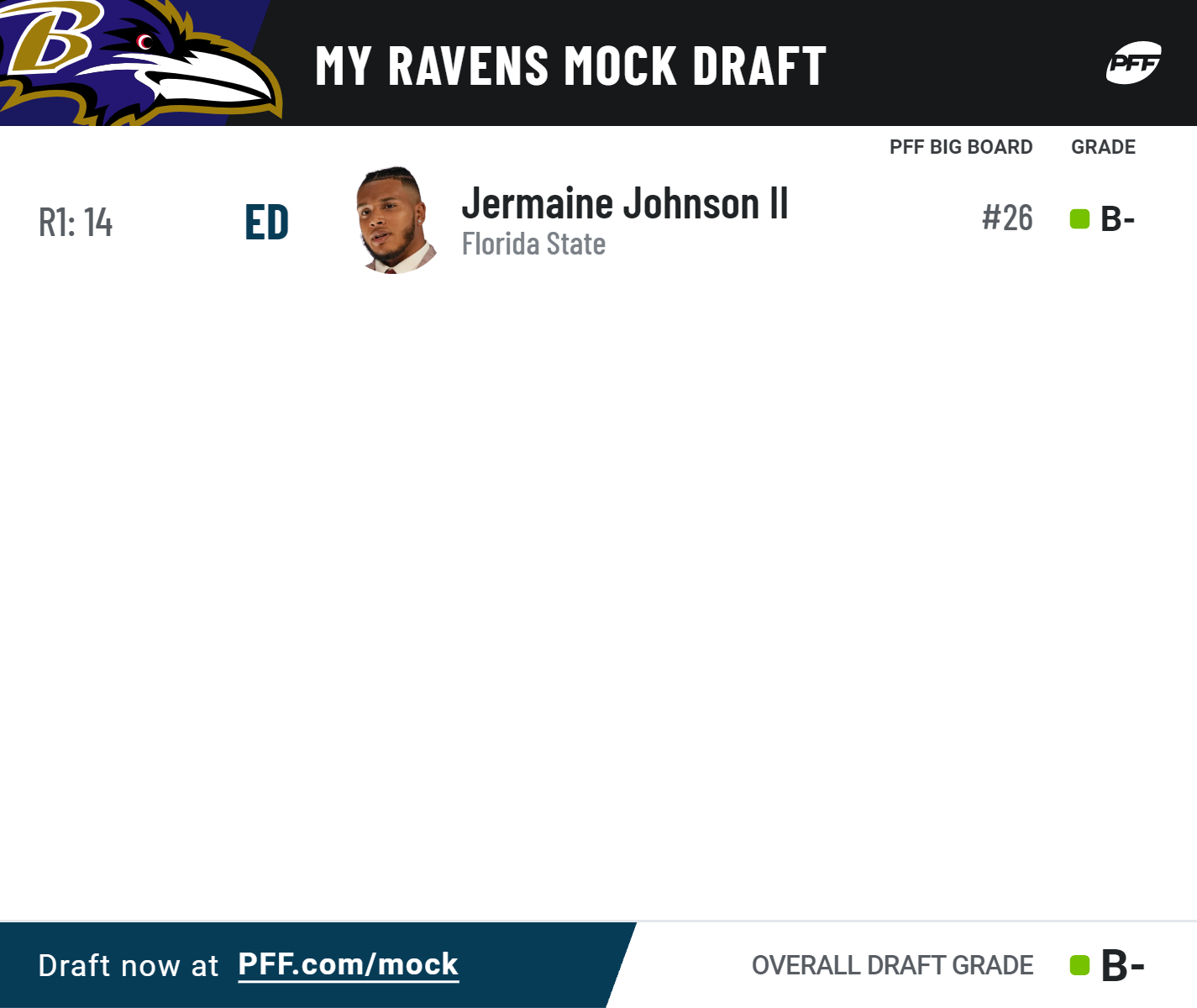 PFF Big Board Rank: 26
Mock Draft Sim ADP: 20.7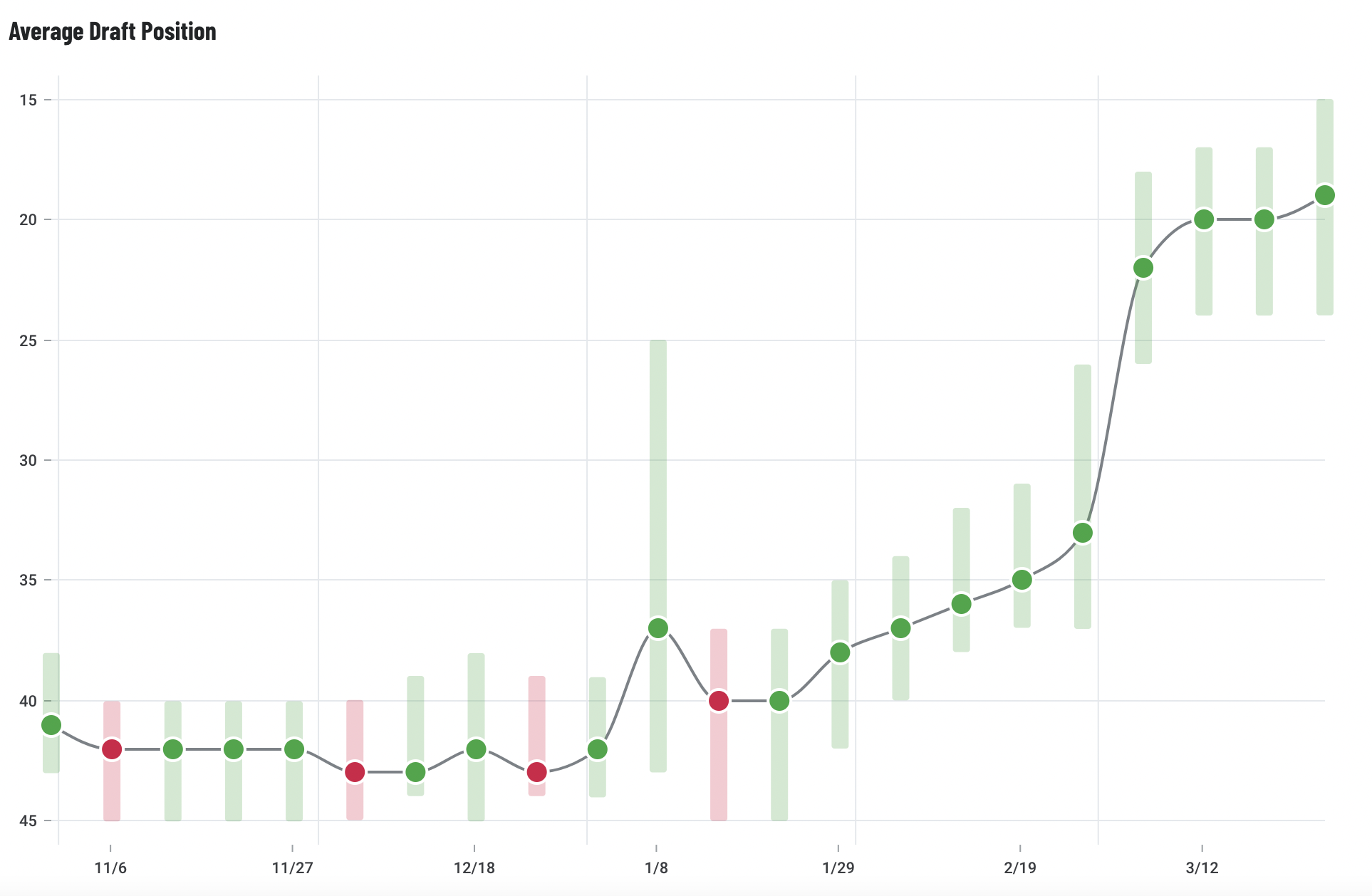 Such is the effect of the Georgia defense on the draft risers this year that even a Florida State prospect has a connection to it. Johnson transferred from Georgia to look for more playing time and showcase his potential, and his final college season displayed the kind of ability to be a first-round edge defender.
He recorded good PFF grades across the board and a 14.1% pass-rush win rate on just over 400 snaps this past season. He was one of the most dominant players at the Senior Bowl during the week of practices, crushing people at the edge against the run as well as rushing the passer well and earning a 90.0-plus PFF grade.
Johnson's draft stock is on the rise, and it may see him pushed into the top half of the first round if the trend continues.
PFF Big Board Rank: 40
Mock Draft Sim ADP: 40.7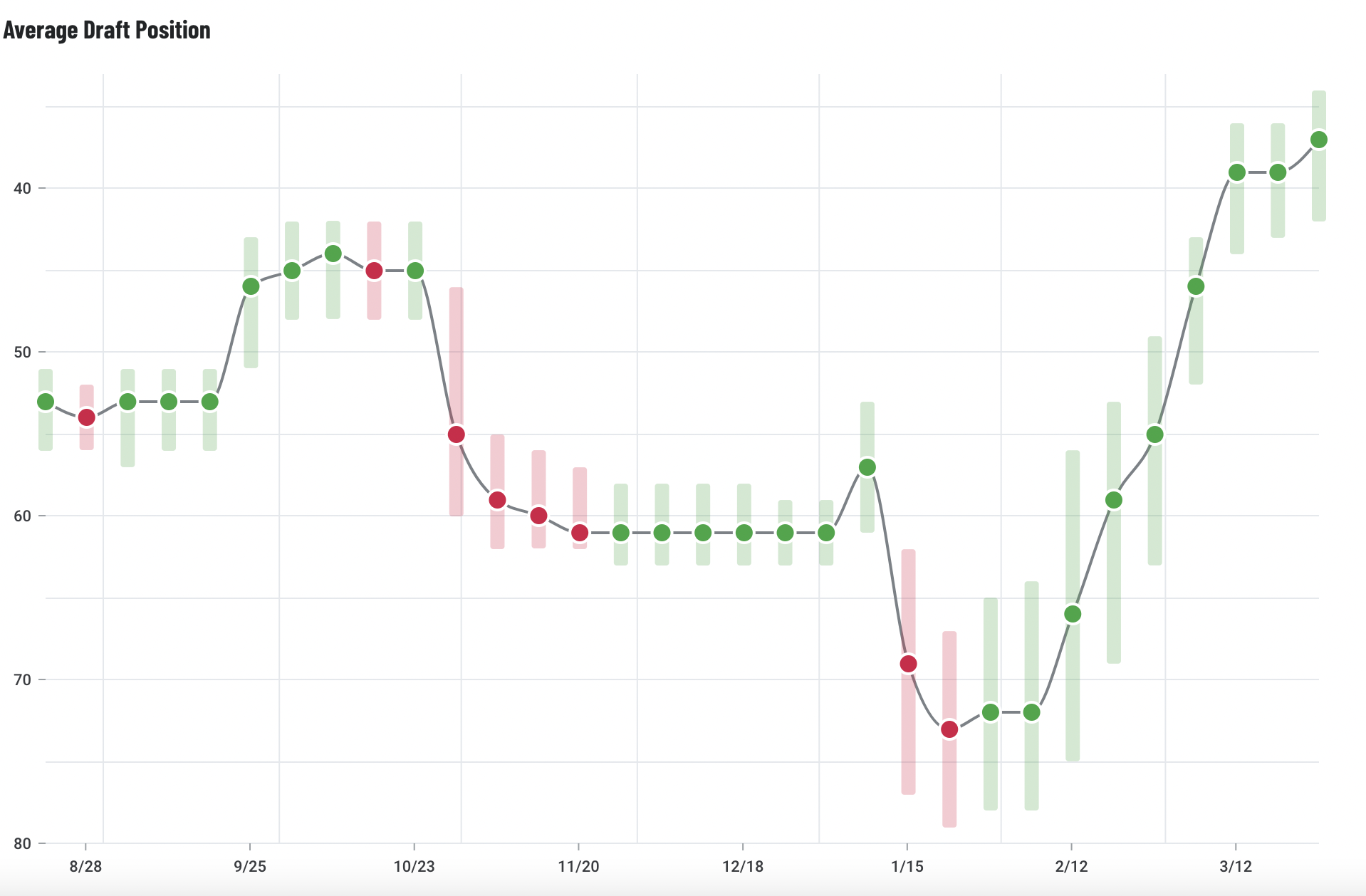 For the second straight year, it isn't a great class for interior defensive linemen, and with the Georgia duo of Jordan Davis and Devonte Wyatt likely taken in the middle of the first round, people are focusing more and more on Travis Jones as a next-best option. Few players can match his average draft position's ascension in the simulator, as he has progressed from the middle of the third round just two months ago to potentially sneaking into the bottom of the first round.
Jones earned elite PFF grades against the run in college while also putting up a 90.9 PFF pass-rushing grade this past year against true pass sets. He has more production at the college level than Davis, albeit against a lower level of competition, and showed an ability to shoulder a far greater workload in terms of playing time.
Davis is the better athlete and may have higher upside, but you could make a compelling case that Jones has been a better player to date, and more people seem to be reaching that conclusion as they watch his tape.
FALLERS
PFF Big Board Rank: 44
Mock Draft Sim ADP: 37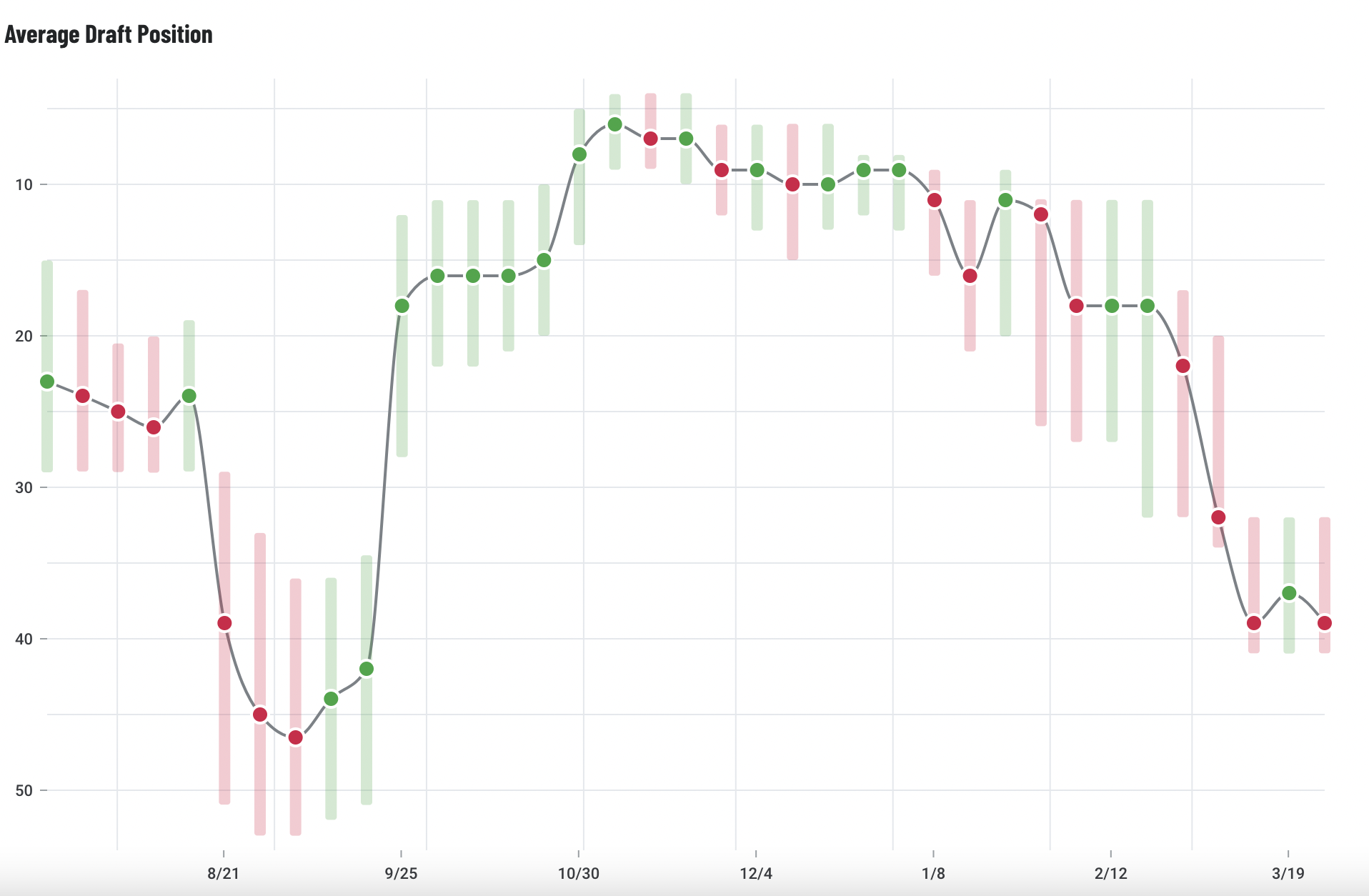 The ADP trend graph for Matt Corral is not dissimilar to that of most of the quarterback prospects in this year's draft. It's not a class people are in love with, and while some signal-callers may end up getting selected high in the first round, fans drafting for their team don't like making those picks. Corral at one point was being selected regularly inside the top 10, but his stock is now out of the first round entirely.
Corral has tools, but he comes from an offense that ran RPOs on over 40% of its plays, four times the NFL average. Those plays simplified his reads and process, resulting in a standard operating procedure that just bears little resemblance to the one he's going to need to master at the NFL level. It's not that Corral has shown an inability to function within an NFL scheme, but the degree of unknown is a big thing to get past, particularly at the most important position in the game and with a premium draft pick.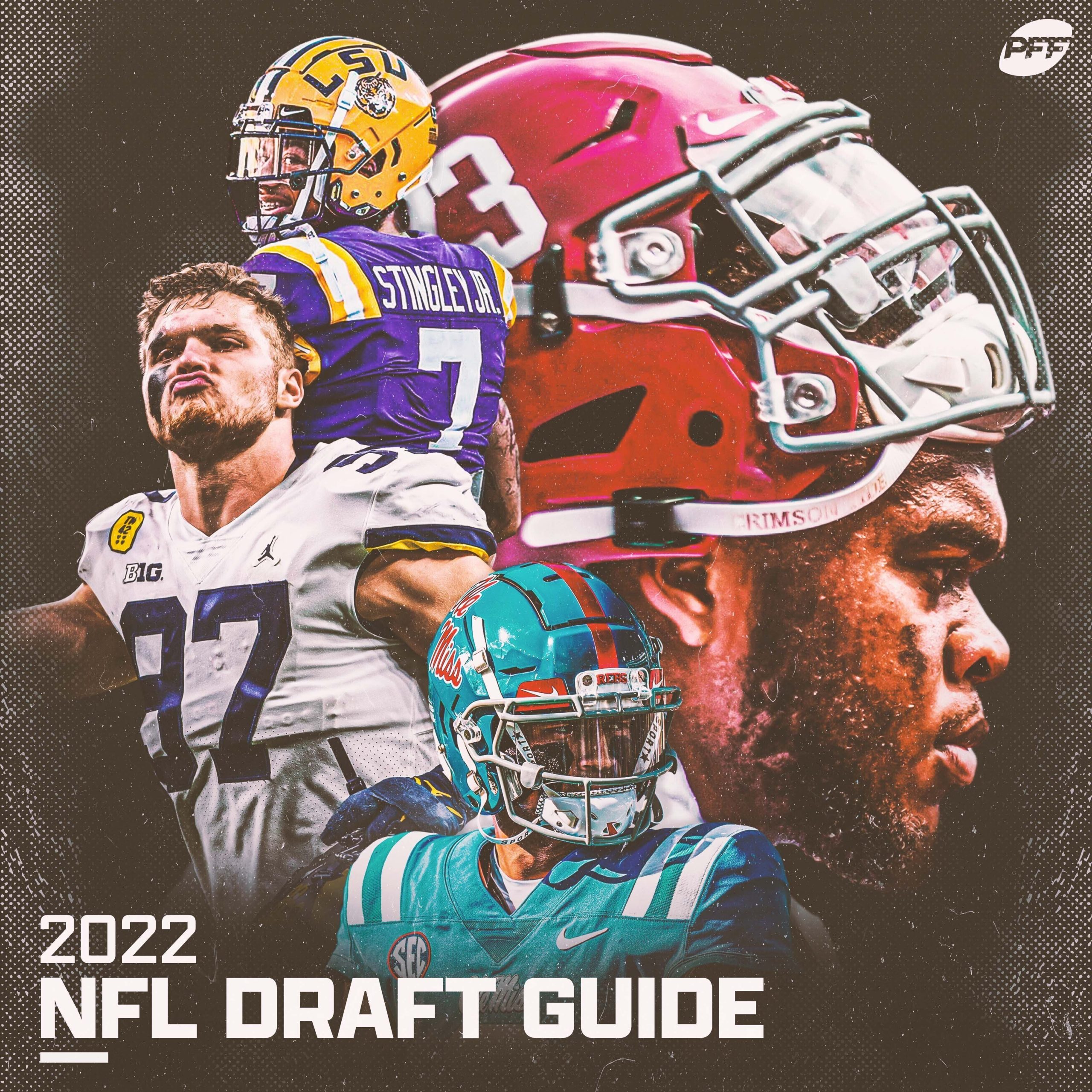 PFF Big Board Rank: 54
Mock Draft Sim ADP: 49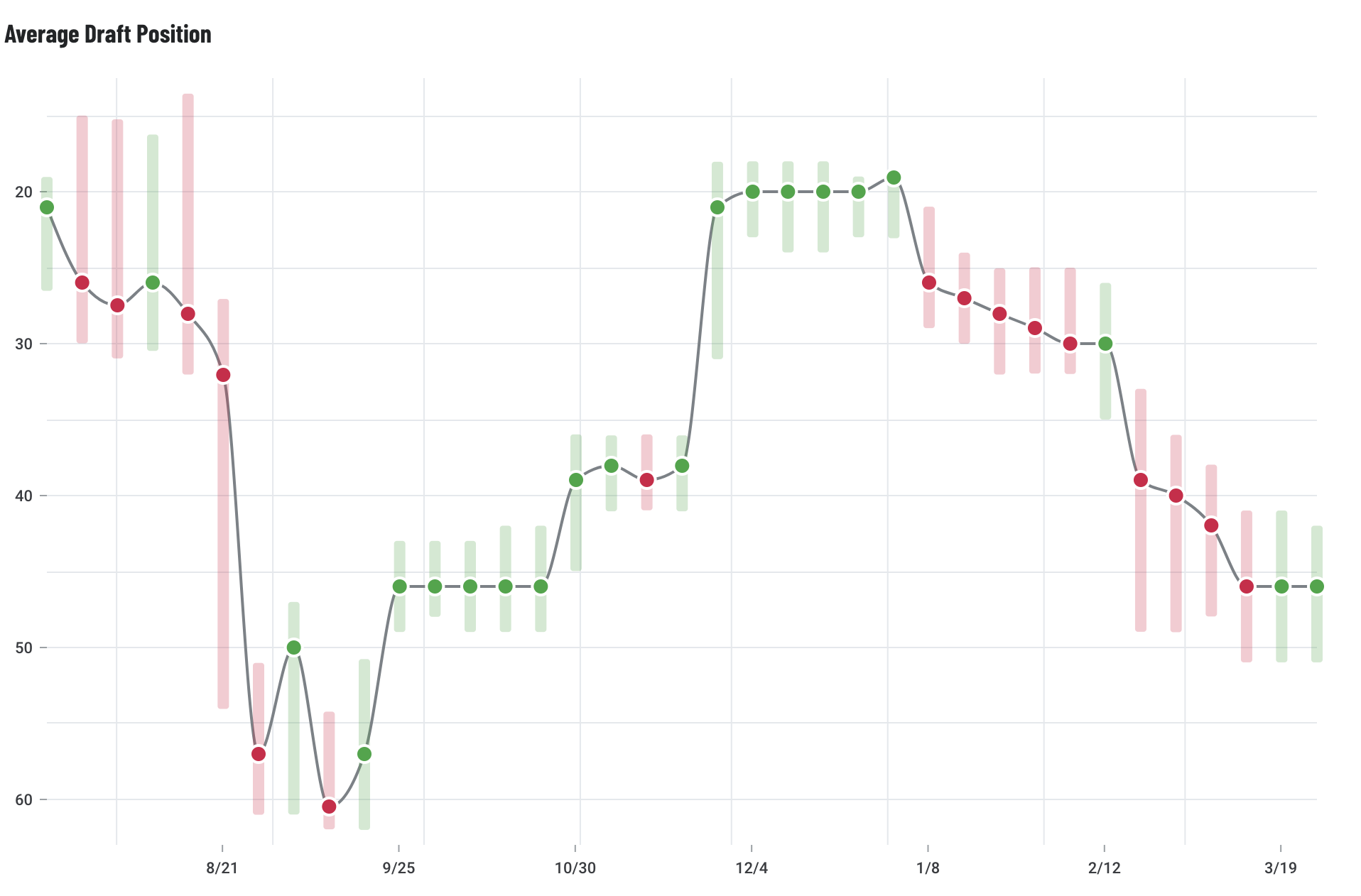 Exceptional workout numbers or physical measurements can vault players up draft boards, but measurements that fall below traditional thresholds can have the reverse effect, and that's what Auburn's Roger McCreary has been battling. Despite a college career that features over 2,200 snaps in the SEC, his height and, in particular, length will likely scare teams significantly.
McCreary measured in at 5-foot-11 and 190 pounds but with sub-29-inch arms, a figure that teams typically looking for to be above 32 inches. McCreary had three straight years of impressive PFF coverage grades and allowed a catch on only 45.3% of passes into his coverage this past season. He held his own in a battle with Ja'Marr Chase back in 2019, the year Chase took a blowtorch to the college football landscape. McCreary's tape shows a player who has succeeded in spite of his arm length, but it may be driving his huge slip in ADP.
PFF Big Board Rank: 19
Mock Draft Sim ADP: 20.9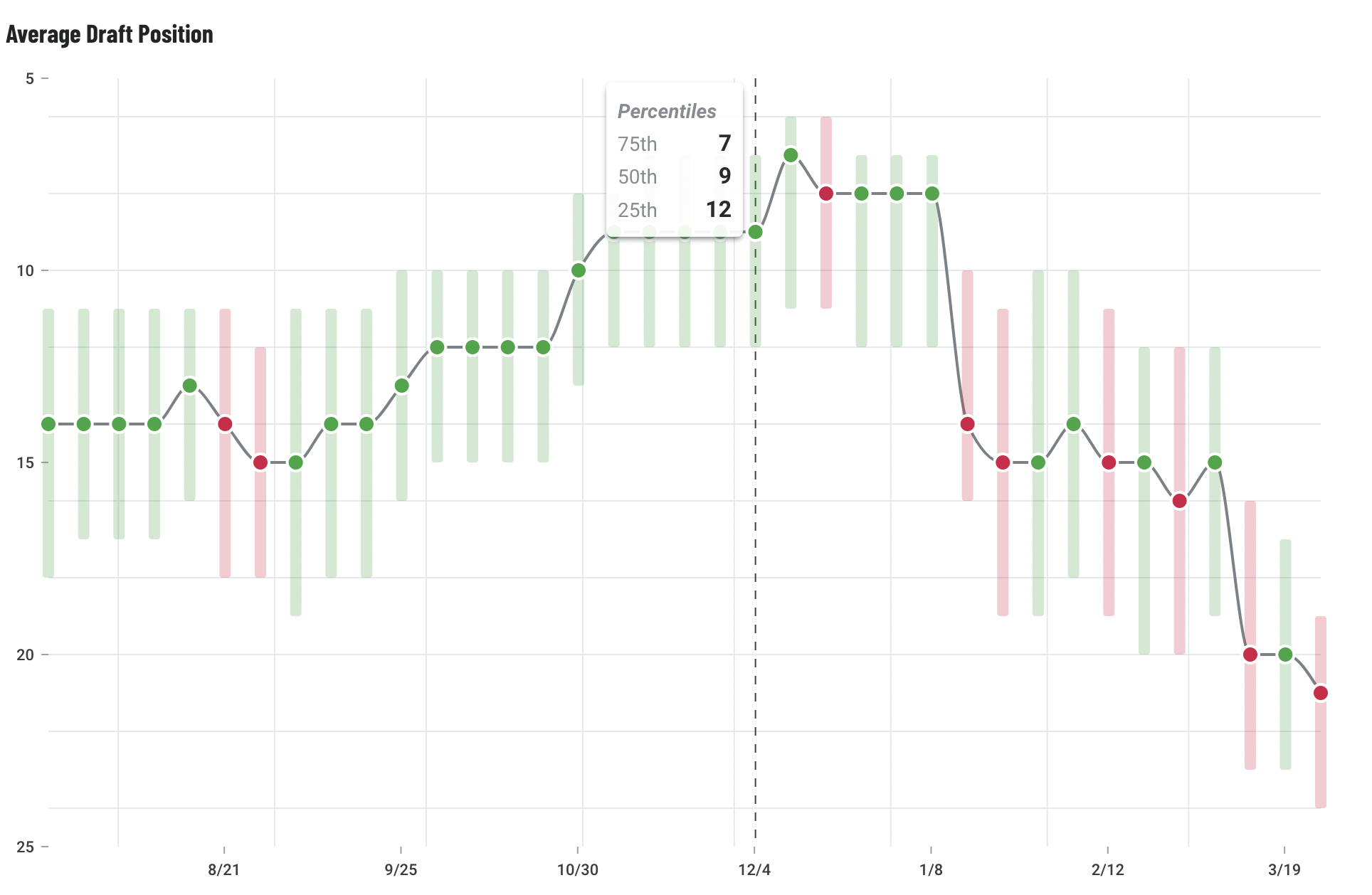 Linderbaum is the best center prospect PFF has seen enter the draft since college football play-by-play grading began in the 2014 season. He posted an absurd 95.4 PFF grade in 2021, building on his 91.5 mark from the season before. His run-blocking production at Iowa was otherworldly, and not long ago he was being consistently mocked inside the top 10 draft picks. His level of play has been so high that the question is simply whether he is good enough to throw out the rules of positional value and outperform the impact a center can typically have on an offense.
As the draft gets closer, however, cooler heads seem to be prevailing, and the trend of even elite centers being drafted in the second half of the first round at best may well continue with Linderbaum. His ADP is falling below Pick No. 20, so he could now prove to be one of the steals of the first round if he translates as smoothly as his tape suggests he might.
---
2022 NFL Draft position rankings:
Top 10 players at every position
QB | RB | WR | TE | iOL | OT | DI | EDGE | LB | CB | S
---
PFF Big Board Rank: 18
Mock Draft Sim ADP: 20.2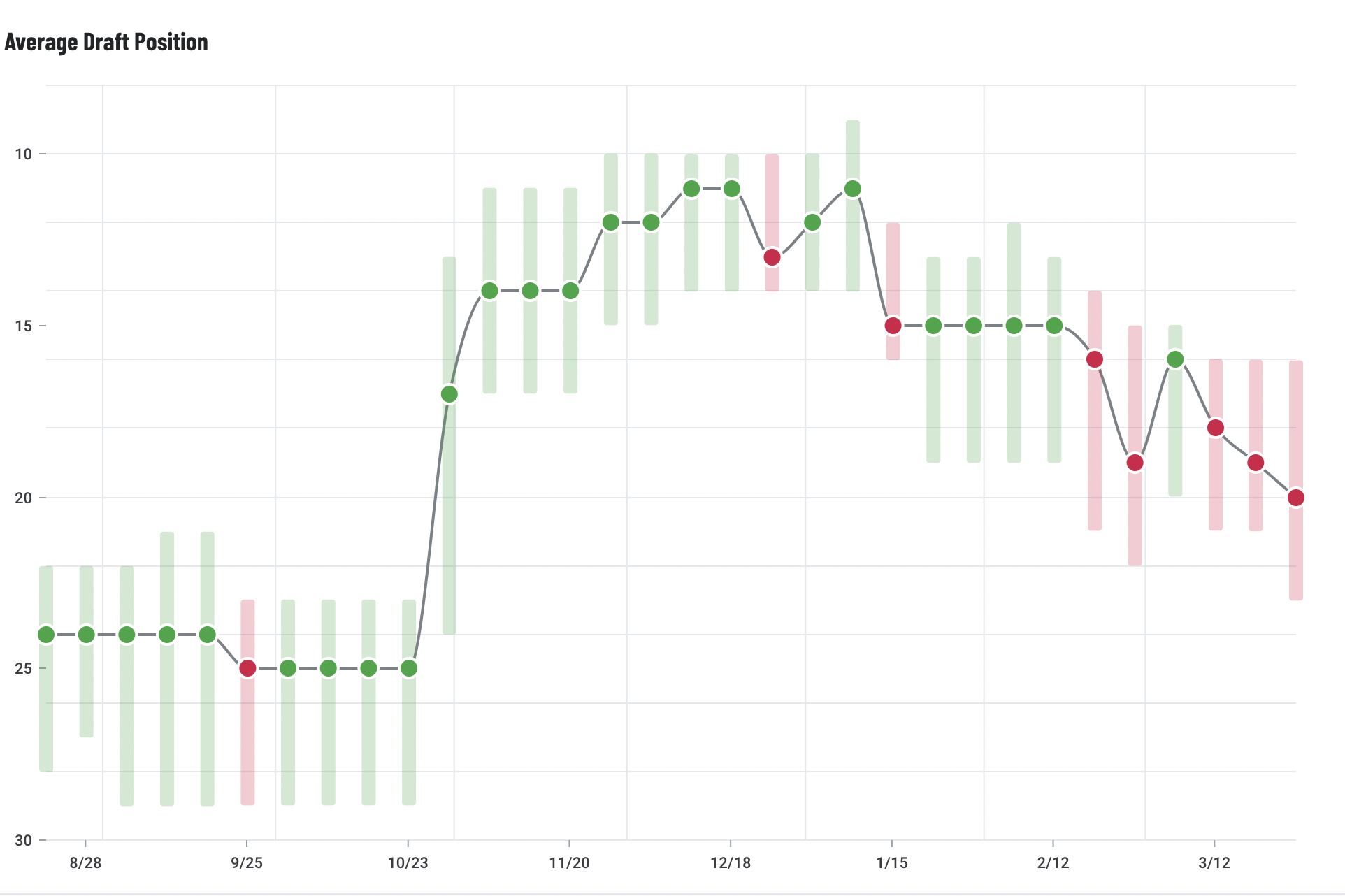 The one member of the Georgia defense whose draft stock seems to be falling rather than rising is Nakobe Dean. He's an undersized linebacker at 5-foot-11 and under 230 pounds, and there is concern that he was simply able to take advantage of Georgia's dominant defensive line and run to the football to make plays — a luxury he won't have to the same degree at the next level.
Dean has yet to showcase what kind of athleticism he brings to the table — not running the 40-yard dash at the combine or his pro day — and that's also causing some worries for a player who needs to have plus athleticism given his size.
Dean's ADP is sliding, but he could potentially reverse it if he eventually runs a 40 time (planned later this month) and proves his athleticism can offset concerns about his size. 
PFF Big Board Rank: 42
Mock Draft Sim ADP: 34.3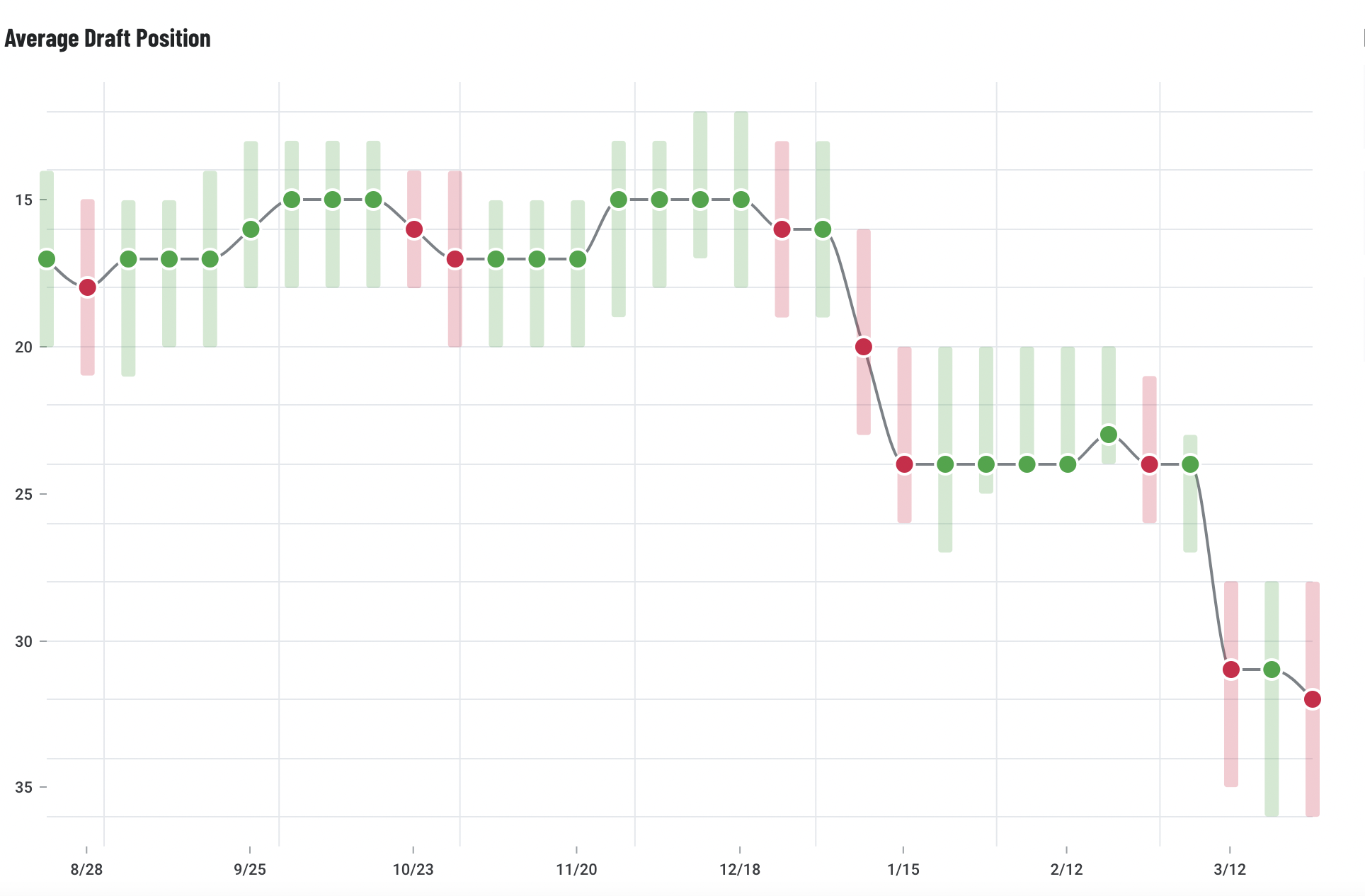 Once being consistently mocked inside the top half of the first round (just), Green's ADP is now outside of Round 1 entirely. A massive prospect, he also played both guard and tackle spots in his college career and has impressive movement skills for his size.
Green was particularly effective run blocking on zone plays in 2021, earning a 93.2 PFF grade on those plays compared to a mark over 40 grading points lower on plays employing a gap blocking scheme. As a pass protector, Green allowed just 10 total pressures across 404 pass-blocking snaps and recorded an 81.4 PFF pass-blocking grade on true pass sets.
---
Related content for you:
2022 NFL Two-Round Mock Draft: QB Desmond Ridder goes to the Atlanta Falcons, WR Chris Olave reconnects with Justin Fields in Chicago
via Anthony Treash